One of the things I enjoy the most about Rome is that it's divided into neighborhoods, each with a very distinctive character, look, history and feel. You have surely heard about the most famous neighborhoods of Rome – Monti, home of the Colosseum; Trastevere, a fantastic nightlife hub; the Jewish Ghetto, where you'll find a plethora of Kosher restaurants; and obviously the Centro Storico.
But I am sure there are other Rome neighborhoods – locally known as called "rioni" – that you've hardly heard of.
If you want to explore Rome a bit beyond the most famous places, I thought you may make good use of this list of the best neighborhoods of Rome. For each of them I list the main attractions and information on how to get there.
You should also read my post A Quick Guide To The Rioni Of Rome.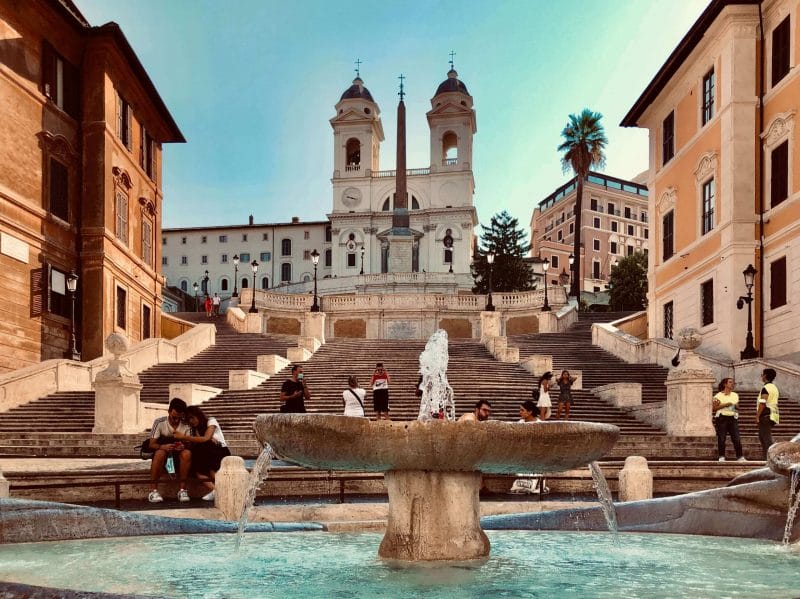 The Nicest Neighborhoods Of Rome
Centro Storico
Right in the middle of the historic center of Rome is the Centro Storico. This is where you'll find many of the city's top sights, including the Spanish Steps, the Trevi Fountain, the Pantheon and many palazzi (palaces) and piazze (squares) dotted around—the list goes on.
Away from the sights, it's bustling with tourists and overflowing with life and energy; with plenty of accommodation options, bars, eateries, and everything else you'd expect of this most popular district.
You can't miss the Centro Storico. If you are not staying in this part of town, you can easily get there via Metro Line A. Get off at Spagna, where the Spanish Steps are located.
Aventino
One of the neighborhoods of Rome that's named after a hill, the Aventine Hill, sits just outside the center of the city. It's an elegant area where you'll find quiet, residential streets and leafy parks.
It's here that you'll find the romantic and very charming Orange Garden, with views through the so-called "Secret Keyhole" out towards the dome of St Peter's Basilica. Although the area is calmer than the center, there are still a good selection of authentic restaurants and local bars to enjoy, as well as historic attractions to discover.
The easiest way of getting to Aventino is by metro. Hop on Line B – you can get on at Termini Station or even Colosseo, and get off at Circo Massimo.
Borgo
Bordering the Vatican City to the east, and situated near Trastevere, Borgo is edged by a medieval wall, which runs from the Vatican to the Castel Sant'Angelo along the River Tiber. The district is one of the oldest in Rome, and full of medieval architecture and Renaissance period redevelopment.
One of the top sights in Borgo is the Castel Sant'Angelo itself, a mausoleum built for Emperor Hadrian in 139 AD, later a fort. There's also the Santo Spirito: the oldest hospital in Rome. During the daytime Borgo is busy with tourists visiting the many sights in the area, but as evening falls numerous local bars and eateries spill out onto the streets.
The closest metro station is Line B, Circo Massimo.
Vatican
An independent city state right at the heart of Rome, the Vatican is home to around a thousand people. Ruled over by the Pope, it was only declared independent from the rest of Italy in 1929. The Vatican City is dominated by the Apolistic Palace—home to the Pope—and with half of the microstate's area made up of gardens and parkland, it is actually possible to visit the Holy See.
The numerous and fascinating attractions of the Vatican include: St Peter's Square, St Peter's Basilica, the Sistine Chapel, and the sprawling Vatican Museums. Though there's no real accommodation in the Vatican itself, you can find a place to stay just a stone's throw from the tiny nation in neighboring Prati or Borgo.
You'll find the Vatican located on Line A of the metro, which you can take from Termini Station or Spagna. Get off at Ottaviano / San Pietro.
Prati
Next door to the Vatican City, and close to the Castel Sant'Angelo, Prati is a relatively quiet part of the city. Situated on what was once marshland, it is today one of the wealthiest residential neighborhoods of Rome, composed of a grid layout. Here you can find high-end shopping, fashionable restaurants, and Art Nouveau architecture.
It's also here that you'll find the sizable Palazzo di Giustizia. The district has plenty of wine bars and live music venues for after-dark amenities, and all without the crowds of other districts.
You can get to Prati by metro Line A. Get off at either Ottaviano or Lepanto.
Monti
Monti is sandwiched between the Colosseum and Via Nazionale. It's a particularly attractive neighborhood, with a youthful, bohemian atmosphere to match. Here you can wander its charming cobbled streets; chance upon interesting shops, family-run restaurants, and hip wine bars; and simply enjoy the laid-back atmosphere.
Of course, the Colosseum is just on the doorstep—as are many historic sights—but to really discover what makes Monti tick, spend time ambling its pleasant piazze and soaking it all up.
Monti is at easy walking distance from Termini Station. If you're coming from further away, hop on metro Line B and get off at Cavour.
Make sure to read my post A Guide To Rione Monti, Rome: 9 Best Places To Visit.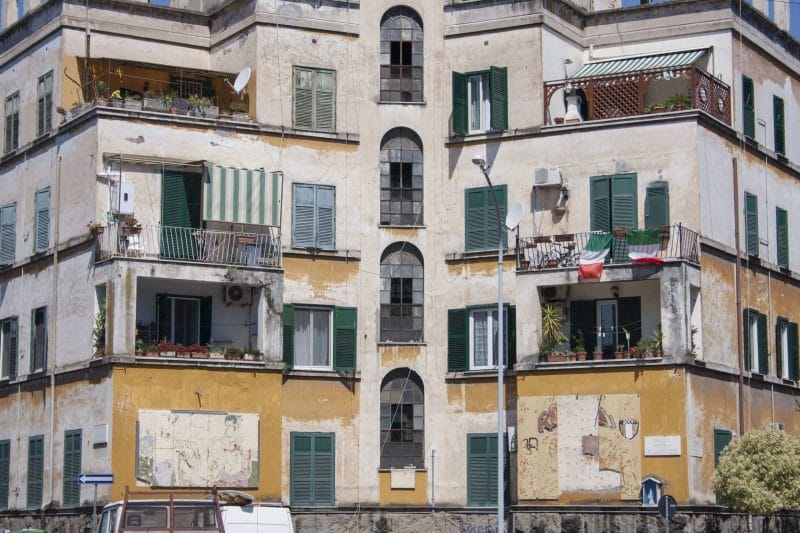 Garbatella
Founded in 1920 to house workers, Garbatella may surprise visitors with its strange architecture—especially compared to the rest of the city. The estate is dotted with small houses and refined buildings; the older parts of Garbatella were divided into smaller blocks called lotti, which were centered around a communal garden, a social heart for families that lived there.
The area boomed. By 1930, it boasted the highest population density in the city. This once working class enclave has, in recent years, seen a fashionable renaissance of sorts, with gentrification transforming the winding streets into a hipster-friendly village within Rome. Think wine bars and street art.
Garbatella is easy to reach my metro Line B. You'll need to get off at the metro station that has the same name!
For more information, read my post A Short Guide To Garbatella.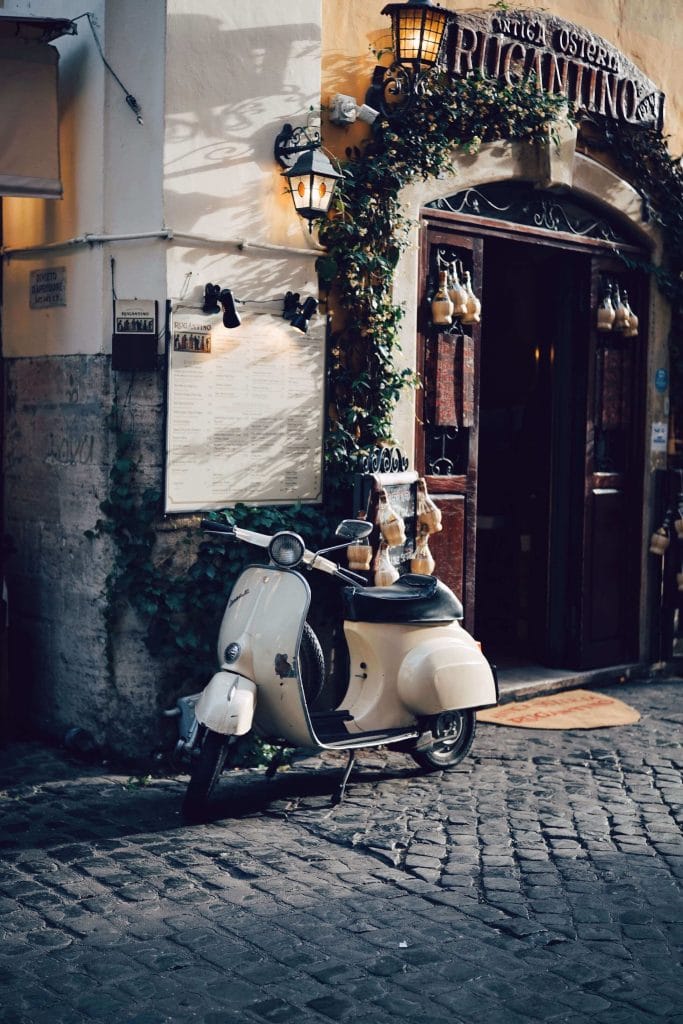 Trastevere
The original hip district of Rome, Trastevere—meaning "the other side of the Tiber" and originally working class—is the place to head if you're looking for fun. Though sleepy by day, Trastevere positively comes to life at night, with a colorful array of trattorias, pubs, bars and restaurants. This centuries-old neighborhood is a good place to stay in Rome, with a nice selection of affordable accommodation options and great nightlife in easy reach. Though far from the Centro Storico, it's an easy walk to sights such as the Campo de' Fiori.
There is no metro station in Trastevere. You can get there by bus. It's an easy walk from the Centro Storico.
For more information, read my post A Short Guide About Trastevere.
Testaccio
Centered around Monte dei Cocci, Testaccio is one of the most vibrant neighborhoods of Rome. It's an up and coming sort of area, situated just across the River Tiber from Trastevere. It's here that you'll find Ex Mattatoio—a former house turned community-minded contemporary art museum and organic market.
It may not have the grand architecture as seen elsewhere in Rome, but with its humble roots, there's an array of fantastic eateries to enjoy, particularly at the Monte dei Cocci itself. This mound of ancient Roman garbage is now home to caves that house bars, trattoria and discos— from the old to the new—making for a truly fun place to be.
You can easily reach Testaccio by metro Line B. Get off at Piramide, one stop after Circo Massimo.
For more information, read my post A Short Guide To Testaccio.
Ostiense
This former industrial district has been developing in recent years, revamping itself into a hub of cool creativity. It's in Ostiense that you'll find Rome's vibrant street art scene alive and well, with plenty of color splashed over walls and buildings.
Among the students and cool kids, you'll find all-night party venues and raucous bars, alongside other Instagram-friendly offerings, such as craft beer breweries and ramen joints. If you're looking for a different side of Rome, this is it; however, ancient sites including the Pyramid of Cestius and the Porta San Paolo can be found here, too.
Follow the same directions to get to Testaccio and get off at Piramide.
For more information, read my post The Best Places To Visit In Ostiense.
Ghetto (Jewish Ghetto)
Established in 1555 in Rione Sant'Angelo by a Papal order issued by Pope Paul IV, this area was once home, exclusively, to Rome's Jewish population. It was an area rife with poverty and overcrowding, and was the last ghetto in Western Europe before the 1930s. The area was under Papal control until 1870, and was demolished in 1888.
Today the former ghetto is where you'll find the Synagogue of Rome and the remaining pieces of the ghetto wall. Jewish culture remains in the food of this area, with many restaurants serving up Roman-Jewish cuisine. Here's also where you'll find the Teatro Marcello, an ancient Roman theater, and the Portico d'Ottavia, pictured above.
You will find the Ghetto at walking distance from the Colosseum. Get off at Colosseum metro station (Line B). There are also buses from Largo di Torre Argentina.
Head over to my post A Curated Guide To The Jewish Ghetto Rome.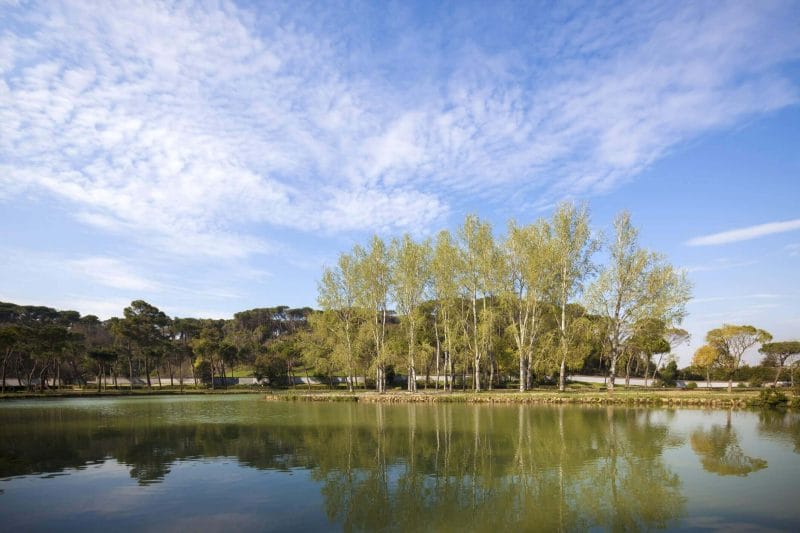 Parioli
Situated northeast of the Centro Storico, Parioli is a wealthy and affluent neighborhood that was established in 1921. It was—and still is—a district of the well-to-do, with plenty of parks and leafy boulevards. It's an idyllic kind of neighborhood, feeling worlds away from the busy crowds at the Vatican City or the Colosseum.
Here you'll find Villa Ada, a large 180-hectare public park; woodlands once owned by the House of Savoy. Apart from nature, Parioli is also well known for its chic dining scene, with many notable restaurants to be enjoyed.
There's little in the way of public transport in this district, but visitors could catch the train between Piazzale Flaminio and Piazza Euclide.
Pigneto
Pigneto is to Rome what Shoreditch is to London, or Brooklyn is to New York City. It's a creative and cultural hub, oozing with cool credentials: think graffiti, single-origin coffee, and independent businesses. Yet it remains a down-to-earth district with a very local vibe. You won't find many Renaissance-era piazze here but you will find plenty of 20th-century residential buildings. Pigneto takes its name from the long row of pine trees edging the Villa Serventi.
When night falls, head to Via del Pigneto. This pedestrianized part of town comes alive with a conglomeration of cocktail bars and eateries; the last Sunday of every month sees Via del Pigneto play host to an open-air flea market.
Pigneto has its own metro stop along the newest metro Line C. You can get on in San Giovanni, which you can reach with metro Line A.
San Giovanni
Situated close to the Colosseum, and just outside the Centro Storico, you'll find San Giovanni. Despite its proximity to both these hotspots for visitors to Rome, it seems that tourism has not yet touched this corner of the city. Generations of families have lived among its historic streets for many years; here, too, you'll find students who have moved in for affordable housing, resulting in a mix of old and new.
San Giovanni takes its name from the Basilica of San Giovanni in Laterano, a church with interesting architecture and plenty of history, and the seat of the Pope in Rome. For more history, look no further than the ancient Aurelian Walls and the neighborhood's traditional but vibrant markets.
San Giovanni is easy to reach by metro. From Centro Storico (Spagna) or Termini Station, you can get there via metro Line B. You can also use metro Line C.
San Lorenzo
Due to just how close San Lorenzo is to La Sapienza (the University of Rome), this neighborhood has a sizable student population, which has resulted in a plethora of lively bars selling cheap drinks and plenty of late-night eateries. The nightlife of San Lorenzo is centered around the Piazza dell'Immacolata, and is particularly lively around the summer season. Elsewhere this lesser visited neighborhood is awash with hidden gems.
Though much of San Lorenzo was destroyed during World War II, there is still history to be discovered in its backstreets; even traces of bombing during the war can be seen, sometimes alongside colorful street art.
This is one of the easiest to reach neighborhoods of Rome. It's just at Termini Station, metro Lines A and B.
Esquilino
Named after one of Rome's famous Seven Hills (the Esquiline Hill), Esquilino is an old Imperial neighborhood. Once home to wealthy Romans following the Unification of Italy, and dotted with piazzas and historic buildings, today Esquilino is centered around Termini Station. It's home to a multicultural mix of people, with markets, restaurants, and bars reflecting the cosmopolitan credentials of this part of the city.
Not only is it an affordable and convenient place to stay for transportation, but it's also home to many museums and sights. These include the Domus Aurea (the once-golden palace of Emperor Nero) and Trajan Baths, both situated in the Oppian Hill Park. It's also here that you'll find the interesting Tomb of Marcus Virgilius Eurysaces the Baker, a funerary monument in the plebeian style incorporated into the Aurelian Wall.
Esquilino is at easy walking distance from Termini Station. Alternatively, you can get off at Vittorio Emanuele, metro Line A.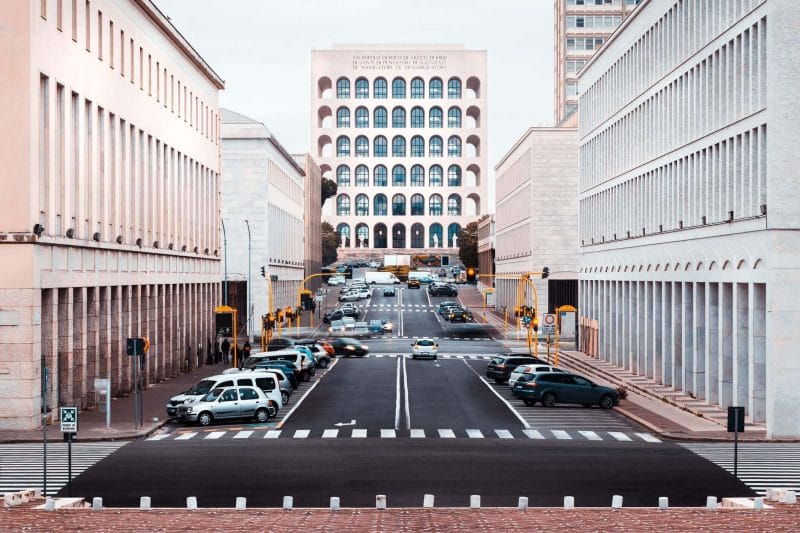 EUR
Established in 1942, EUR—an acronym of Esposizione Universale Roma—was specifically built as a home for the 1942 World Fair, which ended up being cancelled due to World War II. This rather remarkable neighborhood stands in stark contrast to much of the rest of Rome. EUR was intended to showcase Mussolini's Fascist ethos in architectural form.
The planned area remains to this day, and is home to a complex of different cultural centers; its urban planning follows that of Imperial Rome and the architecture is a simplified Neoclassical style. An array of company headquarters are located here, as well as several museums, such as the Museum of Roman Civilization. A bizarre place in comparison to Centro Storico, for instance—and situated far from the center—but worth a visit for anyone interested in design.
To get to EUR, hop on a metro Line B train and get off at EUR Fermi.
You should also read my post A Guide To EUR Rome District: 14 Best Places To Visit.
Further Readings
Make sure to read my other posts:
Pin It For Later!