Visiting Angkor Wat is a must when in Cambodia and getting your Angkor Wat ticket should not be a hassle. This UNESCO World Heritage Site is one of the best kept, most spread out in the world. But what does it take to visit?
At easy distance from Siem Reap, Angkor Wat used to be the center of the Khmer Empire – one of the most powerful in Southeast Asia. When it was abandoned, nature reclaimed the buildings and to date the site is beautifully immersed in the jungle. Places like Bayon, Ta Phrom, and Angkor Thom are simply stunning.
As it is by far the most popular place to visit in the country, Angkor Wat tends to be crowded with tourists and if you don't plan your visit carefully you may end up not enjoying it at all.
Worry not! In this post, I will tell you everything you need to know before visiting Angkor Wat, including how to get your Angkor Wat ticket, the best Angkor Wat tours, and the very important dress code you need to follow.
A Guide To Visiting Angkor Wat
Some background information about Angkor Wat
Once known as Yasodharapura, the city where Angkor Wat is located, was built by King Yasovarman I of the Khmer Empire and founded at the start of the 10th century. Back then, the empire spread to an area that covered a large portion of Southeast Asia, including what are today known as Laos, Cambodia, Thailand and even parts of Vietnam. The empire lasted from the 9th to the 15th century.
The various temples in the area were built in different time periods. The main one – Angkor Wat – was built in the first half of the 12th century, originally intended as a Hindu temple in honor of Vishnu, and later on becoming a king's state temple and mausoleum. It was only towards the end of the 12th century that Angkor Wat was converted into a Buddhist temple.
How long to spend in Angkor Wat
Angkor Wat is such a massive site – measuring a whopping 1000 square km – that you can easily spend a few days visiting and only scratch the surface. I spent two full days exploring – one of them visiting Angkor Wat at sunrise – and I knew there was a lot more to see.
Having said so, if a day is all you have, you can definitely make the most of your time on the site and if you follow a good itinerary you and brace yourself for 10 or even 12 hours of temple hopping in the terrible heat, you can definitely see loads.
GOOD TO KNOW: I will be sharing the itinerary I follow below, so continue reading!
Keep in mind that you can get one, three and seven days Angkor Wat tickets. Getting a multi-day pass doesn't mean that you need to visit the site on consecutive days – you just need to use the pass within a week (for the 3-days one) or a month (the 7-days pass).
Now, continue reading to discover what to see when visiting Angkor Wat.
What to see in Angkor Wat
As I have said before, you can spend days visiting Angkor Wat and never be quite done with it. Having said so, there are some sights that you really should not skip. Here they are.
ANGKOR WAT – Built by King Suryavarman, this massive temple is split into various layers. It's the largest in the complex – not to mention the largest religious building in the world – and for this reason gives its name to it.
BAYON – This Buddhist Temple built in three levels (the first two rectangular, whereas the top one is circular) is the main feature of Angkor Thom. It was built by King Jayavarman VII; it counts 54 towers and 216 faces of Avalokiteshvara.
TA PHROM – Nicknamed the Tomb Raider temple, this temple is testimony of the power of the jungle. It still looks like it was when it was "discovered" in the 19th century. It's where you'll get your iconic photos – simply an unmissable landmark when visiting Angkor Wat.
TA SOM – Similar to Ta Phrom, its main feature is a massive tree growing on the eastern Gopura, which is causing the building to slowly collapse.
ELEPHANT TERRACE – Literally decorated with elephants and lions, it was used as a viewing platform during ceremonies. It's one of the most crowded spots in Angkor Wat – and nevertheless a must see.
TERRACE OF THE LEPER KING – Built in the 13th century in honor of the god of the underworld, whose statue you can see when visiting. It's a terrace built in seven layers.
PREAH KHAN – A temple dedicated to Buddha, Brahma, Shiva and Vishnu, it's one of the largest in the Angkor complex. It used to be a Buddhist university, and in its prime time it was the palace of Yasovarman II and Tribhuvanadityavarman.
PREAH NEAK POAN – A Buddhist temple where a large square pool is surrounded by 4 smaller pools with a circular "island" in the middle.
BANTEAY SREI – AKA the Citadel of Women. It's located North of Angkor Wat. Contrary to other large sites in the complex of Angkor, it was not a royal temple.
PHNOM BAKHENG – The best sunset spot in the entire Angkor Wat complex.
PREAH KO – Located at about 16 Km south of the main Angkor Wat temple, it was the main temple of the city of Hariharalaya.
SRAH SRANG – A baray or reservoir and whose function is still unclear and probably a combination of agricultural and religious functions. It's also known as the "Royal Baths" and it is currently is used by local children for swimming.
EAST MEBON – A 10th century Hindu temple dedicated to Shiva, where guardian elephant statues are located at the four cardinal points. It used to be surrounded by a baray. It has five towers.
BAKSEI CHAMKRONG – This single tower built by Harshavarman I as a commemoration of his father, it is located between Angkor Wat and Angkor Thom.
PRE RUP – It was built by Rajendravarman as his capital once he became king and it's located south of the East Baray. The pyramid has three tiers.
Suggested itineraries for Angkor Wat
If you wish to explore Angkor Wat independently you really need a set itinerary – and a good map. Most hotels and hostels in Siem Reap will be able to provide both. The itineraries I share below are those I followed (with a guide!) and based on a 2-days visit. If you only have one day, or if you have more time, you will need to adapt it.
DAY ONE
Start in Angkor Wat, then make your way to Angkor Thom to admire Bayon. Continue to see the Elephant Terrace and the Terrace of the Leper King; then Victory Gate and Ta Phrom; finally go to Preah Khan and Banteay Kdei.
Your last stop should be sunset in Phnom Bakheng.
TIP: To experience sunset in Phnom Bakheng make sure to be at the gate no later than 4:00 pm. Only 300 visitors at a time are allowed in.
GOOD TO KNOW: This tour lasts 10 full hours, including the lunch break and the sunset.
DAY TWO
Head to Angkor Wat for the sunrise, then move to Preah Khan, Preah Neak Poan and Ta Som. From there, head to East Mebon, Pre Rup and finish in Sra Srang.
GOOD TO KNOW: This tour can take up to about 8 hours, including sunrise and breakfast.
Sunrise at Angkor Wat
You really should make it a point to see the sunrise at Angkor Wat. You will have to wake up at 4:00 am for that, but it is worth it.
The bad news is that sunrise at Angkor Wat is less than a private affair, but the good news is that if your guide is smart, you will never feel that it's too crowded.
TIP: Make sure to stay on the right side in front of the temples first. Most people go straight to the right, so that side gets crowded. Once the sun starts coming out, move to the other side for more photos. You will see the reflection on the moat and that is a lovely photo to take.
Practical Information For Visiting Angkor Wat
Getting your Angkor Wat ticket
There are one-day, three-days and seven-days passes for visiting Angkor Wat. Here is a breakdown of the costs:
ONE DAY PASS – $37 USD.
THREE-DAY PASS – $62 USD and can be used in the course of a week.
SEVEN-DAY PASS – $72 USD and can be used in the course of a month.
CHILDREN UP TO 12 YEARS OF AGE – Free, but proof of identity is needed.
Angkor Wat tickets all have a photo and as such they aren't transferable. They can only be bought at the gate, but apparently there are agencies in Siem Reap that will get them for you in advance and deliver them to your hotel – obviously for a fee.
GOOD TO KNOW: You can pay your Angkor Wat ticket in cash (USD, Euro, Cambodian Riel and Thai Baht are accepted – chance only in Riel) or by card.
You can get your Angkor Wat tickets here.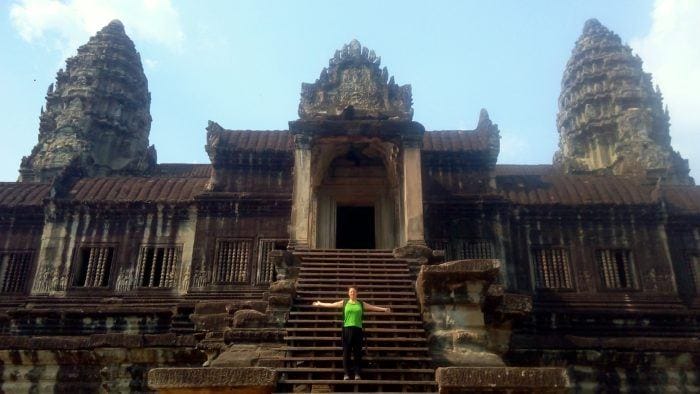 Guided Angkor Wat tours
The million dollar question here is: do you need a guide to visit Angkor Wat? Absolutely! A good guide will be able to guide you around the site sharing relevant information; he or she will be able of dodging the crowds, knowing where to go when so that you never feel overwhelmed with it; and will be able to show you the best photo spots.
You can ask your hotel or hostel for a certified guide – they normally charge anything between $30 and $50 USD per day, which is a reasonable price considering that the tours can last up to 10 hours. If you can share the costs with friends, this is certainly a good option.
GOOD TO KNOW: Tours that start at sunrise or that last until sunset usually have an extra charge.
Alternatively, there is a wealth of guided Angkor Wat tours that you can buy online. Here are some excellent options:
There even are guided photo tours of Angkor Wat.
GOOD TO KNOW: The price of guided Angkor Wat tours doesn't include the site admission fee.
Opening hours
Most Angkor Wat temples are open every day from 7:30 am to 5:30 pm, so if you head out nice and early, you can see a lot in a day.
Angkor Wat and Srah Srang open at 5:30 am so that you can see the sunrise.
Phnom Bakheng and Pre Rip which are open from 5:00 am to 7:00 pm for sunrise and sunset.
The ticket office is open from 4:30 am to 5:30 pm.
Best time to visit Angkor Wat
Cambodia only knows two seasons – the dry and the rainy season. Temperatures are generally hot, but humidity varies a lot – so you are definitely better off going during the dry season, between November and March. Yet, there are two things that are worth pointing out.
Even if you visit during the dry season, you will experience heat and humidity. I visited in March, and the day temperature was 41° C (that's 105.8° F) and humidity terrible.
Dry season in Angkor Wat means higher number of tourists, so you can expect the site to be crowded.
The hottest months are April to June, whereas the worst of the rain falls between May and October – making a visit sometimes less than pleasant. On the other hand, rainy season brings lower prices in Siem Reap, and fewer tourists.
Dress code when visiting Angkor Wat
The heat in Siem Reap is so strong that it is very tempting to walk around in shorts, tank tops and flip flops. Yet, you have to pay respect to the sites and the monks in them, so there is a dress code you should follow.
Make sure to wear long pants or a long skirt, closed-toes shoes and a shirt that covers the shoulders as the security guards won't allow you to enter the temples which are still used by the monks unless you are dressed appropriately.
Eating and drinking
You will find places to grab a bite and a drink around Angkor Wat. I recommend carrying a water bottle to save on plastic and to regularly sip some water to stay hydrated throughout the day.
Getting to Angkor Wat and around
Ankgor Wat is about 30 minutes drive out of Siem Reap, and so spread out that you can't really walk to it, and walk from one temple to the other – even less so as it is terribly hot.
You have three options to get to Angkor Wat and to move around the site.
BY TOUR VAN – Vans are air conditioned so you can have a break from the heat every now and then. For tour options, click here.
BY TUK TUK – Locally known as remorque, it is a great way of reaching the site and getting around. Expect to pay between $15 and $20 USD for the whole day.
BY BIKE – If you are the active kind and the heat doesn't bother you, consider renting a bike for a day. The good news is that it is very budget friendly. The bad news is that it will be slow, hot and that traffic getting in and out of Siem Reap is terrible.
Other useful tips for visiting Angkor Wat
Finally, here are some tips to help you make the most of your day in Angkor Wat, and a few recommendations.
HAVE AN EARLY START – This may sound cliché, but with the terrible heat and crowds it's honestly a good idea to start your day as early as possible.
STAY HYDRATED – I have already said this, but it's worth repeating. Make sure you drink regular amounts of water throughout the day to remain hydrated.
BE RESPECTFUL – Don't scream or speak loudly when in the temples. Remember there are monks there.
DON'T FEED THE MONKEYS – Angkor Wat is packed with monkeys (as well as cats kept by the monks). Don't feed them, don't pet them and leave them alone if they are sleeping. Remember they are meant to be wild animals.
DON'T RIDE ELEPHANTS – Elephant rides are still offered in the area of Angkor Wat but please don't go on one. These animals suffer terribly, and you certainly don't want to contribute to that. For more information, check out my posts A Quick Guide To Ethical Animal Tourism and The Complete Guide To Becoming A More Responsible Traveler.
Further Readings
Are you traveling across South East Asia? Make sure to check out my other posts:
Pin It For Later!