There are many incredible things to do in Siem Reap, and visiting Angkor Wat is just one of them.
Visiting Angkor Wat is definitely among the top things to do in Siem Reap. To many travelers it is the cherry on the cake of a trip to South East Asia, and I won't deny it was the same for me.
Despite the the 40° Celsius and the terrible humidity that made any sort of activity a real effort, I sure managed to make the most of my time in Siem Reap, and I want to make sure you do too. So, I thought I'd write a guide on the things to do in Siem Reap – just so that you know that Angkor Wat is only one of the sights.
Here you will find plenty of tips to plan your trip.
The Best Things To Do In Siem Reap
Visit Angkor Wat complex
There's no denying that exploring Angkor Wat is one of the coolest, and unmissable things to do in Siem Reap. Once the center of the Khmer Empire – one of the most powerful in Southeast Asia – Angkor Wat was abandoned and reclaimed by nature to become what it is today: a stunning mixture of jungle and ruins.
A proper visit of Angkor Wat should as a minimum include Bayon, Ta Phrom, and Angkor Thom and will take you no less than two full days. I also recommend joining a guided tour, as there really is a lot to see, and the site is crowded to the point that only qualified guides will know how to dodge the large groups of tourists.
TIP: As Buddhist monks still use the temples, there is a strict dress code to visit Angkor Wat and you should make sure to abide by it. Wear a long dress or skirt, or long pants, and avoid tank tops.
PRACTICAL INFORMATION: There are one-day, three-days and seven-days passes to Angkor Wat. The one-day pass costs $37 USD ($59 USD if bought online), the three-days one costs $67 ($90 if bought online) and can be used in the course of a week; the seven-day pass costs $72 ($103 if bought online) and can be used in the course of a month.
Make sure to check out my post A Complete Guide To Visiting Angkor Wat, Cambodia.
Guided tours of Siem Reap
As I have said before, I wholeheartedly recommend joining a guided tour to make the most of this enormous site. The following are the best ones you can book online:
There even are guided photo tours of Angkor Wat.
See the sunrise at Angkor Wat
One of the best things to do in Siem Reap is seeing the sunrise at Angkor Wat. You will have to wake up at 4:00 am for that but I promise you it is worth it. If you hire a good guide, you can also rest assured that you won't feel overwhelmed by the crowds.
You can book a sunrise guided tour and the guide will know exactly where to go and the exact timings for taking the best pictures.
TIP: Make sure to stay on the right side in front of the temples first. Most people go straight to the right, so that side gets crowded. Once the sun starts coming out, move to the other side for more photos. You will see the reflection on the moat and that is a lovely photo to take.
Go to Angkor National Museum
For a better understanding of Angkor Wat, consider visiting this museum entirely dedicated to Angkorian artifacts. It's a great place to learn about the culture of ancient Khmers.
And the Landmine Museum
Cambodia has a difficult past and you may want to learn a bit more about it by visiting the Landmine Museum, which is located in Angkor Park. It will explain a bit more about the Khmer Rouge. Profits go in favor of landmine clearing, and to support children hit by landmines.
Visit a floating village
Not far from Siem Reap, Tonle Sap is the largest lake in Southeast Asia, and a fun place to visit to observe a more traditional way of living – many still live in stilt houses! These are the best guided tours of Tonle Sap Lake:
The Flight of the Gibbon
If you like zip lining, make sure you try Flight of the Gibbon – it has some fun zip lines in Angkor Park. Flight of the Gibbon runs a very good conservation program, reintroducing gibbons in the area.
Read more about my zip-lining experience in Argentina on my post "Great things to do in Argentina."
Zip-lining with Flight of the Gibbon is an amazing experience. You will get picked up from your hotel at 8:00 am and taken to Angkor Park. The base is completely immersed in the jungle.
As soon as you arrive, you are welcomed by the English-speaking guides, who help you wearing the protective gear. You will then be taken to the beginning of the trail and trained about the safety measures, on how to fly and how to stop.
There are ten zip-lines, and 4 sky bridges. At each stop, you will be given information on the length of the flight, on the hight and – most importantly – you will be all tied properly for safety. You will also get insights on the jungle surrounding you, on the wildlife and plants you see.
When you will finally make your way to the base camp, you may be able to spot one of the gibbons that live in the area.
Before being driven back to town, you will be taken for lunch at a lovely restaurant and get to try some of the local dishes. Lunch is included in the experience.
Enjoy Siem Reap bustling night life
The center of town is one of Siem Reap attractions and can't be bypassed. It is a series of bars, restaurants (lots of them western style) and pubs, all blasting very loud music and offering happy hour deals.
Pub Street is packed with a younger crowd looking for cheap booze which can be found on the many "booze carts" selling alcoholic drinks in the street. It is fun to watch and join in the fun.
FUN FACT: I can't quite comment on that as I haven't tried it, but in the area of Pub Street you will find a small street vendor selling fried tarantula. You can only take photos if you eat it!
Go to Phare
Phare is the Cambodian Circus and it is nothing like what you'd imagine – or else, I wouldn't be recommending it here. The show is more like one you'd expect from the Cirque du Soleil – lots of acrobatics, and great music. You can book your ticket here.
GOOD TO KNOW: If traditional dancing is more of your thing, you can go to an Apsara show. Book it here.
Get a massage (and support a good cause)
The center of Siem Reap is the best place to get a cheap massage – an excellent way to relax after having spent the whole day in Angkor Wat. Lots of places offer a foot rub for just $1 USD, back rubs, and all sorts of other massages, and even the fish massage where fish eat the dead skin off the feet.
If privacy isn't an issue (customers are all sitting right next to each other in the open, passers-by curiously staring), this is one of the most fun and cheap things to do in Siem Reap. Just make sure that the people doing the massage are actually adults – I have seen lots of masseurs who looked way too young to be working till late, and I'd hate to contribute to child exploitation.
There also are various spas where the masseurs are blind people and where the profits go to support their training, employment and integration (but beware as there also are places that exploit the blinds for profits).
Shopping!
The Night Market in Siem Reap is packed with small stalls of local artists that sell hand made jewels, clothes and bags, some of it made from recycled material too. It's a perfect place to shop for souvenirs.
Another great market to visit is the Old Market – it's mostly local, and that's what's special about it!
Eat street food
Finally, one of the best things to do in Siem Reap is trying the street food (the best place for that is after Pub Street, on the way to the river). Stir fried noodles, fruit smoothies, fruit bars, rice cakes made with rice flour and coconut milk, filled with fruit or pumpkin, pancakes and what not. It was delicious and oh so cheap – not to mention a lot of fun. There even is a place that allegedly makes fried ice cream (which isn't fried at all, actually – but fun to see how it is made nevertheless).
Learn how to cook Cambodian food
If you are keen on learning the secrets into a delicious Cambodian meal (take it from a picky eater: food in Cambodia is delicious), a cooking class is one of the best things to do in Siem Reap. You can sign up here.
TIP: If you are a complete disaster at cooking, consider this pottery class instead.
What Not To Do In Siem Reap
This isn't meant to be a post on responsible travel (you can read one here). Yet, I feel compelled to comment on what I saw in Angkor Wat, because I was seriously bothered. One of the things not to do in Siem Reap (in fact, one of the things not to do anywhere in the world) is riding elephants. Yet, I saw quite a few elephants walking around the sites, and lots of them carrying tourists.
I am frankly shocked that there still are people that ride elephants in an era when information on how these animals are tortured, how their body structure isn't apt for carrying weights, and what the consequences are is so easily available. In fact, we don't even have to look for this kind of information, as it is provided to anybody who basically browses the web and has a Facebook account.
News such as that of the elephant that died in the 40 degrees heat after having been ridden by tourists are all over the web. The Mail Online was the first to report it.
If you are traveling to South East Asia make sure to stay away from activities such as elephant riding and the likes.
Check out my post A Quick Guide To Ethical Animal Tourism for more information.
Practical Information For Visiting Siem Reap
Where to stay and where to eat in Siem Reap
Siem Reap has a variety of good accommodation options for any taste and any budget. Make sure to base your choice of accommodation on the location. Most people opt to stay in the centre, not far from the mayhem of Pub Street.
These are some of the best places to stay in Siem Reap:
Food is never an issue in Siem Reap. Chanrey Tree is lovely: delicious food in a cozy environment and great service, all for around $15 USD per person which – granted – is a lot of money in Asia.
Another place to try is The Hidden Home. It is a family run restaurant tucked away in a quiet street, where the host is super nice and the food delicious. A meal which included an order of vegetables with tofu, chicken with pumpkin, two sides of rice, a beer and a mango smoothy and a courtesy plate of fruit turned out to be $8
USD.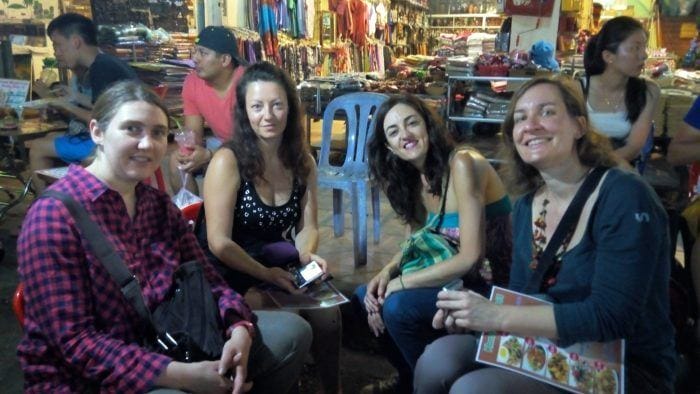 How to get to Siem Reap and away
Siem Reap is well connected to the rest of the country by bus, with connections to Phnom Penh, Battambang, and even Bangkok. Buses can even be booked online.
The airport is located at about 20 minutes drive from the city and has flights to various destinations in South East Asia, including Bangkok. Entry to Cambodia requires a visa that can either be obtained on arrival (but scams are very frequent – they even tried to scam me at the border) or via trusted online agencies.
Other tips to make the most of Siem Reap
DRINK LOTS OF WATER – The heat in Cambodia is unprecedented. One of the most important things to do in Siem Reap is to keep hydrated, drinking lots of water.
WEAR SUNBLOCK AND A HAT – Make sure to always protect against the sun, which is really strong at this latitude. Wearing a high SPF is necessary not to get sunburnt and in fact, make sure to get proper sun lotion as it is known that in this part of the world lots don't actually do what they promise.
APPLY MOSQUITO REPELLENT – Siem Reap and the rest of the country (and of South East Asia, in fact) are invaded with mosquitos. The chances of getting malaria are slim, especially during the dry season. However, make sure to apply mosquito repellent, possibly with DEET too. Wear long pants and shoes so that the areas where you need to apply it are minimal.
Further readings about South East Asia
Make sure to read my other posts about South East Asia:
Pin It For Later!