Should you visit Lake Titicaca, Peru? I say – absolutely! The highest navigable lake in the world, sitting right between Peru and Bolivia, will literally take your breath away – and that's not only because of the altitude. Spend enough time in this part of South America and you will be rewarded with some of the most impressive views during your trip; with a rich, unique culture and lots of interesting traditions; and beautiful archeological sites that are not nearly as crowded as the most popular ones in Peru's Sacred Valley.
Have I convinced you? Good! This guide is for you then. Continue reading for an overview of Lake Titicaca, Peru – including its history; what differentiates it from the Bolivian side; the main sights; the best tours of the area and also how to get there and where to stay during your visit.
Where Is Lake Titicaca?
Lake Titicaca is the largest lake in South America, and the highest navigable lake in the world. You'll find it high in the Andes, straddling both Peru and Bolivia, forming the natural border between the two.
Even though it's shared between these two South American nations, the main gateway to visit this high altitude lake is the city of Puno, on the Peruvian side. On the eastern side, the Bolivian capital of La Paz serves as the main jumping off point.
Lake Titicaca Facts
Lake Titicaca is such an iconic lake not just of Peru, but of South America as a continent – and globally, too. As I mentioned already, it's the highest navigable (i.e. large) lake in the world, and the surface of the lake is situated at an altitude of 3,812 meters (that's more than 12,506 feet) above sea level.
The lake boasts a surface area of 8,372 square kilometers, making it the largest lake in South America (a title which it also wins by volume, too).
Interestingly enough, the lake is actually made up of two almost completely separate parts. The larger part, Lago Grande, is located mainly in Peru. The average depth here is 135 meters (almost 443 feet), but at its deepest point the lake plunges to a depth of 284 meters (931.7 feet).
To the southeast, almost entirely in Bolivia, is the smaller Lago Pequeno (or Wiñaymarka), which has an average depth of only nine meters (29.5 feet), and a maximum depth of 40 meters (131.2 feet).
Difference Between Lake Titicaca Peru And Bolivia
Although Lake Titicaca can be visited from both sides, there is a bit of a difference between which country you are visiting from.
On the Peru side, there's the city of Puno, which is a mid-sized city more developed in terms of tourism. It has a whole selection of hotels, restaurants and tour agencies.
The Peruvian part of Lake Titicaca also has more islands and more archaeological sites to discover, making it arguably more interesting than the side of the lake that falls in Bolivia. It's also much deeper!
On the Bolivian side, the town of Copacabana lies on the shores of the lake, but it is less developed than its Peruvian counterpart. This is more of a "classic" backpacker destination, less well trodden and with fewer hotels and tourist services.
Brief History Of Lake Titicaca, Peru
Various cultures and people have lived on the shores of Lake Titicaca for thousands of years. The ruins of an underwater temple, for example, were discovered by a team of archaeologists in 2000. They are estimated to be around 1,500 years old, and thought to be built by the Tiwanaku people.
"Titicaca" is an Aymara word, and has various translations. One theory is "Puma's Rock" but another main one is "Gray-haired Puma" (titi meaning puma, and caca translating to gray hair). Locally it goes by several different names.
Of course, before the borders were drawn, the ancient cultures of the lake co-existed along its shores. For the Incas, Lake Titicaca was sacred; according to legend, the god of creation came from the lake itself to create the sun, the moon and the stars.
It was only after the Spanish conquest of the Incan Empire (from 1531) that the region changed. The Spanish were chiefly interested in a search for riches, particularly gold and silver. This led to violence in the mid-1600s.
The city of Puno was established in 1658 as the capital of the province, and thereafter Catholic influence began to take hold.
The population of the region is believed to descend from two ancient ethnic groups, the Aymara and the Quechua, with Aymaras predating the Quechua (Inca) civilization by several centuries. It is believed that this is the special region where a list of some very significant plants have their origins: potatoes, bell peppers and tomatoes.
Lake Titicaca is not only significant for its culture, and contribution to world cuisine, however: it is actually very rich in biodiversity. In fact, the lake was dedicated as a RAMSAR site thanks to its large population of water birds. The lake is also home to more than 530 aquatic species, including Titicaca water frogs (so-called "giant frogs"), which count among one of many threatened species that live in and around the lake; 90% of its fish species are endemic to the lake.
The Weather In Lake Titicaca, Peru: Best Time To Visit
Lake Titicaca's location in the high Altiplano region of the Andes gives it a semi-arid, borderline subtropical climate. Most of the year, however, you can expect cool temperatures, with dry winters and wet summers.
The dry season at Lake Titicaca runs from April to November, and is when you can expect mainly sunny clear skies and plenty of sunshine (mind you, I visited in mid-April and a memorable thunderstorm hit at night!). The average temperature around this time of year is around 16°C (60°F) dropping to below -5°C (22°F) at night time.
The rainy season runs between December to March. This time of year there is quite a lot of cloud cover that builds up throughout the year, commonly resulting in short, heavy afternoon downpours. Temperatures at this time of year are an average high of 17°C (62°F) and lows of 3.5°C (38°F).
The rainiest months of the year are January and February, when there is an average 100-plus millimeters expected to fall.
Thanks to the dry weather, the most popular time of year to visit Lake Titicaca is June, July and August. This will also be the busiest time of year, when accommodation and other expenses may cost more than during the wet season.
Shoulder season runs between April and May, and September to November. This is a good time to visit because tourist numbers are lower than they would be during the dry season, the weather is still fairly pleasant, and the landscape can still be quite green.
Best Places To Visit In Lake Titicaca, Peru
There are a range of activities that you can get up to when you visit Lake Titicaca. But since there are so many, I'm going to narrow them down to a few of the top highlights to give you an idea of what awaits you at this high-altitude oasis of nature.
Puno City
Puno is something of a crossroads, where you'll often find travelers passing through on their way to Bolivia or Chile. The city is honestly nothing special – definitely my least favorite of all the ones I saw in South America, the un-plastered buildings giving it an unfinished look. It's definitely less grand than other Peruvian cities (i.e. with fewer grand colonial buildings), but it's still a welcoming place to stay for a day or two.
As such, it makes for a great base for exploring the lake, which spreads out from the edge of town. From Puno, the lake's numerous floating islands are just a short boat ride away.
The city itself comes with everything you'd expect of a compact city: its own Plaza de Armas, a train station, an Andean Baroque style cathedral, among other things. Puno has also been dubbed Peru's folkloric capital, owing to its colorful festivals (especially the carnival) and traditional music.
Sillustani
Chullpa (thought to mean "house of the soul") is the name for the myriad stone towers that you'll find all around the Lake Titicaca area. While they look relatively modern, almost like lighthouses, these cylindrical structures are actually ancient burial markers. They're pre-Incan, and date back hundreds of years to the Culla civilization.
Although you can find them pretty much everywhere around the lake (in select spots, of course), it's Sillustani where you'll find the highest concentration. This small peninsula overlooking the lake itself makes up the grounds of an ancient cemetery.
Each structure is the final resting place for a family, although many have been raided by tomb robbers or toppled by earthquakes over the years.
There are two different styles of chullpa at Sillustani: ones with a honeycomb shape; and others with elaborate Inca-style stonework using Cusco stone.
Admission to Sillustani is 15 Peruvian Soles (that's less than $4 USD). To get there, you will have to hire a taxi from Puno or join one of the many guided day trips from Puno. For more information, click here or here.
Make sure to also read my post A Complete Guide To Visiting Sillustani.
Taquile Island
Though Titicaca is famed for its floating islands, the non-floating island of Taquile is still up there on many travelers' itineraries. The island itself is located 45 kilometers (about 28 miles) from the shore of Puno, and is home to approximately 2,200 inhabitants.
The art and textiles that originate from this island were designated a UNESCO Oral and Intangible Heritage of Humanity in 2005.
The clothing worn by the inhabitants of Taquile reveals many things about an individual, including marital status. The textiles here are made by men and women, using looms and needles in order to create various colors and designs.
For guided tours of Lake Titicaca that go to Taquile, click here or here. There is a small fee you will have to pay to be allowed to wander around Taquile.
Amantani Island
Many of the sights around Lake Titicaca have become fairly touristed, but Amantani is believed by many to be the most authentic. Located to the north of Taquile, it is a rural community home to around 4,000 people.
The rich agricultural history of the island has left a mark on its landscape, with agricultural terraces carved out of its hills. Many of the old Inca agriculture systems are still in place to this day.
But many people come to Amantani not just to see the agricultural side of the island, but to visit the island's famed basket weavers, too.
For guided tours of Lake Titicaca that go to Amantani, click here.
Uros Islands
A long time ago, the Uros people left their homes on the land to live on floating islands on the lake. Made from bundles of reeds, these floating platforms were designed as defense against hostile neighbors.
Today the floating islands are kind of touristy – especially compared to other islands on Lake Titicaca – but this doesn't make them any less interesting. There are around 48 of these islands still in existence, but most tours will take you only to the largest one: Huacavacania.
For guided tours of Lake Titicaca that go to Uros Islands, click here or here.
Luquina
Luquina is a small community that lives in a peninsula east of Puno. From there, you can appreciate incredible views over the lake. It's a very rural place, where locals – who speak Aymara – lead a very traditional life, living in modest adobe buildings. Most of them are farmers and have a field where they cultivate some vegetables and bring their animals (usually sheep) to herd.
The main perk to visit Luquina is to learn about the local way of life, but you'll also have a chance to go kayaking on Lake Titicaca. While at water, you can spot lots of birds and the views are stunning – and the water is pristine and incredibly transparent, if only really cold!
Most people who visit Luquina opt for a home stay in one of the local homes. Guests typically have their own private room and bathroom, and have their meals with the host family. It's a truly enriching and humbling experience to spend time with them, and learn about their life. When we visited, we stayed with the lovely Señora Rosa, who went above and beyond to welcome us in her home.
The best company that can plan your visit and homestay at Luquina is Edgar Adventures. They have offices in Puno, in Jr. Lima 328.
Practical Information For Visiting Lake Titicaca, Peru
Best Lake Titicaca tours
Being a huge area to explore, many people choose to join Lake Titicaca tours. Really, unless you speak perfect Spanish, know what you're doing, and have access to your own boat (I don't recommend this, obviously), the only actual way to see anything around the lake is via a tour anyway.
Usually Lake Titicaca tours can be booked through your accommodation, but there are many tourist offices in Puno that will offer various tours and you can also book them online (which has the advantage you can read reviews and even cancel 24 hours before the tour and get a full refund).
Lake Titicaca tours usually take in the same sorts of itineraries. They start early in the morning, when you'll be taken from your accommodation to Puno Harbor. Here, you'll hop on a boat and from there you'll be cruising around the lake to different islands and sights, usually getting off to explore specific locations.
For Lake Titicaca tours that go to Taquile and Uros Islands, click here or here.
For guided tours of Lake Titicaca that go to Amantani, click here.
How to get to Lake Titicaca
Though Puno may be the gateway to South America's largest lake, you'll still have to make your way from somewhere else in Peru in order to get there in the first place. Here are some ways you can do that.
Getting to Lake Titicaca by bus
There are many different itineraries and routes to reach Lake Titicaca, but the most popular (and arguably most convenient) is by bus.
The route between Cusco and Puno by bus takes approximately six to seven hours. The public bus leaves every hour, with prices starting at 40 PEN (about $10 USD). For private buses, depending on what company you use, and what seat you opt for (reclining, for example), prices can vary.
You can book your private bus from Cusco to Puno here.
One popular bus company is Peru Hop, which has routes all over the country. Most conveniently, they offer overnight services that leave Cusco at 10:00 pm and arrive in Puno at 6:00 am.
Another option is Inka Express, which is a tourist bus that connects Cusco and Puno, and which stops off at Inca sights along the way; this costs 337 PEN (around $83 USD).
You can book your sightseeing bus from Cusco to Puno here.
If you are traveling from Arequipa, you will have several bus departures daily. The journey takes around 6 hours along a very scenic route (that's how I did it, and the views along the way were absolutely stunning), and prices start at $13 USD.
Getting to Lake Titicaca by train
A few blocks from the center of the city is Puno's railway station. Arriving into the city from Cusco by rail is definitely an experience, even though it may not be the cheapest option.
However, opting for the train does mean you can travel in luxury. The Andean Explorer train, run by PeruRail, connects up Cusco and Puno on a luxurious 10-hour train ride. Passing through beautiful countryside, soaring peaks and picturesque villages, it costs $255 USD and includes food and drink. You will have to book it well in advance. Keep in mind the train runs on Mondays, Thursdays and Saturdays only.
There are no trains connecting Arequipa to Puno.
Getting to Lake Titicaca by plane
There is no airport in Puno. The nearest is in Juliaca, which is about an hour's drive away. So if you did want to take a direct flight to Puno from Cusco, or even Lima, you first have to fly to Juliaca Airport, and then take a taxi to make the final 50 kilometers of the journey to reach Puno.
You can book your transfer from Juliaca airport to Puno here.
Best places to stay in Puno
Puno is far from a backpacker-only destination, and is a sizeable town with multiple different accommodation options for different budgets. It is quite touristy, though, but because of that many places to stay here are quite high-end. Don't worry though: there is still a selection of budget hotels and hostels to stay in as well.
If you're a backpacker, or simply looking for a low-price place to stay, Inka's Rest Hostel is a great option. This is a bright and clean hostel with a selection of different rooms on offer, from dorms to private rooms with ensuite (or shared) bathrooms.
In terms of location, you'll find the hostel just a 10-minute walk from the shores of Lake Titicaca itself, and close to the central market and train station. When it comes to amenities, there's a kitchen, common room and a continental breakfast served up each morning.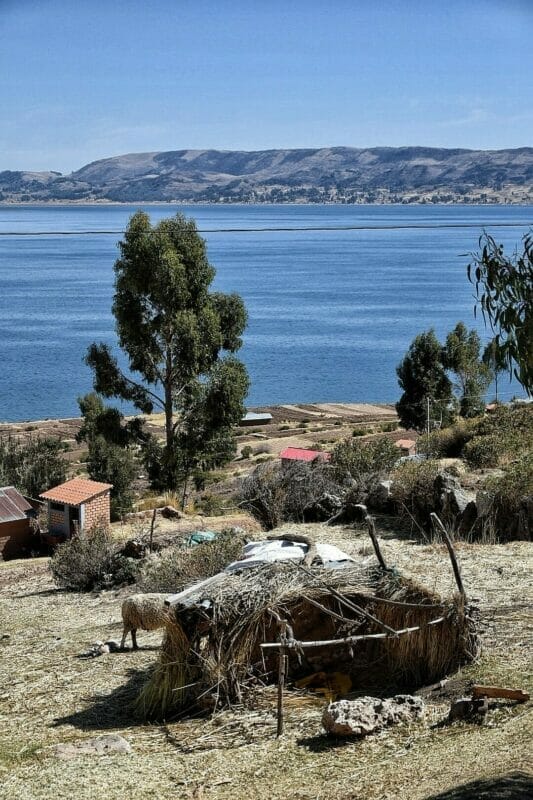 This affordable hotel option boasts a prime location just a few minutes from the main square. The guest rooms on offer are clean and comfortable, and are decorated in rustic detailing; bathrooms come with both warm showers and separate bathtubs, so you can have an enjoyable soak.
A breakfast buffet is provided each morning, and the hotel's restaurant also serves up a selection of evening meals alongside the option of room service. Additional services include laundry, massage treatments and a helpful tours desk.
Just outside of Puno is this beautiful full-service resort. Here you can enjoy the wide sweeping views of Lake Titicaca from one of the hotel's 17 rooms spread across two floors. Delicious food is served up at the hotel's restaurant, with local specialties, cocktails and wines on offer – all included in the room rate.
Rooms here are polished and meticulously decorated with wooden floors, wide windows overlooking the landscape and dreamy bathtubs for relaxation after a day of discovering the lake.
Where to eat in Puno
There are many good restaurants in Puno. You will want to stay away from those that try to lure guests in – but other than that, most will serve good food at reasonable prices.
We really enjoyed eating at Mojsa, located in Jr Lima 635. It's a very cozy place facing the main square and church in town, very popular with travelers. You may want to book your table in advance: they have a website and are very responsive to emails. They serve lots of delicious soups, main courses and desserts. It's a popular place to try cuy too. Portions are quite big, so consider sharing your main course if you are having an appetizer.
Another place you may want to try is Los Balcones de Puno. It's actually a very touristy place that is catering almost exclusively to groups and tourists (though there were locals when we went). What's nice about it is that every night there is a show of traditional dances that is fun to watch (it's extremely colorful).
Lake Titicaca Packing List
Puno is a city, but it might not have everything you need, so it's a good idea to arrive prepared for your Lake Titicaca adventures. Here's a short list of what you'll need:
Sunscreen – The sun can still be surprisingly strong at this altitude, even when it's cold.
Sunhat/sunglasses – Protect yourself from the sun.
Walking shoes – Sturdy, comfortable footwear is a must.
Warm clothes – Temperatures can really drop at nighttime.
Medication – Just in case! You may want some travel sickness for those winding mountain roads. Bring paracetamol to help you with headaches – you may get one from the altitude.
Refillable water bottle – Keeping hydrated is important. Bring one with a filter as water is not safe to drink in Peru.
Day pack – A comfortable day pack is a must for keeping everything you need on you when embarking on day trips around Lake Titicaca.
Further Readings
These other posts will come in handy when planning your trip to Peru:
Pin It For Later!