Are you visiting Peru and have lots of questions?
Peru has a lot to offer for travelers. Inca sites in the mountains, macaws in the Amazon rainforest and a coastline of more than 2,000 kilometers (more than 1,240 miles) – all of those places are waiting for you to come by and pay a visit.
At the same time, planning a trip to Peru can sometimes be overwhelming. There's so much to see and do that it becomes hard to choose where to go. Plus, distances are long, which can make it challenging to decide on an itinerary.
In addition, you might have lots of general questions about the country. How much is it going to cost? Is it safe? What is Peruvian food like, and what do I need to pack?
We have put together everything you need to know before you visit Peru, to help you plan your trip and navigate the country, so keep reading to learn all you need to know before visiting Peru.
Make sure to read my post A Classic Peru Itinerary.
What You Need To Know Before Visiting Peru
Is Peru safe?
Peru is relatively safe to visit, and if you follow a few basic rules, you shouldn't run into any problems.
While traveling around Peru, make sure not to carry too many valuables with you. If you have expensive watches or jewelry, leave them at home. You won't need them here, and they attract unnecessary attention. Instead, dress modestly and keep all valuables, like your wallet, camera and phone, out of sight when you don't use them.
Avoid going out alone after sunset, and don't walk down any dark, empty alleys. Muggings sometimes happen, so if you're unsure whether or not an area is safe to walk through, ask your restaurant or hotel to call you a taxi. While in the taxi, put your bag down to your feet. Don't keep it on your lap, where it'll tempt anyone to smash the window and grab it. A similar rule applies in restaurants, where you shouldn't tempt any casual thieves by leaving your bag or wallet in a position where they can quickly take it and run.
It might seem like you need to take a lot of precautions, but don't worry. Most of those are common sense, so you shouldn't find it hard to stay safe in Peru. Many travelers visit the country every year and have a fantastic time without running into any problems. Be vigilant, keep your eyes open, and enjoy your holidays!
You should also read my post Is Lima Safe For Tourists?
Know which neighborhoods are safe
One of the most important aspects of staying safe is to figure out in which area to book a hotel, especially if you're visiting Lima. If you only spend one night in the capital, you might be tempted to book a hotel close to the airport. It is much more convenient than having to spend half an hour on a shuttle to go to the more touristic neighborhoods, right?
However, the area around the airport in Lima is notorious for its crime levels. Therefore, you should avoid staying in that neighborhood if you can. If you only have a very short stopover and need a bed to sleep in, consider booking a room in the Costa del Sol Wyndham, which is located on the grounds of the airport.
Or make sure it's a hotel that offers a complimentary shuttle service and includes a restaurant, so you don't have to leave the building while you wait for your next flight. Also, double-check reviews to see if any guests had safety issues.
For all other purposes, get a hotel in one of the more touristic neighborhoods. You can find excellent accommodation in Miraflores, or you can look for hotels in Barranco or San Isidro. Miraflores is best if you only have one day in Lima, but the other neighborhoods are also safe and convenient if you visit Lima for multiple days.
Make sure to read my posts The Best Things To Do In Lima and Where To Stay In Lima.
Currency in Peru
The currency in Peru is the Peruvian Sol. 1 Sol divides into 100 centimos, and it is worth approximately USD 0.26 or 0.21€.
While visiting Peru, make sure to always have some cash on you. In the big cities, you might be able to pay with your credit card, but there's no guarantee. And in smaller towns and villages, you will need to pay in cash.
Fortunately, you can find lots of ATMs around the country where you can withdraw money. It's also a good idea to carry around some US Dollars for emergencies, as you can easily exchange those. Some hotels and tour operators even advertise their prices in USD and prefer if you pay in dollars.
Is Peru expensive?
Peru is relatively inexpensive by European and North American standards. If you've travelled to other South American countries, you'll find it cheaper than Chile or Argentina, but more expensive than Bolivia and mainland Ecuador.
How much you'll spend in Peru will largely depend on your travel style. If you're on a budget, you can get a cheap room in a hostel for around $10 – 15 USD, and you can enjoy a menu del dia lunch for around $2 – 3 USD.
On the other hand, you can find many hotels and restaurants catering to luxury travelers, so there's no upper limit to how much you can spend.
No matter your budget, if you want to visit Peru's main tourist attractions, the tickets are not cheap. If you're exploring the area around Cusco and the Sacred Valley, you should expect to spend $100 USD on entrance tickets alone. On the other hand, lesser-known areas are significantly cheaper to visit.
Ceviche is delicious
One of the must-try Peruvian dishes is ceviche.
Ceviche is made of raw fish marinated in lime or lemon juice. Most chefs mix in onion, chilis, pepper and salt, and some also season it with coriander. Sometimes, you'll even find a version prepared with passionfruit juice, which tastes much more fruity than the traditional ceviche.
The best place to try ceviche is along the coast because the fish is very fresh here. Lima is home to many excellent Cevicherias, restaurants that specialise in this dish. In the Andes, you'll often find versions made with fresh trout, which is native to the region.
Yes, you can try guinea pig in Peru
Peruvian cuisine offers many more dishes besides ceviche. There's lomo saltado, a stir-fry with beef and peppers, or aji de gallina, chicken served in a cheese and walnut sauce.
One of the more unusual foods you'll encounter on your trip is guinea pig, called cuy in Peru. The tradition of eating guinea pigs goes back to the Incas. The small animals were easy and cheap to raise and made for an excellent food source.
To see the importance of guinea pig for local culture, head to the Cusco Cathedral. Inside, you can see an oil painting of the Last Supper, and if you look carefully, you'll notice the guinea pig on one of the plates.
Today, cuy is a Peruvian delicacy that locals will eat on special occasions. If you want to try the meat yourself, the best place to do so is in the Andes, where many restaurants offer grilled or fried guinea pig.
Eat at a Chifa
Chifa restaurants are the Peruvian version of a Chinese restaurant, and they are one of the best options for food if you are visiting Peru on a budget.
More than 5% of Peruvians have Chinese origins, having mostly arrived from Guangdong between the 19th and the 20th century. Their culinary traditions inevitably adapted to the local tastes, flavors and ingredients, and the result is an interesting fusion of Chinese and Peruvian which you should try at least once.
Make sure to also read my post A Guide To Peruvian Food.
Is tap water in Peru safe to drink?
Tap water in Peru is not potable. Even if you're used to drinking tap water at home, you should avoid doing so here. The water can contain bacteria, amoeba and other pathogens that can make you sick and can quickly ruin your trip.
To be safe, stick to either bottled water or treat the tap water before you drink it. Also, avoid ice cubes when ordering a drink in a restaurant (sin hielo means without ice in Spanish), as they are often made with tap water.
Peru is huge
Peru is a fantastic country to visit, and you'll love its diversity. Unfortunately, it is so big that you won't be able to see all of it unless you have a few months.
The best way of visiting Peru is to focus on one or two areas. Most first-time travelers stick to Cusco and the Sacred Valley. The region is not just famous for Machu Picchu, but you can also visit lots of other Inca ruins or hike to Rainbow Mountain here.
The enormous size of Peru means that it's pretty easy to leave the beaten path. Head to the North if you want to see the remains of ancient civilizations or go for hikes through the Andes without running into hordes of tourists.
Trujillo, in the north of the country, is a nice colonial city that has retained all of its local atmosphere and which is the perfect starting point to visit Chan Chan, a unique archeological site.
And if you are looking for a completely unique experience that is totally off the beaten path, consider hiking to Marcahuasi. It's only 100 km (62 miles) from the Peruvian capital, but a world apart.
For more information about Marcahuasi, read this post.
Tips for getting around Peru
As Peru is so huge, getting around can be a challenge. Most travelers arrive in Lima. From here, you can either go up and down the coast by bus or take a plane to see destinations farther away.
In general, as long as you stay in one area, you'll find lots of options for local transport. But when distances get longer, it's worth looking into flights which are much more convenient.
If you want to see Cusco and Machu Picchu, for example, the best way to get there is to catch a local flight from Lima. The plane takes just a little over an hour, and you get a great view of the Andes from above.
For comparison, taking a bus takes around 24 hours and is often just as expensive as flying. It's a perfect option if you're planning on making stops along the way, but not worth it if you're short on time.
Book tickets for Machu Picchu and the train ahead of time
In Peru, most of the time, you don't have to make bookings far in advance. One of the exceptions is Machu Picchu. If you want to visit these Inca ruins, you should reserve everything you need as far ahead as possible.
The government of Peru only allows 2,500 visitors in Machu Picchu every day. That means that during the high season, tickets can book out weeks in advance. They are even more limited if you want to climb one of the mountains that overlook the ruins, in which case you should buy them around six to eight weeks before your trip.
You can get your tickets to Machu Picchu here.
Make sure to read my post How To Get Machu Picchu Tickets.
In addition, to visit Machu Picchu, you need to first make it to Agua Calientes, a town located at the foot of the ruins. The only way to get here is by taking a train, and those trains also tend to book out. Therefore, it's best to buy tickets as soon as they become available.
Check out my post How To Get To Machu Picchu.
The Inca Trail books out months in advance
You can find many fantastic hiking opportunities in Peru, and the most famous one is the Inca Trail. It ends at Machu Picchu and takes you past high-altitude jungle, grazing llamas and Inca terraces.
The government limits the number of tourists who are allowed to hike the Inca trail and only gives out 500 permits every day. While this sounds like a lot, around 300 of those are needed for guides and porters, leaving only 200 for tourists.
Due to the popularity of the Inca Trail and the limited number of hikers, the trek books out months in advance. If you want to hike to Machu Picchu, buy your permit well in advance. During the high season, it can book out as much as half a year earlier, so plan accordingly.
Make sure to read my Complete Guide To Hiking The Inca Trail To Machu Picchu.
But you can do lots of other amazing hikes in Peru
If you can't get a permit for the Inca Trail anymore, don't worry. You can find lots of fantastic hikes in Peru. The Lares Trek is a popular alternative for those who cannot hike on the Inca Trail. Others opt to hike to Rainbow Mountain or do the Salquantay or Ausangate trek.
Ask around in Cusco, and you'll find lots of tour operators who can offer hiking options for everyone. You can also find lots of fabulous hikes in other parts of the country. If you want to enjoy the outdoors, consider traveling to the Cordillera Blanca or explore the Colca Canyon near Arequipa.
Altitude sickness is a common challenge in Peru
One thing you need to be aware of before traveling to Peru is altitude sickness, which normally starts at an altitude of around 2,500 meters (8,202 feet) above sea level. Cusco is located at about 3,400 meters (11,155 feet), and if you opt to fly here from Lima, you're guaranteed to feel the altitude.
Take it easy for the first few days, and don't overexert yourself. If you're planning on going even higher than Cusco, for example, by hiking to Rainbow Mountain, you should leave a few days for acclimatization. To counter the effect of altitude sickness, drink lots of water, eat food that is rich in carbs, avoid alcohol, and drink coca tea. In terms of medication, I found that acetazolamide tablets (250 mg per day) really helped shake off the horrible headache.
Many hotels in Cusco offer oxygen to travelers suffering from altitude sickness, but it's best to seek medical help as quickly as possible if you get seriously ill.
Try the Coca tea
If you're just feeling mild symptoms of altitude sickness, you can also try drinking coca tea (mate de coca). The tea is said to help accommodate, and you'll find it in most hostels and restaurants. Don't worry about any negative side effects, as the raw leaves only contain very little of the ingredients needed to make cocaine.
An alternative is to chew raw coca leaves. Locals in the Andes have used coca leaves as a stimulant for centuries, and you might get offered one upon arrival at Cusco airport. Expect a leathery leaf and a strong taste, or go for the coca tea, which most travellers find much more enjoyable.
Also, remember that while coca leaves and tea are legal in Peru, you cannot take them home with you. Most countries ban the use of coca products, so leave all tea and leaves behind when you return home.
And Inca Kola
Step off Lima airport and you'll see posters around town, all speaking highly of the national soft drink – and since we are in Peru, that has a rather apt name: "Inca Kola." You will find this bright yellow, sugary drink at every shop, restaurant, bar and corner around the country.
It's hardly the best drink you'll try in your life, but when in Peru…
Peru has three distinct climate zones
We already mentioned that Peru is huge. But the country doesn't just stretch over more than 2,000 kilometers from north to south, it also expands over three climate zones from east to west.
Along the coast and further inland in Nazca, you can find the desert. It rarely rains in this area, and the weather is hot during the day with lower temperatures at night. Some places, like Lima, can become very humid in the evening when fog creeps in from the sea.
The next climate zone is the Andes. You'll encounter colder weather in the mountains, and it's not unusual for temperatures to drop below zero at night. The Andes are famous for their many microclimates, and the weather can change quickly as you move from one place to another.
Last, you have the Amazon rainforest. In the jungle, the weather is hot and humid. The two distinct seasons are the dry and the wet season, and during the latter, you will encounter lots of rain.
Due to the different climate zones, packing for Peru can be challenging. Plan in advance which climate zones you want to visit and combine lots of layers in colder areas. You can also rent down jackets in Cusco if you're planning on hiking in the Andes.
Peru is the perfect country to visit the Amazon
You already learned that one of the Peruvian climate zones includes the Amazon rainforest. While you can find most of the Amazon in Brazil, Peru is a wonderful country to visit this unique ecosystem.
Iquitos in Northern Peru lies in the middle of the Amazon and is so remote that it is the largest city in the world that you cannot reach by road. If you decide to fly here, you can stay in one of the many rainforest lodges nearby. Most offer multi-day packages that include accommodation, food and guided tours through the jungle, and a stay here is the perfect opportunity to see macaws, monkeys and even pink river dolphins.
Another excellent entry point to the Amazon jungle is Puerto Maldonado. Here, you can also find many jungle lodges that offer fantastic packages to explore the Amazon.
Make sure to read my post The Best Guide To Tambopata National Reserve. Need more travel inspiration? Read my post The Best Things To Do In Peru.
It's a great wildlife destination
Not many realize this before actually visiting Peru, but this is a fantastic wildlife destination!
Not too far from Lima, the Islas Ballestas are known as the Galapagos of Peru – or even Poor Men's Galapagos, since they are much more affordable than the islands of neighboring Ecuador – because of the incredible amount of wildlife you can spot in a short space. Expect to see penguins, sea lions, cormorants and lots of other species.
But that's not all. Travel to the Colca Canyon, near Arequipa, and you'll spot the condor, one of Peru's sacred animals along with the snake and the puma, which can be spotted in the Amazon region.
Interested in how to see animals responsibly? Read this post.
What is the best time to visit Peru?
In Peru, winter is synonymous with the dry season. From May to September, you'll encounter clear skies and less rainfall than during the rest of the year. As this coincides with summer holidays in the Northern Hemisphere, this time of the year is the high season in Peru.
Expect to meet lots of other tourists and book your tickets for Machu Picchu well in advance.
In summer, the rainy season lasts from December to March. The temperatures will be higher, but you'll also encounter lots of rain. Nevertheless, this can be an excellent time to visit Peru as you'll see far fewer tourists and prices go down during this time of the year.
Last, you have the shoulder season in April and from October to November. With a bit of luck, the weather is still good, and the main attractions won't be as filled with tourists as during the high season, so that is a great time for traveling to Peru.
Check out my post The Best Time To Visit Peru.
What are the visa requirements for Peru?
Many travellers, including those from many countries in the Americas and Western Europe, don't need visas to travel to Peru. Upon arrival, you'll get a stamp that allows you to stay in Peru for 183 days. All you need is a passport that is still valid for at least six months, or you might not be allowed to enter the country.
Once you've arrived in Peru, you cannot extend your stay. Therefore, if you want to remain in Peru for longer, you will need to check with your local embassy or consulate in advance.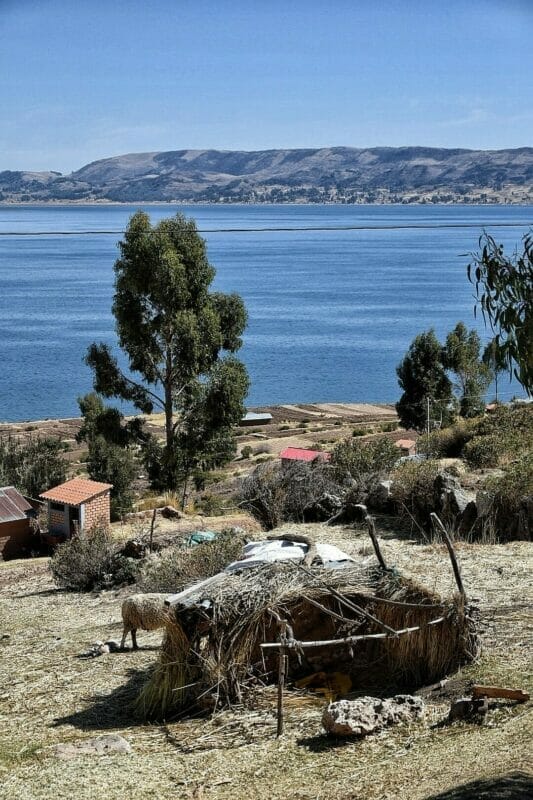 Crossing the border
If you are visiting Peru as part of a longer trip across South America, you may be entering Peru from either Ecuador, Bolivia or even Chile. Crossing the border is actually very easy and as long as your documents are in order it's a very smooth process.
For more information on crossing the border in Latin America, read this post.
Get travel insurance
This isn't really a requirement, but it's honestly much better that you plan to get a good travel insurance for your trip to Peru. You can get yours here.
Know what goes into the toilet
Plumbing in Peru might not work the same way you're used to at home, and knowing what goes into the toilet can save you from flooding your hotel bathroom.
Next to every toilet in Peru, you can find a bin. Drop your toilet paper in there, as it will block the plumbing if you flush it. Also, you won't find toilet paper at most public toilets in Peru, so consider carrying some with you when you go out.
Peruvians speak many languages
Even in the most touristy regions in Peru, not everyone speaks English. Most locals know Spanish, so learning a few basic words before your trip to Peru can go a long way. You might also find a phrasebook helpful, especially if you're using local transport and need to book bus tickets.
While Spanish is the official language in Peru, many locals grow up with a different mother tongue like Quechua or Aymara. Some children only learn how to speak Spanish when they go to school, and in rural areas, not everyone will feel comfortable speaking Spanish.
Nevertheless, if you make an effort to speak a few words in Spanish, most people will do their best to communicate with you.
This post was contributed by Daniel and Ilona, the lovely duo behind Top Travel Sights, where they share travel tips from all around the world. They love off-the-beaten path experiences, learning about different cultures and trying as much local food as possible. You can follow them on Facebook here and on Instagram here.
Pin It For Later!