Rome is one of the most famous global cities. Once the center of the vast Roman Empire and now the capital of Italy, this city is full of ancient monuments, grand Baroque buildings, charming streets, and endless discoveries to be made.
Many people have come and gone over the centuries. And whether they've lived in the city, or they were just passing through, Rome has never failed to make an impression. It's impossible to not have anything to say about Rome once you've experienced it.
And to inspire a Roman Holiday of your own, we've curated a list of those impressions. Here are some of the best quotes about Rome from poets, travelers, emperors and authors.
The Best Quotes About Rome
Food Quotes
It's impossible to talk about Rome without at least mentioning its amazing cuisine. There's bucatini all'amatriciana, rigatoni alla carbonara and supplì, just to name a few choice morsels. The list goes on.
There have been a fair few folk who've lived in or passed by the Eternal City who can't help but comment on its food scene. From cappuccino to cacio e pepe, here are just some of what the world has had to say about Rome's food:
"Here's what's strange, though. I haven't seemed to be able to do any Yoga since getting to Rome. For years I've had a steady and serious practice, and I even brought my Yoga mat with me, along with my best intentions. But it just isn't happening here. I mean, when am I going to do my Yoga stretches? Before my Italian speedball breakfast of chocolate pastries and double cappuccino? Or after?…The culture of Rome just doesn't match the culture of Yoga, not as far as I can see. In fact, I've decided that Rome and Yoga don't have anything in common at all. Except for the way they both kind of remind you of the word toga."

Elizabeth Gilbert (1969), Author, Eat, Pray, Love
"The Holy Grail in terms of breakfast bars is to find one that is also a pasticceria, or 'pastry shop.' There are some bars that make excellent coffee, and then there are pastry shops that bake fresh pastries – including cornetti – on the premises, every day. Most bars, while serving cornetti, buy them from a bakery. A recent trend for some bars is to buy frozen, unbaked cornetti, and bake them on the premises. It's not a bad alternative. And some bars do indeed get superb cornetti brought daily."

Elizabeth Minchilli, Eating Rome: Living the Good Life in the Eternal City
"The army from Asia introduced a foreign luxury to Rome; it was then the meals began to require more dishes and more expenditure … the cook, who had up to that time been employed as a slave of low price, becomes dear: what had been nothing but a métier was elevated to an art."

Livy, Roman historian (59 – 17 BC), The Annals of the Roman People
"If I'm in Rome for only 48 hours, I would consider it a sin against God to not eat cacio e pepe, the most uniquely Roman of pastas, in some crummy little joint where Romans eat. I'd much rather do that than go to the Vatican. That's Rome to me."

Anthony Bourdain (1956 – 2018), Chef
Humorous Quotes
Not everything about Rome has to be stylish, delicious or unbelievably ancient. The city has a sense of humor, too. And while some people have been making funny comments and jokes about Rome for centuries, others have employed their razor-sharp wit to express their love for the Italian capital.
"Italy has changed. But Rome is Rome."

Robert De Niro (1943 -), American actor
"When in Rome, live as the Romans do; when elsewhere, live as they live elsewhere."

Saint Ambrose (c. 340 – 397 AD), Bishop of Milan
"Everyone soon or late comes round by Rome."

Robert Browning (1812 – 1889), Poet, The Ring and the Book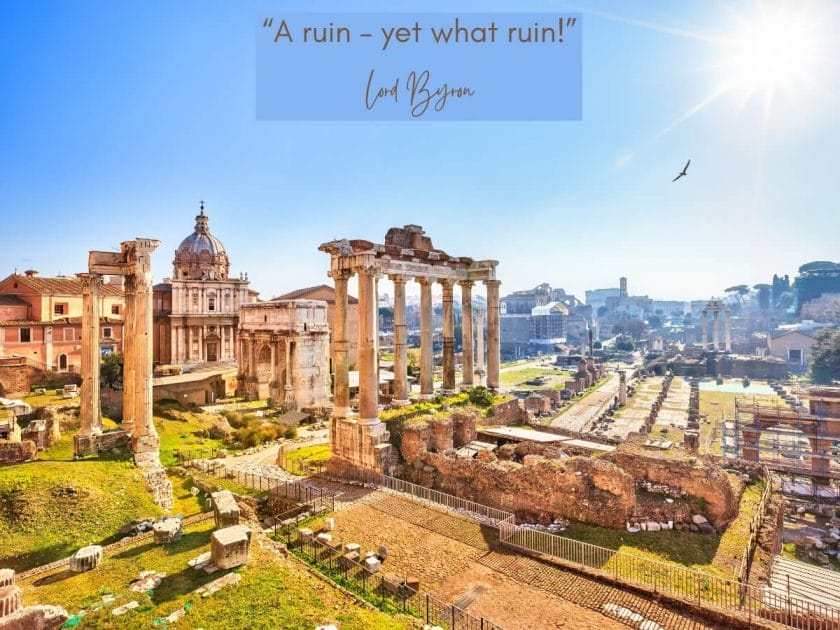 "A ruin – yet what ruin!"

Lord Byron (1788 – 1824), Poet, talking about the Colosseum in Childe Harold's Pilgrimage
"I thought I knew everything when I came to Rome, but I soon found I had everything to learn."

Edmonia Lewis (1844 – 1907), Sculptor
"The only talent worthy of Rome is that of conquering the world."

Jean-Jacques Rousseau (1712 – 1778), Philosopher
"Rome was a poem pressed into service as a city."

Anatole Broyard (1920 – 1990), Writer
"And I myself, in Rome, heard it said openly in the streets, 'If there is a hell, then Rome is built on it.'"

Martin Luther (1483 – 1536), Priest
Romantic Quotes
Rome and romance go hand in hand. In fact, the actual words "romance" and "romantic" are derived from the name of the city itself. While it may not be seen as such a "City of Love" as Paris, there's still a sultriness to Rome that can't not be described as romantic. Judging from the quotes below, a lot of people love Rome:
"Rome is not like any other city. It's a big museum, a living room that shall be crossed on one's toes."

Alberto Sordi (1920 – 2003), Actor
"The Roman evening either keeps still or it sings. No one can behold it without growing dizzy, and time has filled it with eternity."

Jorge Luis Borges (1899 – 1986), Writer
"You cheer my heart, who build as if Rome would be eternal."

Augustus (63 BC – 14 AD), Roman Emperor
"She had always been fond of history, and in Rome was history in the stones of the street and the atoms of the sunshine."

Henry James (1843 – 1916), Author, The Portrait of a Lady
"Rome is the city of echoes, the city of illusions, and the city of yearning."

Giotto di Bondone (c. 1267 – 1336), Painter
Travel Quotes
Rome has long been a travel destination. Even in the modern day, touring to Rome dates back to the 18th century, when European nobles would embark on the "Grand Tour" visiting hotspots of antiquity and monumental marvels.
It's no wonder, then, that everyone from novelists to travel writers have a few things to say about travelling in this amazing city:
"In Rome one had simply to sit still and feel."

E.M. Forster, Novelist, Where Angels Fear to Tread
"Yes, I have finally arrived to this Capital of the World! I now see all the dreams of my youth coming to life… Only in Rome is it possible to understand Rome."

Johann Wolfgang von Goethe (1749 – 1832), Poet
"I always wonder about people who go to Rome as they might go, for example, to Paris or to London. Certainly, Rome as well as these other cities can be enjoyed aesthetically but if you are affected to the depths of your being at every step by the spirit that broods there, if a remnant of a wall here and a column there gaze upon you with a face instantly recognized, then it becomes another matter entirely."

– Carl Jung (1875 – 1961), Psychoanalyst, Memories, Dreams, Reflections
"A fool is one who admires other cities without visiting Rome."

Francesco Petrarca (1304 – 1374), Poet
"Rome holds my psyche in balance. Whenever I'm there, it's like a holiday."

Giambattista Valli (1966), Fashion designer
"Rome's just a city like anywhere else. A vastly overrated city, I'd say. It trades on belief just as Stratford trades on Shakespeare."

Anthony Burgess (1917-1993), English writer, Inside Mr Enderby
Historical Quotes
Rome is nothing if not historical. It's one of the oldest continually inhabited cities in the world, of course! So here are some historical quotes about Rome to inspire you:
"Rome has grown since its humble beginnings that it is now overwhelmed by its own greatness."

Livy (59 BC – 17 AD), Roman historian, The History of Rome
"… Rome, the city of visible history, where the past of a whole hemisphere seems moving in funeral procession with strange ancestral images and trophies gathered from afar."

George Eliot (1819 – 1880), Novelist, Middlemarch
"From the dome of St. Peter's one can see every notable object in Rome… He can see a panorama that is varied, extensive, beautiful to the eye, and more illustrious in history than any other in Europe."

Mark Twain (1835 – 1910), Writer, The Innocents Abroad
"Rome has not seen a modern building in more than half a century. It is a city frozen in time."

Richard Meier (1934 -), Architect
"As long as the Colossus stands, Rome will stand, when the Colossus falls, Rome will also fall, when Rome falls, so falls the world"

Bede (672 – 735 AD), Monk, writing in a poem about a statue of Emperor Nero that did actually fall!
"I found Rome a city of bricks and left it a city of marble."

Augustus (63 BC – 14 AD), Roman Emperor
"The Rome he has been trained to serve, the Rome of Augustus and Germanicus, was gone. In its place stood Neronopolis, ruled by a megalomaniac brat."

James Romm (1958-), Historian, Dying Every Day: Seneca at the Court of Nero
Further readings
Make sure to read my other posts about Rome:
Pin It For Later!