Have you been dreaming about visiting the Eternal City but are unable to go at the moment? Why don't you opt for a Rome virtual tour? I know, it's not quite the same thing – but seeing this gorgeous city from the comfort of your home is definitely better than nothing. Plus, you get to enjoy the Italian capital without the crowds!
You see, during virtual tours you will get a great impression of a the place you'd like to visit in real life, and – if done right – they manage to accurately simulate the physical space of the place with the use of video and images. In some cases you will also have a local guide "taking you around" and showering you with lots of interesting information.
Whether you are sitting on your couch or at your desk, my selection of the best virtual tours of Rome will get you dreaming – the only thing you need is an internet connection.
Continue reading for the best Rome virtual tour and discover the best archeological sites; the top museums and galleries; the most beautiful squares; the most beautiful churches and the rich Renaissance culture that you can see right now. I have even selected a couple of virtual cooking classes – so that you can make your very own pasta or pizza at home!
Some museums have gone has far as putting together 3D experiences during which you have full overall view of the museum and its collection, and are literally able to walk through the premises thanks to Google Arts & Culture technology. In other cases, your virtual museum tour will be more simple: much like in real life, the exhibit is categorized by room or time period, and you'll have some text to accompany what you are seeing. Some attractions have gone as far as having live tours!
The Best Virtual Tours Of Rome
Virtual Tour of the Colosseum
Usually the first place that comes to mind when thinking of Rome is the Colosseum. It's no surprise: the Flavian Amphitheater (that's its formal name) is where the infamous gladiator games took place and to date it remains quite a sight. It's impressive how, despite the passing of time, wars, earthquakes and what not, it still stands in (almost) all its glory for you to admire.
Construction of the Colosseum started in 70 AD under orders of Emperor Vespasiano, and was finished in 80 AD under Titus (Vespasiano's son) rule. The hypogeum was added upon orders of Domitian.
You can book your virtual tour of the Colosseum here.
Virtual Tour of Ancient Rome
If you wish to discover Rome as it used to be when it was at its highest and was called Caput Mundi (Head of the World), and are looking for a tour that covers several places in one go, you may want to join a virtual tour of Ancient Rome.
The first stop will be the Colosseum, where you will also explore the hypogeum and the area where the gladiators lived (and died). After that you will go to the Roman Forum, to visit the Temples of Romulus, the Vestal Virgins and the market. Finally, you will visit the Palatine Hill, where Rome élite and aristocrats used to live.
You can book your guided virtual tour of Ancient Rome here.
Here is a short free virtual tour of Largo di Torre Argentina archeological site, the place where Julius Cesar was stabbed to death and now home of a cat sanctuary.
Virtual Tour of Capitoline Museums
Located on the Capitoline Hill in Piazza del Campidoglio, the Capitoline Museums are among the best in Rome. Their main focus is Roman imperial history, so they may be a nice addition to a tour of Ancient Rome. The exhibit includes art from Ancient Rome, Medieval Rome, Renaissance, with pieces such as the Equestrian Statue of Marcus Aurelius, the Bust of Commodus, Medusa, Capitoline Venus and more.
To tour the Capitoline Museums, get on the official museum page here. Alternatively, you can browse the collection in Google Arts and Culture here.
Virtual Tour of Trajan's Market
With its 6 stories, 150 shops and offices, Trajan's Market (Mercato di Traiano) is known as the world's first shopping mall. Located next to Quirinal Hill, it is part of Trajan's Forum, one of the six imperial forums in Rome – not to mention the largest. The market was built in the 2nd century AD by Apollodorus of Damascus, an architect hired by Trajan himself.
To visit Trajan's Market from the comfort of your home, click here.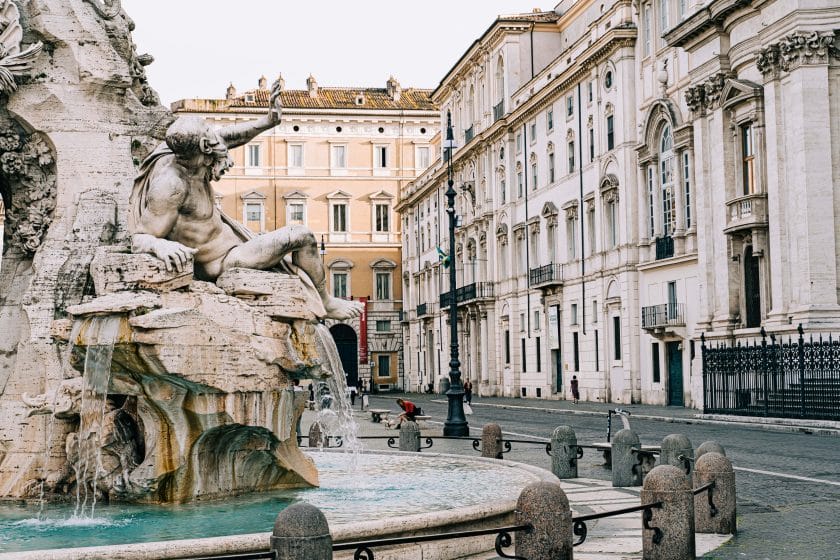 Virtual Tour of Rome Piazzas And Fountains
If there is one thing locals and tourists alike enjoy when in Rome, that's the many airy squares and the gorgeous fountains. The city of La Grande Bellezza (Great Beauty) is home to the iconic Trevi Fountain, a masterpiece of Baroque art designed by architect Nicola Salvi in 1762; the Spanish Steps, which we actually call Piazza di Spagna; Piazza Navona, home to three Bernini fountains; Piazza del Popolo; Campo de' Fiori and more.
You may want to check out this free Youtube video of the ruins underneath Piazza Navona; and this free video that reveals what's underneath Trevi Fountain.
Make sure to also read my post The Most Beautiful Fountains In Rome.
Virtual Tour of the Pantheon
The Pantheon is one of the most famous and best preserved buildings in Rome. Built in 120 AD upon wishes of Emperor Hadrian, it was originally a temple that eventually turned into a Catholic Church. Its main features are the Corinthian granite columns, the portico, and its unsupported spherical dome on which St. Peter's Basilica dome was actually modeled.
For a 360° tours of the Pantheon, click here. For more information, you may want to check out this post.
Virtual Tour of Centrale Montemartini
Centrale Montemartini is one of the lesser known museums in Rome, but definitely worth visiting. Not only you will find a fantastic collection of mosaics and Roman statues; but the location – an old power station – makes it all the more interesting.
You can visit Central Montemartini virtually thanks to Google Arts And Culture – click here.
Virtual Tour of the Vatican Museums and the Sistine Chapel
The Vatican Museums house what easily is one of the most impressive art collections in the world. What's more, the palace where it is located is a series of beautiful rooms decorated by artists like Raphael and Michelangelo.
I admit that seeing masterpieces such as The Last Judgement in the Sistine Chapel on a virtual tour is not quite the same – admiring it in real life will honestly give you goosebumps. But while you sit at home planning your trip to Rome, you may as well check them out.
Online tours of the museums typically include a highlight of the Pinacoteca – the painting gallery; and a detailed overview of the Sistine Chapel.
The official website of the Vatican Museums offers viewings of the Sistine Chapel here, and of the Vatican Museums here.
Virtual Tour of St. Peter's Basilica
The most famous, the largest and probably most beautiful church in Christendom, St. Peter's Basilica is a masterpiece of art. Inside, amidst the gold, marble and stucco, you'll be able to spot the work of Bernini, author of the stunning altar in Baroque style (the same Bernini designed St. Peter's square); and of Michelangelo, whose Pietà statue is often the highlight of the visit.
If you want to admire the Basilica, you can visit the website of the Vatican. Unfortunately, the tour is nothing more than a collection of photos you can zoom in – but you can match it with this audioguide by National Geographic for a more complete experience.
Virtual Tour of Palazzo del Quirinale
The official residence of the President of the Republic of Italy and a place we Italians are accustomed to see on the news all the time, the gorgeous Quirinal Palace was the summer residence of Pope Gregory XIII and was built in 1574. The most beautiful sights include the Hall of Mirrors, the Great Ballroom, Mascarino Staircase and the First State Room.
You can go on virtual guided tours of the various rooms of the palace – just click here – or on virtual tours of the garden – click here.
Virtual Tour of Santa Maria Maggiore Basilica
Santa Maria Maggiore Basilica dates back to the 5th century and is one of the most beautiful churches in Rome. The highlight of any visit is the beautifully kept mosaics in the triumphal arch and nave, and Bernini's tomb.
You can see enlarged images of the interior of Santa Maria Maggiore on the official site here. You may wish to accompany that with this Youtube video by Urbanist.
Virtual Street Art Tour of Rome
Who said that all virtual tours of Rome have to be about classic attractions, museums, churches and the like? I have good news for you: there is a Rome virtual tour which is just perfect for street art lovers, courtesy of Google Arts and Culture.
Go on a virtual tour of street art in Rome by clicking here. The page seems to be in Italian, but if you click on the various pieces you will see the description is in English. If you scroll down you will get to two different museum views.
BONUS! Virtual Cooking Classes
One of the best ways to experience a new place we are visiting is through its food – whether sitting at a restaurant, on a (street) food tour, or during a cooking class. If you miss the flavors of Rome and would like to reproduce them at home, you can join a cooking class.
For a virtual pizza making class, click here. And here is my famous supplì al telefono recipe.
So, Which Rome Virtual Tour Should You Pick?
Why not all?
Honestly, the great thing about a Rome virtual tour – in fact, pretty much all virtual tours – is that it is extremely budget friendly (in fact, many are completely free), so even if you do them all you won't break the bank. Some tours are on Youtube, so you can literally go whenever you have a spare hour or so. In other cases, you will have to book your activity in advance, and stick to the time / date you bought, but most companies have a 24 hours cancellation policy so in case sometime comes up, you can get a refund and / or reschedule.
Further Readings
For more about Rome, you may want to check out my other posts:
Pin It For Later!