Are you visiting Rome for the first time? You must be incredibly excited, and also overwhelmed with the planning.
The Italian capital is a massive city; one of the most popular places to visit in Italy and certainly one of the most visited cities in the world. Chaotic yet incredibly beautiful, this is the kind of place where you will be walking endlessly. There are so many things to see and do in Rome that you will feel compelled to stuff your itinerary and even then you won't see it all (you never will, not even in a lifetime hint hint!).
Mind you though – the Eternal City can get very crowded with tourists and that can feel overwhelming at times – unless you know how to avoid the crowds.
If you are looking for some help to plan your first trip to Rome, or for travel tips for Rome for first time visitors, you have come to the right place. I have been to Rome more times than I can remember; I have lived there for a few months and know the city (almost) like the palm of my hand and I can share a bunch of travel tips for Rome that will help you make the most of it.
Continue reading to discover everything you should know before visiting Rome.
The Best Travel Tips For Visiting Rome
Any time is a good time for visiting Rome
Or so we say!
Truth be told, though, Rome can get unbearably hot in the summer months, especially in July and August when temperatures go all the way up to 38° C (around 100° F), and wandering around from place to place may be hardly fun. August is also when the city empties out of locals – Italians traditionally take their summer holidays then; and crowded with tourists. So you may end up missing the local atmosphere which the city still very much has.
If you ask me, you are better off visiting Rome during shoulder season – March to May (but avoid Easter as the city is packed with tourists then), and October – November. That's when temperatures are pleasant; there aren't as many tourists (though the city is never empty) and prices are a bit lower. September is another great month to visit Rome – but still quite warm.
You really need to get skip the line tickets
If it is your first time visiting Rome you will want to visit all the most popular landmarks – the Colosseum and the Roman Forum, St. Peter's Basilica and its Dome, the Vatican Museums and the Sistine Chapel beautifully painted by Michelangelo, the Pantheon, Trevi Fountain and Villa Borghese just to name a few. Trouble is – chances are that anyone traveling to Rome will want to do the same. This means that the sites can get crowded, the lines at the ticket office endless, and the overall experience less than memorable.
What you really, truly, importantly need to do before actually traveling to Rome is getting skip the line tickets for all the key attractions (or, even better, a guided tour with skip the line tickets included) and / or time your visit carefully so that you visit when it is less crowded.
You can get skip the line tickets to the Colosseum here; and for the Vatican Museums and Sistine Chapel here.
In fact, although St. Peter's Basilica is free to access, I suggest you snag a guided tour for that too as it will allow you to go through the line much faster and may at times include a ticket to the Dome (which costs €8 and for which you'd otherwise have to line). The best tour is this one that departs at 8:00 am so you can pick to visit the Vatican Museums and Sistine Chapel immediately afterwards.
For more travel tips for Rome's most popular attractions you may want to check out my smart guides:

A Roma Pass may be a good idea
If you are hoping to save a few bucks here and there, get discount on attractions, access public transportation without having to worry about getting tickets each time you need a ride and to get tickets for many attractions in Rome, you may want to invest in a Rome City Pass such as this one.
The pass includes skip-the-line entrance to the Vatican Museums and the Sistine Chapel; dedicated entrance to St. Peter's Basilica (which is free to visit, but there usually is a long line to get in) as well as an audio-guide; skip-the-line entrance to the Colosseum, Roman Forum and Palatine Hill; and an audio-guide of Rome.
Most passes will also include discounts to visit a whopping number of attractions, access to Rome public transportation and at times even transportation back to the airport.
A couple of things to note is that when you get the Roma Pass you will have to book your time slot for visiting the various attractions separately, and pick the duration of your pass (typically 24, 48 or 72 hours).
Make sure to check out my post The Best Roma Pass Options And How To Make The Most Of It for even more information.
It's all about the timing
With so many tourists wanting to visit the same attractions in Rome, it's inevitable that these get crowded. For those that require an admission fee, I have already suggested to book your visit well ahead of time and to look for skip-the line options.
What with the many places to visit that are open to the public and free, then? In this case, you will have to either come to terms with the crowds and some random tourist photobombing your best shot, or (better) be smart about your timing.
Here are a few examples:
ST. PETER'S BASILICA: Free to visit yet incredibly crowded, in order to get in you will have to line up for the security checks. To avoid that, you have two options: either join a guided tour such as this one that departs at 8:00 am and allows you to skip the line and which includes tickets to the Dome too; or go later on in the evening, about 1.5 hours before closing time (6:00 pm from October to March and 7:00 pm from April to September) and buy tickets to go up the Dome (it costs €8) at the door (hopefully there won't be a line!).
PANTHEON: You don't really need more than 30 minutes to visit the Pantheon, so try to go about 45 minutes before closing time (7:15 pm Monday to Saturday, and 5:45 pm on Sundays). Another idea is to go have breakfast in one of the cafés in Piazza della Rotonda no later than 8:00 am and then try to walk in as soon as it opens at 9:00 am.
TREVI FOUNTAIN / SPANISH STEPS: Packed throughout the day, and in the early evening, your best bet of seeing them a bit emptier (though never fully empty, I'm afraid) is to go on a night walk – maybe on your way back after dinner, if you are staying in the Historic Center.
Leave room to be spontaneous
One of my best travel tips for Rome is to carefully plan your time in the city, especially if it is your first time there. Having said that, you should also leave enough room to be spontaneous. Add an extra day – even when you think it is not necessary; and even if you think you are tight on time – so that you can just roam the city and pop inside every place you come across that strikes your interest is a good idea.
That extra day will give you time to explore the city more spontaneously, getting off the beaten track to discover places that are right in front of your eyes but not on anyone's bucket-list (yet they should be!).
Short on time? Read my post How To Visit Rome In A Day. If you have more time, read my post How To See Rome In 3 Days.
Get off the beaten path
If you are visiting Rome for the first time chances are you will want to stick to the main tourist spots. Yet, Rome has so much more to offer and literally meters away from the main landmarks you can find some incredible hidden gems that won't be nearly as crowded as the rest of the city. My favorite example is the Largo di Torre Argentina archeological site and cat sanctuary, close to Piazza Venezia.
Curious about what to see in Rome that is out of the main tourist trail? Read my post 31 Incredible Places To Explore Rome Off The Beaten Path.
And out of town
There are many incredible places to visit just outside of Rome and you can get there easily by public transportation. If you are adding that extra day to your itinerary as I have recommended, you should definitely consider getting out of town.
Where you go will obviously be a matter of season – if it's the summer time, you may want to head to the beach or escape the heat on the hills, for example; taste – do you have an interest in wine? are you keen on seeing small historical villages? do you want to check out more archeological sites?
The most popular day trip from Rome is usually to Ostia Antica, with Hadrian's Villa and Villa d'Este being close contenders. Castel Gandolfo is another nice place to visit for a day, and you can easily explore the Castelli Romani (and go wine tasting) from there. If you are looking for something a bit lesser known, head to Viterbo, the main city of the Tuscia region. It's a lovely small city with a beautifully preserved historical center and not a fraction of the crowds of Rome.
For more ideas on day trips, check out my posts 16 Great Day Trips From Rome and A Fantastic Day Trip To Castel Gandolfo.
Pick your accommodation wisely
Rome has many excellent hotel options. I recommend staying in the historic center (where Piazza Navona and the Pantheon are located, to be precise), Prati or Monti for easy access to the most famous attractions, and for more options for places to eat and go out for a drink. These areas are all well connected by public transportation.
Here are some good options:
Know a good restaurant from a tourist trap
You won't have trouble finding good food in Rome, but here's a little tip: food is much better and actually cheaper wherever locals eat. How do you spot a local place from one that isn't, in a city that is so geared to tourists?
Restaurants, trattorie, pizzerie, bars, coffee shops etc. in Rome are open throughout the day. Yet, Italians wouldn't dream of having lunch before 1:00 (and even then, that's a bit early in many regions in central and southern Italy) or dinner before 8:00 pm. Walk by a place where you see someone having a big portion of pasta at 5:00 pm, and you will be sure that person is a tourist and that place is geared to tourists. Italians would at most have "merenda" (snack) then! See "spaghetti bolognese" on the menu and just walk away (that's a dish we don't have here!).
If you want to make reservations to a place, ask your hotel receptionist or look through the welcome folder in your Airbnb in Rome – both will be able to provide a selection of good restaurants in town.
In doubt, call Renato e Luisa – it's my favorite place to eat in town, and I promise you won't regret going.
And if you are keen on trying local flavors, join a food tour such as this one.
Curious to know what you should eat during your trip? Read my post All The Food In Rome You Should Eat: 25 Delicious Dishes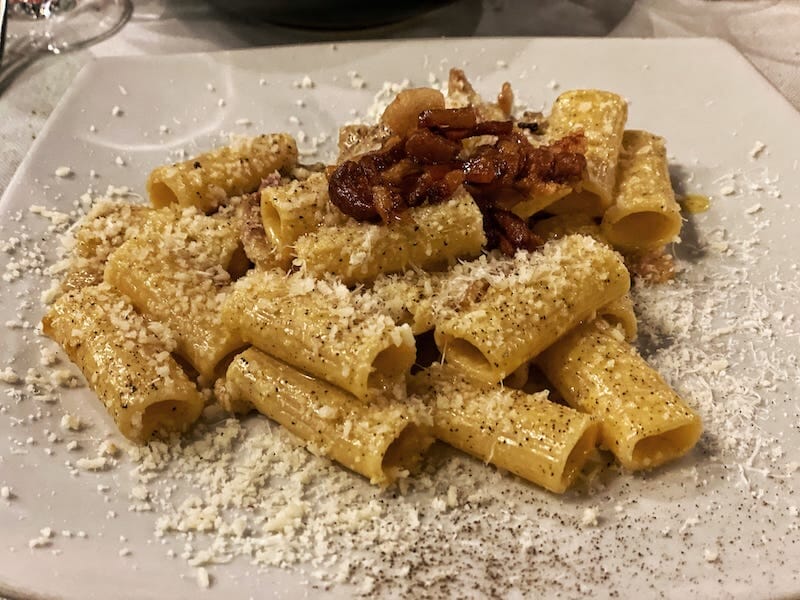 Remember that tipping is not compulsory
I will never tire of saying this: you don't have to tip for anything in Italy. Waiters, drivers, hotel staff, tour guides etc are all paid good wages, that also includes benefits. We Italians don't ever tip – not in the structured manner you guys from the other side of the Atlantic are accustomed to.
We at most round up our bill and add a few euro. And remember, if you are eating at a restaurant in a large group a service fee – known as servizio – will be added to your final bill and you really don't need to tip on top of that.
Not convinced? Make sure to read my post Tipping In Italy: When To Tip And How Much.
Plan how to get to Rome
Rome has two airports – Fiumicino is where intercontinental flights and all major airlines land; and Ciampino is the one used by budget airlines and with flights to Italy and Europe. Both are well connected to the city via several means of transportation.
The best way to get from Ciampino Airport to Rome city center is by taxi or bus. Terravision is the most reliable bus company.
The best way to get from Fiumicino Airport to Rome is the express train, which runs every 15 minutes (or every 30 minutes late at night). You can buy tickets and check the timetable online. Remember to validate your ticket before getting on the train!
If you want to travel more comfortably, you can opt for a taxi (the flat fee is €48) or a private transfer, such as one of these:
You can book your private transfer from the airport to the city center via Welcome Pickups here.
For more information, check out my post How To Get From Fiumicino Airport To Rome City Center.

Discover how to move around Rome
You will eventually need to use public transportation when visiting Rome, and the good news is that – despite the occasional hiccup – it actually works quite well. Remember to validate your ticket before getting on the metro or as soon as you get on the bus.
Uber unfortunately isn't really a thing in Italy, so if you think you will be needing the occasional taxi, download MyTaxi.
Another option may be that of renting a bike (you can get yours here) to moving around the center of town. In fact, you may be interested in joining a guided bike tour – you can book it here.
Mind the dress code
Whether you are visiting Rome in the winter months or in the summer, one thing won't change: you will need to be dressed modestly to visit churches and holy places. If it's winter, this won't be much of an issue really. If it is summer and hot you will be tempted to go around wearing shorts, tank tops and flip flops. That's not an acceptable dress code to walk inside St. Peter's Basilica, and rest assured you will be stopped and sent away unless are dressed properly.
Make sure to cover your chest, shoulders and knees when visiting churches – you can simply carry a light shirt or t-shirt in your day pack so that you can quickly layer up when entering a holy place.
Only pack comfortable shoes
With the amount of walking you will be doing in Rome, and the fact that many streets in the historic center are cobbled, the last thing you will need during your trip to Rome is a set of glamorous heels.
You won't be able to fully enjoy the city if your feet (or back) hurt or if you get blisters for wearing a pair of shoes you have just bought. Pack a pair of walking shoes you know are comfortable – besides, nowadays you hardly have to sacrifice glamour for comfort!
Make sure to read my post What To Wear In Rome.
Get a data plan for your smartphone
Make sure your phone data plan allows you to surf the web during your trip to Rome. You can download maps that can be used offline and this will help you navigate the streets and the public transportation system in the city.
If your data plan won't work in Italy, and you are staying in the country for two weeks or more, it may be worth getting a local SIM card – there are shops selling them everywhere, though you are probably better off getting one at the airport. Vodafone, TIM and Wind all have great coverage.
A guide book may be useful
The one thing that saves me on all my trips is having a paper guide book that gives me background information on the places I am visiting, quick tips on restaurants and food and any useful emergency info. You may want to invest on a travel book for Italy too, or a shorter version just for Rome.
Mind the scams
Rome is not immune from scams and crime, unfortunately. The most typical place where you may be a target is anywhere there are lots of tourists – so outside the Colosseum, and that would include nearby restaurant; close to any big tourist attraction or landmark, and at the train station.
One of my best travel tips for Rome is not to trust anybody who is overly friendly (ie offering to carry your suitcase or get your tickets) and don't accept anything from strangers. A firm no or simply ignoring is the best way to deal with it, but in case of need just shout "POLIZIA! AIUTO! (pol-ee-tz-ee-a; ay-u-toh) (police! help!) for attention.
The number for emergencies in Italy is 112.
Make sure to read my posts The Worst Scams And Pickpockets In Rome and Is Rome Safe?
Leave your bags in storage on your last day
If your flight or train isn't until late in the evening but you need to check out from your room, you may be better off dropping your bags in luggage storage at Termini Station, where you will be catching the train or bus back to the airport. To book yours, click here.
Get a good travel insurance
Whether you are visiting Rome for a day, a week or a month, here's one of the best travel tips for Rome: get a good travel insurance.
Check out my post Why You Need A Good Travel Insurance. Get your travel insurance here.
Further Readings
For more ideas and itineraries for visiting Rome, make sure to check out my posts:
Make sure to also read my post 17 Reasons To Visit Italy As Soon As Possible.
Pin It For Later!