Do you want to rent a car in Bologna? That's not a bad idea, actually! Car rental in Bologna is easy and if you book your car well in advance it's also quite convenient. While you are unlikely to need a car in the city itself, it's definitely necessary to explore Emilia Romagna and you will find it useful if you want to explore the beautiful surroundings and get away on day trips.
Bologna is the capital of the Emilia Romagna region of Italy. It's a gorgeous city with lots of history and plenty of interesting places to visit. From climbing its Asinelli and Prendiparte towers for stunning views to gorging on delicious food, a trip to Bologna is always a lot of fun, and you will leave craving to go again (that's definitely what happened to me!).
As I have said before, you really don't need to rent a car in Bologna if you only intend to explore the city. However, I recommend doing that if you want to get out of town, visit the countryside, vineyards, nearby towns and more.
Curious to find out more? Continue reading this post then, as I will share what you need to know about car rental in Bologna and add some very useful tips for driving in Bologna.
You can compare the prices of car rental in Bologna here.
Make sure you also read my post A Useful Guide To Renting A Car In Italy.
Why Rent A Car In Bologna
Situated in Northern Italy, Bologna is a vibrant, historic city known for its long history, diverse culture, delicious food and beautiful architecture that includes a number of medieval towers.
Bologna is home to many top attractions including the Basilica di San Petronio, Piazza Maggiore, the Fountain of Neptune, Palazzo d'Accursio and the Contemporary Art Museum of Bologna.
The city is also a popular starting point for road trip adventures into nearby cities and the sprawling Italian countryside. Not far from Bologna you will find an amusement park with thrilling rides for all ages.
Florence, the capital of Tuscany, is just one hour and 20 minutes away, but it's well worth the trip for the scenery alone and you'll also find many interesting attractions there. The Uffizzi Gallery, the Cathedral of Santa Maria del Fiore and Brunelleschi Dome are all located in Florence, which is easy to visit from Bologna. You can also go to Pisa, home of the iconic Leaning Tower.
Lombardy is also close: it takes about 2.5 hours minutes to get to Milan, where you'll find the Duomo di Milano and Sforzesco Castle, and along the way you can also stop in gorgeous and lesser known Piacenza.
By now, you may be wondering what is the best way to see all these incredible places. Well, there are a few ways. You can travel by train and bus – and depending on where you want to go this is easy enough, and trains are fast. In other cases, you may have long waits, slow travel times and – especially with countryside locations – simply lack of other transportation options. If you'd rather avoid these hassles, the best way to get around is to rent a car in Bologna.
Renting a car in Bologna will ensure that you can come and go as you please without having to wait at bus and train stations. If you're on a schedule, the last thing you want to do is waste time that could otherwise be used seeing as much of Italy as possible.
If you're traveling with more than a backpack, or are traveling with your family, having a car available will ensure that you always have somewhere to store your stuff instead of carrying them around on buses and trains, and then it's simply easier if you have children.
Hitting the open road in Italy is so much better when you're behind the wheel. There are so many places to see, so many little villages and scenic roads to explore that would otherwise be ignored if you travel by bus or train. You can go at your own pace and see what you want to see. I can't think of any better way to take a day trip from Bologna.
Now, let's see what you need to know before you actually rent a car in Bologna.
Have I convinced you? Then go ahead and check out the prices of car rental in Bologna here.
Head over to my post 16 Best Day Trips From Bologna.
What You Must Know Before You Rent A Car In Bologna
Car rental in Bologna
You will find all major international and Italian companies for car rental in Bologna – Herzt, Locauto, Sicily by Car, Budget, Avis, Sixt and Europcar all have offices in town and at the airport, along with some lesser known companies such as Autovia and Drivalia.
I am sure you think that checking out the prices of car rental on each and every of these companies is cumbersome, not to mention time consuming. An easy way around it is to use a comparison site.
I recommend Discover Cars – that's where I normally find the best deals for car rental anywhere in the world. Use it to compare the prices of all major car rental companies and find the most convenient deals for your class and budget range.
You should always book your rental car in Bologna well ahead of your trip. Don't expect to just walk out of the airport in Bologna and find what you need! Start researching well before your trip: booking early means finding more availability and better deals. Also remember that you can pick up your car rental and drop it off at different locations.
Where to rent a car in Bologna
There are many places where you can rent a car in Bologna, but the quickest and easiest way to get a car is to rent one from the Bologna Guglielmo Marconi International Airport upon your arrival in the city.
Renting a car right away at the airport means you'll have less fuss trying to find a place that rents cars later – there aren't many places in the historic center, where anyways you can't really drive (more about this in a bit). You'll get your car rental at Bologna Airport and be on your way to your hotel in the city or wherever your first stop is.
Bologna airport car rental is very easy to access. The car rental agencies are located in the terminal on the ground floor and this is the area where car rental parking is also located. Some of the companies you'll find here are Avis-Budget, Europcar, Hertz, Maggiore, Sixt Rent a Car, Autovia and Leasys Rent.
If you plan to fly into Bologna and depart from another airport in another Italian city, you can rent a car in Bologna Airport and drop it off at whichever airport you leave from at the end of your trip.
You can compare the prices of car rental in Bologna here.
You may be wondering why I am not recommending local companies for car rental in Bologna. Well, I honestly don't think any company exists that is not affiliated with a multinational corporation – and that actually applies to the rest of Italy and in fact the rest of the world.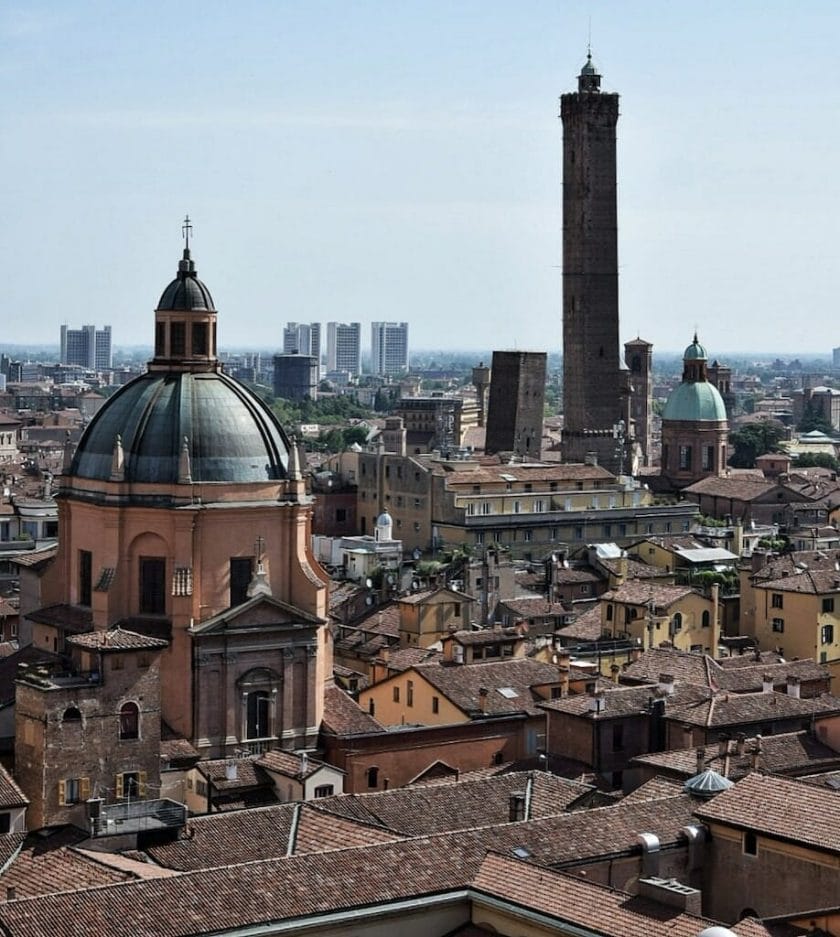 Which car to rent in Bologna
There are many factors that come into play when deciding what type of car to rent in Bologna. Your decision will depend on your budget, how many people are traveling with you, how much luggage you have and where you intend to go.
If you plan to remain in Bologna and explore the city and the area immediately around it, you can get away with a more compact vehicle. City driving requires a lot of stopping and accelerating so you'll burn more gas. A small car will help reduce how much money you spend on fuel, but it will also be easier to maneuver through the crowded narrow streets that Bologna and most Italian cities are known for.
Recently, many visitors have been turning to electric cars as their choice of rental. The best thing about renting an electric car in Bologna is you're allowed to drive them in the otherwise restricted ZTL areas where you'll also find reserved parking spaces and electric charging stations.
If road trips are a part of your visit, you might be better off renting a bigger car for the added space and comfort. Whether you decide to rent a compact car or a large SUV, you'll find the right vehicle for your travels at the car rental agencies at the airport in Bologna.
Here are my expert tips to pick to help you rent a car in Bologna:
Choose fully prepaid cars – this means you don't have to pay anything on arrival.
Pick a supplier with 8.0 or higher ratings – customer reviews matter!
Take care to notice the amount required for the deposit. Remember the main driver must have a credit card. You can also select for companies that only request a debit card.
Choose Full-to-Full fuel policies so that you don't have to pay unexpectedly high fuel charges.
Beware of the allowed mileage — unlimited is the best option for long trips.
Read the pick-up instructions carefully. Pay attention to the location types — locations in the terminal are more convenient than shuttle buses to the pick up place.
Remember that unless you have an EU driver's license you'll need a valid international driver's license to drive anywhere in Italy. This obviously applies too when you rent a car in Bologna.
Whichever car you are thinking of renting in Bologna, I recommend using a comparison site such as Discover Cars to get an idea of the prices of car rental in Bologna. Third party booking sites such as Discover Cars also allow you to read the reviews left by other travelers.
You can compare the prices of car rental in Bologna here.
Useful Things to Know When You Rent A Car In Bologna
Driving in Bologna
Like many cities in Italy, Bologna is full of narrow streets and getting around them is made more difficult by the fact that local drivers tend to drive on the fast side even though the legal speed limits are quite slow – something that's however slowly but surely changing.
One area of the city that's best avoided if you want to avoid gridlock is the Tangenziale, or Ring Road as it's also known. Roundabouts are another headache in Italy, but they can't be avoided as they are more and more common. The best way to navigate them is to remain calm, take your time, don't pay attention to aggressive drivers that may be honking right behind you and simply go back through if you miss your exit.
If you think driving faster than the posted limit is a good idea to make up for time spent stuck in traffic, think again. Many streets are monitored with speed cameras so you may end up with an unpleasant surprise in the form of a speeding ticket that'll need to be paid – and yes, the car rental company will find you and chase you until you actually pay the fine.
You can compare the prices of car rental in Bologna here.
You should also read my post What You Need To Know About Driving In Italy.
Driving to and from the Airport in Bologna
The distance between Bologna Guglielmo Marconi International Airport and the city center of Bologna is approximately 4.5 miles (7.5 kilometers) and it shouldn't take any longer than 25 minutes to get there no matter which route you take – though that really depends on traffic.
While there are several different routes that will take you from the airport to the city center, the fastest route is the one that travels along Via del Triumvirato (this is the road the airport is located on) before turning onto Via Emilia Ponente.
Next, take the turn at Agucchi and follow until you reach Via del Lazzaretto and then turn at Umberto Terancini. At Via Alberto Manzi, follow until you make the turn at Via Francesco Zanardi and then turn again at Via Guglielmo Marconi. Finally, make the turn at Via Riva di Remo to arrive at the center city district.
Parking in Bologna
This can be an issue when you rent a car in Bologna, but there are ways around it. Obviously you're not familiar with parking in Bologna, you'll find it difficult to find a safe, affordable and convenient place to park in the city.
First of all, there are three main things you need to know about parking:
BLUE LINES – Parking spaces that are marked with blue lines are paid parking.
WHITE LINES – Parking spaces marked with white lines are free.
YELLOW LINES – Spaces marked with yellow lines are for disabled drivers.
You won't see many spots marked with white lines because the majority of parking in Bologna is paid. The few free parking spaces available are taken up pretty quickly so it's unlikely you would find one.
There are many car parks around Bologna including Multipiano Riva di Reno, Piazza VIII Agosto and Tanari, which has over 400 spaces and access to an affordable shuttle service that can take you downtown.
Parking garages are the safest option for parking in Bologna but they tend to be a little more expensive. Some of these garages, including Garage Autostazione, and Nuovo Parcheggio Stazione, are close to train stations with routes to the city center.
If you're looking for free parking, many of the blue paid spaces are free on Sunday. Otherwise, you might find some free parking near the shopping centers that are however away from the city.
The Unipol Arena is one place where you might find a space and there's a train that goes right from the city center. Another place where you might find free parking is in the Certosa Car Park. It's quite a distance from the center city but there's a bus stop nearby.
ZTL Zones
If you plan to drive in Bologna at all, you should become familiar with the term ZTL. The reason you should know about this term is it's a restricted area that only authorized vehicles (usually residents in the area) can enter throughout the day (others can only access at certain times of day) and doing so without permission or at a time when it is not allowed will result in a hefty fine.
Even wandering into one of these zones by accident can get you in some trouble and because these zones are monitored by traffic cameras, there's not much you can do to get out of a ticket.
Many of Italy's cities are ancient and measures need to be taken to protect the historic neighborhoods and their buildings, some of which are hundreds of years old.
One of the ways that this is done is through ZTL zones, many of which are found in the historic downtown districts of cities around the country including Bologna. Having these zones in place ensures that delicate structures are protected from harmful emissions and environmental pollution that can damage them.
The ZTL zone in Bologna includes but is not limited to the historic center. The T Zone ZTL, which includes Via Rizzoli, Via Ugo Bassi and Via Indipendenza, is where you'll find many of the city's top attractions, shops and restaurants and is restricted 24 hours a day except Saturdays, Sundays and holidays.
The University Zone ZTL, which is from the Fine Arts building to the Belmeloro areas, is also restricted 24 hours a day.
Other areas are restricted every day of the week between 7:00 am and 8:00 pm.
If your hotel happens to be located in one of these zones, arrangements can be made for you to come and go as needed – there are actually temporary ZTL passes on sale via the municipality, though it's not clear on the official website of the Comune di Bologna whether travelers who are renting a car in Bologna would qualify for those.
Usually, the manager of your hotel will pass along your information so that if your license plate is registered as entering the zone, you won't be penalized because the city will know you have permission to be there. Just make sure you point out you will be arriving by car, and they will make the necessary arrangements.
If your hotel only offers parking on the road, you'll need another special permit – the hotel will inform you about that.
In terms of exploring these areas, the best way to do so is on foot anyway so a car is not necessary. These districts are compact and highly walkable. Bicycles and other small motorized vehicles with zero emissions, such as electric mopeds and scooters, are permitted.
There are ways to avoid accidentally entering one of these zones. First of all, get yourself familiar with where the zones are located (you can find a full list of places here) and what routes to take to avoid them. If your vehicle comes equipped with GPS capabilities, make sure it doesn't automatically program routes that include these zones.
The best thing to do is program the route yourself to avoid them. Never follow another vehicle when you get lost because you think they'll lead you to where you need to be. That vehicle could also be a tourist who has no idea where they're going or it could be a local person who has permission to enter the ZTL zones.
If you're paying attention while driving, you'll notice the signs that indicate you're about to enter a ZTL zone. Watch for the sign with the open red circle on a white background. Accidents happen so if you do find yourself in one of these zones when it wasn't your intention, find a police officer in the area and inform them of your situation or report it to the front desk at your hotel. You may be able to get out of the ticket if you report your error before it's issued.
Further Readings
These other posts will be useful when planning a trip to Bologna:
Pin It For Later!