If you're thinking of driving in Italy, first of all, let me tell you that it's not necessary. Public transport is very decent, and there are bus (and train) connections between many major and minor cities and towns, as well as tourist destinations.
However, at the same time, Italy is a great destination for a road trip. With winding roads and plenty of things to see and do where public transport just can't take you, the peninsula and its islands are scattered with multiple reasons to have your own wheels during your trip.
Plus, if you like to travel according to your own schedule (or no schedule), with the freedom to go wherever you want whenever you feel like it, having a car is definitely better than public transport. Some regions simply don't have good public transport: think Sardinia, Puglia, or even some parts of Lazio (Tuscia, for example).
So, while you don't have to do it, driving in Italy makes for a much more rewarding and richer experience altogether. If you're a keen driver anyway, then you'll love getting behind the wheel and seeing where Italy's open roads take you.
Make sure to also read my post A Guide To Renting A Car In Italy and check out the prices of car rental in Italy here.
What You Must Know About Driving In Italy
Driving is on the right
Unlike in the UK and Ireland, South Africa, Japan or Australia, but very much like in North America and the rest of Europe, the Italians drive on the right. Overtaking is done on the left. If you're not used to driving on the right, make sure to take it easy at first, especially when you're pulling out of junctions or using roundabouts.
The road system in Italy
Italy boasts a pretty amazing network of roads. In total, there are around 6,400 kilometers (4,000 miles) of express highways to explore, as well as 288,000 kilometers (180,000 miles) of secondary roads that are simply asking to be explored.
Italy's roads come in all shapes and sizes. First up there's the autostrada (highway). Autostrade are always toll roads, and the main arteries between Italy's major cities and towns. As you'd expect, these are very well maintained. And I'll talk more about the tolls, and how to pay them, later.
The superstrade come next. Basically, these are expressways. They usually have two lanes going in each direction. These are often in the same category as strada statale (freeway). Of course, these are often well maintained but perhaps not as well as autostrada.
Lastly there are the strade provinciali. Literally translating to "provincial roads", these are more important than municipal roads (strade comunali). These are all named by the governing area that manages the upkeep of the roads, from states, to provinces and lastly to municipalities.
Tolls
If you're heading off on a roadtrip in Italy, make sure to factor in the cost of tolls into your journey. The charge for using the Italian Autostrada highways is determined depending on the distance you have traveled. Toll booths are dotted along the motorway, a rough estimate is €15.50 for the 200km drive from Milan to Bologna.
You can pay for tolls by either cash, debit, or credit card. On many highways, there's also the option to use an electronic payment called Telepass, this system is fixed into cars and means you can just drive through toll booths without stopping. You can also opt to use a prepaid card called a Viacard (available at toll stations and service areas).
Roundabouts
Driving in Italy means getting used to using roundabouts – they are super common in cities and suburban areas. The roundabouts can become annoying once you have to tackle a few in a row, but the main annoyance can be other drivers using them.
Indicators are not often used so it can be hard to know where people intend to exit the roundabout. As you approach a roundabout make sure you slow down and take your time. Get into the correct lane and give way to traffic on the left. When you're exiting the roundabout indicate to let others know your intentions. And don't bother with other drivers honking!
Speed limits
Speed limits vary depending on the type of road you're using. Italian highways normally have a speed limit of 130kmph (80mph) but that drops down to 110kmph (70mph) when it's raining.
When driving on main roads outside built-up urban areas the speed limit varies between 90kmph and 110kmph. In built-up areas the limit is then between 50kmph and 70kmph. But in some areas in cities – ie near schools or hospitals – it can be as low as 30kmph.
If you're caught speeding you may get fined, the amount will depend on the speed you were traveling and the type of road you were on. Fines can range anywhere between €40 to €4,000, but there are also additional penalties such as having your license confiscated.
Insurance and breakdown cover
Italy is part of the Green Card System. This allows the insurance policies of those from countries participating in the same scheme to be recognized in Italy (the UK, for example, is also currently a part of the Green Card System).
This means that, if you are from a European country, the insurance that you already have will be able to provide coverage for you. However, it is important to ensure that you contact your insurance provider. Additional cover may be required, so it is a very good idea to check.
If you are visiting from outside Europe, note that your rental car company may provide all the insurance you need.
Breakdown cover is not a necessity, but if you feel like being extra careful, you could opt for this. If you are already with a European breakdown coverage provider, they may also provide coverage for Italy. It's a good idea to check with them before you travel.
Drinking and driving
Drinking and driving is never a good idea anywhere you are in the world. In Italy the rules about getting behind the wheel after drinking are as strict as other European nations. You don't have to carry a breathalyzer kit like you do in France, but you do have to make sure your blood alcohol limit is 0.05 percent or below. This means if you're stopping off for a wine tasting experience or spending the afternoon at a vineyard, you need to make sure you have a designated driver.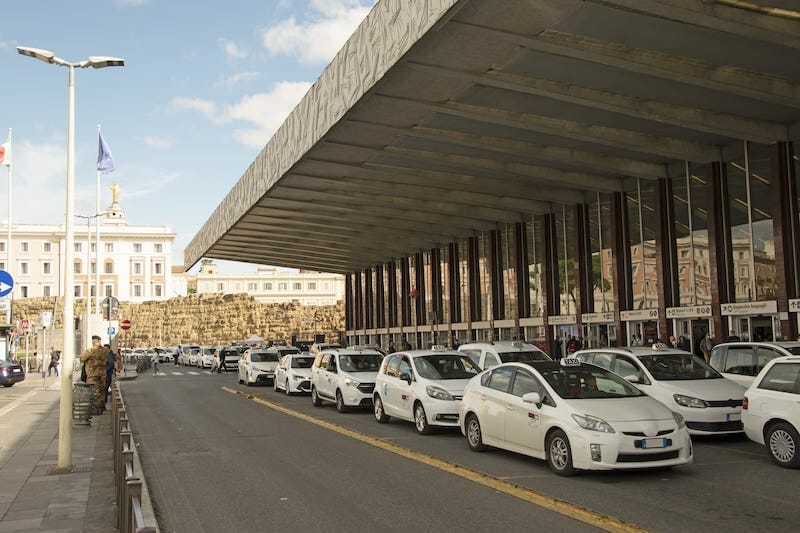 Fuel
Petrol prices will also add to the price of your journey, prices are constantly fluctuating and will vary depending on which region you're driving in. In general, a liter of petrol costs approximately €1.70 in Italy – that's around $2.1 USD for a liter, and $8 USD for a gallon. When you head to the gas station, take extra care that you're filling up with the correct fuel. The car will usually run on either 'unleaded' petrol or diesel. You check the type of fuel by noting the color on the pump, it's usually green for unleaded and black for diesel.
What is it like to drive in Italian cities?
This really depends on the size of the city, but generally speaking Italian cities are not very fun to drive in. Large cities are busy and often crammed with traffic meaning it's best to opt for public transport to get around instead. In many cities, the historic centers have narrow roads which can be a challenge for even the most experienced driver (and at times for locals like myself too!). Not only that, but parking is also difficult in Italian cities – more about this in a bit.
You need to have a GPS
A GPS is a good idea if you want to drive in Italy. You will be able to get around without getting too hopelessly lost and they will help to make sure you get to your destination on time and in one piece. However, one of the issues with a GPS is roadworks which can make using a GPS totally redundant – I know, not fun!
The infamous ZTL (limited traffic zone)
Many of Italy's city centers have designated limited traffic zones. These protected areas called ZTL (zona a traffico limitato) are parts of a town that are only for residents to use, and where non-residents can have access only at certain times of day.
If you happen to find yourself in a ZTL at a time when you are not meant to drive through, you can expect to receive a fine as there are numerous traffic cameras in operation. The fine depends on the city and the time of the offense, make sure to keep clear of these zones by taking note of the ZTL zone signposts.
Driving In Italy Q&A And Tips
Are Italian drivers as bad as their reputation?
Italian drivers sadly have a bad reputation as being impatient drivers, always in a rush to get somewhere. This is true to some extent – and I must admit I am guilty of that too. Drivers in Italy are stubborn and assertive and we honk, that's for sure, but we aren't nearly as crazy as some may say! The best way to deal with this mindset is to drive with confidence, try not to hesitate and stay alert.
Do you need an International Driver's License in Italy?
Not only do you need a driving license to drive Italy, you will also need an international driving permit from your home country. This works as a translation of your license and will need to be carried with you at all times when you're driving and taken with you to the office where you're hiring a car from.
How old do you need to be to drive in Italy?
You have to be 18 or over to legally be driving in Italy.
Do you need to speak Italian?
You don't need to speak Italian to be able to drive in Italy, but a few words or phrases could help. It's also a good idea to brush up on Italian road signage before your trip.
Do you need to wear a seatbelt?
You need to make sure you're wearing a seatbelt at all times when driving in Italy in both the front and rear seats. If you are caught not wearing a seat belt you may receive a fine of up to €300.
Is driving in Italy safe?
Driving in Italy is totally safe. The roads are well maintained, and the cars are modern. There are a few things to take into consideration before your trip. Some of the rods in Italy's mountains can be pretty hairy, with hairpin turns and sheer drops. It's a good idea to take it easy on these roads and enjoy the drive rather than going too fast. Large trucks and speedy drivers can also add to the dangers on Italy's roads, so always allow plenty of room for these vehicles to pass.
Children need car seats
Children traveling in vehicles need to use proper child seats. Italian law requires all children 150 cm (4'11") and under to use a car seat or booster seat regardless of age or weight.
Parking in Italy
Parking in Italy isn't always simple. In cities it can be very hard to find parking spaces, but outside of that – especially near tourist sights, beaches and smaller towns – you'll be able to find parking lots.
These have their own separate rules, denoted by different colored lines painted on the road (see below), but if you're parking on roads there's a different set of rules to follow. You should always carry cash and small change in order to pay for parking, but most parking machines now take credit or debit cards too, and in some cities you can use apps such as My Cicero to pay for your parking – it's very convenient because you can top up remotely in case you are need more time!
BLUE LINES: These areas are always paid parking. Note that hours will vary, so check the signage.
WHITE LINES: These are free to park, however you need to double check the signs – sometimes only some (such as local residents) have the right to park here.
YELLOW LINES: These areas are limited or disabled parking
NO LINES: This is a little confusing. In theory, this means that you can't park, but most Italians park where there are no lines anyway. I may well be the only one who doesn't!
And for some extra advice
Don't park in the "divieto di sosta" (literally: "do not stop") – they'll tow away your car!
Don't leave valuables in sight, or (even better) in the car at all! It's not worth having anything that could go missing on display.
Further Readings
If you are planning a trip to Italy, these posts will be useful:
Pin It For Later!