Thinking about a nice scooter rental in Rome? Continue reading!
Driving a scooter, or specifically a Vespa, is an amazingly fun way to explore the streets of Rome. Not only is this an iconic way to get around, seen in movies and series across the years, but it's also quite convenient, as you'll get to beat the crazy traffic of Rome on two wheels while those in cars remain stuck in seemingly unmoving queues.
It may be a little scary at first, but driving a scooter in Rome is definitely doable. If you're already a fan of riding a scooter anyway, and have some experience, then this will easily become your preferred way to get around the city. It's as if Rome were made for scooters!
Curious to find out more? Continue reading as I will explain everything you need to know about scooter rental in Rome.
What You Need To Know About Scooter Rental In Rome
The cost of a scooter rental in Rome
Renting a scooter in Rome is much cheaper than renting a car and can be surprisingly affordable. In fact, it can be cheaper than getting around by taxi, too. The cost of scooter rental in Rome will vary depending on the company you use, type of scooter you choose, what model and the size of the engine.
Check out my post Should You Be Driving In Rome?
The cost of scooter rentals can range from around 10 euros for a few hours, 50 euros for half a day, and 100 euros for the entire day. A tour is going to cost more, as you're paying for the privilege of having a guide show you the streets of the city.
When hiring a scooter in Rome, make sure to check to see if the gas is included with the price of your scooter. Most of the time, you will have to pay for this fuel out of your own pocket.
Another cost to consider when renting a scooter in Rome is the price of the security deposit. This fee will be added on by almost all rental companies and will range from between 250 to 500 euros, depending on the type of vehicle that you choose. You'll get it back if nothing goes wrong, but this is still something to consider in terms of budgeting.
Where to rent a scooter in Rome
First of all, you have to find somewhere to rent a scooter in Rome. This is both easy and difficult – easy because there are so many companies to choose from, but difficult because it can be tricky to choose the right one for you. A quick internet search brings up a multitude of sites offering various companies that offer scooter rental in Rome and even tours of Rome via scooter.
Generally speaking you have two options.
Option 1 – rent a scooter in Rome via a third party booking site
Firstly, there's the option of using sites such as GetYourGuide or Viator. These sites have competitive prices for both scooter rental and tours; you can also check out reviews from previous customers to help you work out how safe and professionally run the company is.
One example is this 24-hour scooter rental in Rome. Starting at 55 euros, this option gives you access to your very own scooter for a whole 24 hours. You'll get to travel at your own pace and see the sights of the city based on your own itinerary.
This package comes with unlimited mileage, meaning you can explore much more of Rome than you could on foot. It also comes with secure locking when you need to park. There's also insurance included (third party liability). It's a great option if you're in Rome with a friend or partner as it comes with two crash helmets. Reviews from previous customers are glowing.
Book your scooter rental in Rome here or here.
Option 2 – rent a scooter in Rome directly via a local company
The second option would be to rent your scooter directly from a local scooter rental company in Rome. There are multiple places that offer scooter rental in Rome.
One is Roma Rent Scooter, a professionally run company that's headquartered right near the Campo de' Fiori. The cost per day is between 40 and 85 euros (depending on the engine size). This company is very highly reviewed.
Last time I decided to rent a scooter in Rome I went to Bici&Baci. They have several locations around town – I went to the one in Via Cavour, near the Colosseum. They have a very good selection of bikes and scooters you can pick from, for different prices, and even organize scooter tours of Rome.
Another scooter rental company in the heart of Rome is My Scooter Rent in Rome. If you're not just looking for a scooter, but a fully fledged motorbike or even a bicycle, it's the best place in town. The staff will give you information about local parking rules and the rules of the road before you set off.
Another comprehensive service is Onmovo, which can even deliver a scooter to wherever you're staying for extra convenience. The company is flexible, running everything from tours to long-term scooter rental. The bonus with Onmovo are its reasonable prices, especially in terms of monthly rates, and they have a lot of pick up locations.
Option 3 – join a Rome Vespa tour
Finally, you have the option of joining a guided Rome Vespa tour. Tours can be a better way to get around if you're not confident about following a map around the city by yourself.
A vintage Vespa tour of Rome is more expensive than simply renting a scooter (it's around 130 euros), but for that you get a three-hour tour with a knowledgeable guide, driving along the Aurelian Walls, the Appian Way, the River Tiber, Aventine Hill with its orange garden. It's a great, not to mention iconic, way to see a wide range of sights, and can be undertaken in either the morning or afternoon.
To book your guided vintage Vespa tour of Rome click here.
For a scooter tour click here.
For a Rome Vespa tour with private driver, click here or here.
What documents do you need to rent a scooter in Rome?
You may want to rent a scooter in Rome, but before you do, you should know exactly what is needed as a driver. There are official papers you need before you even think about what color Vespa you want to zoom around the streets on.
The most important thing you need is a valid driving license. It's possible to drive a scooter with up to a 125cc engine with a normal EU driving license. For a vehicle over 125cc you'll need a motorcycle license.
If you're from outside of the EU, it's recommended that you get an international driving permit. This will enable you to drive a motorcycle.
What age can you rent a scooter in Rome?
In order to rent a scooter in Rome you have to be age 18 or over.
Should you have insurance?
All rental companies will include a third party insurance in the cost of renting the scooter. This is basic insurance that isn't an added extra.
However you can also opt to purchase additional insurance on top of the basic insurance, which will cover you for things such as any damage to the vehicle, or in case of any theft.
In terms of travel insurance, you may want to check to see if you are covered for riding scooters, as not all plans will cover it.
Also, make extra sure that you are driving on a valid driving license. If you aren't, this can invalidate your insurance. If you're in an accident, it may even be the case that your health or travel insurance company does not cover you because you weren't using a valid driving license. Double-check that your license is applicable to the type of vehicle you're using.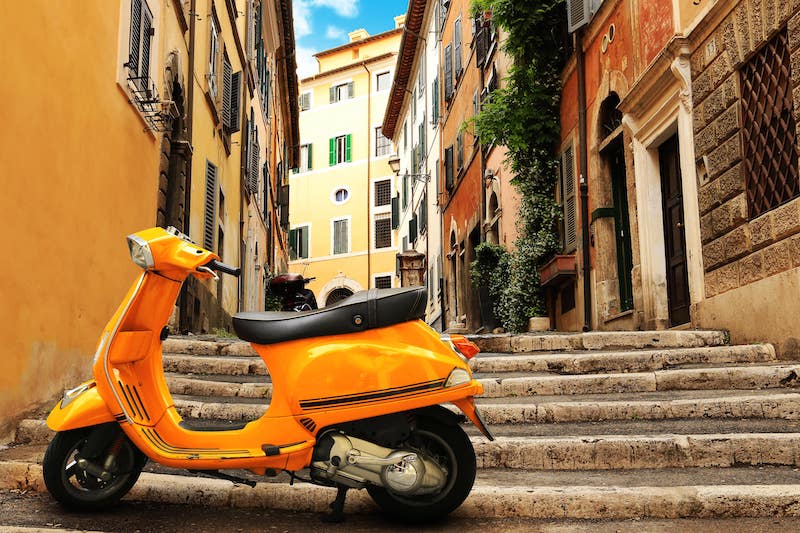 Check your scooter for scratches
Before you take your scooter out for a spin, and you're still at the rental company, make sure to check for damage. If you see any small scratches, dents or scuffs on the vehicle, ensure that you take a photo or a video of the scooter, making sure that the staff at the company are aware that there is pre-existing damage before you take it out. That way, you can't be falsely accused of damaging the vehicle, thereby losing your deposit or even being charged for the damage.
Tips For Driving A Rental Scooter In Rome
There are a few things you might want to know when it comes to driving a scooter in Rome. It can be a hectic city, but knowing a few tips to keep in mind when driving can help things go a lot more smoothly.
Make sure to wear a helmet!
Since you'll be zipping through the city on a scooter, sometimes at high-speed, wearing a helmet is most definitely the thing to do. Especially since the traffic can be crazy in Rome, and you can never know what is round the corner, wearing a helmet is a very good idea.
Not only that, but wearing a helmet is actually mandatory in Rome – and in the rest of Italy. It must be worn correctly at all times while riding your scooter. You can get a fine if you are caught without one. This fine can be between 80 and 323 euros, as well as points on your license (between 5 and 20).
Use your indicators
Make sure to use your indicators whenever turning or overtaking: weaving around the streets may seem like a good idea, but don't forget to use your indicators when changing lanes, or even if you're stopping.
Overtake from the left
Drivers will be used to scooters overtaking from the left, not from the right, and doing the latter could put you in danger. Many locals still do it, but in a high-trafficked city such as Rome it is never a good idea.
Be careful of cobbled streets
Cobbled streets can be deceptively difficult to drive along while riding a scooter. It's best to take them slowly and go easy on the brakes. This is particularly important when it's been raining and the road surface is wet and slippery.
Use ZTL areas
Although cars cannot use zona traffico limitato (ZTL), as long as you have the correct size engine in your scooter, you will be able to drive in a ZTL. This means you'll have access to more in terms of shortcuts and you will be able of getting from A to B more easily.
But avoid pedestrianized zones
It may seem obvious, but it can be surprisingly easy to find yourself in a place you should not be riding a vehicle. Pay attention to signs at all times.
Don't always do as the locals do
You may see other scooter drivers driving the wrong way up a one-way street, for example, but don't copy them! Not only is this unsafe, but it is also against the law, so do not do it.
Take care around tram lines
If you get too near the tram tracks, or cross them at an awkward angle, it can be easy for the front wheel to slip on the rails. Obviously this can be really dangerous if a tram happens to be on its way at the same time.
Where to park your scooter in Rome
Knowing where to park your scooter is a very important part of having a scooter in Rome. Parking in Rome can be very stressful, and it can seem that scooters are parked everywhere in a crazy jumble, but there really is order to the madness – you just need to understand the local parking regulations.
There are actually specific parking spots for scooters and motorbikes. These are marked in white lines or blue lines; spaces outlined in white are free, those outlined in blue are paid parking spaces.
Whatever you do, don't park on the pavement. This is strictly forbidden and you could be charged a fine for doing so by the authorities.
Ensure that when you park your scooter the front wheel faces towards the pavement. Always make sure there is enough room either side to get for other drivers to be able to park their scooters safely.
Something else to remember is not to park your scooter near bus stops or taxi ranks, or anywhere near a zebra crossing.
Wherever you choose to park, it's important to remember to protect your scooter from theft or any damage. Chain the scooter up through the front wheel and make sure that your helmet is well secured.
Not A Fan Of Scooters? Rent A Bike Or Opt For A Bike Tour Of Rome!
If you don't like scooters, or you've never ridden one, don't worry. It's still possible to explore Rome on two wheels – a bicycle, that is. Bicycle rental and tours by bike of the Italian capital can be found online and are offered by local companies; your accommodation may even have bikes for hire. A tour may be a better idea if you like the sound of pedaling around the city, but are unsure of getting around by yourself on a bike.
You can book your bike tour of Rome here.
For an electric bike tour, click here or here.
Pin It For Later!