Rome is compact with a pretty decent public transport system. Even if you don't use buses or trains, or the trams, you'll find that it's quite simple to get wherever you need to be – as a tourist, anyway – simply by walking.
Basically, there's no need to be driving in Rome. There are actually a number of reasons for that. Let me tell highlight the most important ones, just in case you have doubts!
Make sure to read my post A Guide To Scooter Rental In Rome.
Why You Shouldn't Be Driving In Rome
Public transport works well
Rome's public transport is surprisingly extensive. Sure, the metro may not run very much in the Centro Storico, but it goes to a lot of destinations. In total there are 73 metro stations. And as for the buses, well, Rome has 338 bus lines, 22 night buses, and a whopping 8,260 bus stops. That's not to mention the trams.
Not only that, but public transport in Rome is really affordable, with one trip on public transport costing just €1.50. It definitely won't break the bank or eat too much into your travel budget.
Read my posts A Guide To The Train Stations In Rome, How To Use Public Transport In Rome and A Guide To Rome Metro.
There are lots of taxis
And for when you don't want to hop on a bus or descend into the metro, there are always taxis to rely on. One of the most typical ways to get around Rome, you'll find taxis lining up at taxi ranks and at popular attractions and transport hubs just about everywhere in Rome. You can even call for a taxi to pick you up from your accommodation and take you where you need to go – just use the app My Taxi.
The standard fare for a taxi in Rome starts at €3, and in general I would say the prices are fairly reasonable – especially for a capital city.
Traffic is crazy
I can't say this enough, but traffic in Rome really is crazy. The city is truly not made for driving cars, and is not a car-friendly place to be at all. If you're driving you can easily find yourself stuck in traffic, spending hours to get to a destination that could have been reached much quicker if you took the metro – or even if you walked!
Finding a parking spot will take you forever
As I said, Rome is not a car-friendly city and so, as you might imagine, parking in the city is not very fun at all. It can be extremely difficult to find parking, especially in the center of the city, even for locals.
If you don't know Rome at all, and you have a hire car, you won't have much luck finding a good car parking spot. And if you park in the wrong place, chances are you'll get a ticket or be towed.
Romans are merciless drivers
It's true – and it's honestly bad enough even for those of us who are accustomed to it. Romans are impatient most of all, and are not afraid to use their horns. Following traffic rules seems to be more of a guideline than an actual law, but breaking the rules can cost you a lot of money if the police stop you. Some drivers don't respect pedestrian crossings, and can be pretty fiery – especially if you're driving slowly in front of them!
Still Want To Drive In Rome? Ok, Here Are Some Tips
You still want to give driving in Rome a whirl, so you'll definitely need to read up on the best ways to go about that. Below you'll find my first-hand advice on driving in Rome.
Have your documents in order
First things first. Before you start driving in Rome, you'll first need to check what documents you need if you want to drive in the city. If you're driving a rental car or bringing your own car into the country, you will need your driving license and car documents on hand.
If you are traveling to Rome from outside the EU, you will need to get an international driving license before driving in Rome. Only those with Italian licenses and those issued by countries in the EU can legally drive in Rome.
The international driving license allows those not from Italy (or the EU) to drive in the country for up to six months. You'll also need to bring along your original license, as the international driving license is a simple translation of the original.
Renting a car in Rome
Although public transport means that it is easy to get around Rome, there are a lot of places to rent cars throughout the city. Being a top tourist destination, visitors to the Italian capital city often opt to rent a car and take a day trip – or even go on a longer road trip.
So renting a car in Rome can actually open up your travel plans. You'll get to visit coastal towns and far-flung rural regions, all while traveling at your own pace.
There are many well established rental companies in Rome, and you can book your car rental online in advance (more on that later).
Rental companies in Rome provide both short and long term car hire, and various options for vehicle size depending on who is with you.
Check out the prices of car rental in Rome here.
Book in advance!
It is always best to book in advance if you know what days you will be wanting to drive. In high season, some companies may be completely out of cars or you may not be able to get the car you want. In that way, booking in advance can help you to avoid that sort of disappointment.
However, booking in advance – especially online – can help you to save money. Not only can you save money with many companies simply by making an early booking, but you can also search deals on various websites and compare prices. Turning up on the day will almost certainly mean paying a higher cost for the rental car.
Check out the prices of car rental in Rome here.
Get a small car
Trust me – you do not want to be driving around Rome's ancient, narrow streets in a huge 4×4! Car rental companies in Rome will have a huge amount of cars on offer, so you can choose one that suits both your type of trip, how many people are with you, and your budget.
If you're planning on just cruising around the city, hitting up ancient architecture and visiting museums, then an SUV really won't be appropriate. Small cars are much better for getting around Rome, and it also makes parking so much easier.
The heavy traffic in Rome also means that a larger car is just harder to maneuver around the streets. Small cars can more easily get through gaps in traffic and find convenient parking spots. Not only that, but small cars are also cheaper and more fuel-efficient.
Pick your car up directly at the airport
I recommend that you pick up your car at the airport. You should book your rental in advance and plan to get it there. Even if you don't book in advance, you'll find that renting directly from the airport rather than in town is the cheaper option when it comes to hiring a car in person.
Of course, if you're not arriving at the airport, then this won't be an option for you. But if you are arriving in Rome on a flight, then this is something you should do for further money-saving goodness.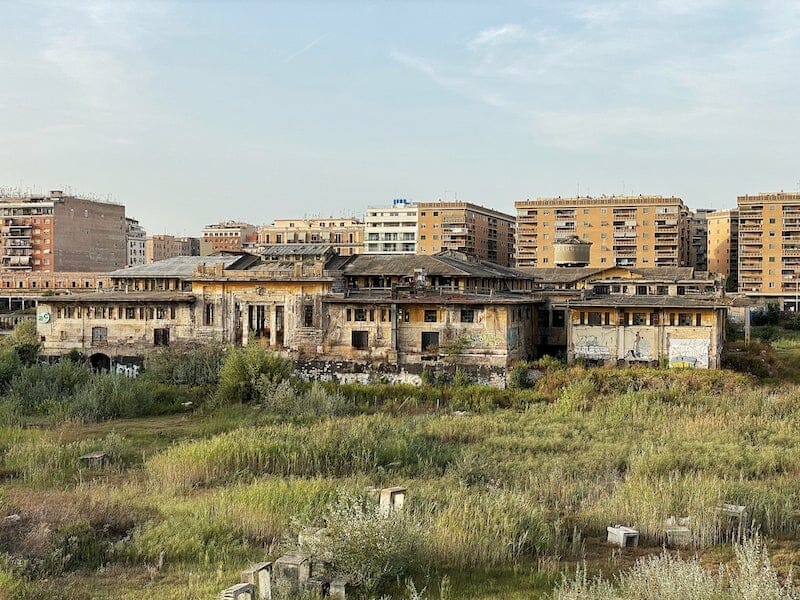 Know the fuel prices
As with all cities around the world, fuel prices vary across the city. Some gas stations are cheaper than others, and if you aren't from Italy or don't know Rome very well, then you won't know where to go for the best prices.
One interesting part of fuel costs in Italy involves working out how to read the cost in the first place. The measurement is different from some countries, as prices will be measured by the liter and not by the gallon. If you are used to gallons, you may at first think the fuel prices are very cheap, but that's not the case: a liter is much smaller than a gallon.
Fuel prices in Italy are actually some of the most expensive in Europe – and the cost keeps on rising. Currently they're at their most expensive since 2014. Only the UK, Finland, Denmark and Sweden have higher petrol and diesel costs per liter. It's important to factor this into your budget, as it can soon mount up especially if you plan on using the car a lot for day trips.
Get extra insurance!
Due to there being a lot of traffic and also down to the aggressive driving style of Romans, insurance is definitely a good idea. Make sure to consider getting extra insurance that will cover you in case of any accidents.
Also, you will want to be covered for breakdowns – just in case something happens, like a flat tyre. Services can be very costly if you don't have insurance to cover it.
Find a hotel that has a parking spot
While there are tons of hotels in Rome, not all of them come blessed with car parks or even a parking spot. If you are planning on renting a car and driving in Rome, you shouldn't overlook this part of your trip. Not having a place to park your car when you return from day trips or just driving around the city can make returning to your hotel a stressful experience – and that's not fun at all.
It can be very difficult to park in the center, so I recommend that you look for a hotel that says that it comes with parking spaces. It would be even better if this is free parking, too, as paying for parking can be expensive.
Watch out for the infamous ZTL
Like other places in Italy, Rome has something that you may not be used to in your home city: Limited Traffic Zones or Zona a Traffico Limitato (ZTL). While London has the Congestion Charge, Rome has applied these measures to restrict traffic in residential areas.
Signage for ZTLs isn't always clear, and you can actually drive through at certain times of day – and if you park inside when it is allowed, you are free to leave at any time. There aren't barriers to stop you from driving down these roads (though at times you will see something resembling a traffic light with either a flashing red sign saying "varco chiuso" which means you can't transit, or "varco aperto" which means you can transit).
But what exactly are they? These are spaces where only residents of that particular area can enter. You'll almost certainly be fined if you're caught driving in one at times when it is not permitted (there are cameras to see to that!).
Mind the rules for driving in Italy
Last but definitely not least, read up on the rules for driving in Italy. It would be crazy to list every single rule here, but there are some basics for Rome that you should definitely be aware of:
The speed limit is 50km/h and in some areas it's 30km/h, but almost everyone drives faster than this
You should only park in designated parking areas; and if it's blue, you need to pay for your parking
Don't park in yellow lines, they are for disabled drivers
Seatbelts need to be worn by all passengers
Children under 150cm need to use a car seat
Know your road signs!
Pin It For Later!