Are you planning a trip to Sicily? Here's a fantastic 8 days Sicily itinerary perfect if you are planning a Sicily road trip, but also suitable to travel by public transport.
You won't be able to visit all of Sicily in one go – unless you plan to spend a couple of months there. Sicily has so much to offer – unique history, culture and archeology; beautiful cities; fantastic beaches; nature and mouthwatering food to name but a few.
To make the most of Sicily if you have limited time on the island, you should limit yourself to a restricted region. This way, you can better appreciate the places you visit and discover hidden gems.
The itinerary I suggest focuses on Catania, the starting and ending point, and the Aeolian islands and is a perfect mix of city life, culture and nature. It's perfect if you want to travel around by public transport but you can also use it as a base for your Sicily road trip. You can easily add more days into it if you feel like exploring even more; and if you don' have 8 days push yourself and just spend 5 days in Sicily, cutting a night in each place.
A Unique 8 Days Sicily Itinerary
Sicily Itinerary Days 1, 2 and 3 – Catania
Catania is the second largest city in Sicily, with little over 315000 inhabitants (though the metropolitan area goes well beyond 700000). The city is located on the eastern coast of the island, at about one hour drive from Messina – from where ferries to mainland Italy leave.
Founded by the Greeks, Catania has undergone several dominations including that of the Romans. It was particularly flourishing during the Renaissance, thanks to its rich culture and arts – of which you can still find many traces today.
Most importantly, Catania is one of the best places to visit in Sicily. The city has a lot to offer in terms of things to see and do, and the surroundings are just as amazing. This is also the closest city to Mount Etna, and a day trip there has to be included!
For more information about Catania, check out this post. For guided tours of Catania, click here or here. For a street food tour, click here.
Unmissable sights in Catania
Sant'Agata Cathedral and Piazza Duomo
The Cathedral and the square where it is located, in the heart of the old town, are the perfect starting point to explore Catania. The church is a masterpiece of Baroque architecture, initially built in 1078 over the ruins of the Roman Baths, and restored numerous times following the earthquakes that have often shaken this part of Sicily.
Inside the cathedral you'll find beautiful frescoes as well as the tomb of famous Italian composer Bellini.
Piazza del Duomo is home to the famous Fontana dell'Elefante. It is a large and airy square that is a favorite gathering place for locals and tourists alike.
Via dei Crociferi
Via dei Crociferi is one of the main streets in the historical center of Catania, between the Roman Theater and the Giardini Bellini. Various beautiful historical buildings are located along this street, including the church of St. Francesco Borgia; that of San Benedetto and of St. Francis of Assisi; and the Church of Santa Giuliana.
The Roman Amphitheater
The Teatro Romano of Catania is stunning. It is well hidden between the Benedictine Monastery and the cathedral. It was built in the 2nd century BC and features a main seating area and a smaller theater to the left.
The Benedictine Monastery
Very close to the Roman theater, this is one of the largest monasteries in Europe. It is a UNESCO World Heritage Site. It was founded in 1558. The best views of the monastery are from the roof of the Cathedral.
Porta Garibaldi
Originally built in 1768 in honor of King Ferdinand IV and his wife, this impressive arch was renamed in honor of Giuseppe Garibaldi who played a vital role in the unification of Italy in the second half of the 19th century.
Castello Ursino and Museo Civico.
Ursino is one of the most beautifully kept castles in Sicily. It's located in the center of Catania. It dates back to the 13th century and was built during the Kingdom of Sicily by Emperor Frederick II. I recommend visiting both the inside, where the Museo Civico is located, and the outside, to observe its four towers.
The market and all the street food
Piazza Carlo Alberto hosts the main market of Catania. It's a fun place to walk around, not to mention the best place in town to get fresh produce. This is likely going to be the only market you'll visit during your trip to Sicily, so make sure to stop by for a couple of hours. It's also an excellent place to taste some of the best local street food.
You can book a street food tour of Catania here.
Mount Etna
A tour of Mount Etna is a must on any trip to Sicily. This is one of the most active volcanoes in the world. It is located about one hour drive from Catania. You can easily visit it on a day trip and even independently – though keep in mind that you can't hike it by yourself.
Unless you have a car, I actually recommend joining a guided tour to save yourself the hassle of juggling the public transportation. For a guided tour of Mount Etna and Taormina click here. For guided hikes of Mount Etna, click here.
Make sure to check out my post Everything You Need To Know To Visit Mount Etna.
How to get to Catania from the Airport
You have several options to reach to travel from Catania Fontanarossa Airport to the city.
TAXI – Once you get to the airport in Catania, just head out of the main terminal and you'll find plenty of taxis.
BY PRIVATE TRANSFER – Another good option to get from Catania airport directly to your hotel is to book a private transfer. You can do so here.
BY BUS – The cheapest way of getting from Catania Fontanarossa airport to Catania city center is by bus. AMT Alibus runs every 25 minutes, leaving from the terminal and going all the way to the city center, making various stops along the way.
Sicily Itinerary Days 4, 5 and 6 – Vulcano Island
The second part of this itinerary will take you to the beautiful Vulcano, one of the gorgeous Aeolian islands. These are the perfect destination for a sailing trip: the views are breathtaking, the sea clear and perfect if you love diving. However, they are nice to visit even if you are not a fan of sailing.
Vulcano is of volcanic origins and there's no escaping volcanoes when visiting. The island is known for its thermal mud baths which are thought to have multiple beneficial effects and which give out a strong smell of rotten eggs (that's the typical smell of sulphur!). Whether you are headed there for health tourism or not, there are quite a few things to do in Vulcano to keep you busy for a couple of days.
If you are very short on time during your trip to Sicily but still want to make the most of the Aeolian islands, you can opt for a day trip there. This one departs from Milazzo and goes to Vulcano and Lipari.
Make sure to check out my post Everything You Need To Know To Visit Vulcano Island, Sicily.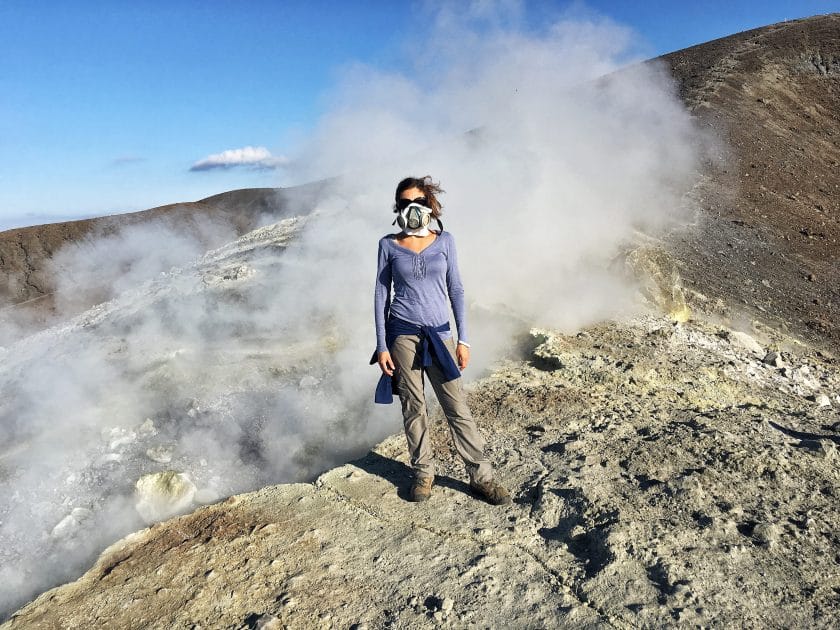 Unmissable sights in Vulcano
The beaches
Vulcano has a couple of good beaches. Both beaches have dark volcanic sand, but the water is transparent and pleasant to swim.
Acque Calde
Acque Calde literally means "warm waters." This name refers to the fact that in one of the beaches of Vulcano you can get to a spot where the water is fairly warm thanks to various submarine volcanic fumaroles which eject hot steam right into it.
Mud baths
They are located between one of the beaches and the harbor, and very easy to get to. It costs only €3 to get in. So if you can only bare the strong smell for a short while, you won't feel like you have wasted a lot of money.
Valle dei Mostri
Valle dei Mostri is located in Vulcanello, on the north side of Vulcano. This used to be a separate island that, following a series of eruptions, was eventually joined to the rest of Vulcano. It is a lovely valley from where you can enjoy beautiful views. The statues you can spot there are the result of erosion.
Gran Cratere
Gran Cratere is the main attraction in Vulcano and the main volcano of the island. You can get there via an easy hike along a well marked trail. You will walk through a series of fumaroles (be prepared for the horrid smell, and make sure to wear a mask to block at least some of it) and be able to admire one of the most stunning views of the entire archipelago. It takes about one hour to get to the main crater, and just about the same amount of time to walk down.
How to get from Catania to Vulcano
In order to get to Vulcano, you'll have to travel to either Messina or Milazzo, where there are regular hydrofoil departures to Vulcano.
There is just one daily ride departing from Messina at 2:10 pm, whereas there are 11 daily departures between 7:00 am and 7:10 pm from Milazzo. The harbor in Milazzo is also much smaller, so it's just easier if you plan to travel from there. You can buy tickets online on Liberty Lines website.
Getting from Catania to Messina or Milazzo
BY CAR – you can rent a car and take it all the way to Vulcano. You won't be able to take the car to Stromboli, as only residents can drive there. Check out the prices of car rental here.
BY TRAIN – There are several daily trains from Catania to Messina, and if you want to continue to Milazzo you just have to change in Messina Central Station. The train to Milazzo can take anything between two and four hours, depending on which one you pick (opt for the Intercity one if you want a faster train). You can consult the train timetable and buy train tickets here.
BY PRIVATE TRANSFER – A good alternative for an easier and faster trip may be opting for a private transfer from Catania to Milazzo. You can book it here.
Once you are in Milazzo, you can take the high speed ferry to Vulcano.
Sicily Itinerary Days 7 and 8 – Stromboli
The third and final part of this itinerary will take you to the beautiful small volcanic island of Stromboli. A lot of people go there on just a day trip from either Vulcano or Lipari, but I believe it is nice to spend a couple of nights (if not more!) to take in the incredibly relaxing atmosphere.
Though Stromboli tends to get a bit crowded in the summer months, no more than 600 people live there throughout the year, often remaining isolated due to bad weather conditions and rough seas. The main attraction is the volcano that gives it its name – the most active in Europe and in the world, with explosions every few minutes.
Things to see and do in Stromboli
Hike the volcano
Hiking to the crater of Mount Stromboli is an exhilarating experience. During the hike, you'll get the most impressive views of the island and of the surrounding archipelago. You'll reach the crater in time for a magnificent sunset and to observe the explosions.
The hike is moderate, but keep in mind you'll be walking on sand for a good part, especially on the way down (which you'll do after sunset, when it's dark already). Only guided expeditions are allowed. You can book your guided hike here.
Read my post Everything You Need To Know To Hike Volcano Stromboli.
Hike to Sciara del Fuoco
If you don't fancy climbing all the way to the crater, you can opt for the shorter hike to this view point which at 400 meters above sea level. You won't need a guide and once you are at the viewpoint you can admire the Sciara del Fuoco – a lava flow that runs down the northern side of Stromboli. The best time to walk to the viewpoint it's the late afternoon, in time for sunset. It takes about one hour to get there.
Explore the village
Stromboli has two villages. One is made up of 4 tiny "frazioni" (neighborhoods) all connected one to the other; the other is Ginostra, which is however completely isolated (you can only reach it by boat).
Stromboli village is a lovely place to explore: picture white buildings with colorful doors and windows and overflowing with flowers. Only residents are allowed to drive in Stromboli, but the streets are so narrows that you'll at most see a few ape cars or vespas around. This means that you won't have to worry about traffic at all.
The main landmark is the Church of San Vincenzo. The square in front of the church is the gathering point for people waking up to the crater of the volcano.
Go to the beach
Stromboli has a few lovely beaches of black volcanic sand. Ficogrande and Piscità are the best known. You can also opt for a walk along Forgia Vecchia, a long stretch of black pebbles and clear waters 300 meters south of the harbor.
How to get from Vulcano to Stromboli
There are two hydrofoils per day that go from Vulcano to Stromboli – one at 8:50 am, and the other at 2:15 pm. You can buy tickets online on the website of Liberty Lines.
How to get from Stromboli to Catania Airport
There are several daily hydrofoils that travel from Stromboli to Milazzo. The first one departs at 7:15 am, and the last one at 5:30 pm.
Once in Milazzo, you have several options to get to Catania Airport.
BY CAR OR PRIVATE TRANSFER – By all means the quickest way of getting from Milazzo to Catania airport is by car. If you don't have your own, opt for a private transfer – book it here.
BY BUS – Giuntabus connects Milazzo harbor directly to the airport. It only operates between April and September.
BY TRAIN – Another option is to take the train to Catania Central Station. You can find the train timetable and buy train tickets here. There are regular buses between Catania Central Station and the airport, operated by AMT Alibus. The bus runs every 25 minutes between 4:40 am and midnight.
The overall trip from Stromboli to Catania airport takes around 4 hours and 30 minutes. I recommend giving yourself 6 hours or more if you are traveling by public transportation.
Practical Tips For Your Sicily Itinerary
Best time to visit Sicily
Considering that hikes to Mount Stromboli and Mount Etna don't run in the winter and that you can't really enjoy the beaches then, I recommend traveling between April and mid October. If you don't fancy the crowds or are not a fan of the heat, avoid the peak summer months (July, August and the first half of September).
How to move around Sicily
This Sicily itinerary has been created with the idea of allowing you to move as much as possible via public transportation.
By bus or train
Traveling by bus or train may be the cheapest, not to mention the most eco-friendly and responsible way to move around.
You can check out the train timetable and buy train tickets here. Remember trains can be late in Italy, especially during peak season – although delays are usually no more than a few minutes. Factor in possible delays when you have to take a ferry or a flight!
Read my post The Complete Guide To Becoming A More Responsible Traveler.
By car
If you are traveling with a small group of people, or with children, you may want to rent a car. However, consider that cars aren't allowed in Stromboli. Check out the prices of car rental here.
Make sure to read my post A Guide To Renting A Car In Catania.
What to pack for a trip to Sicily
Pack light and bring comfortable clothes for sightseeing and good hiking gear. This brief packing list is suitable for the spring and summer months:
A pair of good hiking boots.
A pair of hiking sandals or flip flops.
Hiking pants. I like Kuhl Horizn hiking pants.
Hiking shorts. I am a fan of the Kuhl Cabo shorts.
A t-shirt or tank top. I love my Juniper tank top If you are going in the spring, you may need a long-sleeve t-shirt such as the Airkuhl Hoody.
A sweater. Keep in mind that it gets very cold on Mount Etna so I recommend packing a thicker one just in case. I normally bring my Kuhl Lea Pullover.
A jacket. What you wear really depends on when you go, but for the summer or spring Stryka Jacket by Kuhl is enough.
A hat.
A good sunblock and a good moisture locking lip balm.
A swimsuit.
A camera – I have a

Nikon D3300

with a

18-105mm lens

. If you aren't into photography a smartphone with a good camera will do.
Other useful information
No matter where you go, make sure to always get a good travel insurance. You can get a good one here.
Check out my post Why You Need A Good Travel Insurance.
Further Readings
For more planning tips for Italy, check out these posts:
Pin It For Later!