As a local, I regularly get asked for travel tips for Italy. There are certain things that first time visitors need to know before their trip, to make sure everything goes smoothly; and there are others that will help even returnees make the most of it.
Italy is the most beautiful country in the world. And although this definitely is my opinion, judging by the many accolades it receives and by the number of tourists that visit every year, you will see that this is very much a true statement.
A relatively small country, Italy really has something for everyone – beautiful cities; archeological sites; art; countryside, mountains and beaches; unique wildlife; the best food in the world; fabulous wines and much more.
A lifetime is hardly enough to get to know the country. But you can definitely make the most of it in a few weeks! Care to know how to make your trip an even better one? Follow the tips of a local – AKA, me!
87 Best Travel Tips For Italy, By A Local
Where to find the best travel tips for Italy
Rely on travel blogs
Travel blogs are are written by people who have traveled around the country widely. Even better, some blogs are written by locals like myself! Bloggers do a lot of research to deliver information that is reliable, up to date, and quite importantly it will be all in the same place (so you don't have to bounce back and forth to find the information you need).
And local tips
You are bound to get the best travel tips from Italians, who know how things work in the country. Locals are your best bet to find off the beaten path places; to point you towards the best local restaurants, and more.
Ask other travelers for tips
Other travelers can be a very reliable source of information and travel tips for Italy. They have probably done the same things you will be doing, so they will be able to tell you what to expect. Facebook is packed with good groups that share Italy travel tips.
Traveling to Italy is one of the largest and it has a good mix of people who have a deep knowledge of the country as well as locals – bloggers and guides.
Ask the experts to plan your trip
There is a certain thrill in planning a trip and traveling independently, but coming up with an itinerary can be a daunting task. If you only have a couple of weeks in the country, planning is essential. Ask an expert to draft an itinerary for you or follow a carefully curated itinerary such as this Southern Italy itinerary.
You can email me at claudia@myadventuresacrosstheworld.com and for a small fee we can work on something that suits your travel needs.
Looking for a curated Sardinia itinerary? Click here!
At times, a guided tour is your best option
In fact, you may be better off joining a guided tour. You'll only have to worry about what to pack for your trip then!
Language travel tips for Italy
Learn some basic Italian
People working in the tourism industry in Italy will speak English, but you can't expect everyone to speak your language and to understand you. After all, I doubt that in your country everyone speaks Italian, right?
Try to learn some Italian before visiting, and take a small pocket dictionary on your trip – you can even download an app to help you communicate when needed.
Read my post 20 Useful Tips For Learning A New Language and head over to my post 150+ Helpful Italian Phrases For Tourists.
Don't say "ciao" to everyone
One of the first words of Italian you will learn is "ciao" (pronounced "chaow"). It means hello and bye; we use it in informal conversations to greet friends. Italians are hardly formal and nobody will get offended if you say ciao to them rather than the more appropriate "buongiorno" (good day") or "buonasera" (good evening). But try to identify the occasions in which it is ok to use it.
Italian is the official language, but not the only one
While everyone in Italy speaks Italian, this isn't the only language you will hear. There are 12 officially recognized minority languages, and on top of those there are dialects that vary from village to village. Just to make it all the more fun!
Shouting is common
This isn't true of every place in Italy, but – especially if you travel to the South – you will realize that people talk very loudly. The fact that people in the streets are shouting doesn't mean they are having an argument. Most of the time it is just the tone of the voice or a cultural factor and there is nothing to worry about.
Best tips for visiting Italy
Have a realistic itinerary
If it is your first time in the country, whether you are backpacking Italy or traveling a bit more comfortably, you will probably feel compelled to see as much as possible, in as little time as possible. You see, Italy is much smaller than many other countries, but it has a formidable concentration of places to visit, things to do, and more.
The biggest mistake you could do is pack too much into your Italy itinerary – you'd end up really just seeing the places, rather than actually experiencing them! Remember that less is more, even when it comes to Italy!
Avoid visiting in the peak season
When is the best time to visit Italy? My country is gorgeous year round, but try to avoid the peak season as much as possible. The summer months – June, July, August and the beginning of September – are busy, as well as Easter and Christmas.
October is a great month as days are still quite long and warm and most attractions still observe their summer schedule.
Spend enough time in Rome
I cringe every time I hear someone tells me they are only spending a day in Rome. There is so much to see and do in the Italian capital, that a mere 24 hours is hardly going to give you an idea of what it is all about. If it is your first time in Italy, spend at least 3 days in Rome. If you can afford to, even 4 or 5 days in Rome would be great.
Read my post 37 Unmissable, Fun And Cheap Things To Do In Rome.
Get the classics out of the way first
Start with a classic itinerary. Go to Rome, Milan, Florence, Venice, Cinque Terre and / or Amalfi. After all, if it is your first time in the country, you really should see the main tourist attractions. This will give you a general idea, and next time you visit you can focus on other places.
Get skip-the-line tickets for popular attractions
Of all the travel tips for Italy, this is super important. Attractions such as the Colosseum, the Sistine Chapel, Borghese Gallery, St. Peter's Basilica and St. Peter's Dome, the Uffizi, Doge Palace and the Last Supper and many more require advanced bookings and you have to also pick a time slot for your visit.
Get your skip-the-line tickets here. Check out my post A Completely Honest GetYourGuide Review.
Remember there is a big difference between the North and the South
There are 20 regions in Italy and they all differ one from the other. Trentino, in the North of Italy, doesn't even remotely resemble Sicily, in the South. And Sardinia is different from anything else you can think of. Don't expect to visit one place and think you know everything about Italy, or that nothing will surprise you.
Don't just stick to the known
Try to discover the hidden gems. Go to the lesser visited places as at times they are the most interesting ones, perfect for appreciating the local culture and way of life. Pick a place randomly on the map, and just go. Chances are that even though it didn't make it to your guide book, there will be something worth discovering.
If you are visiting Rome, make sure to read my posts 31 Incredible Places To Explore Rome Off The Beaten Path and 20 Great Day Trips From Rome.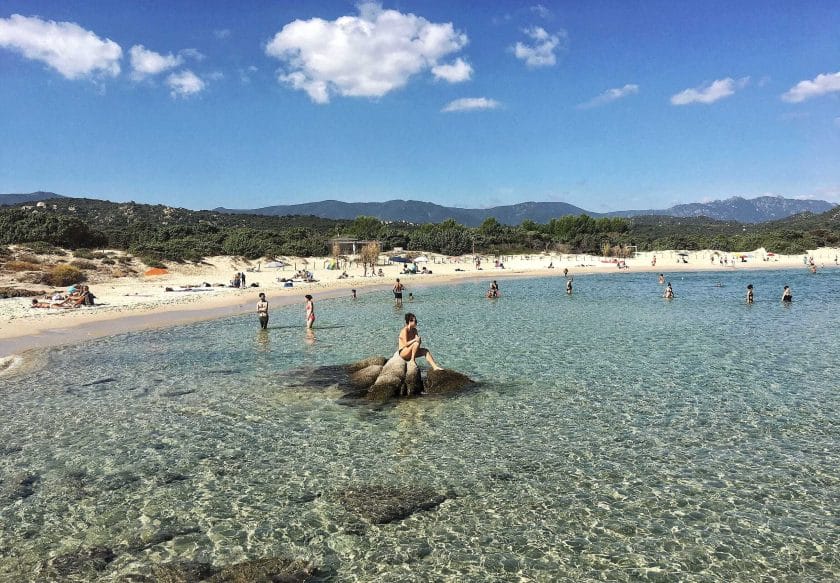 Don't skip the islands
There is so much to see in mainland Italy that you will be tempted to stick to it. But don't skip the islands. Sardinia and Sicily are the most obvious choices – it takes an extra flight to get there, but it is really worth the effort and the money.
Don't forget the smaller islands too: Elba, the Aeolian Islands, Capri and Ischia are all waiting to be discovered.
Go to the beach
Italy is actually packed with stunning beaches. If you visit in the summer months and especially if you go to the south, factor in enough time to enjoy the beaches. The best beaches are found in Sardinia, but Sicily and Puglia have amazing ones too.
Check out my post An Excellent Guide To The Best Beaches In Sardinia.
Check out the mountains
Mountains make up for more than 35% of Italy. The main mountain chains are the Alps, which are shared (among others) with France, Switzerland and Austria; the Dolomites, which are 100% Italian; the Apennines, that run across central and southern Italy. Lesser known mountain chains include Gennargentu in Sardinia.
Go on a hike
With all the mountains we have, Italy is a great hiking destination. In fact, it is perfect for adventure sports including rock climbing, paragliding and even rafting.
And skiing
Where there is mountain hiking in the summer, there are ski slopes in the winter. One of my travel tips for Italy is to opt for a ski retreat if you are visiting in the winter. My favorite place is Val di Sole, in Trentino.
There are excellent slopes for all levels, good quality snow, and if you are not in the mood for skiing, there are plenty of other things to do.
Climb a volcano
If you are looking for a bit of a thrill and are up for the challenge, I recommend climbing a volcano. There are several to pick from, but I recommend opting for either Mount Etna, near Catania, or Stromboli, in the Aeolian Islands. They are both active and the experience is simply incredible.
You need a guide to hike volcanoes in Italy. For guided hikes of Mount Etna, click here. For guided hikes of Mount Stromboli, click here.
Make a note of business hours
Other than shopping malls, most businesses in Italy, especially in smaller villages, close between 1:00 or 1:30 pm to 4:00 or 4:30 pm. They will then stay open until 8:00 and even 9:00 pm depending on the location and the season.
Don't be annoyed by this: just embrace it and take it as an opportunity for a longer lunch or even a nap (especially beneficial in the summer time, when it's too hot to be outside anyways).
Public Holidays
Public holidays have the potential of affecting your trip with business and museums closures (at times restaurants too) and fewer transport options, so make a note of the main national ones, and consider they may be a few regional / city ones too. These are the ones you should remember:
1 January
6 January (Ephiphany)
Easter holidays (Friday to Monday included)
15 August (Ferragosto)
1 November
8 December (Immacolata Concezione)
25 December (Christmas)
26 December (Santo Stefano / Boxing Day)
When in Rome, take care to notice that 29 June is also a holiday and that's when the Vatican Museums will be closed to the public.
And of museums closing days
Most museums in Italy are closed on Mondays. The Vatican Museums, however, are closed on Sundays.
Check out the prices of car rental here.
Packing tips for Italy
Pick the right suitcase
This is vital! Italy is home to endless, charming cobbled alleys; lots of stairs and at times no elevators; train journey and what not. Packing the right bag for your trip will definitely make your trip easier.
Remember to dress modestly in religious sites
Yes, you need dress modestly to enter religious sites – in fact, this is true anywhere in the world.
Hardly an issue in the winter, when you'll be covered anyways; it can be one in the summer time. But here are a few tips: cover your shoulders and chest (no tank tops) and knees (no shorts or miniskirts). Alternatively, wear a comfortable long dress and carry a shirt or light jacket to wear on top once you enter.
Pack the right shoes
This is especially relevant for the ladies reading. With all the cobbled streets and the many steps you'll be walking on, you really want to pack your most comfortable shoes. Heels aren't really suitable for a trip to Italy – perhaps if you don't want to forego them entirely, opt for platform shoes.
If you are visiting in the summer, a good pair of sandals is the way to go. Flip flops in Italy are strictly used to go to the beach.
For more information on what to pack, read my post What To Wear In Italy.
Beware that it actually gets cold in the winter
Italy is not always sunny and warm. Cagliari, where I am based, can get quite cold in the winter. The north of the country is even colder! On the other hand, one of my best travel tips for Italy is to visit in the winter, when it is less crowded, and to come prepared with proper winter clothing.
Bring a plug adaptor
If you are coming from North America or the UK, or even from South Africa, you will see that electricity sockets in Europe are different. If you don't have a plug adaptor, look for one at a ferramenta shop near you.
If you are a girl, don't carry things such as hair straightener or hair driers – they are available in all hotel rooms or apartments, and in any case the voltage is different so your appliances won't work here.
Tips for moving around Italy
Plan how to get to the city in advance
This is one of the most useful travel tips for Italy! Plan your ride from the airport to the city center before you actually arrive, especially if you are landing in a big city such as Rome, where taxi rip offs are always around the corner.
Do a bit of research to see what options are available – airport sites have the most reliable information and show all available options. Taxis usually have a flat fee to take you to the city center from the airport everywhere in Italy.
Landing in Rome? Check out my post How To Get From Fiumicino Airport To Rome City Center.
Go to the right airport!
Rome, Venice, Milan all have more than one airport – the main one is used by regular airlines, and a smaller airport that is used by low cost ones. However, some budget airlines also fly from the main airports.
The bottom line is to always make sure to check which airport you are flying from, so that you show up at the right place – trust me, I know a few people who arrived at the airport only to realize that was not where they were meant to fly from!
Go to the airport in advance
If you are flying from a smaller airport, plan to be there around 1.5 hours in advance. If you are traveling from larger airports such as Milan Malpensa or Rome Fiumicino, plan to be there between 2 and 3 hours in advance – the line at the check in may be long, and security checks may take forever!
Travel by train
Trains in Italy really go anywhere; they are quick and comfortable (though at times flying budget airlines can be cheaper). The largest train company is Trenitalia, but you may also see Italo trains.
For fast trains (we call them intercity or Alta Velocità, which means high speed, and they are labelled as Frecciarossa, Frecciargento or Frecciabianca) you need to buy tickets in advance – you can do so here. Regional trains are slower as they stop at all stations, but they don't need to be booked in advance.
Remember to validate your ticket
If you have a paper ticket, you will need to validate it before getting on the train. There are machines around the train station and along the platform. If you don't do so and show an unvalidated ticket to the train conductor, you may get a fine.
Beware of transportation strikes
Transportation strikes are common in Italy. The good news is they are announced in advance so you have plenty of time to change your ticket reservations or to make alternative plans for the day.
Buy bus tickets at Tabaccherie
Tabaccherie in Italy are the equivalent of newsagents and sell anything from tobacco to snacks, candies, lottery tickets, SIM cards and local transportation tickets. If you are planning on moving around by bus, get a bunch of tickets in a tabaccheria as not all buses sell tickets on board.
Download My Taxi
If you are staying in the center of town you won't really need to use taxis and can just walk around or rely on the metro or bus to reach places that are more distant. If you do need a taxi, however, an app such as My Taxi will be your best option to call a cab. Uber is not really a thing in Italy!
Don't rule out renting a car
Tourists are generally afraid of driving in Italy. Italians have a (well deserved) reputation as bad drivers; streets in the city center can be terribly narrow; and finding a parking spot can be a nightmare.
If you manage to overcome these worries, and provided you have a valid international drivers' license, driving in Italy can be a lot of fun, a massive time savior and it can take you to incredible landscapes and unusual places.
Pick a small car, as it will make your life easier. Worried about driving manual? Specifically ask the car rental company for an automatic car.
Check out the prices of car rental here. Make sure to read my posts What You Must Know About Driving In Italy and A Guide To Renting A Car In Italy.
Beware of ZTL and speed cameras
ZTL stands for Zona Traffico Limitato, and it refers to some parts of a city that are closed to non-residents traffic at certain hours. ZTL areas usually have a massive electronic sign at the entrance that says whether you can drive through (Varco Aperto) or not (Varco Chiuso).
There is a camera on top of that sign that will monitor that only residents drive through when the varco is chiuso – all others will receive a fine.
Beware of speed cameras (autovelox, in Italian) too – if you have a good GPS system, you will usually be warned of the speed limits and of the presence of speed cameras.
Remember that although Italians have a reputation for being crazy drivers, that doesn't mean you won't get a fine if you are caught breaking traffic laws.
Keep in mind it may take months to be notified of a fine: this will be first sent to the legal owner of the car (the rental car company) which will then send you the fine. Yes: you have to pay for that.
Pay your parking fees
Not all parking spots you'll find along the street are free. If you see blue lines, that means you have to pay, usually by the hour, for the parking spot. There will be a machine nearby where you can get your ticket with a few coins.
Autostrade are not free
Autostrada is Italian for highway or motorway. Autostrade are toll roads for which you get a ticket once you get inside and, upon exiting, you have to pay. Keep some cash in the car or have your card ready for payment.
Learn to cross the road
You'd expect such a tip in a post about India, Egypt or perhaps Vietnam, but trust me: you may need it.
Carefully look both ways when crossing the road – you never know a bike or a scooter is coming from where it shouldn't be. The same applies to zebra crossing: just because they are there, it doesn't mean Italian drivers (other than me, that is!) will always respect them.
Accommodation tips
Book your hotel in advance
This is especially important if you are traveling in the peak season, visiting a busy city, and have a budget to respect.
Consider any mobility issue
Italian cities are old, and so are many buildings in the historic center of cities where smaller hotels, or family run guest houses are located. If you have mobility issues you are probably better off staying in a larger hotel where you have the comfort of an elevator and an accessible room.
Get a room with AC
Not all rooms in Italy come with AC – especially if you are staying at a smaller, local guest house. Always double check that the room you are about to book has AC if that's something you really can't go without.
Also keep in mind AC in Italy is never quite as powerful as it may be in the United States. If the temperature outside is 35°C (95°F), you can expect a milder 26° or 27°C (79° to 80°F) inside.
Don't be surprised by the tourist tax
Most cities in Italy now charge a tourist tax – usually between €1 and 3 euro per day per person. This tax has to be paid in cash at your hotel or Airbnb once you arrive, even if your hotel stay has already been paid. It's money that doesn't go to the hotel but to the city council.
Sometimes you pay a tourist tax even on day trips and attractions
This doesn't happen in many cases (I have seen it in Capri and in Cala Goloritzé beach in Sardinia), but just in case keep some spare change for that.
Your accommodation will make a copy of your passport
Again, totally normal and done for tax purposes.
Don't expect a dryer in your apartment
One of the things that fascinates tourists is that we hang our laundry in the sun. Well guess what – we don't do it because it looks pretty in photos (though it certainly does) – but because laundry dryers are not a common thing to have here. It's better for the environment, better for the clothes, and better for our electricity bills.
Eating and drinking in Italy
A bar is a coffee shop
A bar is a coffee shop in Italy. Bars open very early in the morning and close late in the evening – though that varies on the place and on the location. Like coffee shops, bars serve coffee and non-alcoholic drinks such as juices and teas, as well as pastries, gelato, quick meals and snacks. They also have a license to serve alcohol.
Learn about the different kinds of coffee
If you ask for a generic coffee in Italy, you will get an espresso. Other kinds of coffee you'll find are macchiato, caffè al vetro, caffè corretto, caffè dek, mocaccino etc. Get acquainted to all the different kinds of coffee available before traveling and then try them all.
Read my post How To Order Coffee In Italy.
Don't expect eggs for breakfast
This just isn't a thing in Italy. You will find them at larger hotels, but if you are staying in a local guest house or bed and breakfast, you will have to go by what we typically have: yogurt, fruit, cereals, cookies, bread and jam, and lots of coffee.
To find out more about Italian breakfast, read this post.
Don't drink cappuccino with your meal
Ask for a cappuccino with a meal and you will get a dirty look from the waiter. Same thing for having it after a meal. Don't. Order a caffé macchiato if straight coffee or espresso is too strong for you.
With regards to drinking cappuccino after 11:00 am, we are not as strict as some would say. I occasionally have it in the afternoon and haven't gotten in trouble yet.
Take a food tour
Join a guided food tour or even a cooking class. These are great ways to learn about the local food culture and specialties, oftentimes starting from a local market.
Italian food is more than just pizza and pasta
Food in Italy is actually very regional, and while some dishes are commonly eaten throughout the country (and with local variations), others can only be found in specific locations. Keep this in mind when you go looking for ragù alla bolognese in Rome, or for a cotoletta alla milanese in Naples.
Italian food goes well beyond pasta and pizza. Our diet is quite varied and though we do love our carbs, we have excellent meat, fish and seafood dishes and eat lots of pulses and massive amounts of fruits and vegetables. Make yourself acquainted with local dishes before your trip, and note down the ones you'd like to try.
Vegans will usually have it easy
Lots of Italian dishes are naturally vegan. This post, although in Italian, will give you an idea of some traditional dishes which you can safely eat. There now are many vegan restaurants in most medium and large cities and many restaurants and pizzerie will have vegan options.
Don't expect to have dinner at 6:00 pm
When it comes to dining time, do as the locals.
Lunch in Italy is between 12:30 and 2:30 pm, depending on the region and the season. Italians won't ever go for dinner at 6:00 pm (that's aperitivo time!) and if you see a restaurant serving food that early, it's probably a tourist trap.
We normally eat dinner between 8:00 and 9:30 pm, depending on the season and on the location.
Book the best restaurants in advance
Apps such as The Fork will allow you to book your table directly, picking a date and time. Otherwise, the old-fashioned phone call should work. Waiters in most tourist locations will be able to pick a reservation in English. If you are unsure, ask your hotel receptionist to reserve a table for you.
If you see spaghetti bolognese on the menu, leave the restaurant
There is no such thing as spaghetti bolognese or spaghetti alla bolognese in Italy. First of all, we'd refer to the sauce as "ragù alla bolognese" – where bolognese means "from Bologna." Secondly, this sauce typically accompanies tagliatelle. If you want to have the real tagliatelle alla bolognese, go to Bologna.
Kids' menus are not common
Italian kids grow up being infused in our local food culture and are accustomed to eating the same things their parents do, so children's menus are not a very common thing to see in restaurants – only some have now started introducing them.
Regardless of that, you are bound to find something your child will enjoy eating in the country of pasta!
Learn to roll your spaghetti
Although many overseas think it is proper to roll spaghetti on a spoon, not even children do that here. So, another one of my travel tips for Italy: train yourself to roll spaghetti properly. Pick a few spaghetti noodles with your fork and roll clockwise till forming a soft knot. It's easy!
By all means, don't cut your spaghetti!
Parmesan never goes on fish
Parmesan has a very strong flavor, and if you put in on top of your seafood risotto, it will cover up its delicate flavor. To my knowledge, the only Italian recipe that calls for parmesan on fish is sogliole alla parmigiana (sole parmesan).
Chicken or pineapple on pizza (or pasta) is not ok
The Italian food you got used to eating in your country is definitely very good, but very different from what we eat here. Chicken never goes on pasta or pizza in Italy.
Pineapple on pizza is not acceptable (but you may see green apples or pears on pizza at times, paired with certain kinds of cheese). I can't give you reasons for that, but I can tell you we all shriek at the thought of chicken on pasta, or pineapple on pizza.
If you like pepperoni on pizza, ask for salami. Say pepperoni, and chances are you'll get a pizza with bell peppers.
Garlic bread is not Italian
And you won't find it on the menu. In fact, I first tried it in England when I was 23. Some places will serve bruschetta, where garlic can be rubbed on toasted bread before chopped tomatoes, olive oil, basil and / or oregano are added.
Contrary to what people outside of Italy think, Italians don't eat much garlic at all. We use it to flavor oil when we cook, then take it out because we find it too be too heavy on the stomach and on the breath.
Learn to pick good gelato
This is one of the most important travel tips for Italy.
First, the basic: gelato is just Italian for ice-cream. Some will tell you that the recipe is different and that gelato and ice-cream are not the same thing, but to us, they are.
Now, the important bits: not all gelato is good. Stay away from places that sell a million flavors as chances are they are not prepared with natural ingredients. The best gelaterie have no more than 10 daily flavors, and not on display (so you won't be able to see the gelato, properly refrigerated in metal containers).
In short: the shinier and most colorful the gelato, the less good it is. Easy, right?
Water in fountains is safe to drink
You will find drinking fountains in most Italian cities and especially on hot days they will be a massive relief. Carry a water bottle that you can refill as that water is perfectly safe to drink.
But in restaurants, don't ask for tap water
I can't explain why, but most restaurants still serve bottled water, and many are now switching to filtered water and will serve you bottles they can refill – which means less plastic and also much cheaper. You will have the option of choosing between acqua naturale (still) and frizzante (sparkling).
Order vino della casa
Most restaurants will have a house wine on offer – it can be a random "easy drink" red or white wine that you can order by the measure ("un bicchiere" – a glass, or "un quarto" – a quarter liter; "mezzo litro" – half liter; "un litro" – a liter) but at times it actually is a bottle proper!
It's always wine o' clock
Wine is a huge part of Italian culture, so here is another of my travel tips for Italy for you: never miss an opportunity to have a good glass. You don't have to become an alcoholic, really! Just enjoy a glass with your meal, that's it.
Take a wine tour
Do a wine tour to discover the best wineries in the area you are exploring. You will learn about the local grapes, the history of the vineyard, the wine making process and have a proper wine tasting experience. Pretty much all regions of Italy produce wine, and wine varies a lot between regions.
If you happen to be in Sardinia, head straight to Cantine Argiolas in Serdiana for the best Sardinian wines and wine tours.
Have aperitivo
Aperitivo – aperitif – is typically a light alcoholic drink you have before meals. Italians love Aperol Spritz – a light cocktail made with Aperol, soda water and prosecco. Others (like yours truly) swear by a good prosecco.
But what if you don't drink alcohol? Don't worry! Opt for one of the many alcohol-free drinks: other than the classic coke, juices and tonic water, you can have a more Italian Sanbitter or a Chinotto.
There is no such thing as champagne in Italy
We have plenty of sparkling wines in Italy, but champagne is French. Don't be tempted to refer to any sparkling wine as champagne as Italians may be offended. Ask for Prosecco for a lighter sparkling wine from the region of Veneto. Spumante can be a good option too.
Service in restaurants can be slow
Service in Italy is much slower than in other countries. Italian waiters won't be all over customers asking if everything is good, if they need anything etc. You are expected to raise their attention if you need anything.
Add to this the fact that most food is prepared to order and that Italians see eating out as a way of socializing, and you get the idea. Instead of complaining about it, embrace it. And order more wine.
Watch out for the coperto
You've finally finished your meal and you are about to pay, only to discover a random item in your check, called "coperto." That's a cover charge that normally includes bread, and that goes into cleaning the restaurant, service etc.
Tips for grocery shopping in Italy
With all the incredible produce you'll see in Italy, if you have access to a kitchen definitely take advantage of it and plan to cook a meal or two.
Scattered around Italian cities you'll find grocery stores of various sizes – from small neighborhood stores (typically frutta e verdura – greengrocer; macelleria – butcher; panificio – bakery, or a more generic alimentari – small neighborhood food store) to larger "supermarkets" (the most common chains are Conad, Carrefour, Auchan but you may also come across Spar and Despar, Gieffe, Esselunga, and Iperpan in Sardinia).
On top of that, there are many markets that sell the best fresh produce.
I wish I could give you a few set of tips for shopping in Italy, but unfortunately what's true in one place may not be the case in another. So here are a few things to keep in mind:
You'll have to weight your own produce in some stores; but in others, this will be done at the cash desk.
Plastic bags aren't free – and you'll have to use them for produce in stores. Good thing they are degradable.
Bring a canva bag for your shopping.
Gloves must be used to pick produce in larger grocery stores.
Don't touch produce in small greengrocers and markets: wait to be served instead.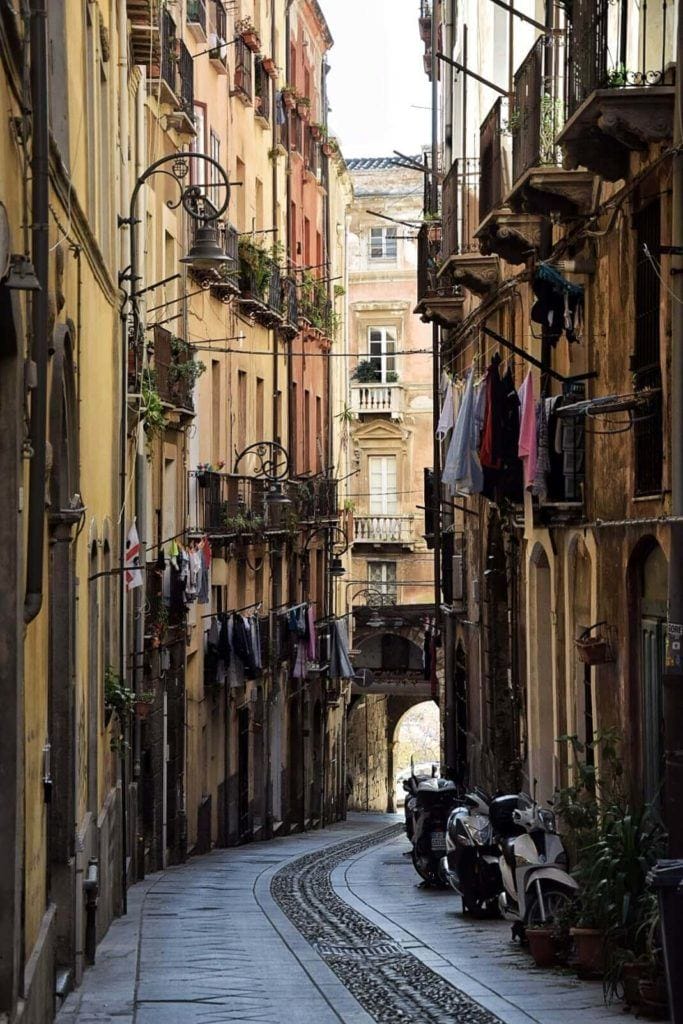 Paying for things in Italy
Credit cards are accepted in most places
Credit cards – Mastercard and Visa – are commonly accepted in shops and restaurants and you can use them to pay for train tickets. American Express isn't commonly accepted.
But always take some cash with you
Here is another of my travel tips for Italy: always have some spare change with you. You won't really be able to pay for a coffee or a gelato with a credit card (unless you are buying gelato for an army) and restaurants occasionally have issues with card payments and won't be able to accept them until the machine is fixed.
Tipping is absolutely not necessary
This is one of my favorite travel tips for Italy. Though tips we welcome, they aren't expected. In restaurants, a service fee will be added to your bill and that counts as a tip. Guides are paid for their job, as well as drivers and any other workers.
If you all leave large tips, employers may well decide to lower wages thinking that their employees can make enough money out of tips. This will put a strain on locals, whose wages are much lower than overseas and won't have enough to also leave a tip on top of what they consume.
Read my post Tipping In Italy: When To Tip And How Much.
Other useful travel tips for Italy
Take your ID card with you when you go out
By law, Italians are always asked to carry around a form of identification. If you'd rather leave your passport in the safe in your hotel room, bring a valid driver's license with you. Being stopped by the police for a random check doesn't happen frequently – if it does, there's nothing to worry about.
Don't put your feet in fountains
Many Italian cities have gorgeous fountains and during hot summer days you will be tempted to sit on them, take your shoes off and put your feet in the water. Don't do it. It is forbidden by law you may end up getting a fine.
Get travel insurance
Italy has a public health care system, and no matter of your status in the country – resident, tourist, migrant – you will receive assistance if needed. Having said that, here's one of the best travel tips for Italy: get a good travel insurance for your trip.
Make sure to read my post Why You Need A Good Travel Insurance. Get a good travel insurance here.
Watch out for scams
Important travel tips for Italy ahead! Learn about the most common scams so that you can avoid them. Here they are:
THE OVERLY FRIENDLY STRANGER – If a person approaches you at a train station insisting to help you get tickets from the vending machine or to carry your suitcase, chances are they want something in return. You do get chivalrous people, but not so eager.
THE FRIENDSHIP BRACELET – If someone approaches you and ties a bracelet around your wrist or finger, seemingly as a gift, say a firm and polite no and move away. That is a scam and you will be asked for money. The same goes for flowers.
TAXI SCAMS – The most typical taxi scam will either involved an unlicensed taxi (only take white cabs that have the sign "taxi" on top) or a taxi that takes the longest route possible to take you to your destination. Google maps helps you with the itinerary, so have it handy.
Make sure to also beware of pickpockets. They are common in busy train or bus stations.
Get a local SIM card
The easiest way to communicate with friends and relatives at home and to stay connected is by phone. It is probably cheaper to get a local SIM card so that you can use Whatsapp, Skype or Facetime to make phone calls, and other useful apps such as Google Maps (though please, don't strictly rely on that as it's not 100% reliable in Italy).
The best companies are Vodafone and Wind.
Always carry a pack of tissues with you
This is one of the travel tips for Italy that any proper mamma will give you. Never leave the house without a pack of tissues. You never know you may need to blow your nose, wipe your face, or find no toilet paper in the toilet – even when you have to pay for it. Add to it a small tube of hand sanitizer and you are good to go.
Learn how to stand in line
We are so bad at respecting lines that in many places there now is a number system: you walk in, pick a number from the machine and wait for your number to be called. If there are no numbers, you just have to learn how to line in Italy.
The key here is to stand your ground. Jump the line and you will be yelled at. Be too polite and people will pass you. If you see someone is trying to sneak in in front of you, swiftly push them away by moving forward and placing yourself well in the middle so that they can't pass.
Italian emergency numbers
Last but definitely not least, make a note of the Italian number for emergencies. It is 112 and it pretty much is like 911 in the US. Chances are you won't need it, but just in case!
Do you have any other travel tips for Italy to add to this list?
Further Readings
Make sure to read my planning tips for Italy in these posts:
Pin It For Later!