There are many good reasons to visit Djerba.
When my friend Diana asked me if I wanted to join her on a trip to Djerba, Tunisia, I immediately said yes. Not so much because I had been wanting to visit Tunisia (you know me, I would like to go pretty much anywhere), but because it was a good opportunity to see her again after the last time I met her – way too long ago – in Nicaragua.
Find out more about Nicaragua on my post "Awesome things to do in Nicaragua."
So close to my homeland Sardinia, yet a world apart, it didn't take me long to fall in love with this Northern Africa country. The landscape, the atmosphere, the people of the lovely island of Djerba Tunisia (the largest of North Africa) made my visit memorable and I have resolved to go again as soon as possible and spend more time there.
In this post, I highlight all the reasons why I think you should visit Djerba and share some tips that will help you make the most of it.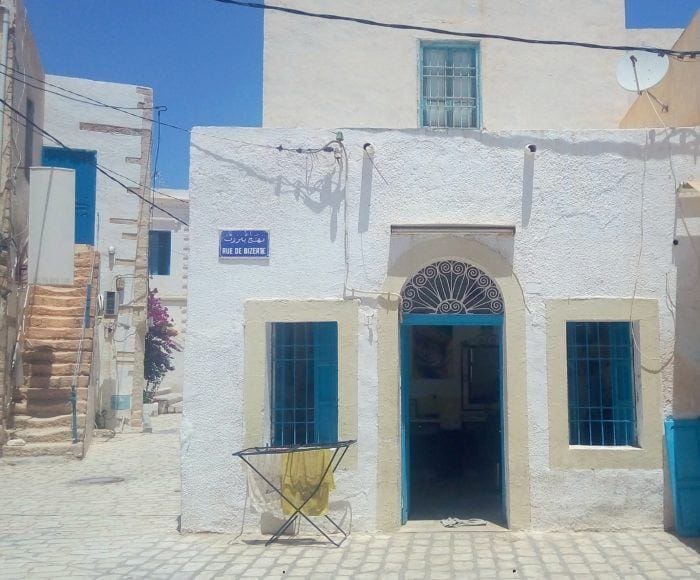 13 Very Good Reasons To Visit Djerba
There are some gorgeous beaches
I am spoiled when it comes to the sea: I grew up in Sardinia and I know what a beautiful beach is supposed to look like. I make a fuss if the water isn't clear enough or if the beach is not to my standards.
One of the main reasons to visit Djerba is that it is simply beach perfection: a piece of Caribbean heaven in the Mediterranean, if I may say. You will be amazed to find incredibly long, white sandy beaches with the clearest waters you can imagine – perfect for a beach vacation.
Find out more about Sardinian beaches in my post "An Excellent Guide To The Best Beaches In Sardinia."
It's a great place for water and adventure sports
If you are a fan of water sports, you will surely enjoy Djerba. The island is often quite windy, so it is perfect for activities such as wind or kitesurfing. You will also be able to go diving.
If water sports aren't your thing, you can enjoy all sorts of activities such as horse or camel rides, quad biking and more.
In other words, yours doesn't have to be an idle holiday where all you do is lay in the sun – there are plenty of activities to do to keep you entertained!
These are some of the best adventurous activities in Djerba:
You can visit the desert
One of the highlights of visiting Djerba is the possibility of exploring the desert. You can go on short or long desert safaris that include riding in the dunes, star gazing, sleeping in bedouin camps, admiring the unique local wildlife and much more.
These are some of the best desert tours fo Djerba:
Sunsets are amazing
With so many beautiful beaches, it is quite logic that sunsets are quite spectacular in Djerba. Make sure to head to the beach in time for the most amazing natural show.
The cultural heritage is very interesting
One of the best reasons to visit Djerba Tunisia is the incredible, varied cultural heritage. There are many places where you can discover this.
Lella Hadria museum is a good introduction to the history of the island, whereas the Museum of Art and Traditions a good place to learn a bit more about its culture. Yet, one of the top places to visit in Djerba is Djerba Explore, a park that reproduces a traditional Tunisian village – including several homes and a well which functions with a camel – and where it is possible to get a full understanding of the traditional way of life on the island.
Click here for a good guided tour that goes to all the best museums in Djerba.
Djerba is multicultural
If you ever decide to visit Djerba you will quickly discover that not only its cultural heritage is very interesting, but that the island is still very multicultural.
There is a Jewish minority that lives on the island – around 1500 people against a total of 160000 inhabitants. If you have a chance, make sure to experience the Lag Ba'omer, a celebration which takes place on the 33rd day after the Jewish Easter and that in Djerba is celebrated at the Ghriba. Located in Hara Sghira, Djerba's Ghriba is the oldest synagogue of Africa, built in 586 BC.
On this occasion, Jewish from all over Tunisia as well as other countries gather for the celebrations and for prayers. An old ritual sees women writing their names on eggs, praying for fertility and marriage, and throw them with the rest in the hope to see their wishes come true. Men read their prayers.
On the other side of the synagogue, in the caravanserai built in the early 20th century to host the pilgrims and now no longer used, people dressed up for the occasion gather for the most mundane part of the celebration: eating, drinking, chatting and playing. The atmosphere is lively, festive yet relaxed.
There is some amazing street art
A whopping 150 international artists have participated in Djerbahood, a project to paint the walls of Erriadh, a traditional village in Djerba. Seeing one of the oldest villages in Tunisia colored with some beautiful murals is a unique experience and I wholeheartedly recommend it.
There are great shopping opportunities
If you love markets and shopping, the suq in Djerba will not disappoint you. Shops sell fantastic souvenirs – mostly ceramics but also lovely cotton fabric – at a real steal (but haggling is the rule here) and the overall look of the area is stunning. White buildings stand against the blue sky, dotted by the blue of the doors and windows. The atmosphere is relaxed, yet busy. All in all truly enjoyable.
The food is delicious
Picky eaters like me will be happy to know that food in Djerba is delicious. Fresh salads, delicious fruit juices (try the the strawberry juice), cous cous, grilled tuna, seared fish. Every time you sit for a mean it is a real feast for your taste buds.
TIP: Make sure to try the mint tea (preferably with pine nuts) that is served after each meal.
There are some fantastic places to stay
Djerba is a popular tourist destination that is packed with all-inclusive resorts. Yet, the best places to stay are the beautiful boutique hotels that are scattered across the island. Dar Dhiafa is a small hotel composed of a series of traditional homes, all refurbished to keep the authentic Djerba style and at the same time guarantee guests the maximum comfort.
Dar Bibine puts together a traditional Tunisian home with modern design to guarantee comfort and a lovely environment. It definitely is one of the best places to stay in Djerba and one of the most beautiful hotels I have ever seen.
People are truly lovely
People in Djerba are really kind and friendly. Wherever you walk, you will see welcoming smiles, and get a kind word and a shy curiosity. Tunisians all speak French, and lot of them also speak Italian and English so it is really easy to communicate. Finding such nice people will make your stay there truly memorable.
There are cats all over
Cat lovers who visit Djerba will be in for a treat. Cats roam around the island mostly freely. The only concern I have is that cats are treated nicely and properly taken care of and my hope is that organizations work to make sure cats are spaded and neutered to keep the number of strays down.
The pace of life is relaxed
Nobody in Djerba ever seems to be in a rush. People calmly go by their daily business and always find time to chat with their friends, have a mint tea in the middle of the day, enjoy the marine breeze that cools off the island in the late afternoon. It's easy to fall in love with Djerba when you get such a good, relaxed vibe.
Have you ever been to Djerba? What did you enjoy the most about it?
Further Readings
If you are planning a trip to northern Africa, make sure to also check out my posts
Pin It For Later!