Are you visiting Rome with kids and worry that they may get bored or that there may be nothing suitable for their age?
Well, stop worrying right now! Children absolutely love Rome – what with the gladiator stories; the myths and legends; the fun museums that are tailored to a younger audience; the many city parks; the cat sanctuaries and all the delicious pizza, pasta and gelato they can eat.
If you are unsure where to look for to find family friendly activities in the Eternal City, you are in the right place. Continue reading for a selection of the best things to do in Rome with kids – guaranteed to entertain even parents!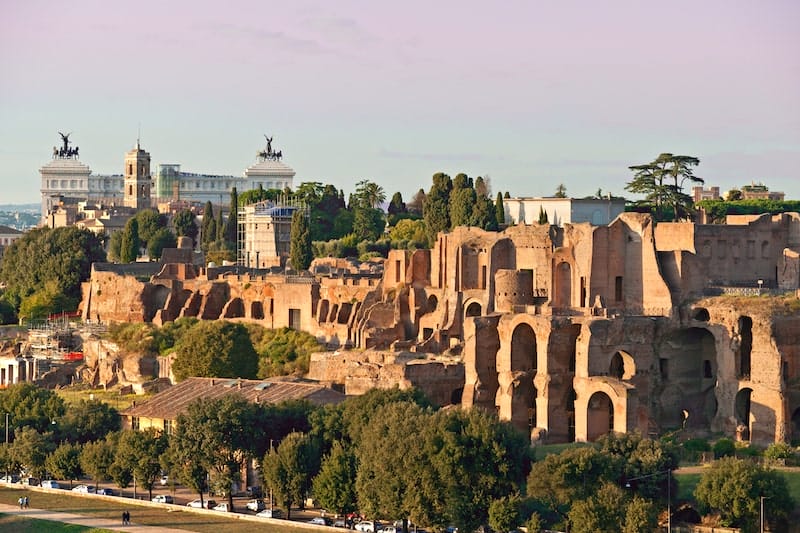 The Best Things To Do In Rome With Kids
Classic Things To Do In Rome With Kids
Embark on a kid-friendly tour of Rome
Touring Rome may seem a bit much if you're visiting with children in tow. However, thankfully there are some amazing tour companies that have specialized family tours geared towards children of all ages. Other tour companies may not have child-centric tours but will welcome children too.
For example, you can take a tour of the Colosseum that's family-friendly (more about it in a bit) – on this tour children go free, and guides make special efforts to involve your little ones in the action. On the other hand, Tapsy tours offer kid-focused walking tours of Rome which last three hours and take in all the major sights.
You can book your family friendly tour of Rome here.
Go on a kid-friendly tour of the Colosseum
Easily one of the best things to do in Rome with kids, a tour of the Colosseum is bound to keep the entire family entertained. The Anfiteatro Flavio – that's the actual name of the Colosseum – is a massive theater that was built around 70-80 AD and could hold up to 80000 spectators during incredible shows that were actually free to attend.
Take your kids to the place where gladiators fought; show them the tunnels and passages and the hypogeum where wild animals – leopards, lions, bears and even elephants – would wait in cages, ready for battle.
To make sure your children fully enjoy visiting the Colosseum, consider joining a family friendly tour. You can book it here.
Read my posts The Best Games In Ancient Rome and The Most Important Landmarks In Rome.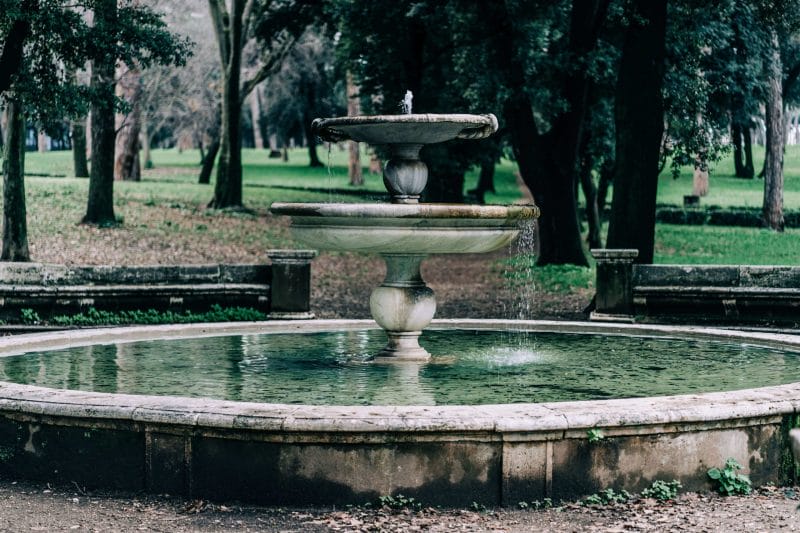 Explore Villa Borghese Gardens
Villa Borghese Gardens are Rome's second largest city park. While children won't enjoy visiting the impressive Borghese Gallery, located in a 17th century villa inside the park, the 80-hectare park is a fun place to visit for them, with lots to see. Make sure to go to the Bioparco, Rome's zoo, and rent a rowing boat at Giardino del Lago. You can even rent bikes to roam around.
Go back in time at Casina di Raffaello
In the middle of Villa Borghese, you'll find the charming Casina di Raffaello. This historic 16th-century building has been transformed into a playcenter. Here is where your children can enjoy time letting off some steam with workshops designed for kids aged from three to 14.
With book readings, hands-on activities, and exhibitions for your little ones, it's a fun place , and the bonus is that it's free to use. If you don't have time for a longer visit, it's a great spot to stop by to visit their library and bookstore.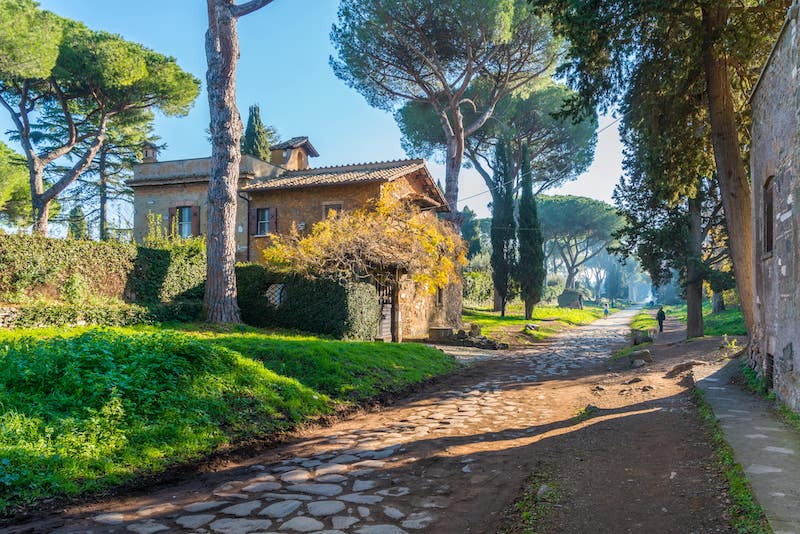 Bike along the Appian Way
Active kids will enjoy a bike ride along the Via Appia Antica, Rome's most famous consular highway. Lined with pine trees and lots of ruins, it's the kind of place that, while in the heart of the city, will make you feel well in the nature.
You can rent bikes at the Info Point located in Via Appia Antica 58-60. Bikes cost between €4 and €6 per hour, or €16 and €30 per day, depending on the model. You can book a bike directly online here. Alternatively, you can join a guided tour – book it here.
To get to Appia Antica, hop on bus 118 from Circo Massimo Metro Station (Line B) or bus 660 from Colli Albani Metro Station (Line A).
Explore Rome Catacombs
Kids with a taste for spooky, eerie stories will certainly enjoy visiting Rome's catacombs. Found right beneath the Appian Way, the 2nd century Catacombs of San Callisto are part of a massive system of tunnels (up to 300 km) used by early Christians to bury their dead.
Nearby, there also are the Catacombs of San Sebastiano – right beneath a basilica with the same name, where the remains of St. Peter and St. Paul used to be before being moved to the Vatican and San Paolo Fuori le Mura, respectively.
You can visit the Catacombs on guided tours – keep in mind they are only suitable for children seven and above. Book your tour here.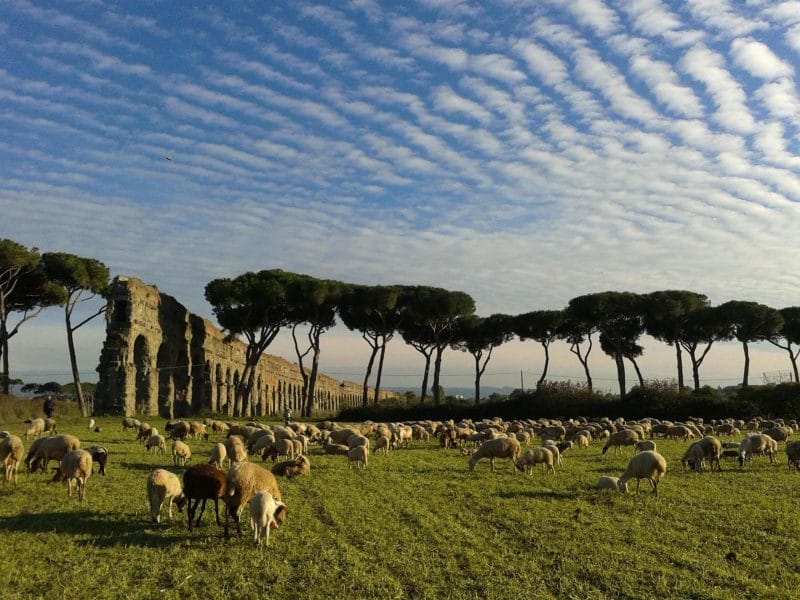 Run around Parco degli Acquedotti
If you are visiting Rome with kids during the fall or spring months and want to stretch your legs and let them roam free, take them to the Parco degli Aquedotti. This large meadow is surmounted by one of Rome's ancient aqueducts, filled with flowers and there even is a playground at the end of the park that kids will certainly enjoy.
To get to Parco degli Acquedotti main entrance in Via Lemonia, you can take Metro A from central Rome and get off at Giulio Agricola or Sub Augusta stations. Alternatively, you can take bus 559, 590, 650, 654.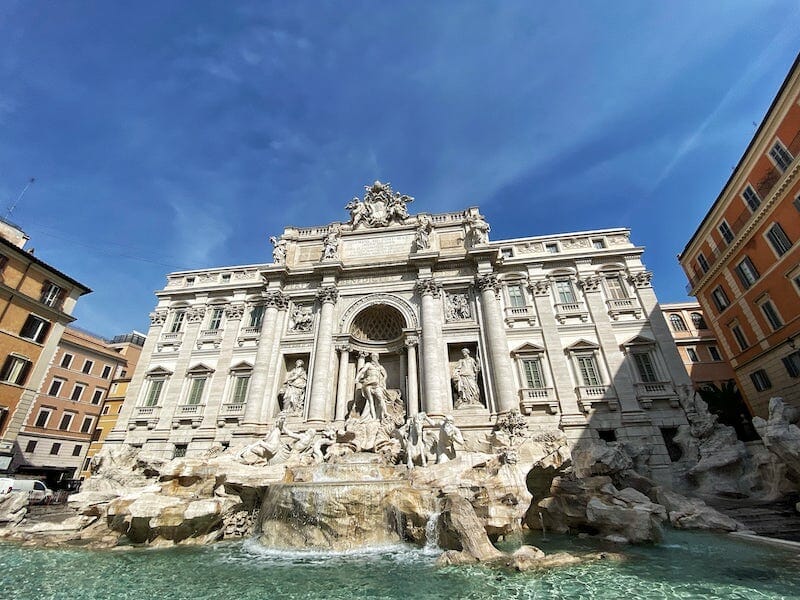 Throw a coin in Trevi Fountain
Scattered around the Italian capital there are many gorgeous fountains, literally a work of art – many of them by Bernini, Rome's favorite Renaissance artist.
While your children won't be able to put their feet in them – not even on the hottest days, as this is actually forbidden – you may entertain them by giving them a coin to throw in the fountain – it's pretty much a rite of passage in Rome. Thousands of euro make it into the city's fountains daily!
The most popular fountain to throw a coin at is Trevi, built in the 1700s over a fountain that had been standing since first century and which was actually used to drag water to the Baths of Agrippa.
Tell your kids to throw the coin with their right hand, and over their left shoulder, and they will be certain to go back to Rome one day.
Make sure to read my post The Most Beautiful Fountains In Rome.
Pet the cats at Largo di Torre Argentina Cat Sanctuary
If your children love animals, they will love visiting a cat sanctuary. There are many in Rome, but the most famous – not to mention the most centrally located – is that of Largo di Torre Argentina.
It's actually located in an archeological site believed to be the place where the Theater of Pompey – where Julius Caesar was stabbed to death – was located. You can walk in, pet the four-legged friends, make a donation to help support the many cats and even bring home a small souvenir.
Check out my post Where To See The Cats Of Rome.
Test the truth at the Mouth of Truth
For something fun to do in Rome with kids, make sure not to miss the world-famous Mouth of Truth. This curious sculpture is a marble disc depicting a face with holes for its eyes and mouth. As yet, it's unknown specifically what this was intended for with various theories as to its origin.
It's thought to depict the Titan Oceanus, god of the seas. Legend has it that if you place your hand into the mouth of the sculpture and you've told a lie, it will bite off your hand to which a scene from the classic 1953 movie Roman Holiday attests.
Make sure to read my post A Guide To Visiting The Mouth Of Truth.
Cross over the international border at the Vatican city
In Rome you can wow your children by making the step into another nation state in the heart of the city. Don't worry though, you won't need your passport, and there's no border control. However, as you step into St Peter's Square, you'll be in another nation.
In fact, the Vatican City has their own stamps and their own security – the Swiss Guards. These historic soldiers now find their home in the Vatican, and with red-plumed helmets, orange and red striped uniforms and shiny armor, they're like something from a bygone age.
To explore Vatican City, the Sistine Chapel, the Vatican Museums and St. Peter's Basilica, consider joining a kids friendly tour. You can book it here.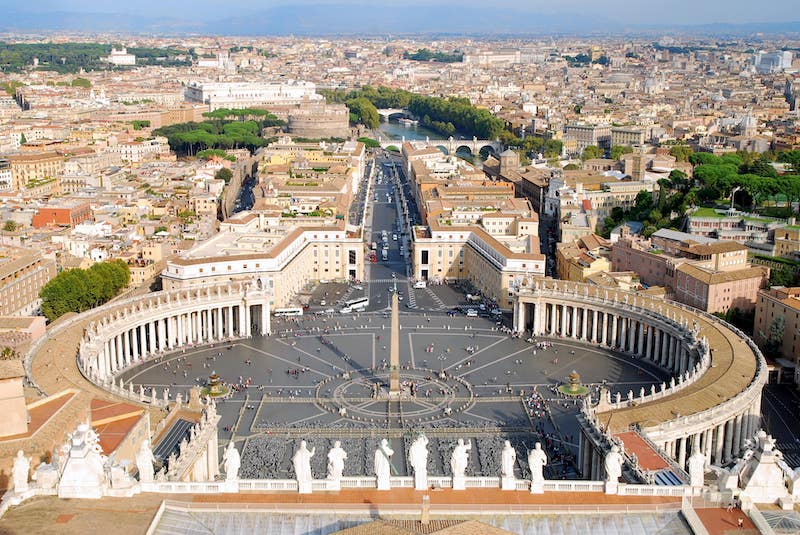 Hike to the top of St Peter's Dome
If you are visiting Rome with kids, getting to the top of St Peter's Dome is definitely an activity that you will not forget in a hurry – though I only recommend it for older children. The cupola of St Peter's Basilica was designed by none other than Michelangelo, and to get up close to it is an amazing experience.
You can either walk up 231 steps or take the elevator to the point where you'll get to see the mosaics up close. Then it's time to continue up more steps (320 to be precise), along a winding corkscrew passageway, until you reach the top of the cupola. The view from the top across the roofs of the Vatican and the rest of the city are outstanding.
You can get tickets to St. Peter's Basilica Dome here.
Check out my post Where To Get The Best Views In Rome.
Spot the she-wolf in the Piazza del Campidoglio
It's in this square, atop the Capitoline Hill high above the city streets, that you'll find the symbol of Rome – the Capitoline Wolf. Making your way to this icon of the city is a fun activity for the family – just ask your children who can spot her first!
This is actually a replica of the original statue, which is now housed inside the Capitoline Museums, but seeing it is an ideal introduction to the history and culture of Rome without having to head inside a museum and being overwhelmed (if you've got small children).
Just make sure you read up on Rome's origin story so you can tell them all about it when you get there!
Make sure to read my post The Most Interesting Facts About Rome.
Have a chat with Rome's talking statues
Rome is home to a selection of talking statues – okay, they might not talk, but they're still really fascinating and interesting for children to learn about, too. These talking statues are actually a collection of ancient statues that become billboards for political views.
Beginning in the 16th century, Roman citizens would post poems and funny jokes on the statues, and they then became a sort of community-run bulletin board.
The most famous is Pasquino, which still stands to this day in the piazza of the same name; and yes, people still attach all sorts of witty comments and opinions onto the statue.
There are other notable talking statues, including Il Facchino, Il Babuino, Madama Lucrezia, and Abbot Luigi – why not try to find them all?
Head over to my post 30 Must See Statues In Rome.
Fun Things To Do In Rome With Kids
Stop by the toy shop 'Al Sogno
Tucked away on the edges of Piazza Navona is a really charming classic toy shop: 'Al Sogno. This is a wonderland of fairies, puppets, dolls, toy swords, and stuffed animals – a complete Aladdin's cave of old-fashioned Italian toys for children to explore. In fact, "sogno" in Italian means "dream".
The window display will be enough to entice your children in – they're always impressive. It's a great place to buy gifts and Italian-made souvenirs. So if there's anyone back at home with children in need of a birthday present, here's the place to come!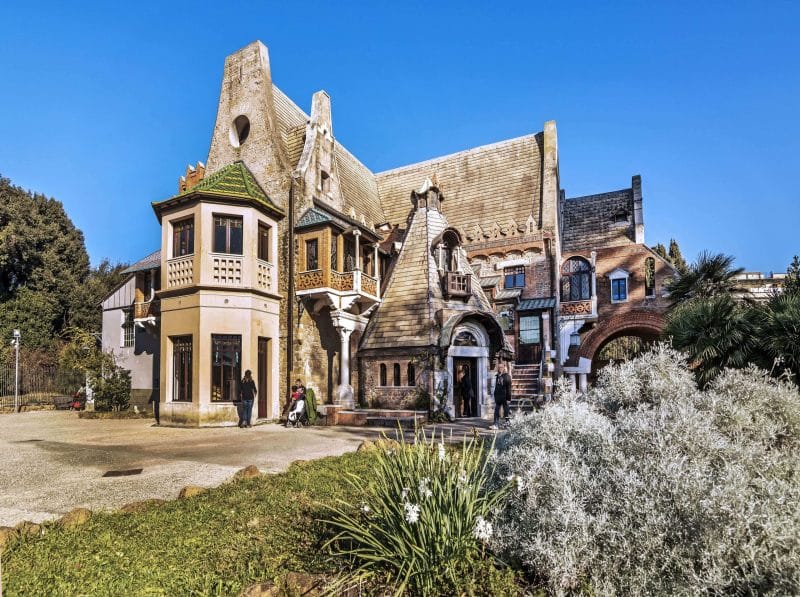 Have a blast at Technotown
For a world of futuristic attractions and entertainment – all set inside the historic Villa Torlonia – then you should head to Technotown. Complete with its very own planetarium, there's also a museum, an entertainment area, interactive exhibitions and other oddities where you can play with robots, try your hand at 3D printing, and more.
Different rooms at Technotown are geared towards different ages, and each area is designed with an educational twist. There are also events and classes that take place here run by professionals and experts in their field – just make sure to check the schedule before your visit.
Train to be a gladiator with Gruppo Storico Romano
What better way to learn about life in ancient Rome than to get trained up to be a gladiator? Yes, that's right – you and your children can spend the day learning how to become fearsome Colosseum combatants in the hands of capable gladiator trainers.
Run by Gruppo Storico Romano, Rome's very own Gladiator School provides training for adults and children who are interested in becoming gladiators. The school itself is a modern reproduction of a Roman-era military defense camp and sets the scene nicely for learning combat skills like body stances, sword, and shield use. Classes are around two hours.
You can book your Gladiator School in Rome here.
Get hands on at Palazzo della Cancelleria
The Palazzo della Cancelleria – a beautiful Renaissance palace in itself – is home to a unique sort of permanent exhibition. This museum actually hosts an array of Leonardo da Vinci's forward-thinking machines, as designed in his sketchbooks, giving a great insight into da Vinci's mind.
It's fascinating to visit for all ages, but children especially will enjoy the outlandish machines and the hands-on exhibits. These aren't just models – they're constructed of wood and have been created down to the tiniest detail. They all work too, and you're encouraged to interact and play with the machines.
Enroll in a mosaic-making class
If you and your children are feeling a bit crafty, then why not book them into a mosaic-making class? These workshops take place in a real, working studio in the Trastevere area and are run by actual mosaic artists.
Mosaics were such an important part of ancient Roman art and design, so to learn the process of creating these tiled masterpieces is an awesome hands-on way to get to grips with the city's history. Children get to make their own mosaics with help at every step (if they need it) – it's a fun and creative way to spend a morning or afternoon.
See the city's street art
For outdoor activities in Rome, you can't get much better than discovering the colorful murals painted on the walls of the Ostiense district, or those of Quadraro or Tor Marancia. There are regular, child-friendly art tours that are run by Art and Seek for Kids. These help you uncover some of the most interesting and noteworthy street art in the area.
The street art in Ostiense is impressive and playful, with the whole sides of buildings completely covered in themed artworks – think giant faces with windows for eyes, among other things. It's something to surely capture your children's imagination, and see something a little bit different away from all the ancient sites.
You an book your street art tour of Ostiense here.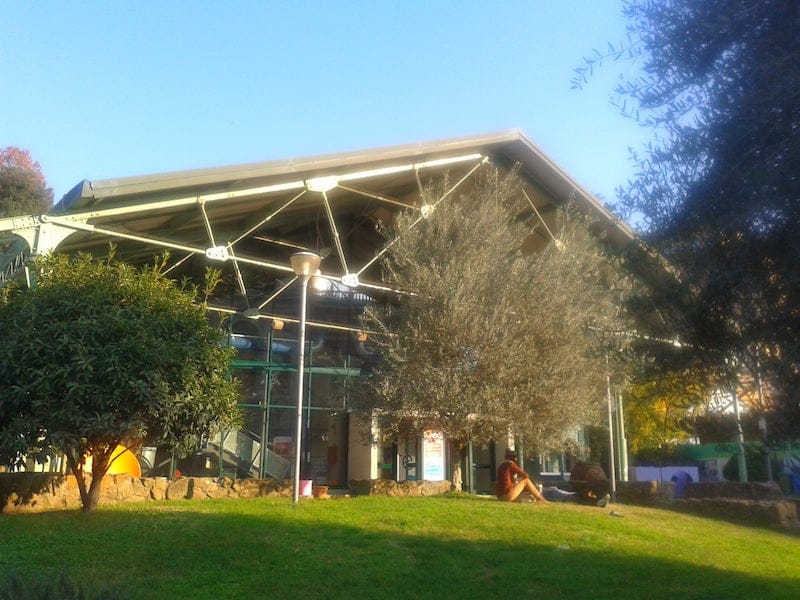 Play at Explora, Rome's children's museum
Perfect for a rainy day, Explora is a dedicated children's museum that's great for young visitors to the city. While many of the museums in Rome are geared towards adults, this one is firmly all about kids.
Here, you'll find so many amazing exhibitions that introduce science and history under the motto "learning by doing".
There are areas designed specifically with different age groups in mind, which means there's something for everyone; 0-3 years old; 3-6 years old; and 6-12 years old. No matter your children's age, you'll find something to entertain them at this complex of fun and creativity.
Splash around at Hydromania
Sometimes seeing all the historic sights can get a bit too much, and if you're in Rome with kids in the summertime, then you'll probably just want to cool off instead. So a trip to Hydromania – one of the largest waterparks in Italy – is the perfect family day out to escape the heat.
Here you'll find multiple swimming pools, beaches, green areas, waterslides, lagoons and various other rides – all designed for aquatic fun in the sun. The park actually spans 90,000 square meters, so you're almost guaranteed to spend a whole day exploring what it has to offer. Plus, it's easy to get there by public transport, too!
Make sure to visit my post The Best Outdoor Pools In Rome.
Play countless computer games at Vigamus
Vigamus is the international video game museum of Rome. It opened its doors in 2012 as the first (and still, the only) video game museum in Italy, and has been welcoming in video game fans ever since.
This bright and colorful museum is a cool place to come to learn about the history of video games and their evolution, featuring exhibits, models, and other artefacts of gaming lore.
It's also an amazing place to come if you want to play a selection of consoles and arcade games, from retro and vintage to the modern day. Ideal for anyone with children who love gaming (and for big kids, too).
Tasty Things To Do In Rome With Kids
Learn how to make real Roman pizza
Fussy eaters and food fanatics alike should all take time to learn how to make a classic Roman pizza – when in Rome, right?
Cooking classes in the city are not just for adults – not at all. There are actually some fantastic cooking classes that have been tailor-made for children to get their hands gooey with dough, roll out a base, and create the pizza of their dreams.
It's another activity that's good for children on a rainy day in Rome. Your children will get to don aprons, mix the ingredients themselves, measure out flour, and get all the insider tips on how to roll out the dough to create the perfect pizza.
The best thing about it all is that when you've made it, you can eat it. Buon appetito!
You can enroll your kids in a pizza making class here.
Eat all the gelato
Once you're done with your pizza, it's time for dessert. In Rome that can mean only one thing: gelato! There's nothing more delicious than sampling some of the city's delicious gelati, and in summertime, it's even more refreshing.
Make it your mission to discover the best in the city and hit up a range of different shops, sampling all the styles and flavors on offer. Having a gelato is a great little break between visiting Rome's major sights.
Gelateria dei Gracchi is perfect for gelato on the go, close to the Vatican – enjoy it while strolling the surrounding area. Gunther Gelato Italiano has a handful of shops around the city; the first one is in Campo de' Fiori. My favorite though is Otaleg, in Trastevere!
Make sure to read my post The Best Gelato In Rome.
Pin It For Later!