If you are traveling to Rome in August, chances are you will feel the desperate need to cool down from the heat at some point. If that's the case, you can opt to visit one of the beaches near Rome; head to one of the lakes near the capital; or – quite simply – remain in town and look for one of the best outdoor pools in Rome where you can splash and enjoy a relaxing day.
Not sure where to start your search for the best pools in Rome? You are in luck! I am a registered swimming athlete, I never miss a chance to hit a pool and I have selected the best outdoor pools in Rome for you – complete with practical information on opening hours and costs.
The Best Pools In Rome
Aldrovandi Swimming Pool
Located within the grounds of the Aldrovandi Residence Hotel, this swimming pool is a beauty surrounded by lush Mediterranean greenery – think historic pine trees and palms swaying. Although it's for guests, it's happily open for the general public to relax in this exclusive environment.
It's all about the aesthetic with its chic yellow-striped sun loungers, but it's also about top-notch facilities too. There are large changing rooms, showers, and lockers, as well as a food service with drinks and Italian fare.
It's located in Via Ulisse Aldrovandi, 11.
Opening hours: Mon-Sun, 10:00 – 19:30
Admission: €40 Mon-Fri (incl. drink); €50 Sat-Sun. Half-day (from 14:00) €30
Stadio Olimpico del Nuoto
As you can tell from the name, this pool – also known as Complesso Natatorio Foro Italico – was inaugurated in 1959 to host the water events at the 1960 Summer Olympics, and it's still going strong to this day. The architecture itself makes this place worth a visit with the pool covered in marble and mosaics dating to the 1930s.
The sporting vibe is strong here with stadium seating around the edges. It's a good place to go if you're interested in getting some lengths in during your Rome trip – less of a good place to take the kids to splash around. Nevertheless, this is one of the best pools in Rome.
You'll find it at Piazza Lauro de Bosis, 3.
Opening hours: Mon-Sun, 8:00 – 20:00
Admission: Multiple swim pass is €52
Hydromania
Touting itself as the only water park in Rome, Hydromania is quite literally fun for all the family. It comes packed with multiple outdoor pools, water slides, a lagoon, a wave pool, ensuring that no one's ever short on entertainment.
There's even a beach and grassy areas to sunbathe on. And for when you're hungry, head to a picnic area, a restaurant, or one of the snack bars. It's a really fun summer day out – especially if you're in Rome with your children.
It's located in Vicolo del Casale Lumbroso, 200.
Opening hours: Mon-Fri, 9:30 – 18:30; Sat-Sun, 9:30 – 19:00
Admission: Adults €25; offers vary for children
Circolo Arca
Translating to "Circle Arc", this swimming venue in Rome opens from May to September. It's good for adults and children, boasting two swimming pools, sunshades, sunbeds, and trees for shade.
This place is well equipped. It's got good changing rooms, a kiosk, and various other facilities to make your visit go smoothly. There's plenty of green space to put a mat down and relax in the sunshine. When they're not swimming, children will enjoy the playground, too.
You will find it in Via degli Angeli 146.
Opening hours: Mon-Sun, 9:30 – 19:00
Admission: Adults from €8; children from €5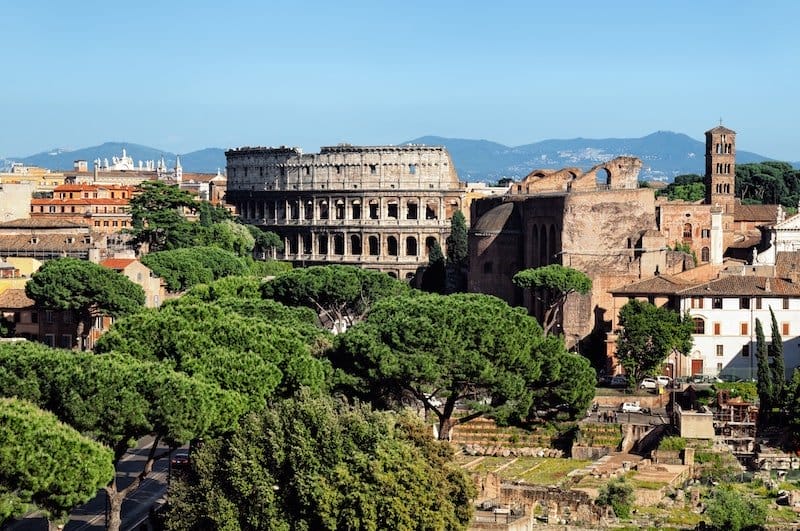 Roma Cavalieri Waldorf Astoria
While it's definitely not the cheapest option, if you really want to do some pampering on your Rome trip, then this outdoor pool at the Cavalieri Waldorf Astoria hotel really offers up something luxurious.
Complete with amazing views out across the city, here you'll get to enjoy the high-end ambience of the hotel – and its multiple pools – without the price tag of staying there. The entrance fee gets you use of hotel towels, a sun lounger, and the outdoor pools, of course – you can also order food and drinks (not included).
It's located in Via Alberto Cadlolo, 101.
Opening hours: Varied
Admission: Adults €80, children €40 (Mon-Fri); Adults €115, children €57.50 (Sat-Sun)
Domar Sporting Club
A fun, family-friendly place to enjoy a splash around in the sunshine, Domar Sporting Club has a series of large outdoor pools – part of the sports club here that was established in 1979.
A visit to the pool here comes with all the amenities you'd expect from this sporting locale – there's an indoor swimming pool, a children's pool, an outdoor pool, an outdoor children's pool, and an outdoor hydromassage pool too.
There's also the option to use the other facilities here, such as the gym and tennis courts.
You'll find it in Via Portuense 761b.
Opening hours: Daily, 9:30 – 18:30
Admission: Adults from €10; family packages and other deals available
Hotel Anantara Palazzo Naiadi Roma
The Palazzo Naiadi Roma is a five-star hotel with a beautiful outdoor pool located on its terrace. Is it truly the perfect place to unwind?
Maybe. It boasts breath-taking panoramic views of the city center, making for a romantic spot to spend some time lounging around in the sunshine and maybe swimming a few lengths, too. There's also a lounge for meals and poolside service should you be in need of a cocktail.
It's located in Piazza della Repubblica 47.
Opening hours: Mon-Sun, 10:30 – 19:00
Admission: €150, including a spa package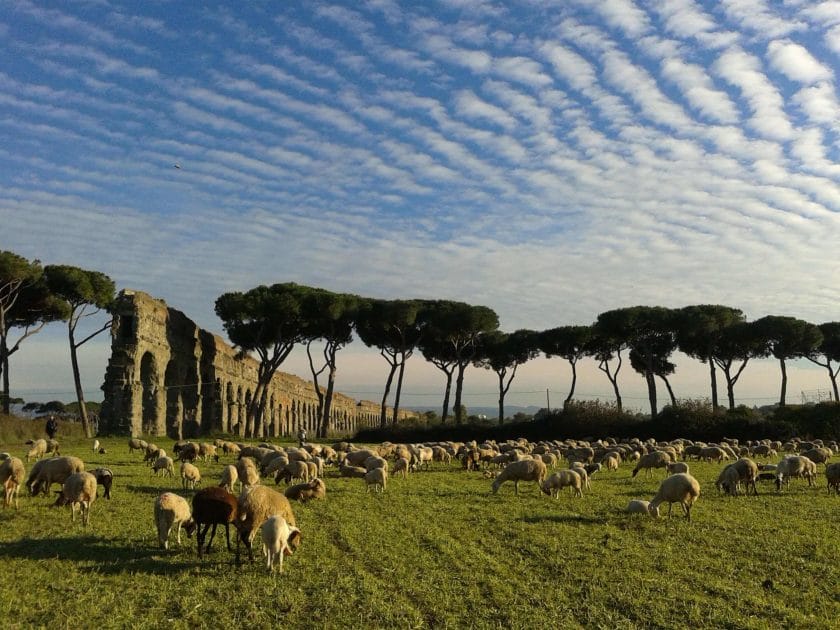 Sporting Club Paradise
Located in the Capannelle area, this outdoor swimming pool is a semi-Olympic-size pool which is great for enjoying with friends, family, and children alike. The six-lane pool is surrounded by sun loungers and umbrellas allowing plenty of room for you to find a spot for yourself and make a base for the day. It has all the facilities you'd expect, including a bar. Sporting Club Paradise makes for a relaxing day out, all in all.
It's located in Via delle Capannelle 134.
Opening hours: Mon-Fri, 7:30 – 23:30; Sat-Sun, 9:00 – 19:00
Admission: From €15
Vigor Sporting Center
This large sports center is great for a swim any time of year, but in summer Vigor Sporting Center becomes a popular hang-out for Romans who want to enjoy sunshine and swimming.
The 25-meter pool (with lifeguard on duty at all times) has lanes and lane-free swimming available as well as a lawn to lay out on, sunbeds, and umbrellas. There's also a kiosk bar in the pool area in case you get hungry or thirsty.
You'll find it in Via Grotta di Gregna 100.
Opening hours: Mon-Fri, 7:00 – 22:30; Sat, 8:00 – 19:00; Sun, 9:00 – 13:00
Admission: Adults €10 (€6 after 13:30)
Valle degli Ulivi a Roma Est
Translating to "Valley of the Olives", this charming outdoor swimming pool to the east of Rome is a green oasis for when you want to cool off from the city heat. It's a clean, relaxed venue that's well maintained.
The laid-back spot has lifeguards on duty, sun loungers, and umbrellas – all the normal stuff. But the most interesting thing about it is the fact that this is actually a saltwater swimming pool. So if you like swimming by the sea but don't feel like a trip all the way to Ostia, come here – it's the only one in the area.
It's located in Via del Casale Ciminelli 93.
Opening hours: Daily, 9:30 – 18:30
Admission: Adults €17
Nuoto Belle Arti
Located close to the Stadio Olimpico del Nuoto, the Nuoto Belle Arti – or Fine Arts Pool – is a fantastic place to swim in Rome. Its large outdoor pool is very well maintained, clean, and comes with comfortable seating around.
It's a professionally run spot, surrounded by greenery, making it feel like a little slice of paradise in the city. And if you're hungry, don't worry – there's an on-site restaurant here, too. Great value for money for those who don't feel like making the long journey to the sea.
You'll find it in Lungotevere Grande Ammiraglio Thaon di Revel, 3.
Opening hours: Mon-Fri, 6:30 – 21:30; Sat, 6:30 – 22:30; Sun, 8:00 – 20:30
Admission: Adults €12; summer pass available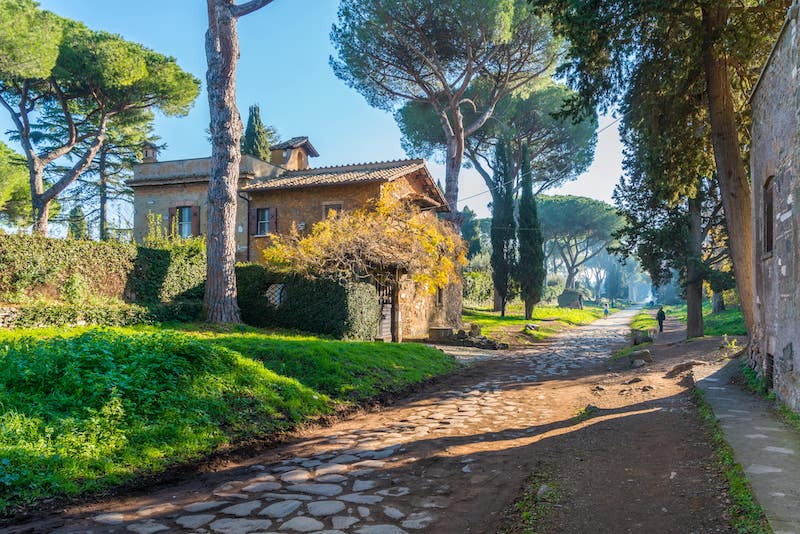 Appia Country Roma
Part of a large sporting complex, this spot is ideal for swimming in Rome in the summer. It boasts two full size pools as well as a restaurant and other facilities including tennis courts and football pitches.
It feels quiet and peaceful, but the catch is you can't just drop in – you have to purchase a 10-visit pass – which is valid for three months. If you're in Rome for a few weeks, why not?
It's located in Via Appia Pignatelli 454.
Opening hours: Vary
Admission: 10-visit pass, €200
Piscina delle Rose
Another of Rome's 1960 Olympic venues, this one hosted the water polo events. Today it's still used for water polo, but it's also a fun place to swim for the general public.
In terms of facilities, alongside the 50-meter swimming pool, there's a health center, a restaurant, and a children's area. In the summer it's a good place to unwind and perfect for people who want to swim lengths. There are also sunbeds and umbrellas for when you want to chill out, too.
It's located in Via America 20, Passeggiata del Giappone.
Opening hours: Mon-Fri, 10:00 – 21:00; Sat-Sun, 9:00 – 20:00
Admission: From €21
Physical Village
Yes, if you want to move your body, then you should head to Physical Village. This sports center comes complete with an array of activities for you to enjoy including dance schools, football pitches, martial arts clubs, a fitness center, and, of course, an outdoor swimming pool.
Open every day throughout the summer, the Village's swimming pool is a fun and relaxing way to spend a day. For the admission fee, you get a sunbed to kick back on and an umbrella for shade. Surrounded by greenery, it's a good spot for families, or if you just want to swim.
It's located in Via Federico Turrano 44.
Opening hours: Mon-Fri, 8:00 – 22:00; Sat, 9:00 – 20:00; Sun, 9:00 – 18:30
Admission: Adults €13, children €7 (Mon-Fri); adults €15, children €8 (Sat-Sun)
Sporting Club Ostiense
From mid-May, the Sporting Club Ostiense, situated near the banks of the River Tiber, opens up its outdoor swimming pool for swimmers of all types. The 25-meter pool is a fun place to spend a sunny day and is good for children too.
There's a long list of facilities other than the pool her – showers, changing room, sun loungers, umbrellas, and even free Wi-Fi! The poolside kiosk bar serves up snacks, sandwiches and drinks too.
You'll find it in Via del Mare 128.
Opening hours: Daily, 8:00 – 20
Admission: From €23
Salaria Sport Village
This sizeable sports complex boasts not one but two outdoor swimming pools for fun in the sun. One is an Olympic length swimming pool, great for lane swimming, and the other is a circular lagoon in the middle of a green lawn – perfect for families and groups of friends.
As it's part of a big complex, you can expect many amenities here with eateries and snack kiosks providing refreshments throughout the day. There's also a range of other sporting facilities too for football, beach volleyball and tennis, among others.
It's located in Via S. Gaggio 5.
Opening hours: Mon-Fri, 6:45 – 22:00; Sat, 8:00 – 18:00; Sun, 8:00 – 14:30
Admission: Prices vary depending on the package
Aquaniene The Sport Club a Roma Nord
Situated in north Rome, this sports club has three swimming pools and various areas with equipment for other sports. It's more of a sporting club, so there's less of an option for families with small children to play here, but it's good if you like lane swimming. The clean, well maintained outdoor pool still has sun loungers and umbrellas to chill, even though it's more of a sports pool.
It's located in Via della Moschea 130.
Opening hours: Mon-Fri, 7:00 – 22:00; Sat, 7:00 – 18:30; Sun, 8:30 – 14:30
Admission: Prices vary
QC Terme
If you're looking for chic then you head here. QC Terme is a luxury wellness center where you can indulge in a day of spa relaxation. There's a range of different pools to enjoy here including hydromassage pools, Japanese baths, and even waterfalls.
It's actually set in an archaeological park, but the facilities themselves are very modern, making it feel like an updated version of ancient Roman baths. You'll also have access to steam rooms, sauna, and other treatments.
As a bonus, it's quite near the airport, so you can indulge in a post- or pre-flight treat!
It's located in Via Portuense 2178 in Fiumicino.
Opening hours: Fri-Sat, 9:00 – 12:00; Sun-Thurs, 9:00 – 23:00
Admission: Mon-Fri, €58; Sat-Sun, €64
Further Readings
Make sure to read my other posts:
Pin It For Later