Oaxaca is easily one of my favorite places to visit in Mexico. Oaxaca is a popular tourist destination, and the historical center is a UNESCO World Heritage Site. Also, this is a place that has retained its local character.
This beautiful colonial city will steal your heart with its delicious food, unique cultural traditions, and beautiful surroundings with a variety of natural and archeological sites.
To help you make the most of Oaxaca, I thought I'd help you pick the best tours in Oaxaca and show you the best day trips from Oaxaca.
The Best Tours In Oaxaca
Free Walking Tour
A walking tour is a great way to get acquainted with what the city has to offer. Walking tours in Oaxaca typically go to the Cathedral of Our Lady of the Assumption, the Iglesia de Santo Domingo, and the Contemporary Art Museum. Some will also take you to one of the markets.
Tours generally last between 1.5 and 2 hours, depending on the company that runs them and are led by a local – at times, it can be a fully qualified guide, but occasionally you may just have a local with lots of insider knowledge leading the tour.
You don't need to book in advance, but make sure to show up at least 15 minutes before the tour is meant to depart. Keep in mind that although the tour is free, you are expected to leave a tip at the end.
Oaxaca Food Tour
Oaxaca is one of the (many) culinary capitals of Mexico, and it goes without saying that one of the best tours in Oaxaca is the street food tour, during which you visit the best local markets (such as Mercado 20 de Noviembre and Benito Juarez Market) and get to discover many of the local flavors.
Expect to try chapulines – grasshoppers typically eaten as a snack or used with other local dishes such as tacos and guacamole, mole negro, quesadillas, tacos, and tlayudas.
Tlayudas are also known as Oaxaca pizza – massive flour tortillas spread with refried beans, Oaxaca cheese, avocado, and slices of grilled meat (typically pork or chorizo).
This is an authentic food tour around Oaxaca City. It's a highly-rated half-day tour.
Market Tour and Cooking Class
If you fancy getting a bit more in-depth knowledge of the regional cuisine of Oaxaca, you should definitely join a cooking class.
This usually starts with a market visit where you shop for fresh produce and local ingredients, which you will then cook with the help of a local.
Many cooking classes will have no set menu. This means you shop around at the local markets with a local guide and make something based on what's the most fresh and available.
This is a traditional cooking class in Oaxaca City, which includes shopping and cooking. And this is another authentic cooking experience with no set menu.
Chocolate Tasting Tour
Among the best tours in Oaxaca, there are chocolate-tasting ones – after all, this is one of the regions of Mexico that produces the best cacao beans. There are many places around town that grind cacao beans, sell delicious chocolate bars and candies, and serve hot chocolate, cold chocolate drinks, and more.
Unfortunately, I don't have a specific tour to recommend. I joined one that was recommended by my hotel when I visited years ago and enjoyed it. Make sure to enquire locally, as I am sure you will find a tour that suits your budget.
Temazcal Experience
Also known as the Mexican Sauna, the temazcal experience is an ancient Mayan ritual during which you are meant to sweat to remove toxins and purify your body.
The word 'temazcal' originates in the Nahuatl language and means "house of heat". It's very similar to a sauna but with deep cultural roots in Mesoamerican history. If you think you can stand the heat, this is a must-do while in Oaxaca.
There are many different places to book your temazcal experience with, but you want to make sure you get an authentic experience with a local guide.
The Best Day Trips From Oaxaca
Monte Alban
Monte Alban is one of the most popular day trips from Oaxaca. This archeological site was declared a UNESCO World Heritage Site in 1987. There are more than 170 tombs here where the rulers and residents were laid to rest. Site visitors can stroll along the plaza, see the ball court, and even climb on the pyramids.
Monte Alban has been a focus of archeological study for many years. Guillermo Dupaix began exploring the area in the early 19th century. The first major exploration began in 1902 by Leopoldo Batres, who at the time was the General Inspector of Monuments by the Mexican government.
In 1931, Mexican archeologist Alfonso Caso began many large-scale excavations of the site, and in 1933 Eulalia Guzman assisted in the exaction of tomb seven. Over the next 18 years, Caso and others excavated all of the monuments, and the result is what visitors see today.
Monte Alban is located only 5 miles (8 km) from downtown Oaxaca and is easy to get to by car or tour bus. The site also has a museum, gift shop, and café for visitors.
Look at this Monte Alban And the Art of Oaxaca guided tour. It includes a guided tour of Monte Alban, San Antonio Arrazola, Cuilapam de Guerrero, and San Bartolo.
And this Monte Alban and Historical Villages full-day tour is another excellent adventure.
Yagul
One of the lesser-known sites to visit in the area, and for this reason, one of the most pleasant day trips from Oaxaca, is Yagul.
This is an archeological site that is one of Mexico's National Monuments. The city has been associated with the Zapotec civilization dating back to the Middle to Late Preclassic era. The site was first occupied around 500 to 100 BC, and the first residential, ceremonial, and civic structures were built about 500 to 700 AD.
The site at Yagul is divided into three main areas. They are the Fortress, the residential area, and the ceremonial center. An interesting aspect of all these structures is the murals painted on the floors and walls. This has intrigued not only archeologists but art historians as well.
Yagul is about one hour drive from Oaxaca. The easiest way to get there is by car. There are regular colectivos departing from the Mercado de Abastos in Oaxaca.
Alternatively, you can join a guided tour that also goes to Monte Alban. This is an excellent Monte Alban guided tour that also stops at Yagul.
Tule and Mitla
Another great day trip from Oaxaca is the combined visit to the Tule Tree and Mitla archeological site.
Tule, also referred to as The Tree of Life, is a Montezuma cypress tree known to be one of the largest trees in the world. It's located on the grounds of a church in Santa Maria del Tule, 5.5 miles (9 km) east of Oaxaca. It is estimated that El Arbol del Tule, as it is known locally, is between 1,400 to 1,600 years old.
About 27 miles (46 km) southeast of Oaxaca, you'll find the ruins of Mitla, just outside the town of San Pablo Villa de Mitla.
Mitla is considered the second most important archeological site in the Oaxaca state and the most important site for the history of the Zapotec culture. Its construction is believed to have begun in 850 CE. The site started in the Classic period when Mixtecs became the majority population in the area.
The sites at Mitla are structures built on the Tlacolula Valley floor. These structures consist of five groups, with each building aligned with the cardinal directions. The five groups are the Church or North Group, the South, the Arroyo, the Adobe, and the Columns or Palace. Each group served a specific purpose for the city. Ceremonies were conducted in the South and Adobe groups. Palaces were located in Columns, South, and Church groups.
The best way to visit both sites on the same day is on a guided tour departing from Oaxaca.
You could consider this guided tour of Tule and Mitla that also goes to Hierve el Agua and visits a Mezcal distillery. It comes highly recommended.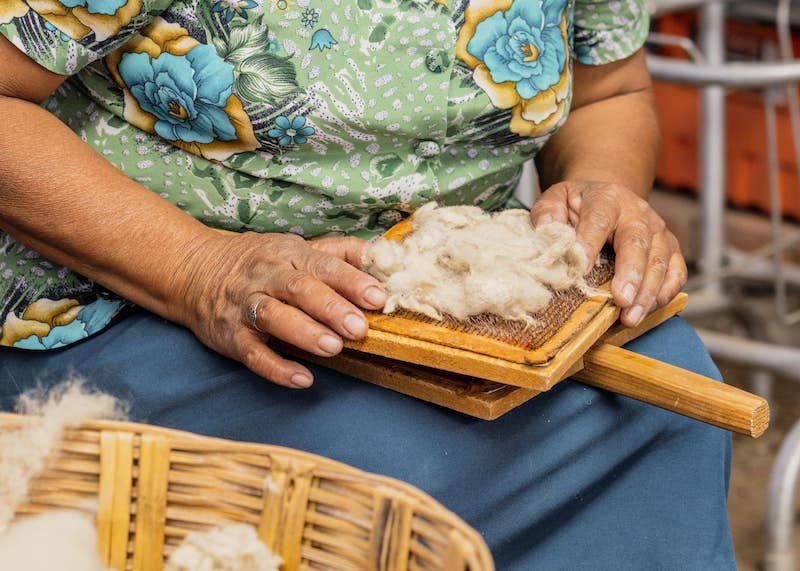 Teotitlan del Valle
This small village is easy to visit on day trips from Oaxaca. It is located in the foothills of the Sierra Juarez mountains. Considered one of the first Zapotec villages founded in 1465, the village maintains the culture of the Zapotec people. The majority of the residents today speak the Zapotec language.
The village is known for its textiles, and this is the main economic source of the area. The woven wool rugs made here use a natural dye made from the cochineal insect. The early weavings were made of cotton, while sheep fleece was used later on. Beginning in the 1950s, tourists began to flock to the state of Oaxaca to purchase these crafts.
Notable landmarks in Teotitlan de Valle include the Community Museum and the Preciosa Sangre de Cristo Church. The museum, officially known as Balaa Xtee Guech Gulal (in the shadow of the old village/people), opened in 1995. The three main halls include exhibits on local crafts, archeology, and traditional weddings. The church dates back to 1581 and is the main church of the village.
Teotitlan del Valle is located 18.6 miles (30 km) from Oaxaca. The easiest way to get there is by taxi. Alternatively, you can take a bus or a colectivo from the Mercado de Abastos of Oaxaca to Tlacolula and get off at the crucero (intersection), where you can hop on another colectivo or a tuk-tuk to Teotitlan del Valle.
Hierve el Agua
Pack your swimsuit and sunscreen so you can take a dip in one of the warm mineral pools at Hierve el Agua, Spanish for 'the water boils'.
The waterfall and surrounding area are located 44 miles (around 71 km) east of Oaxaca. It makes a perfect day excursion outside of the city limits. You can hike around this natural geological formation and get some awesome shots. If your angle is just right, you may even to able to get some reflective shots of the water.
How to get to Hierve el Agua
You have several options to get to Hierve el Agua from Oaxaca.
BY CAR – Rent a car or hire a private driver to take you all the way to the waterfalls so that you can spend however long you want there.
COLECTIVO – Take a colectivo from the 2nd class bus terminal to Mitla (about 2 hours, depending on traffic). From Mitla, take a shared pickup truck or a taxi to Hierve el Agua (another hour).
GUIDED TOUR – Several tour companies around Oaxaca have a stop at Hierve el Agua and a couple of other area sites, such as Mitla or Tule, included in the day's itinerary.
One of the easiest ways to get to Hierve el Agua is with a guided tour, as they organize transportation. This is a wonderful Hierve el Agua and Mezcal distillery tour, which gives you three hours to swim and hike around Hierve el Agua. I
f you're short on time and want to make the most out of days, consider a more comprehensive tour. This Hierve el Agua tour also goes to El Tule Tree and Mitla.
San Agustin de Etla and CaSa
San Agustin de Etla is a small town in the Etla District of the Valles Centrales region in Oaxaca state. The town is known for its arts and performance center called CaSa, as well as the annual Day of the Dead celebration on November 1.
Centro de las Artes de San Agustin (CaSa) is a very large, early 20th-century textile mill that has been restored and transformed into an arts center. The new design was the idea of local artist Francisco Toledo, who imagined the ecological and artsy features.
The lower hall is frequently used for arts and crafts exhibitions. The upper level is reserved for events such as concerts and conferences. A variety of events are hosted here throughout the year.
San Agustin de Etla is located 10 miles (17 km) from Oaxaca. The easiest way to get there is on a guided tour. This fantastic papermaking tour includes a visit to San Agustin de Etla, where you'll also explore the secrets of the locally made quesillo.
San Antonio Arrazola
Beautiful, carved wood figurines in dreamlike animal forms are called alebrijes. These colorful wood carvings were first created in San Antonio Arrazola. These creations are so significant to the town that every year in April, a fair is held just for them called Expo Venta Artesanal.
The town also has a museum dedicated to Manuel Jimenez, who was the innovator of this artwork. Born in San Antonio Arrazola, Jimenez began carving animal figurines from clay when he was eight years old. He later switched to wood carving, which is the craft for which he is most known.
Besides animal shapes and strong contrasting colors, Jimenez also added hair and beads made of ixtle to the carvings. Other carving work from Jimenez includes human figures, masks (especially animal masks), and religious objects, including nativity scenes and altarpieces.
San Antonio Arrazola is located just 10 miles (16 km) from Oaxaca. The best way to get there is on guided tours that also visit other nearby attractions.
This is an excellent Oaxaca full-day tour that also goes to Monte Alban, as well as San Antonio Arrazola, and a few other places.
Santo Tomás Jalieza
Santo Tomas Jalieza is known for the art of waist loom, a pre-Hispanic textile technique. In recent years, people have incorporated their designs into clothing, purses, and bags as well. Other economic sources for the town include maize, beans, sugarcane, wheat, and cattle raising.
Every day in the local market, weavers set up a spot where you can watch them work and browse their products for sale, including table runners, placemats, and handbags.
Santo Tomas Jalieza is located just 15 miles (24 km) south of Oaxaca and is the perfect destination for day trips from Oaxaca. Check out this wonderful full-day cultural experience tour in Oaxaca that includes a stop at Santo Tomas Jalieza.
Tour a Mezcal Distillery
There are many small, family-run mezcal distilleries located in the countryside near Oaxaca. The agave plant, whose hearts are the key ingredient of mezcal, is grown and harvested in the fields surrounding these distilleries. Some notable family-run mezcal distilleries include:
Los Amantes
Los Amantes is not only a distillery but also a hotel. The property combines urban industrial chic with the beauty of rural Mexico. Guests can tour the distillation area, sample mezcal in the tasting room, and picnic in the fields. Visits are open by appointment only.
Rambha Mezcal
Rambha Mezcal is a newer distillery at only one-year-old. The landscape is surrounded by the hills and cacti. The owner Rosario Angeles will guide visitors through the distillation process and even let a few take a try at macerating the agave hearts with a wooden pole.
There are plans to open a kitchen here soon to serve lunch to guests in between sampling the mezcal. Contact Angeles to arrange your visit.
Real Minero
This 20-year-old family distillery hosts private mezcal tastings in its gardens. At the production center, guests can take a tour of the facility. Here they can watch 10 tons of agave hearts cook at once in two large pit ovens. At the back of the property, there are stations that demonstrate the traditional ancient clay pot distillation process.
If you want to learn more about Mezcal, check out this educational tour of Mezcal that includes a full lesson on the history and making of Mezcal and plenty of Mezcal tastings.
Only Have An Extra Day To Spare? Read This!
With so much to see in the surroundings of Oaxaca, you may want to consider a full-day trip from Oaxaca that takes you to most of the places I have mentioned above.
I found this full-day tour that is completely hassle-free and for a very reasonable price that includes literally everything except for tips, food, and drink.
The first stop on the tour is Tule, where you'll get to see the Tule Tree. After that, you will make a quick stop at the lovely Teotitlan del Valle, then go to Mitla to visit the Zapotec archeological site, and then continue to the breathtaking Hierve el Agua.
On the way back, you will stop at a Mezcal factory to learn how the delicious local liquor is made and to have a proper taste of it.
Further Readings
Make sure to read my other posts about Mexico:
Pin It For Later!