Looking to visit some of the beautiful national parks in Mexico? As it's one of the largest countries on Earth — the 14th largest, in fact — you have plenty of great options.
In total, there are 67 national parks in Mexico. The parks are located from the east side of the country in the Yucatan Peninsula, all the way west of the Baja California Peninsula, and everywhere in between.
In this article, you'll discover a sampling of 15 of the best Mexico national parks. There are options for parks on land and in the mountains, underground in caves, in the waters surrounding Mexico, and even a park on an inactive volcano.
In short, there's a perfect park for everyone to explore in Mexico. Ready to discover them all?
Let's begin with tropical national parks in Mexico, located on islands, beaches, and underwater, and work our way back to dry land.
15 Incredible National Parks In Mexico
Islas Marietas National Park, Nayarit State
Located about two hours by boat from the coast of Puerto Vallarta, Mexico, lie the Islas Marietas (Marieta Islands). This archipelago is located in Nayarit state, in the Pacific Ocean, and is one of the most amazing day trips you can take from Puerto Vallarta.
The Marieta Islands are home to Mexico's hidden beach, undeniably one of the coolest destinations in the country.
The Playa del Amor (Lover's Beach) is accessible only by swimming under a cave, which brings you onto a private beach encased in a rock wall with a giant hole in the top.
There's also unique flora and fauna on the islands, including the blue-footed booby birds found in only a few places on Earth, including here and the Galapagos Islands. There are also pink- and yellow-footed booby birds that live on Islas Marietas National Park.
To preserve the islands, one of the most unique places in Mexico, only about 125 visitors can go to each day. There are government-sanctioned tour operators, which are the only boats permitted to get close enough to the islands so people can swim on to them.
Tulum National Park, Quintana Roo State
The central place to visit in Tulum National Park is the Tulum Ruins. Located right on world-famous Tulum Beach, this is one of the most budget-friendly Tulum things to do — in a town not always known as a budget destination.
At the Tulum Ruins, said to be the last Mayan city ever built, you'll feel like you're stepping back in time.
It is not a huge site but has several well-preserved Mayan buildings and structures, including the Temple of the Descending God, the Temple of the Frescoes, and Templo de Viento, or Wind Temple.
The Wind Temple is the one seen in most photos of the Tulum Ruins, as it sits right on the edge of a cliff with the blue Caribbean Sea right under it. After many explore the ruins themselves, there's a staircase that takes visitors onto the beautiful beach below, Tulum Ruins Beach.
You may want to join this guided tour of Tulum Ruins, which also goes to Coba and a nearby cenote.
Arrecifes de Cozumel National Park, Quintana Roo State
This underwater national park in the Yucatan Peninsula is part of the second-largest coral reef in the world, the Mesoamerican Barrier Reef System. It is second only to the Great Barrier Reef off the coast of Australia. It's one of my favorite national parks in Mexico for obvious reasons!
The Mesoamerican Reef is known to have some of the best snorkeling and diving in all of Mexico. Though it stretches 700 miles (1,125 km), the best reefs are located off the coast of Cozumel Island.
Arrecifes de Cozumel (Cozumel Reefs) National Park is located on the south side of Cozumel Island. To access the island, there is a small airport, but most take the 25-minute ferry ride over from Playa del Carmen, located just 45 minutes south of Cancun.
There are reefs just offshore from the beaches, but to access the best reefs in Cozumel, you'll have to take a boat tour. There are dive boats and snorkeling tours going out all day to these famous reefs — El Cielo, Palancar, El Cielito, and Colombia — to see fish, coral, and maybe even turtles.
You may want to consider this snorkeling tour of Cozumel that also goes to El Cielo Bay and Beach.
Isla Contoy National Park, Quintana Roo State
Isla Contoy, or Contoy Island, is a secluded island in the Caribbean Sea about 1.5 hours north of Cancun by boat. As you'd expect from a Mexican Caribbean island, this tropical paradise has white sand beaches, palm trees, and turquoise waters, all just waiting to be explored.
Under the waters, the snorkeling is amazing, but back on land, there are numerous species of tropical marine birds that call Isla Contoy home. This Mexico national park also serves as a nesting area for four different types of marine turtles.
To get to Isla Contoy, you must go with a tour company or private charter. To preserve the island's delicate ecosystem and pristine beauty, only about 200 guests may go to it per day. Though very few people get to see it, Isla Contoy is one of the most beautiful places in Mexico.
This guided tour of Isla Contoy departing from Cancun also goes to Isla Mujeres and includes stops for snorkeling and lunch.
Dzibilchaltún National Park, Yucatan State
Dzibilchaltun (pronounced zee-bee-shall-tune) National Park is a smaller park located about 30 minutes from the city of Merida. Though the park is one of the smallest on the list, there's quite a bit to see in it.
Within the park, there are the Dzibilchaltun Mayan Ruins, a museum with ancient Mayan artifacts, and a cenote to swim in, Cenote Xlacah.
For those who have never heard of cenotes (pronounced sen-no-tays), these are swimmable sinkholes found throughout the Yucatan Peninsula.
Dzibilchaltun National Park is popular year-round – in fact, one of the most popular national parks in Mexico, but many flock to the site during the Spring and Autumn Equinoxes. During these two days, the sunrise perfectly aligns with the Dzibilchaltun pyramid at sunrise for a unique site.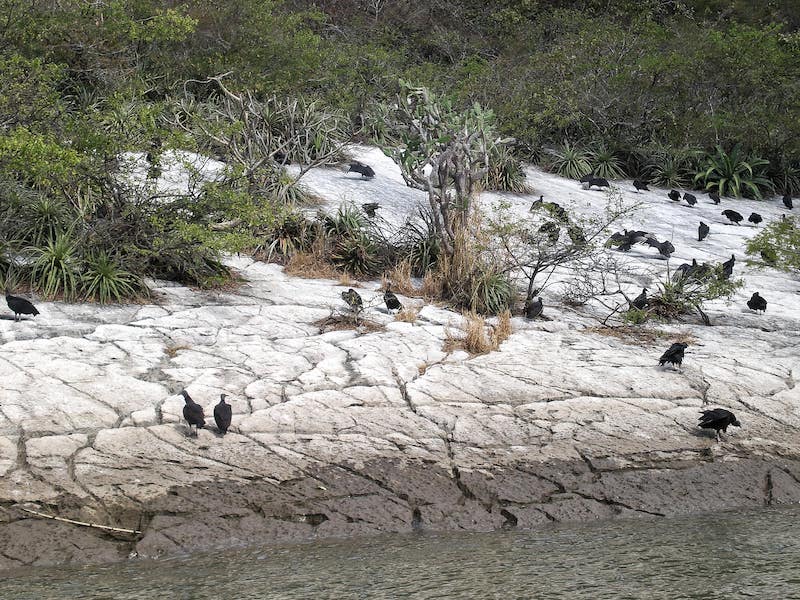 Sumidero Canyon National Park, Chiapas State
Chiapas, located in southeastern Mexico next to Oaxaca state, is known as an amazing place to experience authentic Mexican culture and unspoiled natural beauty. This state is somewhat off the main tourist path, so you won't encounter large crowds when visiting its amazing places — like the Cañyón Sumidero or Sumidero Canyon.
Sumidero Canyon National Park is very centrally located only about 30 minutes from some of the state's major tourism destinations. These include the capital city, Tuxtla Guitierrez, and the pueblos magicos (Mexico magic towns) of San Cristobal de las Casas and Chiapa de Corzo.
The park itself is enormous, but its main site is Sumidero Canyon. To visit the canyon, you'll need to take a boat tour, which goes through the canyon via the Grijalva River. It is an impressive tour, as some parts of the canyon have walls 3,000 feet/1,000m high.
This Sumidero Canyon tour departing from Tuxtla Gutierrez is an excellent option. It also stops in Chiapa de Corzo, one of Mexico's Pueblo Magicos.
There's also this guided tour of Sumidero Canyon from San Cristobal de las Casas – again, it stops in Chiapa de Corzo.
Read my full guide to visiting Sumidero Canyon.
Lagunas de Montebello National Park, Chiapas State
Also in Chiapas state, and within two hours of Sumidero Canyon National Park, the Lagunas de Montebello, or Montebello lakes, are the main attraction here. This is one of the best yet lesser-known national parks in Mexico, at least to foreigners.
Looking like something straight out of a painting, there are 59 lakes located within a sprawling pine forest.
The water is a very bright blue color for most of the year, less so during the rainy season in summer, but still quite beautiful even then. As the lakes are located within a forest, they make for a picturesque place to kayak, swim, and just admire the gorgeous nature.
There is also an interesting cave system within the park to visit, as well as two Mayan ruins sites. Located on the western edge of Lagunas de Montebello National Park, the Chinkultic Ruins have a tall pyramid you can climb to see the amazing lake views below.
The easiest way to visit the Lagos de Montebello is on this guided tour departing from San Cristobal which also goes to El Chiflon Waterfall.
Palenque National Park, Chiapas State
Palenque National Park is one of the most famous national parks in Mexico, home to some of the best-known Mayan Ruins in the country, also named Palenque. This is a larger site, really a whole Mayan city, with plenty of ruins to climb up and admire the entire site from.
A bit remote, Palenque is located four hours by car from the nearest major city of San Cristobal de las Casas. Those with travel time to spare will enjoy staying for a night or two in this off-the-beaten-path Mexico pueblo.
The areas in and around the city of Palenque are basically a rainforest, with many gorgeous waterfalls and jungle pools. Of the most-visited, there are the beautiful Agua Azul and Misol-Ha waterfalls.
The ruins of Palenque are open daily. To make the most of the site, consider joining a guided tour such as this one that also goes to Agua Azul waterfalls.
Huatulco National Park, Oaxaca State
Located on the coast of Oaxaca state in southeastern Mexico, you'll find Huatulco National Park. It is a 29,000-acre (117 km²) land and water park located in and around the quiet Mexico beach town of Bahías de Huatulco, about two hours by car from Puerto Escondido.
The word bahías means "bays" in Spanish, and Huatulco (pronounced waa-tool-co) just happens to have nine of them — as well as 35 beaches. For those in the know, this off-the-beaten-path Mexico destination has a near-deserted beach and amazing snorkeling, diving, and fishing in its waters.
Huatulco became a national park in 1998, but in 2019, the waters off the coast of Oaxaca were declared a national whale-watching zone. During their migration in the winter months, it's very common to see several species of whales swimming not too far from shore at Huatulco National Park.
Consider joining this boat tour in Huatulco National Park to help you make the most of your time in the area.
Cabo Pulmo National Park, Baja California State
On the west coast of Mexico, you'll find the two states that make up the famous Baja Peninsula; Baja California and Baja California Sur. In Baja California Sur, the southern state, you'll find Cabo Pulmo National Park.
This park is located on the southeastern tip of the Baja California Peninsula. It encompasses what is said to be the oldest coral reef in all of North America, said to be 5,000 years old.
Cabo Pulmo National Park is a nature preserve and marine park. It is a popular place for kayaking to see sea lions, turtles, and seabirds above the water — though many also head beneath the water as well.
The scuba diving in Cabo Pulmo is among the best in Mexico, with ancient coral reefs that look like gardens and schools of fish swimming about. It is not uncommon for even those just snorkeling to see sea turtles, dolphins, and tropical fish in this thriving marine ecosystem.
This snorkeling expedition in Cabo Pulmo comes highly recommended.
Bahía de Loreto National Park, Baja California State
Bahia de Loreto National Park is located on the east coast of the Baja California Peninsula, just north of the city of Loreto, Mexico. To get to the park, you need to take a boat tour or private charter from Loreto, as the park is an island.
There are a total of five islands in this Mexico National Park, which earned this prestigious designation in 1996. In 2004, it was declared a Ramsar Site, and the following year, Bahia de Loreto became a UNESCO World Heritage Site.
Bahia de Loreto is popular for its hiking and camping on land, but in the water, there's abundant marine life, including lots of sea lions and even underwater canyons for snorkelers and divers to see. Kayaking, paddleboarding, and sportfishing also draw many visitors to the park.
Among the best things to do in Bahia de Loreto is whale watching, as this is one of the best-known places in Mexico for whale watching. During the winter months, boats head into the waters around Loreto to see humpback whales, orcas, fin whales, and even blue whales on rare occasions.
You may want to join this whale-watching expedition that departs from Cabo and is highly recommended.
Grutas de Cacahuamilpa National Park, Guerrero State
The Grutas de Cacahuamilpa, or Cacahuamilpa Caves, is one of the world's largest underground cave systems. There are even two underground rivers that have carved out pathways through the caves.
You can access the caves near the pueblo magico (magico town) of Taxco, a well-preserved silver mining town about three hours by car from Mexico City. Taxco makes a great day trip from Puebla and Mexico City, where visitors see this small town and caves in one day.
While most head to the park to walk the one mile (1.6 km) or so of underground cave passageways, there are also botanical gardens at the park to relax back in the sunshine after exiting the caves. The park's Limontitla Canyon is also popular for rappelling and rock climbing.
You may want to consider this tour of the Cacahuamilpa Caves as a good, hassle-free option.
Tepozteco National Park, Morelos State
Tepozteco National Park is located just one hour from Mexico City in the Tepoztlan pueblo magico (magic town). For most, no visit to the park or the town itself is complete without climbing way up into the mountains to see the Tepozteco Pyramid.
This mysterious Aztec pyramid is dedicated to Tepoztēcatl, the Aztec god of pulque (pronounced pull-kay), a prehispanic alcoholic drink made from the fermented agave plant. While in Tepoztlan, visitors can sample the drink from one of the many vendors in town.
Though it is by no means an easy climb to the Tepozteco Pyramid, the views from the top are spectacular. You can even see all the way to the neighboring city of Cuernavaca, one of the most beautiful colonial cities in Central Mexico. After climbing back down from the Tepozteco, you're in downtown Tepoztlan with plenty of restaurants to enjoy a relaxing meal in.
Pico de Orizaba National Park, Puebla State
Towering at 18,375 feet tall (5,600 meters), Pico de Orizaba is an inactive stratovolcano and the tallest mountain in Mexico. It is located in the state of Puebla, about three hours from Mexico City by car.
Given its high elevation, the mountain is snow-capped all year long. The peak of the mountain is commonly photographed behind the famous yellow church in the Puebla city of Cholula, called the Nuestra Señora de los Remedios.
Pico de Orizaba is one of the best places in Mexico for mountain climbing. International climbers flock to this national park to climb the mountain's numerous trails and paths that snake around its lower slopes, while technical climbers strap on ice shoes to climb at higher elevations.
You may want to join this 2-day guided trek of Pico de Orizaba. It's challenging but also incredibly rewarding. The only things not included in the tour are tips and alcoholic beverages.
Iztaccíhuatl-Popocatépetl National Park, Puebla State
Iztaccíhuatl-Popocatépetl National Park straddles the border of three states — Estado de Mexico (Mexico State), Morelos, and Puebla states — though the bulk of this huge park is in Puebla. For those who fly into Mexico City, you can see these two giant mountains from the airplane.
Iztaccihuatl (pronounced ix-tat-see-wat-tall) and Popocatepetl (pronounced po-po-cat-tay-pec-tal), are the second and third tallest mountains in Mexico, behind Pico de Orizaba. It is a popular day trip from Mexico City to get out into nature from the city.
The park is very biodiverse with unique flora and fauna, including the endangered volcano rabbit, as well as several waterfalls and streams. There are many trails that offer gorgeous views, beginning at the Paso de Cortes mountain pass.
You may want to consider going on this guided volcano hike from Puebla. It's a full-day tour, but food and drinks are not included.
Final Thoughts On Best National Parks In Mexico
As this list represents just 15 of the 67 national parks in Mexico, it barely scratches the surface of all the beautiful Mexico national parks.
From coral reefs and Mayan ruins to volcanoes and mountains, Mexico has a lot to offer to visitors. Though known for beautiful beaches, party towns, and tourist-friendly colonial cities, Mexico's national parks show another, more authentic side of the country.
Which of these Mexico national parks will you visit first?
This post was contributed by Shelley of Travel Mexico Solo. She is a former Miami travel magazine editor who ditched the office for the world! After traveling solo to 14 states in Mexico, she now lives in Merida, Mexico, full time. Shelley now helps other women cross Solo Travel and Mexico Travel off their bucket lists through her blog and Dream To Destination podcast.
Further Readings
Make sure to read my other posts about Mexico:
Pin It For Later!