Have you ever heard of Ventotene? This tiny island really packs in a lot despite its diminutive size – a Roman villa, a Bourbon village, stunning beaches, nature, marine life, and birdwatching opportunities.
Ventotene is part of the Ponziane Archipelago, named after Ponza, the largest island and popular weekend destination from Rome. The island is roughly between Ponza and Ischia, 20 nautical miles from each, and approximately 25 miles from Formia/Gaeta, where most ferries depart.
Together with nearby Santo Stefano Island, Ventotene forms part of a protected marine reserve, established in 1997 to protect the island's varied coastline and rich marine flora and fauna.
It's a great destination for a weekend or a few days immersed in nature from Rome – after all the traffic and bustle of the Eternal City, Ventotene is ideal to slow down for a few days, switching up the roar of scooters for the sound of the waves and the rustle of leaves in the wind.
Why Visit Ventotene
Ventotene is only 3 km long and 800 meters wide, but it offers enough attractions to please even the most diverse groups of travelers.
Classical history buffs will love learning about its Roman heritage, naturalists can observe dozens of different migratory bird species, and if you just want to sit and enjoy the beach, Cala Nave is just the place for you.
Ventotene also played a crucial role in shaping today's Europe. It is the birthplace of the Ventotene Manifesto, penned by a group of anti-fascist dissidents in 1944.
It is believed to be one of the first texts to introduce the idea of a free and united Europe as a way to leave behind the horrors of WWII – an idea which will become reality decades later, with the establishment of the EU.
Here's a quick rundown of what to do on the island!
Things To See And Do In Ventotene
Villa Julia
Ventotene has been sporadically inhabited ever since the Neolithic, but the first permanent settlement dates back to Roman times, when Emperor Augustus ordered the construction of a sprawling holiday villa on the northern tip of the island.
The Villa is named after Augustus's daughter, who was exiled there after being accused of adultery. After her, the Villa housed four more exiled women, all of whom lived out their days in Ventotene.
It is possible to visit Villa Julia on guided tours. Visits start from the quarters of enslaved workers, before moving on to the remains of the villa itself – you can see the thermal baths, an original arch leading to the boat landing, and even the remains of an artificial waterfall.
Contact Cooperativa Terra Maris for info on guided tours – a.terramaris@libero.it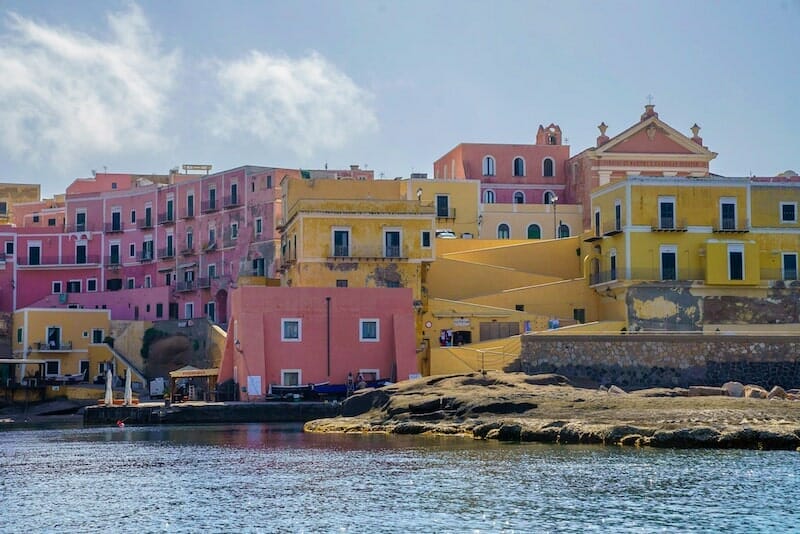 Ventotene Town
After the fall of the Roman Empire, Ventotene was uninhabited for over 1500 years, before being settled again by Ferdinando, the Bourbon king of Naples, who sent a group of inmates to build a village on the island in the 18th century.
Many buildings of what nowadays is the island's only town actually date back from that time. It's a wonderful place to walk around – the main square is Piazza Castello, dominated by the yellow castle-shaped municipio (town hall), where you'll find people hanging out and drinking coffee at all times of the day.
Another place worth checking out are the rampe, a series of switchbacks dating back to Bourbon times connecting the Roman harbor with powder-pink Santa Candida Church just above.
The entirety of Ventotene is painted in pastel hues – to see it from afar, and to get the best view of the rampe, we recommend going on a boat tour. Contact Destriero Ventotene for more info!
Roman Cistern
Ventotene has no water sources, so the Romans built a complex set of waterworks and cisterns to collect rainwater for the villa and its thermal baths. After the fall of the Roman Empire, the cisterns were emptied, and were used as temporary housing by people visiting the island – mainly sailors, smugglers and hermit monks.
When Ferdinando decided to resettle Ventotene, the inmates were also housed in the cisterns, the only structurally sound dwelling on the island. For this reason, the cistern is now known as Cisterna dei Carcerati, meaning Cistern of the Inmates.
Cooperativa Terra Maris also organizes guided tours of the cistern, highlighting the original Roman masonry made with fragments of amphorae and the various marks left on the walls of the cistern by its various inhabitants throughout the centuries.
Birdwatching
Another wonderful reason to visit Ventotene is birdwatching. The island is along the migration route of many bird species between Africa and Europe, and it's full of cliffs, providing the perfect resting place along their journeys.
Commonly spotted species include shearwaters, golden orioles, flycatchers and colorful bee-eaters, but you might also see rare species like European rollers, African stonechats, European nightjars, and various others.
The best times to see migratory birds in Ventotene is March/May and September/October, which also happen to be the best times to visit the island to avoid the extreme summer heat and crowds.
There's no set 'birdwatching location' in Ventotene – you can see birds anywhere, even on the ferry there and in back gardens on the edge of town. What really makes the difference is having a good guide – we recommend contacting Andrea and Valerio from K'Nature, two keen birdwatchers and naturalists who know the island extremely well.
Bird Migration Museum
If you have a keen interest in birdwatching, don't miss the Bird Migration Museum, located on the southern part of Ventotene, close to the island's highest point.
The museum offers two guided tours every day, at 10:30 am and 4:30 pm – the latter is followed by a sunset nature walk where you'll also spot some bird species for sure.
The museum also houses a series of panels, dioramas and hands-on exhibits about the phenomenon of migration and the various species that visit Ventotene.
Tours with K'Nature also include a visit to the bird ringing station, a short walk from the museum. You'll get the rare chance to see ornithologists at work, weighing and measuring migratory birds and fitting them with a ring to keep track of their journeys across the world.
Cala Nave Beach
Ventotene is of volcanic origin, and most of the island's coastline is made up of tufa cliffs, the perfect nesting location for birds. There are a few really nice beaches, and the best is definitely Cala Nave, a quick walk from town and from pretty much anywhere on the island.
Cala Nave takes its name from the two rocks in the bay – Scoglio la Nave e Nave di Terra. It's the perfect swimming/snorkeling location, as the water is clear and calm, and the rocks offshore provide the perfect gathering spot for schools of fish and other marine life.
If you're into snorkeling or diving, there are some great sites in the waters surrounding Ventotene – you can visit Diving World Ventotene at the Roman harbor for more info.
Santo Stefano Island
Just one mile east of Ventotene lies Santo Stefano Island, famous for its 18th-century maximum security prison which was used as late as the 1960s.
The prison was built by Ferdinando, the same Bourbon king who decided to resettle the island, and it's interesting to visit because of its architecture, carefully planned to always have all inmates under control.
Boat trips to Santo Stefano Island depart daily from Ventotene – enquire locally for more details!
Practical Information To Plan Your Trip
How to get to Ventotene
Ventotene is too far from Rome for a day trip, but it's perfect for a weekend break. To get there, hop on any Naples-bound train to Formia/Gaeta – there are hourly departures and travel time is approximately 75 minutes.
The harbour is about 15 minutes walk from Formia/Gaeta station. Laziomar runs both slow ferries (2 and a half hours travel time) and fast hydrofoils (1 hour 20). We recommend the former if you are prine to seasickness.
Visit the Laziomar website for info on ferry schedules and to book tickets. Ventotene is small enough to travel around on foot, so leave your car on the mainland!
For more ferry routes to Ventotene, click here.
Where to stay in Ventotene
The choice of places to stay in Ventotene is somewhat limited, so if you decide to visit this lovely island make sure to book your room well in advance. Here are a few good options:
Villa Julia
Comfortable modern rooms all with a balcony overlooking the sea, a good breakfast served every morning and a perfect position make this the best hotel in Ventotene.
Hotel Isolabella
This nice hotel has cozy, spacious rooms with views of the sea and serves up a delicious buffet breakfast every morning, to get your energy up before you head out on your adventures.
Hotel Borgo Cacciatori
Close to Cala Nave beach, this hotel features a nice pool and a garden to hang out. Rooms are very classic, but comfortable and clean.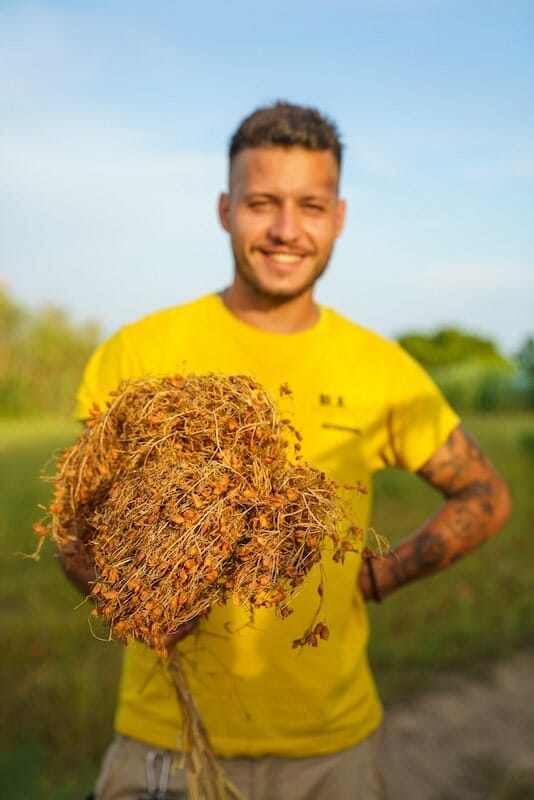 Where to eat
Il Giardino – Ventotene's most upmarket restaurant, serving up a creative menu based on locally-caught fish and vegetables grown in the family farm. The highlight were the paccheri allo scorfano, pasta with rockfish, served tableside by the owner.
Un Mare di Sapori – perfect for a dinner or aperitivo, this welcoming restaurant is right on the Roman harbor. The owners are farmers and lots of Ventotene-grown vegetables and pulses feature on the menu, and can also be purchased in the specialty shop attached.
La Terrazza di Mimì – did anyone say dinner with a view? This restaurant boasts the nicest view in Ventotene, set on a panoramic terrace overlooking Cala Nave and Santo Stefano Island, steps away from the centre of town.
Further Readings
If you are planning a trip to Rome and central Italy, these posts will be useful:
Pin It For Later!