Not many people outside of Italy know about Tuscia. Those who do have usually heard the name in connection to Civita di Bagnoregio, a small, beautiful hilltop town that many visit on day trips from Rome. Yet, Tuscia is one of the most scenic regions in Italy, and easily my favorite. This is where my dad grew up, and most of my family still lives there – so I go any time I have a chance.
Ready to find out more? Continue reading, and I will tell you all about the best places to visit in Tuscia, and share some tips to make the most of this breathtaking region.
Looking for more places to visit on a getaway from Rome? Read my posts A Quick Guide To Ventotene Island and A Guide To The Lovely Tuscania.
Where Is Tuscia?
The historical region of Tuscia was once home to Etruscans – an ancient civilization that predated and later coexisted (kind of) with the Romans. That is, until the Romans conquered their lands. Tuscia is actually the Latin name of this territory – how the Romans referred to area where the Etruscans lived.
Today though the Etruscans are no more, but this region named after them is alive and well – and simply breathtaking. It covers an area that spreads between northern Lazio, Tuscany and Umbria. Given the location, you will be happy to note that Tuscia is very easy to visit from Rome.
As I have said before, Tuscia is well known among Italians for its archaeological sites and beautiful countryside, but it is often overlooked by foreign visitors. It sits in the shadow of Rome's ancient wonders and Tuscany's rolling natural landscapes.
So, if you're looking for a slightly off the beaten track region to explore, and without the tourist crowds that you'll find in Tuscan cities and in Rome itself, then you'll love spending time in Tuscia. You will be rewarded with quaint small towns; gorgeous palaces; beautiful landscapes; delicious food and wine; and incredibly welcoming people.
The Best Places To Visit In Tuscia
Viterbo
Viterbo is a city and the capital of the historical province of Tuscia. It's one of the largest cities in the Lazio region, it is home to the University of Tuscia and it is a historic place to visit. Its medieval walls still stand mostly untouched, as does its medieval centre, with winding lanes to visit and old buildings to admire. The ancient city gates begin your journey to the well-preserved historical city of Viterbo.
One of the most interesting things about Viterbo are its many fountains – as well as its proximity to thermal springs. The springs are a magnet for visitors looking to relax and unwind after a hike, or simply a weekend away. These are located just outside the city and are in easy reach for a day trip.
Inside the city walls themselves is the picturesque San Pellegrino district. This boasts a Romanesque church – the Duomo di Viterbo – and the Palazzo dei Papi, known to be the place where the first Conclave took place. There's also the Etruscan Museum to learn more about Tuscia's namesake population.
You can get to Viterbo by train from Rome Aurelia train station. Should you want a guided tour of Viterbo you can opt for a particularly interesting tour of the city underground. You can book it here. Alternatively, opt for a private tour. For more information, click here.
Make sure to read my posts A Curated Guide To Viterbo and A Guide To Viterbo's Macchina Di Santa Rosa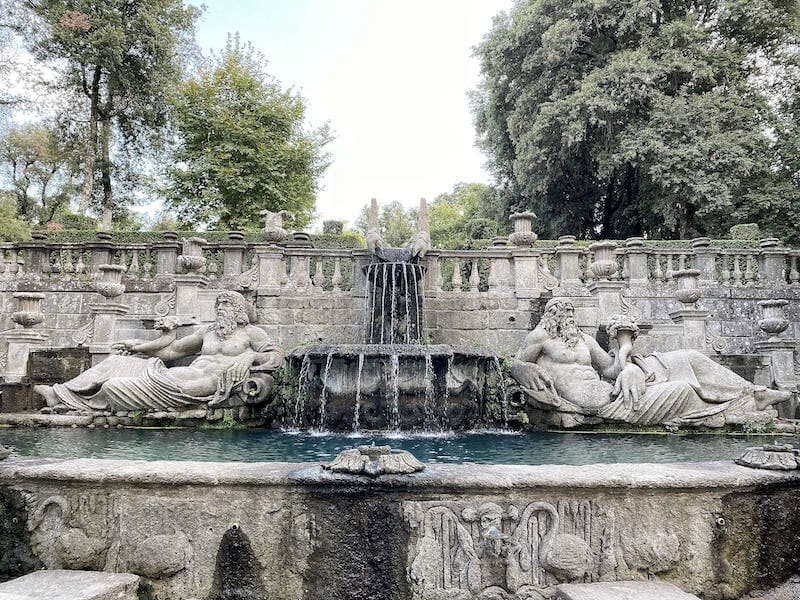 Villa Lante (Bagnaia)
Bagnaia, situated in the vicinity of Viterbo, is an interesting place to visit – not least for the stunning gardens at Villa Lante. I have visited more times than I can remember as my dad's cousin worked there so we'd go any time we had a chance!
This landmark Mannerist garden is a showstopper of Italian design and sensibilities. The brainchild of Jacopo Barozzi da Vignola, the garden didn't become well known until 100 years after its creation in the 17th century.
The garden is sheer perfection. Think tumbling cascades of engineered water and hedgerows trimmed in elaborate geometric patterns, all done with symmetrical harmony. Visiting here is a must for any design (or garden) lover who wants to delve into the history of Italian gardens.
It's thought that work on this wonder of a garden began in 1556. Following the passing of its creator, more work was done on the garden, with the addition of loggias and frescoes.
Sadly, during the Allied bombings in 1944, the gardens and the house of Villa Lante took heavy damage. Thankfully the property was acquired by Angelo Cartoni, who embarked on a lengthy restoration project. Today the well-maintained Villa Lante is owned by the Italian government and is a wonderful place to spend a day strolling around.
Villa Lante is open Tuesday to Saturday; opening hours vary depending on the season.
Make sure to read my post A Guide To Visiting Villa Lante, Bagnaia.
Civita di Bagnoregio
The location of Civita di Bagnoregio is enough to draw visitors from across the globe. For one thing, this hilltop town attracted Japanese animator and Studio Ghibli founder, Hayao Migazaki, and is said to have inspired his movie The Enchanted City. It's not hard to see why.
This magical town, with its stone towers and walls, is perched high on an outcrop overlooking a limestone valley. It seems like the town itself is from another time entirely, with things apparently left as they always have been.
Civita di Bagnoregio was originally settled 2,500 years ago by the Etruscans, but it was in the 16th century that the population began to dwindle (due to fears of rock erosion). Today only a handful of people live in this historic village all year round (most have moved in the modern side of town), but thanks to the interests of tourists, Civita di Bagnoregio is having a new lease of life.
Getting to the village is an adventure in itself. Visitors have to cross a breath-taking bridge that winds up the hillside, after which you'll be greeted by the romantic townscape itself. Here you'll find several restaurants and local craft boutiques, but it's the romance of the architecture and setting of Civita di Bagnoregio that really steals the show.
The village does not allow cars, and you must pay a fee to cross the bridge that from the modern town allows you to reach the old one.
Civita di Bagnoregio is about 28 km (17.4 miles) from Viterbo. It's actually close to Orvieto so you could visit them on the same day – easy to do if you have a car. For a guided tour of Civita di Bagnoregio click here.
Orvieto
Much like Civita di Bagnoregio, the Umbrian city of Orvieto is also perched high up on a rocky plateau. But it's much bigger, rising up in an almost vertical extravaganza of tuff cliffs and city walls made of the same stone.
Orvieto has been populated since the days of the Etruscans, and was a major center of the civilization for centuries. With its steep cliffs, Orvieto was almost impregnable. However, the Romans soon came to dominance and annexed the city in the 3rd century BC.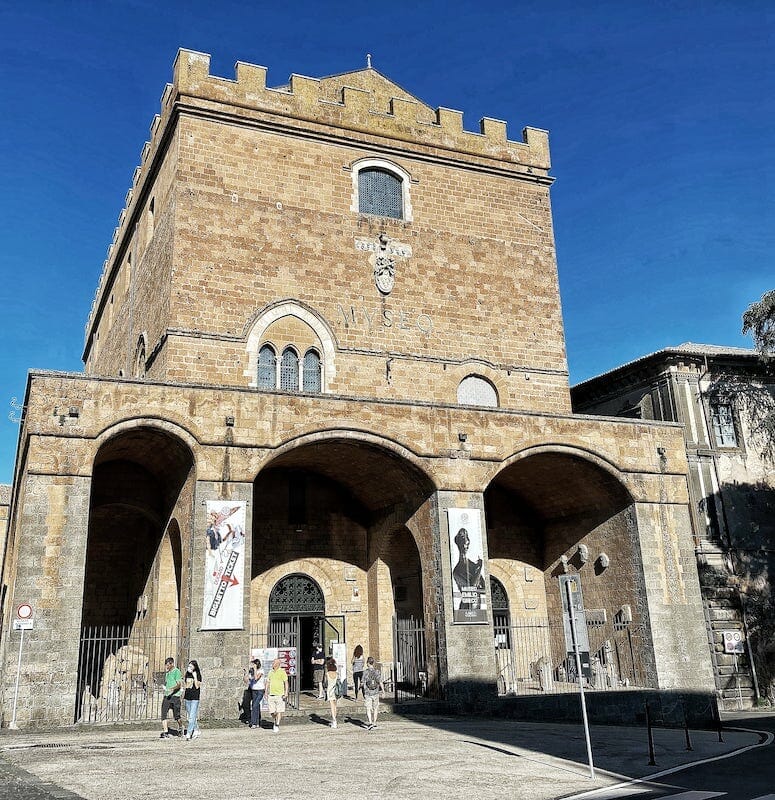 Following the fall of the Roman Empire, Orvieto was taken over by the Goths and then by the Lombards. Later it became a self-governing city (probably something to do with the cliff setting!). By the middle ages, it was home to tens of thousands of people, and soon became a cultural centre of the Tuscia region. This brought with it a university and close connections with the Pope.
The towering Duomo di Orvieto (cathedral) dates back to 1290, and with its beautiful mosaic facade, points back to the city's prosperous past. Elsewhere there's also an underground cave network that tunnels deep into the tuff – a remnant of the city's Etruscan heritage, and the world famous San Pancrazio well.
Orvieto is about 45 km (28 miles) from Viterbo and best reached by car. On the way there, the views from a distance are stunning. You'll be tempted to stop along the road for photos, but there actually is a panoramic terrace where it is safe to stop!
For a guided tour of Orvieto, click here.
Make sure to also read my post A Short Guide To Orvieto.
Palazzo Farnese (Caprarola)
You'll find the incredible 16th-century Palazzo Farnese in the town of Caprarola, 21 km (13 miles) from Viterbo. Not to be confused with the palazzo (palace) of the same name in Rome, this Palazzo Farnese was originally built to be a fortress – constructed to protect the Farnese family.
The Renaissance villa today stands overlooking the village of Caprarola. It's a spectacular structure and can be visited for just a few Euros. Inside you'll find a world of ornate decoration, with frescoed walls and sculptures throughout.
There's a wealth of information on hand that explains the detailed Renaissance frescoes adorning the walls. One of the most notable parts of the Palazzo Farnese is its double-helix staircase that winds around the walls of a vaulted room.
But step outside into the palazzo's gardens and the journey continues. The lush, landscaped gardens were inspired by the famous Villa d'Este in Tivoli. The gardens feature a nymphaeum, fountains and gorgeously manicured trees.
For a guided tour of Palazzo Farnese, click here.
Make sure to read my post A Guide To Visiting Palazzo Farnese, Caprarola.
Montefiascone
The highest town in the province of Viterbo, Montefiascone is situated along the ancient Via Francigena. This old road is actually a famous pilgrimage route that runs all the way from Canterbury in England, through France, and down through Italy towards Rome.
Because of its height, the views from the town are understandably incredible. And owing to its location on a holy pilgrimage, there are several religious monuments to see in Montefiascone.
One of these is the Cathedral of Santa Margherita. Though it dates back to at least the 1300s, its masterpiece dome was built in 1674 by Carlo Fontana. The oldest church in the town, however, is the church of Sant'Andrea, which was built in 853.
More old churches abound, such as that of San Flaviano, which dates to 1032. Legend has it that its crypt holds the remains of a 12th-century traveller who died here after drinking too much of the local wine: Est! Est!! Est!!! (it's really called that). His valet – or 'wine scout' – travelled ahead of him and wrote "est" (literally "there is") on the doors of all the local inns that sold good wine.
Also in the town is the Rocca dei Papi, where Popes sought refuge during wars and sieges that affected Rome.
Soriano nel Cimino
Another town in the province of Viterbo that sits high on a bluff, Soriano nel Cimino may not be as well-known as others in the region of Tuscia, but it's still worth a visit. It's a favorite of mine as this is where my uncle used to live, and where my cousin still lives – so I go there often to appreciate family time as well as its beauty. It's a small town but has at its core the towering Orsini Castle.
This was built in the 13th century by Orso Orsini, part of the noble Orsini family. The castle represents the domination of the wealthy family over the region. For example, the castle was the summer residence of Pope Nicolas III (Orso Orsini's uncle).
Other sights in Soriano nel Cimino include the crumbling and scenic Romanesque church of San Giorgio, which was originally built in the 9th century. There's also the grand Cathedral of San Nicola di Bari, dating back to 1794.
Another thing you don't want to miss in Soriano is the Faggeta Vetusta, a beech forest in the mountains of Soriano that is also a UNESCO site.
Make sure to read my post A Complete Guide To Soriano Nel Cimino.
Bomarzo Monster Park
The Gardens of Bomarzo, otherwise known as Parco dei Mostri (that's "Monster Park"), is a ghoulishly fun place to visit in the Tuscia region. Commissioned by prince Pier Francesco Orsini in 1552, the astonishing Mannerist gardens were the construction of Pirro Ligorio.
His intent was to bamboozle rather than create a typical garden. In fact, it's thought that the gardens at Bomarzo were an outpouring of grief, due to a number of personal tragedies suffered by the prince.
As a result, there are all kinds of weird and wonderful structures, grotesque sculptures and statues of animals and Roman gods throughout this fascinating garden. The most famous of these is a large depiction of Orcus, a god of the underworld, whose mouth is open in anguish. It's possible to go inside the mouth and picnic around the tongue of Orcus, which doubles up as a table.
On his top lip is the inscription "ogni pensiero vola" or "all thoughts fly" – any whisper made while picnicking around the tongue can be heard from the bottom of the steps up to Orcus. So beware what you say!
Bomarzo Monster Park is open daily, but opening hours vary depending on the season.
Bomarzo is right next to Soriano nel Cimino, and you can easily visit them on the same day. Many opt to visit on day trips from Rome too – you could consider joining a guided tour such as this one.
Check out my post A Guide To Visiting Bomarzo Monster Park.
Vitorchiano
Also situated in the area of Viterbo, Vitorchiano is a medieval village, home to just a few thousand people. Of all the villages in Tuscia this is my favorite one by far – the view of it you get from the terrace by the camping site is simply stunning! The village is built on a type of volcanic rock called peperino and overlooks the lush valley of Vezza.
The town has Etruscan roots and declared itself independent from the neighbouring dominance of Viterbo in 1199. Because of this, the hamlet was attacked by militias from Viterbo and Rome (it features defensive walls due to this military threat). But in 1201 the town finally submitted and was brought under the control of Rome.
Though it's small there's plenty to see in Vitorchiano. There's the Romanesque church of San Pietro; the 13th-century Romanesque Santa Maria Assunta in Cielo; and the 14th-century Santissima Trinità. The interiors of the 15th-century church of Madonna di San Nicola is particularly beautiful, and features walls and ceilings adorned with frescoes.
Make sure to read my post A Short Guide To Vitorchiano. You should also read my post A Useful Guide To Calcata Vecchia.
Celleno Borgo Fantasma
Tiny Celleno is home to around a handful inhabitants. Still, the town is known as Il Borgo Fantasma: the Ghost Town.
A town around 15.5 km (9 miles) north of Viterbo, Celleno rose to prominence in the medieval ages as a strategic outpost. At its center is another castle built by the Orsini family.
The town, however, underwent a slow decline in more recent times, and was left practically abandoned by the 19th century. The "death" of Celleno was sealed on Christmas Eve 1951, when – due to "unsafe houses" – the population was forcibly removed and rehomed elsewhere on the orders of president Luigi Einaudi.
Visitors to Celleno today can explore the castle, as well as the churches of San Carlo and San Donato. In terms of the natural world, Celleno is also known for the picturesque Infernaccio waterfall, as well as the gole dell'infernaccio (literally "Gorges of Hell").
Head over to my posts A Short Guide To Celleno Borgo Fantasma and The Best Hidden Gems In Tuscia.
Terme di Saturnia
The hot springs of Terme di Saturnia are situated just a few kilometers from the village of Saturnia, in the Maremma region of Southern Tuscany. According to legend, these springs were formed when the Roman god Jupiter argued with Saturn, and threw a lightning bolt during a violent quarrel. It missed and hit the earth, causing these natural hot springs.
The warm pools to be found at Terme di Saturnia have actually accumulated over thousands of years, and now boast temperatures of around 37.5°C (99.5°F). One of the striking aspects of the springs are the gushing waterfalls of hot water. The most famous of these are Mill Falls or the Cascate del Mulino.
Thankfully, Terme di Saturnia is open to the public all year round – and it's free. However, there is also a luxury spa nearby if you feel like pampering yourself.
You should also read my post A Guide To Visiting Saturnia Hot Springs.
Lake Bolsena
The stunning Lake Bolsena is the largest volcanic lake in Europe. It is situated in the crater of Vulsini volcano, which (according to Roman records) is reported to have last erupted in 104 BC. The water for the lake, which features two islands, is supplied entirely by rainfall.
As well as beautiful nature, there's much history to uncover in the region around Lake Bolsena, and it will take more than just a day to explore its shores. Alongside historic farmhouses and castles, there's a thriving agriturismi scene here, with a choice of campsites and bed-and-breakfasts dotted around the area.
Bolsena is best reached by car from Viterbo – it's just a 40 minutes drive.
Head over to my post The Nicest Lakes Near Rome.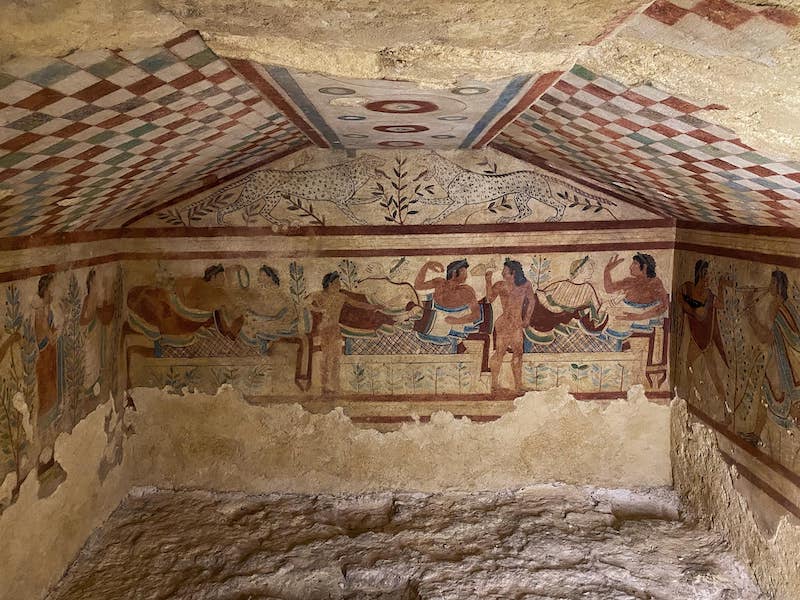 Tarquinia
One of the most prominent Etruscan sites in Tuscia is in Tarquinia. Here, the Necropolis was declared a UNESCO World Heritage site in 2004.
Tarquinia Necropolis is famous for the frescoed tombs where you can still admire the vivid colors. Frescoes give insights into the lives of Etruscans, of which we'd otherwise know very little. They represent scenes such as dances, weddings, banquets but also demons escorting the dead to the unknown.
Among the most famous tombs there are the Tomb of the Bulls, Tomb of the Augurs and the Tomb of the Leopards.
Another place you should not miss in Tarquinia is the archeology museum. Make sure to get a combined ticket for that and the Necropolis. The historic center is beautiful too!
Both the Necropolis and the Museum are open from Tuesday to Sunday. You can get a combined ticket to visit both.
The small town is located 100 kilometers (62 miles) north of Rome, and just 44 km (27 miles) from Viterbo. You can book your day trip from Rome to Tarquinia here or here.
Make sure to read my post A Guide To Visiting Tarquinia And The Etruscan Necropolis.
Practical Guide To Tuscia, Italy
How to get to Tuscia and how to move around
First of all, you're going to need a car if you want to explore Tuscia. This place truly calls for a road trip, with many of its fascinating destinations reachable only by car. It's the best way to do it, so make sure you have an international driving license (if you need one).
If you don't already have a rental car, don't worry. You can opt to take the train from Rome to Viterbo, which takes around two hours, and then hire a car from Viterbo. It's also possible to get an intercity bus to Viterbo from Rome.
Check out the prices of car rental here.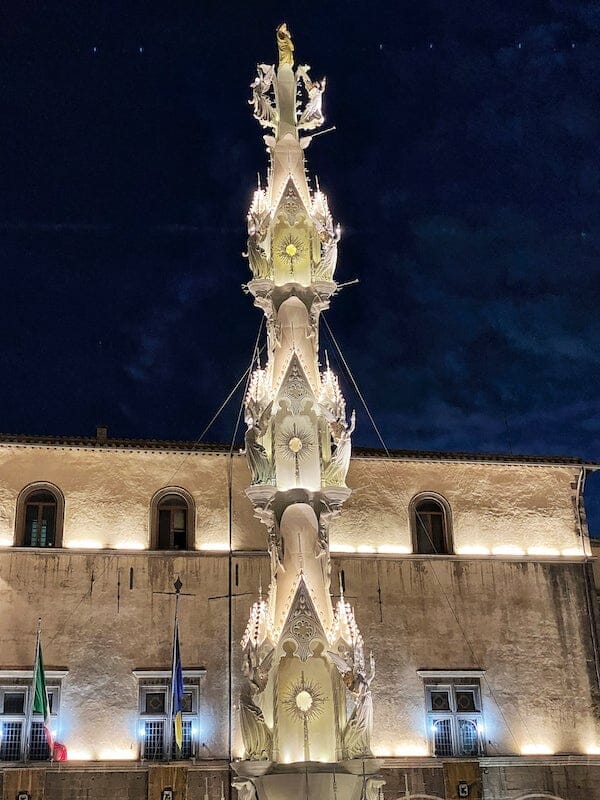 How long should I spend in Tuscia?
It depends. There are definitely a few places you can visit easily on a day trip from Rome. Some destinations are actually very popular for day trips, including Bomarzo, Orvieto and Civita di Bagnoregio. But to really make the most of it, you should at least set aside four days to explore the region of Tuscia.
If you have time – and if all those destinations above (which are just a few of the places to visit!) sound suitably interesting for you – then you could also very easily set aside a whole week to really soak up what Tuscia has to offer.
For a day trip from Rome to Tuscia, click here.
Make sure to read my post The Best Day Trips From Rome.
Where to base yourself for your Tuscia Trip
Unless you want an agriturismo spot to base yourself (i.e. Lake Bolsena), the best place to stay for exploring Tuscia is obviously Viterbo. This city has the best accommodation options by far.
Ideally located just a few minutes' walk from the medieval centre of Viterbo, Il Gallo Nero is a comfortable, clean and well equipped bed-and-breakfast. Inside you'll find the rustic charm of a historic building – the perfect accompaniment to your Tuscia trip. There's an Italian-style breakfast served up every morning and the staff will do everything to help your stay run smoothly.
Elsewhere, situated right on the Piazza San Francesco, there's Palazzo Grandori Alloggi Turistici. This grand option in the centre of town is a large hotel that features everything you'd expect of high-end accommodation.
Think spacious, modern rooms and everything you'll need for a comfortable stay. There's even the option here to stay in your very own apartment, complete with kitchen, lounge and dining areas; a great option for families.
For another bed-and-breakfast option, try out B&B A Piazza del Gesù. This charming place is set right in the middle of Viterbo's medieval centre, with winding lanes to explore right on the doorstep.
The rooms here have been tastefully designed, combining modern furnishings with timeworn period details. Some rooms here even feature amazing views over the town or garden. The added bonus is free onsite parking – ideal for your Tuscia road trip or using Viterbo as a base.
Make sure to read my post Where To Stay In Viterbo.
What to eat in Tuscia
The region of Tuscia is well known for its food. One of the best known specialites of Tuscia is porchetta. This pork roast comes stuffed with fennel and liver, complete with fat and skin left on (and no bones) for a sumptuous meat feast.
There's also the hearty acquacotta, a thick broth that has ancient roots as a peasant food. The soup, whose name literally means "cooked water", was a way to make stale bread edible. Alongside bread in the broth, any leftovers can be added – from salt cod to pancetta.
For more in the way of hearty broth-based dishes, try giubba e calzoni – lamb soup with potatoes and artichokes. There's also a kind of fish soup from sbroscia that hails from the shores of Lake Bolsena.
Another must-try gnocchi col ferro – a long, thin variety of gnocchi. If you're a pasta fan, hand-rolled lombrichelli served with a spicy ragu is something you'll easily fall in love with.
Pin It For Later!