Are you visiting Rome and looking for a place to burn all the carbonara you've been eating? Good news! I am a runner myself (though granted, I prefer swimming) and can attest to the fact that there are many places to go running in Rome. In fact, matter where you'll be basing yourself during your time in the city you will have easy access to a number of parks where you can go for a jog.
Depending on the day of the week and time of day, you will even come across people running through the streets of the historic center. It's not uncommon to spot runners in the early hours of Sunday running along Via del Corso, Rome's most famous shopping street.
Curious to discover the best places to go running in Rome? Continue reading!
The Best Places To Go Running In Rome
Villa Borghese
Villa Borghese isn't actually just a villa. Attached to a gorgeous building that now is one of the most famous museums in Rome there's a sprawling sculptured garden, home to a number of beautiful buildings and museums crammed with interesting cultural and historical artifacts.
As Rome's third-largest public park and right in the historic center of town, Villa Borghese is home to a selection of running trails and terrains. There's even a purpose-built running track here for those who really want to do some track training and work up a sweat.
One of the best things about the park, aside from the trails themselves, is the fact that it is easily accessible. There are various points of access to Villa Borghese, so you can easily choose the one that's best for you no matter where you're based in the city.
It's often busy with tourists, so schedule your run early in the morning (i.e. before 10:00 am).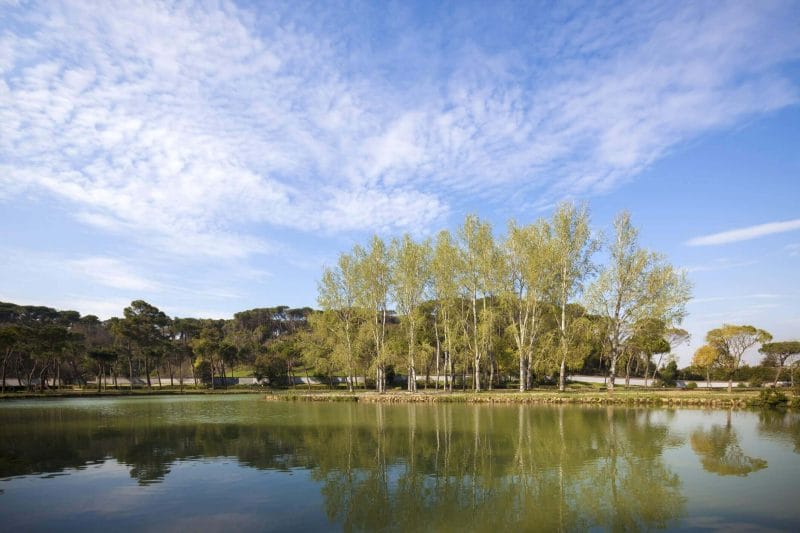 Villa Ada
Another of Rome's enormous parks, you'll find Villa Ada in the northern portion of the city between Trieste and Parioli. One of the best things about this place is that it is less sculptured than other parks, so you can be running beneath tall trees and up and down hills – as opposed to jogging next to flower beds and on paved paths.
Because of its size (160 hectares) Villa Ada can be a great option for more advanced runners who want to complete a fair distance on their run. If you're looking for a simple 5 km run, you can start near the Egyptian Embassy and run towards the main lake.
Make sure to stop off and take in the views of Rome along the way.
Tiber River
Running along the famous Tiber will really make you feel part of the city of Rome – many locals make runs along this river their go-to routes. Although you can take any location along the river to pound the pavements, there is a dedicated running path that runs just over 11 kilometers. Obviously, this makes for perfect running conditions.
The trail kicks off close to the Olympic Stadium and passes through some of the most iconic slices of the city, all the way to Ponte Gugliermo Marconi. It's great if you want to do a little bit of sightseeing, or hit up other sights as you embark on your run.
Some parts of the path can flood and get muddy – the north section particularly – so check on the weather beforehand.
Villa Torlonia
Villa Torlonia is an infamous building in Rome, once the state residence of Benito Mussolini. The past is long gone, however, and today this neoclassical structure is home to a museum and sits within a much loved public park that overlooks Via Nomentana.
Running routes don't exactly abound, as it's a fairly small park. But it's great for beginners or if you just want an easygoing run. Most people start their routes at the main entrance on Via Nomentana and complete a circular loop along the main path, from where you can spot interesting sculptures, obelisks and monuments. There are also small lakes and follies to catch sight of as you jog around, too.
Three loops of the gravel track at Villa Torlonia is roughly 5 km.
Check out my post The Best Hidden Gems In Rome.
Parco della Caffarella
Another top option for running in Rome is the Parco della Caffarella. This purposely protected green space is situated in the vicinity of metro stop Furio Camillo, and can be reached easily from the city. It's far from the hustle and bustle of the Centro Storico, however, and is an interesting landscape of old tombs and even the ancient Via Appia.
Here you'll be running through wide open fields past grazing sheep and to a soundtrack of birdsong (and, usually, other local runners making use of the space). Pathways here are either gravel or paved, so you won't have to worry too much about mud. It's a popular spot that many Romans use to walk their dogs, picnic and hang out with their families.
Combine a trip here with a stop at the park's archeological sites after (or during) your run.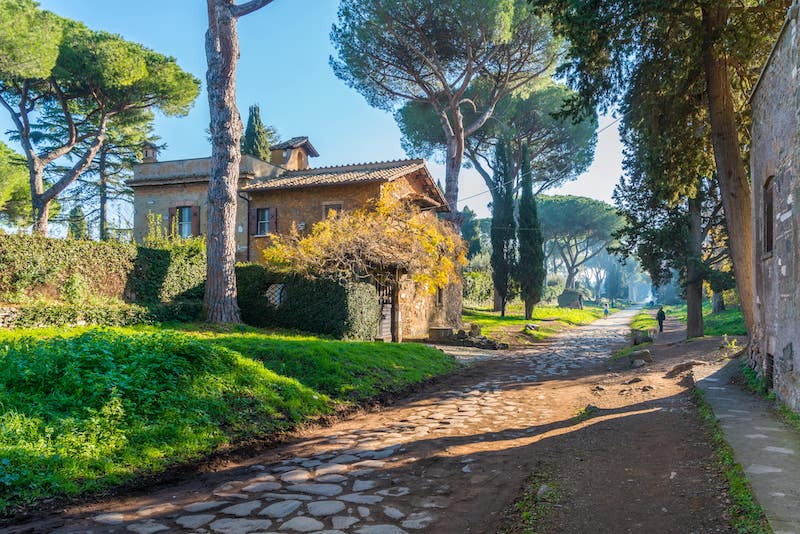 Via Appia
While you can get a taste of the Via Appia in the Parco della Caffarella, you can actually continue for a good distance along the ancient Appian Way as it runs out of the center of Rome. As one of the oldest roads in Rome, it was an important highway with work beginning on it in 312 BC.
Running along this landmark piece of civil engineering is a must for anybody who enjoys history, and running, of course. In fact, the Marathon event at the 1960 Rome Olympic Games even partly ran along part of the Via Appia. So any marathon runners out there will definitely want to tread in the footsteps of the greats.
The road itself is still made of the original ancient stones. These can be a bit difficult to run along. However, right alongside the old cobbles there is a much easier gravel path to follow instead.
This route is best run on a Sunday when the area is close to cars.
You should also read my post A Guide To The Appian Way, Rome's Via Appia Antica.
Parco degli Acquedotti
For a good circular running route, the one that traces the outskirts of the Parco degli Acquedotti ticks a lot of boxes. The only downside of running here is that it's not overly central, but on the plus side it can be reached easily via the metro. And the park is always open, so you're free to run whenever you like.
Once you're at the park, you'll be greeted by an array of breath-taking ancient ruins – not least the towering aqueducts that give this green space its name, as well as the Renaissance-era Acqua Felice. Start your run at Via Lemonia 221 for a good 6 km route.
The trails around the park are not sealed, they're just dirt paths, which means they can get muddy. However, the terrain is completely flat and with wide open skies and unique historical sights, it's hard to not be totally blown away by running here.
There's hardly any shade, so wear a cap when running in the summer.
There is a running tour of Rome that goes to the Parco degli Acquedotti. You can book it here.
Head over to my posts A Guide To Rome's Parco Degli Acquedotti and The Nicest Parks In Rome.
Villa Doria Pamphili Park
This destination is home to both an elegant 17th-century mansion and the largest public park in Rome. Running here feels like being within the pages of history, with ornate mazes, clipped hedges, grottoes and fountains forming the scenery to your jog.
Most people stick to the gravel paths that run along the edges of the park. Tracing these routes can add up to a good, solid 10 km. Make sure to stop off to soak up the view from atop the Janiculum Hill.
There are bathrooms and water fountains close to the entrances of the park.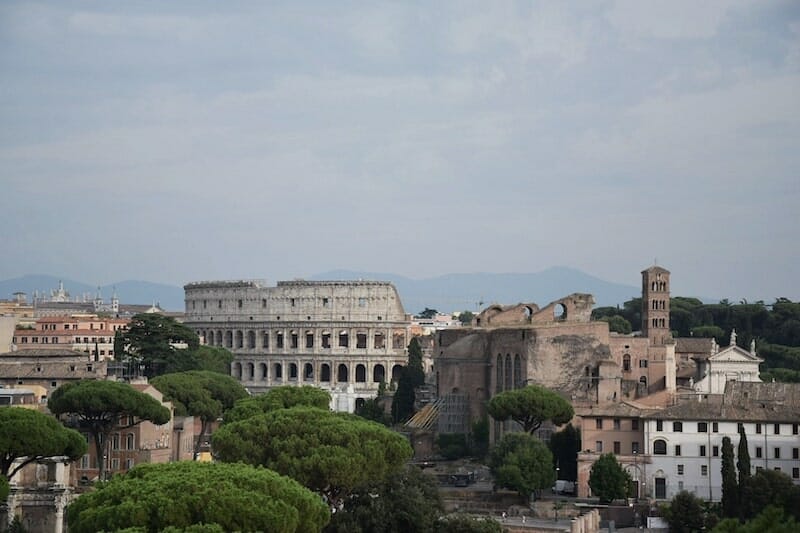 Colosseum and Circus Maximus
Just south of the city center, there's an amazing running route that takes in two big-hitter landmarks of Rome: the Colosseum and the Circus Maximus. Start your run in this area in Piazza Venezia and head out along the Via dei Fori Imperiali, making your way towards the Colosseum, and then along the tramline to the Circus Maximus.
For those who want a little bit extra, there's the option to take a detour to Villa Celimontana and along the pretty Via di San Paolo della Croce; this elongated route also finishes up at the iconic Circus Maximus.
There's little shade on this route, so don't forget your hat and sunscreen.
Parco del Gianicolo
The 30-acre Parco del Gianicolo makes for a beautiful backdrop to your run. Once a private garden for medicinal herbs, this park may not be the best for running around as such, but running up to the park – situated on the Janiculum Hill – makes for a great challenge.
The best way to reach this park is from Principe Amedeo Bridge, with the route running past the Bambin Gesu Children's Hospital. You'll eventually reach a viewpoint at Piazzale Giuseppe Garibaldi.
Since it's hilly, it's best done later in the day, especially if you're a fan of sunsets.
Ostia Antica
A short 40-minute train ride outside of Rome proper is the ancient port town of Ostia Antica. This harborside area is home to an archeological site situated right on the coast of the Mediterranean Sea, as well as a pleasant present-day town.
Many tourists head to the area for its ancient frescoes, mosaics and buildings, while locals make their way here for the sun, sea and sand come summer. So running here means you'll be able to combine your trip with historical intrigue or a post-run lounge on the beach.
There's a handful of running routes to choose from here, many of which run along ancient roads. Similar to the Appian Way, the surface is uneven stone, but there is a dirt track running alongside that's better for running.
You have to pay admission to the Ostia Antica area, but this gives you access to some of the best running in the area. If you want to add on to the length of your run, the surrounding fields and pathways allow for that. Another option is to simply run along the coast, from the beach to the port.
Leave your car at home – it's an easy train ride; or go for an overnight stay if you fancy it.
Read my post A Short Guide To Ostia Antica.
Stadio dei Marmi
For something a little bit different, try the Stadio dei Marmi. Translating to "Stadium of the Marbles", this running track with tiered seating – surrounded by classical-style statuary – is part of the enormous Foro Italico sports complex (once named Foro Mussolini).
This stadium is right next to the Olympic stadium, and is often open to the public to use for running and other fitness activities. Running here definitely feels like an unusual experience, harking back to the days of the ancient Roman colosseum.
It's free to enter, so you don't have to worry about that. Running a few loops of the track here is great if you're a fan of this rather than off-road running in parks.
It's not always open to the public so ensure that you check ahead of your planned visit.
Further Tips For Running In Rome
Running in a new city can feel daunting, especially if you don't know your way around very well. However, running in Rome is for the most part a piece of cake. Many locals like to run in the above locations, so you'll often be sharing your route with fellow joggers. Here are a few additional tips for an even better experience when running in Rome.
Climate
Rome can be super hot in the summer, make sure to check the weather before you head off on your run and go prepared with enough water and appropriate clothing.
For more information about the weather in Rome, make sure to read my post The Best Time To Visit Rome.
Time of day
In summer especially, not only can the time of day you run affect how hot it feels – it can also affect how many people you'll have to dodge or overtake when you're out. At these times, it's best to plan your runs for the early morning (ideally before 10:00 am) or later in the evening around sunset. That way you'll avoid both the tourists and the hottest part of the day.
Running Clubs
Like many capital cities, Rome hosts a good selection of running clubs that are open to outsiders to join in. Do a quick search for running clubs in the city and take part in a run so you can enjoy a Rome running route without getting lost and maybe make some new friends too.
Rome Running Races
If you're really keen to get a feel for running in Rome, why not sign up for a race? It's not all about the Rome Marathon, there's usually a local race or event going on throughout the year for you to join in with.
Take a running tour
It is possible to actually combine a guided tour of Rome with running. While running by yourself among the ancient monuments of the equally ancient city is awesome enough, doing it with a knowledgeable guide will really enhance the experience. Sites like gorunningtours.com offer up everything from epic sunrise jogs to guided runs along the river.
You can book your running tour of Rome here.
Pin It For Later!