With beautiful squares, intriguing archeological sites, art galleries and churches to keep you busy for a lifetime, delicious food and more, Rome is a great place to visit year round – or so we like to think. But what's really the best time to visit Rome?
Rome certainly has something to offer in any season, and indeed any season in Rome has its perks – as well as its nuisances. If it is your first time visiting Rome, you may as well try to pick the best season to go!
This post will tell you exactly that – when the best time to visit Rome is. I will share some basic information on the weather in Rome, and the pick the best and worst months to visit the Eternal City. As you can surely imagine, a lot of what you'll read is based on my personal opinion and experiences!
A Guide To The Best Time To Visit Rome
The Weather in Rome
Rome definitely gets seasons – though winter in Rome is certainly much milder than in other parts of Italy. Summer in Rome can be quite long and very hot – almost unbearable, if I may say. With little way of escaping the heat, many locals spend their summer holidays away from the city. If you visit Rome in August, you will find a city that is terribly packed with tourists, but almost devoid of locals.
Winter on the other hand is short and never too cold (though you'll hear locals complain that the city is dump – which is true really!). However, it can get very cold at night, and the chances of rain are quite high, much like in the fall.
The coldest months in Rome are December, January and February – which are also the months with the shortest days, and during which sites and museums observe winter opening hours.
Spring and fall in Rome are incredibly pleasant, with longer, sunny days and less chances of rain – though it certainly rains more in October than in does in April or May.
For more accurate information about the weather in Rome, you can look at this site. Below is a table for a quick overview of the weather throughout the year.
| | | | | | |
| --- | --- | --- | --- | --- | --- |
| MONTHS | Average Celsius High | Average Fahrenheit High | Average Celsius Low | Average Fahrenheit Low | Average Rainfall (mm) |
| JAN | 12 | 54 | 3 | 37 | 70 |
| FEB | 13 | 55 | 3 | 37 | 70 |
| MAR | 15 | 59 | 5 | 41 | 55 |
| APR | 18 | 64 | 8 | 46 | 80 |
| MAY | 23 | 73 | 12 | 54 | 60 |
| JUN | 28 | 82 | 16 | 61 | 30 |
| JUL | 31 | 88 | 19 | 66 | 20 |
| AUG | 31 | 88 | 19 | 66 | 30 |
| SEP | 27 | 81 | 16 | 61 | 65 |
| OCT | 22 | 72 | 12 | 54 | 100 |
| NOV | 16 | 61 | 8 | 46 | 115 |
| DEC | 12 | 54 | 5 | 41 | 100 |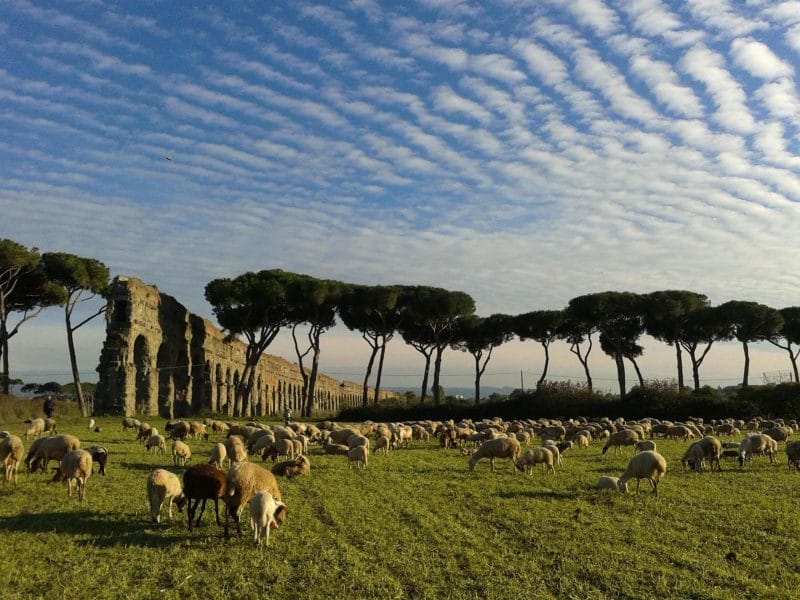 Travel Seasons in Rome
Peak Season
Peak season in Rome goes from May to September included and corresponds to late spring and the whole summer. That's when you'll find the city incredibly crowded with tourists – often waiting in line at attractions such as the Colosseum, the Vatican Museums, St. Peter's Basilica or Borghese Gallery. It's also when visiting Rome is most expensive in terms of flights to the city and cost of accommodation.
The summer heat makes exploring Rome in the summer a bit of a challenge, so make sure to bring a hat, wear sunglasses, apply copious amounts of sunblock and carry a refillable water bottle such as this one. You can refill it at one of the many drinking fountains (locally known as "nasoni") that you can find scattered around town.
The good news is that there are many parks in Rome where you can go chill for a few hours during the hottest days. In fact, you could even plan to spend a day at one of the beaches near Rome or at a nearby lake.
Summer in Rome also means gelato! There are many delicious gelaterie around town. Experts agree that the best gelato in town is at Fatamorgana. You'll find one in Via Roma Libera, in Trastevere – one of the nicest neighborhoods in Rome.
Keep in mind that the Holy Week (right before Easter), Easter week and the two weeks around Christmas are also considered high season.
Shoulder Season
Shoulder season is definitely when to visit Rome!
Early spring – March and April (save for the two weeks around Easter); as well as fall – October and November – are great months to visit Rome. The weather is just about perfect then.
Although there are higher chances of rain (especially in October and November), days are warm without ever being hot, and get pleasantly chilly in the evening.
As Italy enters daylight savings the last week of March until the end of October, days are also nice and long for exploring. From April to October sites observe summer working hours – meaning they remain open a bit longer, giving you more time to explore.
Keep in mind the city will still be crowded with tourists during shoulder season, so don't expect discounted rates on accommodation or flights.
Read my post A Guide To Visiting Rome In October.
Low Season
Low season in Rome starts in late November and runs all the way to February, except for the two weeks around Christmas.
While the temperatures may be cooler, the days shorter and the chances of rain higher (but you'll experience plenty of sunny days too), this is also when the city is less crowded with tourists. In other words, it is when to visit Rome if you want to avoid the typical crowds.
Best Time to Visit Rome for Sightseeing
If you want to spend your time browsing the many archeological sites, churches and museums in Rome, and want to explore the beautiful squares and neighborhoods, I recommend visiting Rome between the end of March and April, and in October and beginning of November.
As I have pointed out before, many sites observe summer opening hours from 1 April to 31 October, which means you have about a extra hour to even two hours every day to do more sightseeing, and you can squeeze in more activities even if you plan to spend just a few days in town.
Temperatures in spring and early fall are typically pleasant (if only a bit colder during the night), and the light absolutely perfect for photography.
Remember that some of the best museums in Rome are closed on Monday, whereas the Vatican Museums are closed on Sundays, and that the city tends to get more visitors during the weekend, so the best days for sightseeing are Tuesday, Wednesday and Thursday.
Wednesday is not a good day to visit the Vatican as that's the day of the Papal Audience, meaning that St. Peter's Basilica is not accessible. On the other hand, the Vatican Museums will be less crowded then.
Make sure to get skip the line tickets for attractions in Rome. You can get them here.
Best Time to Visit Rome to Avoid the Crowds
If you want to visit Rome but avoid the major crowds of tourists, you should try to go there in the winter – after the Christmas holiday break and until mid-March, with February being the best month by far (except for Valentine's Day, when the city may be busy with romantic couples).
Now, don't expect to have the city to yourself in the winter – there will still be tourists around. But it's definitely not nearly as bad as it may be during peak season, in the summer months. For even lesser crowds, plan to head out to explore nice and early and avoid visiting the most famous landmarks in Rome during the weekend.
The winter months are also a great time for shopping in Rome, as this is sales season ("saldi," in Italian), and between shops selling items at discounted prices and markets selling all sorts of souvenirs, you may be able to go home with quite a few bargains and some beautiful presents for your loved ones.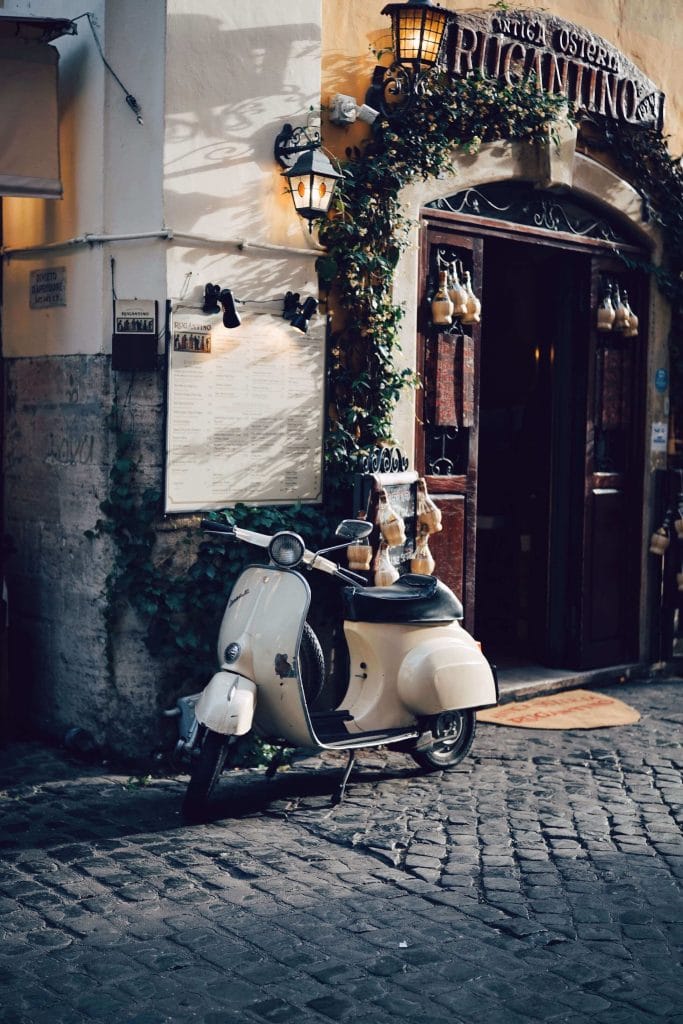 Worst Month to Visit Rome
August is definitely the worst month to visit Rome. Temperatures can be as high as 40°C – that's over 100°F.
To escape the heat, and to pay respect to the Italian tradition of taking holidays for "Ferragosto" (the Feast of the Assumption, literally a midsummer celebration), most Romans leave the city for the beach, the lake, the mountains – you name it.
You may find that many businesses are closed – including restaurants. In short: the city is packed with tourists, but there's very little local life.
If you can only travel to Rome in August, stick to the first ten days of the month. Otherwise, visit in September, when locals come back to town.
Main Events in Rome
Not a month goes by in Rome without some interesting event or festival so you can rest assured you'll always find something interesting and unique to do other than the traditional sightseeing and eating. These festivals will give insights on what life in Rome is like. The table below reports the main events to look out for, by month.
MONTH
EVENT
FOCUS
JAN
Befana / Epifania (6 January)
culture / Christmas – loved by children
FEB
Carnival
culture / carnival
MAR
Maratona di Roma
Easter Week
Commemoration of Caesar's Death
sport
religion
historical / cultural
APRIL
Rome's Birthday (21 April)
Festa della Liberazione (25 April)
historical
historical, takes place across Italy
MAY
International Workers' Day / Labour Day (1 May)
Italian Open Tennis Tournament
culture / human rights;
celebrated with a concert in Piazza S. Giovanni
sport

JUN
Festa della Repubblica (2 June)
Festa di San Giovanni (24 June)
St. Peter and Paul (29 June)
historical, takes place across Italy
religion / culture
religion
AUG
Madonna della Neve (5 August)
Ferragosto (15 August) or Feast of the Assumption
religion
culture, celebrated across the country
OCT
International Film Festival
culture
NOV
All Saints (1 November)
Roma Jazz Festival
religion
music
DEC
Christmas Markets
Festa dell'Immacolata (8 December)
Santa Lucia (13 December)
shopping
religion
religion
Final Thoughts On The Best Time To Visit Rome
My overall favorite month in Rome is October. I find that the eternal city shines in all its glory then; the crowds are bearable and there are plenty of sunny days perfect for sightseeing.
No matter when you decide to visit, I have no doubt you will enjoy the Italian capital and will decide to visit again as soon as you leave. With so much to see and do in Rome, you could spend an entire year there without ever getting bored – and then come back here to suggest when to visit Rome!
Have you already been to Rome? When? I'd love to hear your thoughts about it – just drop a comment!
Further Readings
Make sure to read my other posts:
Pin It For Later!