If you are a fan of history and archeological sites, there is no doubt that you should visit Ostia Antica while in Rome. An easy day trip from the Italian capital, thanks to its location right at the mouth of the Tiber River (which has moved since!), this used to be Rome's ancient harbor – it was literally where all the goods that went around Rome went through; and at its peak it was actually more important than Pompeii.
Only a portion of the site has been fully excavated – in fact, if you visit you will see that archeologists are still working on it!
A proper visit to the site will give you plenty of insights into the every-day, social, cultural and economic life of Rome. Need more reasons to visit Ostia Antica? Here's one: although the city had a prominent role in Roman history, it's yet to become a popular tourist attraction – so it's a nice place to go to escape the crowds of Rome. Furthermore, it's actually an incredibly pleasant place to visit even on hot summer days, as it's beautifully immersed in a forest of pine trees.
If you are curious to learn more about Ostia Antica and looking for information on how to plan your visit, you are in the right place. Continue reading to learn everything you need to know for a smooth experience.
Make sure to read my post The Best Day Trips From Rome.
Everything You Must Know Before You Visit Ostia Antica, Rome
The history of Ostia Antica
According to researchers, Ostia Antica dates back to around 620 BC. The main attraction – other than the location by the mouth of river (ostium) to which it owes its name – was the presence of nearby salt flats that were used to produce salt to preserve meat. It was around 400 BC that Rome conquered the city and turned it into a castrum (military fortification), which was meant to control the mouth of the Tiber River and – with that – access to Rome by way of the river.
With time, Ostia became an important commercial center – it was Rome's harbor, and as such it was protected by defensive walls and proper gates to the city: Porta Romana, Porta Marina and Porta Laurentina.
Ostia reached its peak between the 1st and 2nd century AD. That's when it had a population of 60,000 people – back then, Rome had a population of one million! The city was eventually slowly abandoned with the fall of Rome, and between the 9th and 10th century the population finally moved East to a town known as Gregoriopoli.
The city was preserved by the mud that, coming from the river, slowly buried it – and that's how it made it to today.
Main sights in Ostia Antica
Like many Roman cities, Ostia Antica had a grid layout. The main street was the "Decumanus maximum" – walking along it, you will find ruins to your left and to your right. Here are some ruins that are worth noting.
Ostia Antica theater
Probably the most impressive building in Ostia Antica, it's one of the oldest brick theaters in the world, and you can actually access it from the front and from the back too – so you can see the main stage as well as the spectators seats. It's interesting to note that the theater is still used for concerts today.
The Forum
Located in front of the theater, this was the commercial heart of the city, with more than 60 offices representing the various guilds, shops, warehouses. On its sidewalk, you will also be able to spot some gorgeous mosaics that typically represent what the shop sold or offered.
The Thermopilum
Located on one of the side streets from the decumanus, this was an ancient café or restaurant – a place where people would not only eat but also socialize.
The baths of Neptune
This massive complex was actually funded and subsidized by the government. It was not only a place to keep personal hygiene, but very much a place to socialize. Marble steps led to the pools, where people washed using olive oil rather than soap. There is a viewpoint overlooking the baths of Neptune where you can spot a mosaic of Neptune riding four horses through the waves.
Domus
Farther down in the area of Via della Foce, by the Porta Marina, you will find a beautiful example of a Roman Domus – the house of a rich family.
House of Diana
A fantastic example of an insulae – a multi-storied complex that provided housing to families of the middle class. It's close to the Thermopolium.
The medieval Ostia Antica Hamlet
As you exit the site, you will find yourself right in front of the Castello di Giulio II – Ostia castle. It's quite an impressive site, that marks the main landmark in the tiny Ostia Antica Hamlet. It was built in 1483 by the cardinal Giuliano della Rovere (future Pope Julius II) and it is a great example of Renaissance military architecture, with cannon-proof rooms, three towers and a higher one meant to protect the main gate, and a wide ditch.
The Castle and the Hamlet were abandoned after the siege of the Duke of Alba of 1556. In 1557 a flood finally deviated the course of the Tiber River and malarious swamps increased in the area, making it unsafe to live there. In subsequent centuries, the castle was used as a prison: prisoners kept there were used for forced labor, including the excavations of Ostia Antica.
There is also a church and other low-rise buildings in the hamlet – it is honestly very small and will take you no more than 15 minutes to visit (unless you go inside the castle); but it's a nice place to conclude your day trip to Ostia Antica from Rome.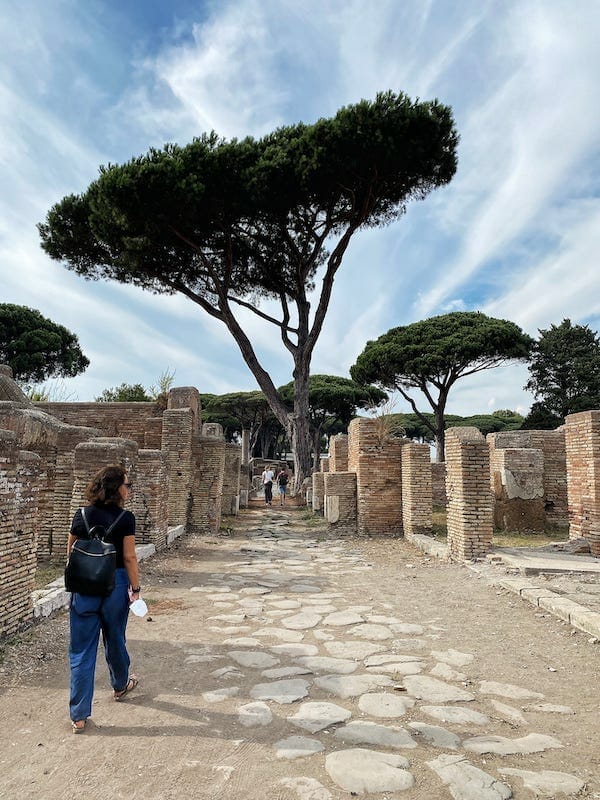 Practical Information To Visit Ostia Antica, Rome
Now that you know what's so special about Ostia Antica, let's see what you need to know to plan your day trip to Ostia Antica from Rome.
Do you need a guide to visit Ostia Antica?
Some travelers will tell you that you can definitely visit Ostia Antica independently and you don't need a guide. I honestly disagree with that. My sister and I have visited recently and we truly regretted not having a guide, as it would have made our experience a million times better.
The site is massive – there is a lot to see, and while you won't get lost, it's definitely better to have someone to take you around to all the main points of interest so that you don't have to constantly look at the map.
Furthermore, such an important site in Roman history deserves a more in-depth visit than what you'll get by simply reading the signs placed by the main landmarks. Also, keep in mind that audioguides are currently not available at the ticket office, and there are no guides ready to take you around the site – so you will really have to arrange one in advance.
You can book your guided tour of Ostia Antica with an archeologist here. If you'd rather have a smaller group, you may want to check this other tour here.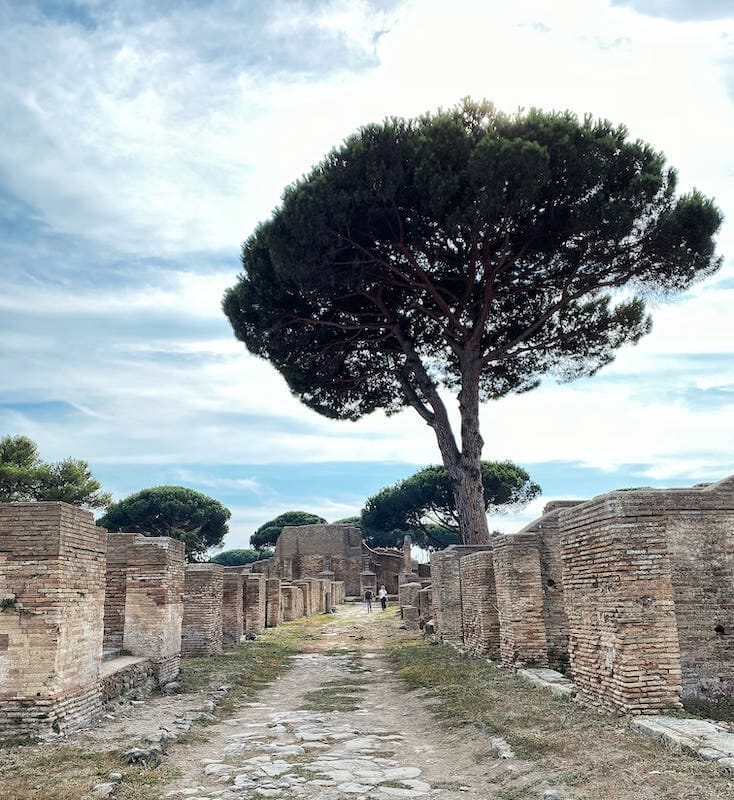 The best tours of Ostia Antica
As I have hinted before, you will get much more out of your visit if you hire a guide or join a guided tour. There are all sorts of tours that you can book online. Some start directly at the site – which is super easy to reach from Rome (more about that in a bit); others include transportation from Rome (usually by train anyways). Here is a selection of the best tours you can book online:
ANCIENT OSTIA GUIDED WALKING TOUR – This tour departs directly from the site and is for a maximum of 10 participants. The guide is a local archeologist with in depth knowledge of the site. Ostia Antica tickets are included in the price. You can book it here.
OSTIA ANTICA HALF DAY TOUR FROM ROME BY TRAIN – This is the most hassle-free tour on sale The meeting point is in Rome Piramide, from where a guide will safely lead you to the train and then around the site. It's a small group tour of no more than 12 participants and it includes roundtrip train tickets and the admission fee. You can book it here.
GUIDED TOUR OF ANCIENT OSTIA WITH A LOCAL ARCHEOLOGIST – The most expensive option, while transportation is not included, tickets are and this is a semi-private tour – so a great option if you want to be in an even smaller group. You can book it here.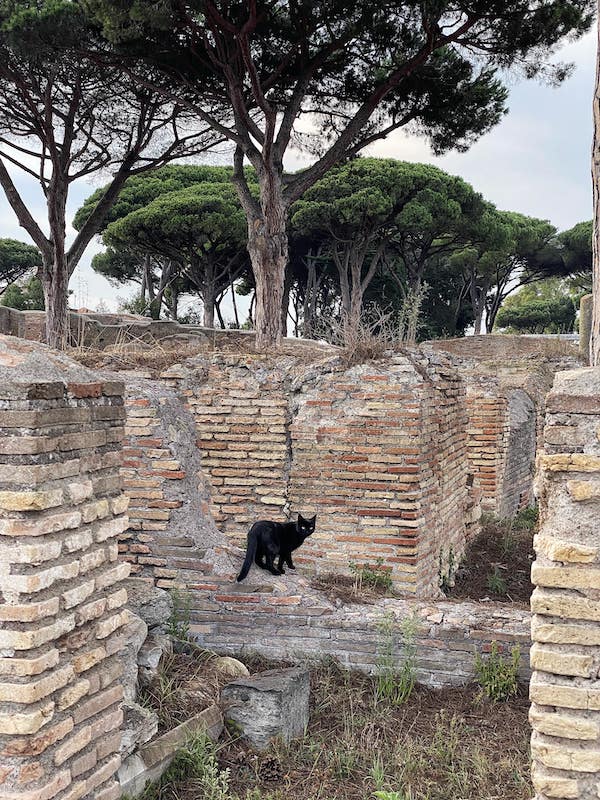 How to get to Ostia Antica from Rome
Getting to Ostia Antica from Rome is very easy, and you have several options.
Take the train to Ostia Antica from Rome
The easiest way to get to Ostia Antica from Rome is by commuter train. Regular trains depart from Roma Ostiense station and will take you to the site in about 30 minutes.
To get to Roma Ostiense you'll have to take Metro line B (from Termini or Colosseo) and get off at Piramide. From there, it's a 5 minutes walk to get to Roma Ostiense train station.
Since the train is actually part of Rome's public transport network, you can use the same ticket you'd use on any metro or bus in Rome – and it costs just €1.50 (kids under 10 years of age go free). If you have a Roma Pass, this should normally include public transport too.
The train will leave you at Ostia Antica train station, from where you need to climb up a flight of stairs and cross a bridge to get to the archeological site. The bridge is not accessible to those with mobility issues or on wheelchair – if that's your case, you will have to follow the longer route that goes to the hamlet and from there access the site via the main gate.
By car
With such an efficient public transportation system, you should not really bother driving all the way to Ostia Antica – it means having to battle the terrible traffic in Rome! If that's what you want to do, anyways, you'll have to follow SP 8 to get all the way there. It will take you approximately 45 minutes. Parking is available on site.
Ostia Antica tickets
Ostia Antica tickets are priced as follows:
ADULTS: € 18 
REDUCED: € 2 (EU citizens between 18 and 25)
Free Ostia Antica tickets are available, among others, for the following categories:
Anybody younger than 18
Disabled visitors and their carer
EU licensed guides, as long as they are leading a group
EU interpreters, as long as they are accompanying a guide and a group, and provided they have a valid license.
Ostia Antica tickets can be purchased directly at the ticket counter, or in advance on the official site, here. Keep in mind that the official site doesn't allow modifications to your ticket reservations, or cancellations.
Audio-guides are no longer available. At the time of writing, the Museo Ostiense – which is a great addition to a visit to the site – is temporarily closed.
Opening hours
Ostia Antica Archeological Site is open for visits Tuesday to Sunday, and observes the following opening hours:
October 25th to February 28th or 29th from 8:30 am to 4:30 pm; last admission at 3:30 pm;
March 1st to March 31st from 8:30 am to 5:15 pm; last admission at 4:15 pm;
April 1st to September 30th from 8:30 am to 7:00 pm; last admission at 6:00 pm;
October 1st to October 24th from 8:30 am to 6:30 pm; last admission at 5:30 pm.
The ticket counter closes one hour before the site.
The site is closed on Monday, January 1st, May 1st and December 25th.
Facilities
Toilets are located by the ticket counter. That's where you will also find automatic distributors of water, drinks and other snacks.
Other useful information
Most of the site is accessible to people with limited mobility or on wheelchair; there are also services for the visually and hearing impaired.
What to wear and what to pack to visit Ostia Antica
Make sure to wear comfortable clothes and good walking shoes when visiting Ostia Antica. Walking sandals are ok, but flip flops won't do as there is quite a bit of walking to do and the site is not paved.
Other than that, these are a few useful items you may want to bring:
Water bottle – there is a bottled water distributor by the ticket counter, as well as a fountain. Water in Rome is safe to drink so you may want to just refill and avoid using plastic.
Mosquito repellent – if you are visiting Rome in August or in the summer months, there may be quite a few mosquitoes around.
Sunhat and sunglasses – again, if you are visiting in the summer these are a must!
Further Readings
Planning a trip to Rome? Make sure to read these other posts:
Pin It For Later!