Finding accommodation in Florence can be tricky. Deciding exactly where to stay in Florence depends on a lot of factors — not just your budget. If you've been to Florence before, for example, perhaps you won't want to stay in the center of the city. Or, for those who only have a couple of days to spend, then you might want to consider staying close to public transport. Then again, those looking for a more local slice of life should look at areas to the south of the River Arno.
Before I help you decide on the best area to stay in Florence, with information on the best hotels in Florence for all budgets, let me briefly explain about Florence tourist tax – as this may catch you by surprise once you actually pay for your room.
Make sure to also read my post 13 Best Tips For Visiting Florence.
What Is The Florence Tourist Tax And Must Everyone Pay It?
To make a long story short, yes. But let me elaborate.
Regardless on your decision on where to stay in Florence, there's always going to be one thing to take into consideration: the tourist tax (tassa di soggiorno in Italian). Applicable to all non-residents of the city (including Italian tourists), visitors to the city have to pay an additional fee per night on top of the accommodation price. This is a city tax that can be used for any services related to tourism (ie keeping the city clean, public transport, etc.).
The tourist tax only applies for up to seven consecutive nights, after which it doesn't need to be paid; and children under 12 are also exempt. But don't worry, the hotel you're staying at will inform you of the cost. How much you pay depends on the star rating of the hotel you've chosen, and some hotels will actually factor it in the final price of the room, whereas others will ask for a separate payment. All in all, it's a small price to pay to spend a dream vacation exploring this capital of culture.
Now, let's finally discover the best places to stay in Florence.
Where To Stay In Florence
Duomo – Where to stay in Florence for first timers
Sandwiched between Florence's cathedral and Piazza della Signoria, the Duomo area is a warren of old lanes to explore in the very center of the city. This is where you'll find a rich array of historic and cultural sites to soak up during your trip — after all, the neighborhood is recognized as a UNESCO World Heritage Site. It makes for the ideal place to stay in Florence for first-time visitors.
The Duomo area is also a good option if you only have a short time in the city. Being situated here means you won't have to spend precious minutes or hours of vacation traveling to reach the top attractions. Accommodation here reflects the history of the area, with many luxury options taking up space inside centuries-old buildings; there's also a clutch of more affordable offerings, too.
The downside of this part of town is that you'll constantly be surrounded by the hubbub of tourists (especially in high season). But they're here to see what will be on your doorstep, namely Piazza della Repubblica, with its storied cafes, the elegant palazzi along Via de' Tornabuoni, and the Duomo itself.
You should also read my posts How Many Days In Florence Are Enough? and The Perfect 3 Days In Florence Itinerary.
Let's now look into some of the best hotels in Florence that are right in the Duomo area.
Luxury – Rocco Forte Hotel Savoy
Tucked away between the Uffizi Gallery and Florence Cathedral, this high-end hotel stylishly combines classically Italian design with contemporary elegance. The five-star property features a collection of lavish suites and rooms, all adorned with chandeliers and antique furniture. Here you'll have everything you need for a luxurious stay in Florence.
Mid-range – Hotel Croce Di Malta
This is where we stayed last time we visited Florence. Just a stone's throw from the Duomo and close to Santa Maria Novella Church, this hotel is situated inside a historic building and offers up an affordable way to experience a touch of Florentine chic.
The spacious rooms here feature wooden floors, timeworn wood beams and tastefully decorated interiors. There's a list of amenities to make full use of, including a swimming pool, a bar and a rooftop terrace with amazing city views.
Budget – Hotel Dali
Hotel Dali may not be as opulent as other properties in the center of town, but this one-star hotel provides a clean and comfortable place to stay in Florence. Guest rooms at the hotel are spacious and well kept, while the team of staff who run it are always friendly and on hand to take care of your queries. Location-wise, you can't get much better, it being just steps from the cathedral.
Santa Croce – Where to stay in Florence for night owls
Arguably the coolest, most happening district in Florence, Santa Croce is to many the best area to stay in Florence. It is known for its plethora of wining and dining options, with nightlife spots around every corner (it seems). It's a buzzing neighborhood that's crammed full of cafes, bars, and intriguing restaurants, all making it perfect for people who like staying up late, or eating — or both.
Some say Santa Croce's fame began when award-winning chef, Fabio Picchi, opened up his high-end restaurant here in the 1970s. The rest is history. Since then, there's been a never-ending list of cool, inventive gastronomic enterprises popping up in this neighborhood — particularly in the form of craft coffee and cocktail bars — which is still just a stone's throw from Florence's main sights.
The district takes its name from the Basilica of Santa Croce, an exquisite church that dates back to 1294; it's the final resting place for a long list of greats, including Michelangelo, Galileo and Machiavelli.
Beware: Santa Croce is for night owls only. If you're not going to be out with everybody until the wee hours, then you may find the noise from the bars and restaurants a little too much.
Below are some of the best hotels in Florence that are right in Santa Croce.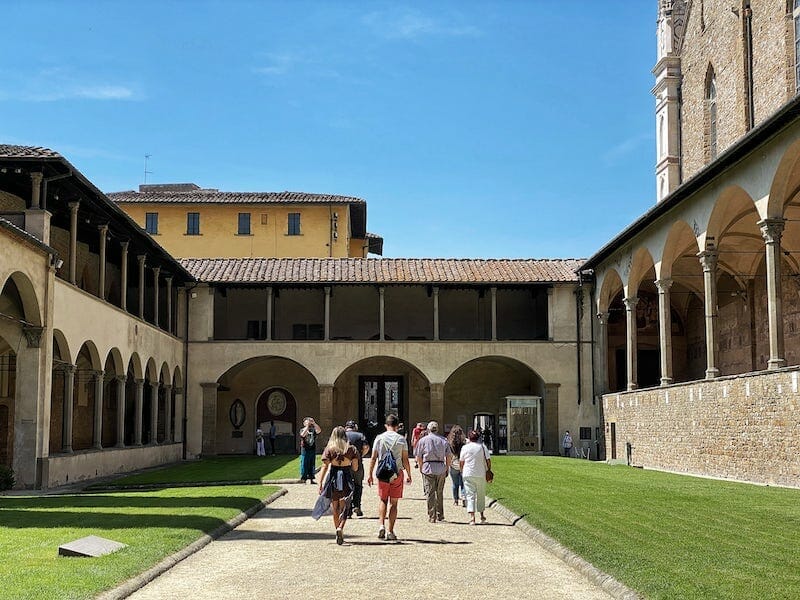 Luxury – Relais Santa Croce, By Baglioni Hotels
If it's high end elegance that you're looking for, then this will be one of the best hotels in Florence for you. Taking up space inside a polished 18th-century palace, the entire place is sumptuously decorated with frescoed ceilings, priceless art and elegant lounges strewn with antique furniture. The five-star property features a range of rooms, from deluxe doubles to a royal suite (for those who really want to push the boat out on their trip).
Mid-range – Palazzo Roselli Cecconi
Palazzo Roselli Cecconi may be a mid-range property but it certainly serves some old-meets-new luxury in the city. Rooms here are pared back affairs, featuring parquet floors, mid-century modern furniture and sparkling, glossy magazine-worthy bathrooms. Throughout you'll be able to spot a number of beautiful design features, as well as magnificent views of Florence.
Budget – Eurostars Florence Boutique
Though the very center of Florence isn't cheap, this is one of the best accommodation in Florence for budget travelers. The guest rooms are decorated in a minimalist style, and are simple but still come with everything you need. It might not be a 5-star opulence, but it's clean, modern, and they offer a hearty breakfast, a fitness center and an onsite bar for guests to use.
Santa Maria Novella (Station area) – Where to stay in Florence on a budget
The area surrounding Florence's central train station, Santa Maria Novella, is where a large number of travelers first glimpse the city. With 19 platforms, the station is one of the busiest in Italy, and features local as well as high-speed options to major and minor towns and cities across the country. It's also a hub for bus and tram travel around Florence itself.
Opposite the station is the church it's named after, the Basilica of Santa Maria Novella, a soaring 1420s building in typical black-and-white Florentine fashion. There's also the city's modern art museum, while the Officina Profumo-Farmaceutica di Santa Maria Novella — founded in the 13th century by Dominican friars — is often cited as the world's oldest pharmacy and is one of the best hidden gems in Florence.
Below are my choices of accommodation in Florence right by Santa Maria Novella.
Luxury – Hotel Bellavista
Conveniently located just a two-minute walk from Florence's central train station, Hotel Bellavista is the perfect place to arrive in the city if you're traveling by rail. Here, you can relax in style, thanks to modern rooms that feature balconies with views out across the city.
There's also the option to have a room with a private sauna included! It may not be packed with amenities, but the staff are welcoming and the location can't be beat.
Mid-range – Hotel Alinari
This former 18th-century residence is situated opposite Santa Maria Novella train station. It's not overly lavish, and it's not particularly design-focused, but what it does offer is convenience and comfort in a great location.
Rooms are simple, with clean linens and white-washed walls as well as modern, en-suite bathrooms; some larger options come with private terraces and seating areas. There's also a hearty breakfast on offer each morning to start your day of exploring the right way.
Budget – Hotel Jolì
This may be a budget hotel, but don't overlook this place. Hotel Joli is set inside a 19th-century building and run by a friendly local family who'll take care of your every need during your stay in Florence.
The rooms here have been decorated boutique style, with a selection of different styles including floral wallpaper and parquet floors. There's a small dining room at the hotel where you can tuck into a homemade breakfast — or enjoy a glass of wine in the evening.
Sant'Ambrogio – Where to stay in Florence for a more local experience
Just east of the main tourist center of the lies one of the oldest, best area to stay in Florence: Sant'Ambrogio. Today home to a large student population, this portion of the city was once the location of Florence's Jewish Ghetto. Established in 1571 by the Medici family, the Ghetto existed for 264 years.
There's still a strong connection to the city's Jewish community here, particularly in the form of the Great Synagogue of Florence, built here in the late 19th century. There's also several Jewish eateries scattered around the old streets of Sant'Ambrogio, showcasing a continuing presence of Jewish culture in the area.
It's also home to the area's namesake Church of Sant'Ambrogio. Allegedly dating back to 393, the first record of this ancient site was in 998. Another site in this district is the two-storey central hub of commerce, Mercato di Sant'Ambrogio, which has been supplying Florentines with fresh fruit and vegetables since 1873.
Stay in Sant'Ambrogio if you want a balance between "classic" sightseeing and discovering more off-the-beaten-track sights whilst you wander the area. It's also home to a good selection of budget accommodation.
Here are some of the best places to stay in Florence located right in Sant'Ambrogio.
Luxury – Ginevra Apartment by Firenze Prestige
For those looking for a plush apartment in Sant'Ambrogio, look no further than this property. With enough room to sleep up to four people, the entire space has been curated with style and sophistication in mind — think timeworn tiled floors, mid-century modern furniture, and wood beamed ceilings. Location-wise, it's just a 10-minute walk from here to Uffizi Gallery and the Duomo alike, meaning you'll have all of Florence on your doorstep.
Mid-range – Boutique Hotel La Casa di Morfeo
Located on the historic Via Ghibellina, this boutique offering is ideally situated just a 15-minute walk to the Ponte Vecchio and Piazza della Signoria. Newly renovated, this swish, intimate property features guest rooms filled with contemporary furnishings and historic details (think frescoed ceilings); some rooms have their own private balconies. Staff are friendly and accommodating and serve up a delicious breakfast each morning.
Budget – Gregory House
Budget travelers to Florence should take note of Gregory House, for its mix of top location and affordability. Here you can opt for everything from your own double room to a whole apartment, complete with a terrace and kitchen. But no matter what room you choose, you can expect it to be clean and modern. It does lack in some things — no reception staff, for one thing — but the point of contact for the building is always on hand to answer any of your queries.
San Marco – Where to stay in Florence for a quieter yet central stay
San Marco is known for its academic credentials, being home to Florence's venerable university (founded in 1321). Relatively quiet despite its fairly central location — not to mention its big-hitter tourist attractions — this university area has been shaped by the students and thinkers that have studied here over the centuries.
The nearby neighborhood of San Lorenzo offers a similar atmosphere, but with more in the way of down-to-earth eateries and old-world trattorias (San Marco is a little lacking in the food and drink department).
Mostly, however, visitors make their way to this portion of Florence to see the world-famous masterpiece that is David — the iconic statue by Michelangelo situated at the Galleria dell'Accademia. There are also several interesting sights scattered among the streets of San Marco, often with fewer crowds traversing them, including the Ospedale degli Innocenti.
This is also the best area to stay in Florence for boutique accommodation. Here are a few options you may want to consider.
Luxury – Hotel Firenze Number Nine
Decidedly posh, Hotel Firenze Number Nine is a top option for guests who like to indulge in spa treatments and keep up with their workouts. That's thanks to the hotel's wellness center and gym, where guests can enjoy fitness classes or unwind with a relaxing massage; there's even an outdoor pool in the summer months. Rooms are large and combine period features with modern design touches — ideal for chilling out in style.
Mid-range – Hotel Art Atelier
This 4-star boutique property packs a punch in terms of character. Centrally located, but tucked away down a sleepy pedestrianized street, Hotel Art Atelier is a great option for those who want a quiet place to stay, yet with the sights of Florence within easy reach. The staff here offer up top-notch customer service and are endlessly friendly, while amenities include an onsite bar, room service and breakfast included in the price.
Budget – Hotel Palazzo Benci
Prepare to be wowed. Hotel Palazzo Benci may be a relatively budget option, but it certainly doesn't seem like it. It's easily one of the best hotels in Florence. From the moment you step into this former 15th-century palace, you'll be able to spot the signs of its illustrious history. Rooms themselves are traditional yet clean and comfortable, but as for shared spaces there's a sun-dappled terrace dotted with colorful flowers to unwind on.
Santo Spirito – Where to stay in Florence for a quaint vibe
Located on the south bank of the River Arno, Santo Spirito lies to the east of boho San Frediano. Almost like a continuation of Oltrarno, this district is another place where Florentines gather away from tourist hubs and let their hair down.
The neighborhood is centered around Piazza Santo Spirito — sometimes described as one of the city's most authentic piazze — which is where you'll find the beautiful Basilica di Santo Spirito, designed by Brunelleschi and opening its doors in 1487. From this sight to the general atmosphere of Santo Spirito, it all feels like discovering a hidden gem.
It's also here that several events take place throughout the year, almost all of them centered on the central piazza itself. Think street markets, live music and festivals in the spring and summer months. There are also several restaurants and bars, all adding to the atmosphere of the district — and attracting creatives, artisans and curious travelers alike.
Below is a selection of excellent places to stay in Florence Santo Spirito neighborhood.
Luxury – Palazzo Bianca Cappello Residenza d'Epoca
For some full-on luxury, where gleaming modern design meets opulent period interior features, look no further than Palazzo Bianca Cappello Residenza d'Epoca. Guest rooms feature fireplaces, giant windows, terracotta tiles, and designer textiles, making the place feel unique with a character all of its own. The heritage credentials continue to the shared spaces, including a hotel restaurant. Location-wise, it's a stone's throw from the storied Ponte Vecchio.
Mid-range – SPIRIT OF FLORENCE Boutique Rooms
Travelers who like a touch of boutique style in their vacations should take note of this accommodation in Florence. Rooms here are spacious and packed with design details; they also have seating areas, making them feel like your own little slice of home in the city. The style credentials continue throughout, making this a hotel worthy of Instagram.
Budget – Borgo San Jacopo Room
This very contemporary guesthouse makes for something different when compared to many of the lavish, traditional accommodation in Florence. Think neutral color palettes, minimalism, and sleek wooden designer furniture in the guest rooms — and throughout the hotel. It's well suited to a digital nomad or flashpacker who wants to see an alternative side to the city.
Oltrarno – Where to stay in Florence for experienced travelers
Translating to "other side of the Arno (river)", Oltrarno is obviously situated on the opposite bank of the city's waterway to its central historic hub. While Duomo is packed full of tourists a lot of the time, Oltrarno is where locals enjoy their own city away from the crowds.
Here, among chic boutiques, artisanal bakeries, and craft cafes, you'll find a more authentic, living-and-breathing side to Florence. Oltrarno is home to pretty piazze, farmers' markets, and open-air concerts in the summer months. It's the kind of place that you can explore on foot and stumble across trendy eateries and nearby hipster hangouts, making it a great option for independent travelers who want to discover a stylish side to already fashionable Florence.
Getting from Oltrarno to the sights of Duomo is also a joy: It means crossing the iconic Ponte Vecchio, the 13th-century bridge choc-a-block with towering shops and stores. And if you're looking for accommodation in this corner of the city, you won't be disappointed. Expect design-led boutique hotels, quirky guesthouses and Instagram-worthy apartments. This is easily the best area to stay in Florence.
Below is a selection of the best places to stay in Florence located in Oltrarno.
Luxury – Oltrarno 1881 Apartments
As the name suggests, this hotel makes full use of its heritage credentials and combines period features with modern design for a stylish place to stay in Oltrarno. There's a selection of apartments on offer here according to your travel needs, each with a helping of amenities and design features that make for a comfortable, stylish stay.
Some apartments have a bonus of having their own steam baths, while others have private outdoor terraces to make full use of. Either way, it feels worlds away from the bustling tourist center of Florence.
Mid-range – Oltrarno Splendid
Yet another Florence hotel set inside a historic building, Oltrarno Splendid has fully leant into the character of the old structure in which it is housed. Here you can expect colorful frescoed walls, chandeliers, and roll-top bathtubs. The staff at this hotel are endlessly helpful and will make sure all of your needs are met, ensuring your stay is not just as smooth as possible, but also one to remember.
Budget – Oltrarno Suite
If you want to live like a local (sort of) while you're in Florence, then this two-bedroom apartment is where to stay in Florence. Decorated with white-washed walls and calm, light wooden furnishings, the compact apartment also comes equipped with its own kitchen, seating area and private terrace. The location is great, too, allowing you to walk to many of the top sights in the city comfortably.
Boboli – Where to stay in Florence for green spaces
If you're somebody who likes space to breathe as soon as you step out of your hotel, then Boboli will be the best area to stay in Florence for you. Though populated with beautiful buildings, the concentration of museums and tourist sites is less here, meaning you won't have to wade through visitors for your morning coffee.
Located to the east of Oltrarno, Boboli is named after Boboli Gardens — the so-called "green lung" of Florence — which is practically an open-air museum replete with sculptures, pathways, and water features among neatly clipped gardens. Now a public park, these gardens developed over 400 years and reflect changing tastes and fortunes of the city.
However, the biggest heavyweight cultural site in Boboli is Palazzo Pitti. Home to several museums, this sprawling palace is stuffed full of artifacts. Adjoining Boboli, you'll find San Miniato al Monte, one of the highest hills in Florence offering up some great views of the city down below.
Below is a nice selection of accommodation options in Boboli.
Luxury – Art Hotel Villa Agape
People who like room to breathe should consider booking a stay at the sprawling Art Hotel Villa Agape. Located close to the storied Arcetri Observatory, the hotel is surrounded by its very own eight-acre park, planted with olive and cypress trees. Here is the place to live out your dream of being a Florentine aristocrat of the Renaissance era. The guest rooms, of course, also look the part, with sumptuous original features mingling with modern comforts and those ever-present garden views.
Mid-range – Palazzo San Niccolò
This aparthotel is rustic yet one of the most polished places to stay in Florence's Boboli area. Set inside a beautifully maintained heritage building, each of the guest rooms on offer here is a masterclass in upscale design; they feature polished concrete walls, vintage furniture and large, shuttered windows. It's all centered around a shaded courtyard where you can enjoy morning coffee and evening wine alike.
Budget – Sitornino Apartment
This is where to stay in Florence for couples traveling on a budgets, but also for solo travelers. The apartment is a little slice of boho chic set apart from the busy touristed areas of the city. Packed full of character, there's space to work here thanks to the desk area, a well-equipped kitchen, and even amenities to accommodate a baby or small child. Perfect — and easy on the wallet, too.
San Frediano – An up and coming area of Florence
Situated west of Santo Spirito — just south of the River Arno — this bohemian neighborhood is where to stay in Florence for travelers who want to see an alternative, contemporary side to the city. Once a working-class district, San Frediano is a happening 'hood where you'll find the coolest bars and eateries in the city.
This area of Florence came into being during the mid-19th-century, and had a long history of the sale of meat. As you might expect, it wasn't always the most savory neighborhood, but has undergone gentrification in recent years, putting it on the radar of the likes of Vogue magazine.
It's also not devoid of sights. There's the eponymous church of San Frediano in Cestello — a 1690s building erected on the site of an 11th-century church — and the Brancacci Chapel, with its 15th-century Renaissance frescoes.
But the eateries here are the main draw. These include Le Cite, a bookshop-cum-cafe that puts on live performances, and a new wave pizza restaurant in the form of Berbere, among many others. There's also some downright affordable accommodation in this area of town for budget travelers and those wanting to see a slice of fashionable Florentine life.
Below is a selection of nice places to stay in San Frediano.
Luxury – AdAstra Suites
The large and beautiful guest rooms at AdAstra Suites are bound to take your breath away. From the views overlooking the private garden to the intriguing art collection, as well as luxury additions of things like roll-top bathtubs and king-size beds, you'll be able to relax the moment you step through the door.
The hotel itself is endlessly interesting and allows you to enjoy its historical settings as much as its modern amenities. But strolling around its large gardens is definitely one of the best parts about staying here.
Mid-range – Horto Convento
This calming accommodation option is set within quiet grounds, allowing discerning travelers space to kick back and enjoy some tranquility, while also having Florence's main tourist attractions within an easy walk. Rooms here are serene and overlook the hotel's terrace and seasonal outdoor pool. There's also a fun cocktail bar and eatery onsite, so you won't even have to leave (if you don't want to).
Budget – Villa Alle Rampe
Villa Alle Rampe makes for a wonderful budget option for those looking to stay in the San Frediano neighborhood. This bed and breakfast is crammed full of character, from its down-to-earth rooms to the friendly team of staff who run it. Days here start with a cup of coffee and delicious breakfast — included in the price — after which you can simply catch the bus to the center of town for some Renaissance wanderings.
Fiesole – Where to stay in Florence for regular visitors
Located a few kilometers north of Florence itself and a fun, easy destination for day trips from Florence, the hillside town of Fiesole is an affluent part of the city's metropolis with incredible views to match. Here's the place to stay if you want to enjoy space — and plenty of it — as well as a slower pace of life. It's an interesting place to stay if you've been to Florence before and want to see a completely different side to the Tuscan capital.
Fiesole is also a family-friendly option, thanks to the numerous parks, outdoor spaces and open-air museums to be found here. In terms of history, it goes back thousands of years at Fiesole to around the 8th to 9th centuries BC; here you'll find the remnants of an Etruscan temple and a ruined Roman amphitheatre.
Around 20 minutes by bus from the center of Florence, you'll be able to see why the Romans settled around this hilltop setting; the views alone are enough to keep you mesmerized.
Finally, here's a selection of good places to stay in Fiesole.
Luxury – Pensione Bencistà
Vintage charm abounds at this heart-warming property. Here you can indulge in some classic Florentine design — from the patterned tiles in the bathroom to the carved wooden bedhead, everything feels authentic, matching the general atmosphere of Fiesole itself. Staying here means spending time in a 14th-century villa, starting your day with a tasty Tuscan breakfast, and feasting on views out over the hills of Florence.
Mid-range – Agriturismo Il Viaio
Space is the name of the game at this large accommodation option in Fiesole. Complete with an outdoor pool, garden and children's playground, you'll certainly have room to spread out throughout this property. Foodies take note: The property even produces its own olive oil, honey and vegetables onsite.
Budget – Hotel Villa Dei Bosconi
Set in the tree-studded countryside, just a five-minute drive from the center of Florence, Hotel Villa Dei Bosconi offers a chance to take a breath of fresh air. Here you can enjoy a good night's sleep in traditional rooms, take a stroll around the hotel's tranquil gardens, splash around in the outdoor pool and dine on local produce at the terrace restaurant (or have a drink at the bar).
Pin It For Later!