There are several ways to easily secure tickets to the Uffizi Gallery, and you will surely find one that fits your travel style and budget needs. But before we get into that, what exactly is the Uffizi Gallery?
If the word "gallery" makes you think "oh great, just another gallery like the many others", rest assured that the Uffizi Gallery is nothing like any other gallery you've ever been to!
This distinguished museum and art gallery is the most famous and most visited attraction in Florence and one of the top attractions in all of Italy. Inside the 16th-century building that houses the gallery are priceless artworks by world-renowned Italian artists including Raffaello, Correggio, Leonardo, Botticelli and Michelangelo.
Paintings, sculptures and statues, mostly from Renaissance times, are some of the items you'll see as you carefully make your way around the exhibits. There are even exhibits dedicated to some prominent European artists from outside Italy.
After you complete your visit of the Uffizi Gallery, you can head to the on-site café to relax with a hot cup of coffee, some snacks, or a light meal while you enjoy stunning views of Florence.
Are you curious to know how you can get Uffizi Gallery tickets? Read on to learn the different ways you can get your hands on them.
Don't forget to read my posts The Best Museums In Florence and The Best Things To Do In Florence.
How To Get Tickets To The Uffizi Gallery
Although you don't need to pre-book tickets for any of the museums in Florence (unless you plan to visit on a Saturday or on a public holiday), it's advised that you do so for the Uffizi Gallery.
The reason it's best to pre-book is that this is the most visited attraction in Florence, which means there will likely be long line-ups to get in. If you don't already have tickets when you try to visit, you'll spend time in line at the counter which will in turn hold you back from enjoying the city's other fabulous attractions!
The other reason to book in advance is due to the possibility of there being no Uffizi Gallery tickets left if you try to get them upon arrival. You surely don't want to miss out on seeing one of Florence's best attractions because you neglected to plan ahead!
Please take care to notice that for access on Saturdays and public holidays, you must make reservations at least one day in advance.
So, how can you secure a ticket? Below are some of the ways you can get tickets to the Uffizi Gallery.
Get your Uffizi Gallery tickets from the official website
The best way to get tickets to the Uffizi Gallery in advance is from the official website, here. It may seem a little excessive but it's generally recommended that you purchase your tickets to the Uffizi Gallery two or three months in advance, especially if you are visiting in the peak season and want to secure a specific time slot. That's just how popular this place is!
Low season (1 November to 28 February) Uffizi Gallery tickets bought via the official website cost €16 (that's €12 for the ticket, and €4 for the booking fee) for adults, and €6 (that's €2 for the ticket, and €4 for the booking fee) for EU citizens between 18 and 25 years of age. Disabled persons and their companion, and visitors under 18 years of age (proof of ID is required) can get in for free, but there is a €4 booking fee.
Peak season (1 March to 31 October) tickets to the Uffizi Gallery cost €24 for adults (that's €20 for the ticket plus €4 for the booking fee). The price remains the same for all other visitors.
Audio guides are available at the entrance for €6, but you must collect yours by 4:30 pm. You will find them in Italian, English, French, Spanish, German, Polish, Russian and Japanese.
With an advanced booking, you'll have priority admission perks. The only negative thing about doing this is you'll have to pay an additional booking fee of €4 on top of the regular admission, but it's a small price to pay if it means guaranteed access!
All you have to do is head to the official website, follow the booking instructions and confirm your booking. Once you pay, you will get an order confirmation via email with a transaction code, and then another email showing the kind of ticket you bought.
On the day of your visit, you simply present your ticket confirmation email at the Museum Ticket Office. You can either print this confirmation or store it on your smartphone. Upon presenting this confirmation, you'll be handed your ticket which you will then present at the entry point.
A single ticket to the Uffizi Gallery also gains you free entry into the National Archaeological Museum and the Museum of the Opificio delle Pietre Dure.
If you wish to have an all-inclusive ticket that includes multiple days of access to multiple museums and galleries in Florence, you can get the Passepartout ticket. It can be purchased from the official website and it is a great option that will give you access to the Uffizi Gallery, Pitti Palace and the Boboli Gardens for five days at a discount price! Passepartout tickets cost €38 during peak season, and €18 in low season.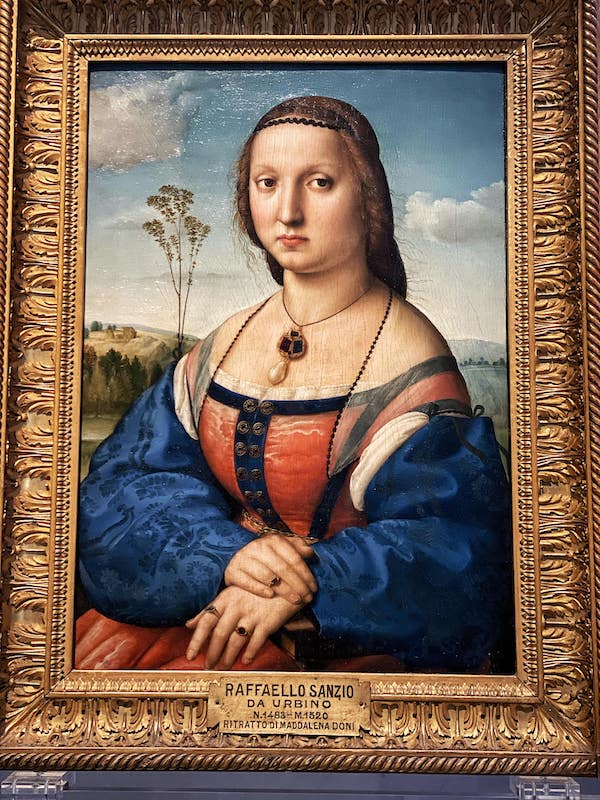 Purchase your tickets to the Uffizi Gallery on a third-party booking site
Third-party sites are another great way to purchase Uffizi Gallery tickets. On these websites, you can purchase tickets without any hassle. These tickets also allow you to skip the line when you arrive at the museum.
Just because it's a third-party site, it doesn't mean you'll have to deal with compromised customer service. In fact, it's quite the opposite. These sites offer a 24/7 customer support service in your language of choice, and fair refund and cancellation policies.
If you do have to purchase tickets at the last minute, booking through these sites also offers you the best chance at securing one for when you want to go.
Sites such as GetYour Guide, Viator and Tiqets sell individual tickets to Uffizi Gallery but they also sell tickets that include guided tours or entry into other area attractions.
You can get your Uffizi tickets on GetYourGuide here.
To get your Uffizi tickets on Tiqets click here.
Join a guided tour
Gaining entry into the Uffizi Gallery is the first step. Wandering around at your own pace admiring the beautiful artwork on display is great but wouldn't you want to know the history and stories behind these renowned creations?
The best way to get the most out of your visit to Uffizi Gallery is to take a guided tour, which needless to say comes with skip-the-line tickets to the Uffizi Gallery.
With one of these tours, you'll be guided through the gallery in an organized fashion so you don't miss anything and you'll get the full story behind each and every piece. Guides are also excellent at avoiding the crowds, so you'll never feel overwhelmed.
One way to do this is with a self-guided audio tour which you can purchase from third-party sites such as Viator and GetYourGuide.
If you're someone who prefers to explore at your own pace but wants to have the history to go along with what you're seeing, this type of tour allows you to spend as much time as you want admiring the exhibits while learning about the artworks on display.
You can book your self guided tour of the Uffizi Gallery here.
The other way to get a guided tour of the museum is to hire an actual guide or join a guided tour with a guide who will take you through the museum and explain everything as you go. This is what we did when we visited and we couldn't have made a better choice.
Our guide was incredibly knowledgeable, he kept our attention going with lots of stories and anedoctes about the art we were seeing, and he knew how to dodge the crowds.
There are several third-party sights offering guided tours including GetYourGuide and Take Walks. Some of them only go to the Uffizi Gallery, others are part of a longer tour of the city or of a visit to other museums too. These are the best options.
Uffizi Gallery Tour – you will find option for a variety of tours, some of which are a bit more in depth than others.
Skip-the-Line Uffizi Small Group Tour – a great option if you'd rather join a small group.
Semi-private Uffizi Gallery tour – an excellent tour if you prefer a small group. It lasts 1.5 hours after which you have time to explore the museum on your own.
Early Entry Skip the Line Uffizi Tour & Palazzo Vecchio – a great option to see both attractions which are close to each other.
Florence In A Day With David, Duomo, Uffizi & Walking Tour – this is actually the best tour if you only have a limited amount of time in Florence.
Uffizi & Accademia Small Group Walking Tour – perfect if you want to hit both museums on the same day.
Get the Firenzecard
There's one other option you can try to get access to the Uffizi Gallery and that's with the Firenzecard. This Florence tourist card is an official museum pass for many of the attractions in Florence including the Uffizi Gallery.
The cost of this card is €85 and it allows you one admission to each of the museums on the card over a 72-hour period. The 72 hours begin once you use the card for the first time.
This is a great option if you plan to visit many of the attractions in Florence because the more you visit, the more you save because the cost of individual entry into all of the city's top attractions will cost you much more than the €85 fee for the card!
This card can be purchased online at the official Firenzecard website or at various ticket kiosks around the city. If you book online, the card can be uploaded to your smartphone or you can print the voucher that is sent to your email.
You can get your Firenzecard here.
One thing it's important to point out is that once you get your Firenzecard you will actually have to make separate bookings and select the various time slots for all the attractions you want to visit via their website, so this may end up being quite cumbersome.
A great alternative to the Firenzecard is the Firenze Pass on sale on Tiqets. It's actually a bit more expensive – though it still allows you some savings.
The main bonus point here is that you can book the time slots for your visit to the single museums before your actual purchase, so you don't have go to site of each attraction for that. You also won't have the 72-hours time limit to visit the included attractions.
For a Florence Pass that has no time limit here.
Get combined tickets to the Uffizi Gallery and another attraction
If you don't want to get the Firenzecard, but want to visit more than just the Uffizi Gallery when in Florence, you can consider getting tickets to the Uffizi Gallery combined with tickets to another attraction. It will also allow you some savings, as combination tickets are usually sold at a discounted rate.
Available options include the Uffizi and Accademia pass; Uffizi, Palazzo Pitti, Boboli Gardens and Accademia Gallery Tickets; Uffizi Gallery and Boboli Gardens; Uffizi Gallery, Palazzo Pitti and Palatine Gallery; Uffizi Gallery and Bargello Museum; and Uffizi Gallery and Brunelleschi Dome.
Get your Uffizi and Accademia Gallery pass here.
To get your Uffizi, Palazzo Pitti, Boboli + Accademia Gallery Tickets click here.
To get your tickets to the Uffizi Gallery, Palazzo Pitti and Palatine Gallery, click here.
To get your Uffizi tickets and Boboli Garden tickets, click here.
To get your tickets for the Uffizi Gallery and Brunelleschi Dome, click here.
To get your Uffizi the Bargello Museum tickets, click here.
Make sure to also read my detailed guides on How To Get Galleria Dell'Accademia Tickets and How To Get Tickets To Pitti Palace.
Get your Uffizi Gallery tickets by phone
If you prefer, you can also get your tickets by phone. The number to call is +39055294883 and you'll find operators that speak Italian, English, and a variety of other widely used languages. The phone ticket office is open Monday to Friday from 8:30 am to 6:30 pm, and Saturdays from 8:30 am to 12:30 pm.
You will need to communicate your preferred day and time of visit to the operator, and will receive a booking code. On the day of your visit, you will have to go to the ticket office with your booking code and will have to pay to retrieve your tickets. The correct door is number 3, clearly marked "reservations."
Purchase your Uffizi Gallery tickets at the door
Buying tickets last-minute, on site, is possible. If you choose this method, be aware that with over 10,000 visitors on an average day, the line-ups to get into the Uffizi Gallery can be quite long. Some people report having to wait up to three hours only to be told the tickets are sold out.
You can purchase tickets at the Uffizi ticket office anytime leading up to your visit and earlier is always better! You can also purchase tickets in person at Pitti Palace, Orsanmichele Museum, Museo Nazionale del Bargello and the National Archaeological Museum.
Other Useful Information
Uffizi Gallery tickets price
Low-season tickets (1 November to 28 February) to the Uffizi Gallery cost €12 when bought at the door, and €16 when bought online (that's €12 for the ticket, and €4 for the booking fee). Peak season tickets (1 March to 31 October) cost €20 at the door, or €24 online.
Reduced tickets are available for citizens of the EU between 18 and 25 years of age and cost €2, or €6 online, regardless of the season.
Children under the age of 18 can enter for free and persons with disabilities may also be able to enter for free or at a reduced price. The €4 booking fee applies also to visitors who are eligible for a free visit.
Audioguides cost €6.
Modifications to the reservation and refunds
Uffizi tickets bought on the official website can't be modified or cancelled once the payment has been made, and you won't be given a refund. For more flexible cancellation or modification policies, you may want to get your tickets on third party booking sites, which usually allow modifications or cancellations up to 24 hours before your visit.
Free visits
Free visits are available to anyone who is under 18 years old, but proof of ID is required. Children under 12 years of age must be accompanied by an adult. Free visits are also available to disabled persons and a companion. The €4 online booking fee applies also to free visits.
Uffizi Gallery opening hours
The gallery is open from Tuesday to Sunday. The doors open each morning at 8:15 and close at 6:30 in the evening. The ticket office closes at 5:30 pm. The Uffizi Gallery is closed on Mondays and on December 25th.
Best time to visit to avoid the crowds
The Uffizi Gallery is quite crowded year round, but to avoid the largest groups you should avoid visiting during the weekend and at peak hours in the middle of the day. We got in at 4:00 pm with a guided tour and by 5:00 pm most of the large groups had left.
At the end of the tour, we went to have a drink at the terrace overlooking the Palazzo della Signoria, and when we got back inside the gallery it was blissfully empty and incredibly pleasant!
Book in advance
The Uffizi Gallery is the most popular museum in Florence. While there is no formal requirement to make advanced bookings, Uffizi tickets get sold out on a regular basis. If you have a specific time in mind for your visit, you really need to book well in advance.
The good news is that the official website allows you to book months in advance too!
What to do if Uffizi Gallery tickets are sold out
Needless to say, the first tickets to the Uffizi Gallery that get sold out are those on sale on the official website. If you can't find a ticket there, you should try a third party booking site such as GetYourGuide or Tiqets.
Third party booking sites usually buy tickets in advance and in bulk, and since they also allow cancellations you may even find tickets at the last minute.
Another thing to keep in mind is that chances are there'll be more availability for guided tours, so if you are keen on going you could consider that option rather than the plain tickets.
If tickets are sold out on the official site, firstly, take a look at this site to see if there's anything on sale for the day / time slot you wish to visit. If there's nothing there, look at this one.
Security checks when visiting the Uffizi Gallery
Upon entering the Uffizi Gallery, you'll have to go through a quick security check – it's like airport security, so you'll have to put your bag in the metal detector. Make sure to leave any prohibited items such as knives, umbrellas and other metal objects in your room to make sure the process is quick and smooth.
There is a cloak room available for free to all visitors where you can leave bulky items located immediately after the entrances under the Eastern colonnade of the courtyard.
Is photography allowed?
Yes! You can definitely take photos inside the Uffizi Gallery, as long as it is without flash. Tripods can't be used either. Both the art pieces on display and the actual building are stunning and if you manage to linger on towards the end of the day, when most visitors are gone, you'll get some excellent photos.
Toilets and other facilities
You will find toilets in the basement, by the cloakroom, an on the mezzanine floor near the cafeteria. All toilets are accessible. There also are toilets on the second floor that are only accessible to disabled visitors.
Visitors with babies will find a dedicated room for breastfeeding, and changing tables in the main toilets near the entrance.
There's a cafeteria right by the terrace where you can get drinks and food. The book shop, close to the main entrance, sells all sorts of souvenirs. There even is a post office on the ground floor.
Accessibility
The Uffizi Gallery is fully accessible to visitors with limited mobility and on wheelchairs. There are accessible elevators to take you from one floor to the other. There is an access ramp in Via della Ninna, and an accessible entrance at the Vasari Auditorium under the Western colonnade of the courtyard. You will also find staff at entrance available to help.
Further Readings
If you are traveling to Florence, these other posts will be useful:
Pin It For Later!