Agua Azul, Chiapas, is easily one of the most beautiful places you can hope to visit in the country. As the name Cascadas de Agua Azul – or Blue Water Waterfalls – recalls, this is a place of incredible natural beauty; a series of small waterfalls with swimming holes that make it quite the perfect spot for a relaxing day.
A popular weekend day-trip destination for locals, Agua Azul is becoming increasingly known to foreign tourists as well, who visit on day trips from the nearby Palenque or from San Cristobal de las Casas, or en route when traveling between the two cities.
Curious to know more about this incredible place? Continue reading!
What Is Agua Azul?
Spanish for "Blue Water," the name definitely says it all. This is a stunning series of bright blue waterfalls, providing a hidden oasis in the southern Mexican state of Chiapas. The waterfalls range from not high at all, to up to 20 feet (6 meters), and all of them are interconnected, with one pool leading into the next. If you have been to Guatemala, you'll find that it's quite similar to Semuc Champey.
Part of the Xanil River, Agua Azul waterfalls – true to their name – are almost glowing in their turquoise color. That's because of the high content of calcium carbonate (and other minerals). The surrounding rocks and fallen trees surrounding the falls have been coated in limestone, almost like a shell. It's all surrounded by lush, thick jungle, adding to the breathtaking natural beauty of it.
Needless to say, Agua Azul is popular with locals on the weekends and holidays. But if you visit on a weekday, you'll probably have the place to yourself.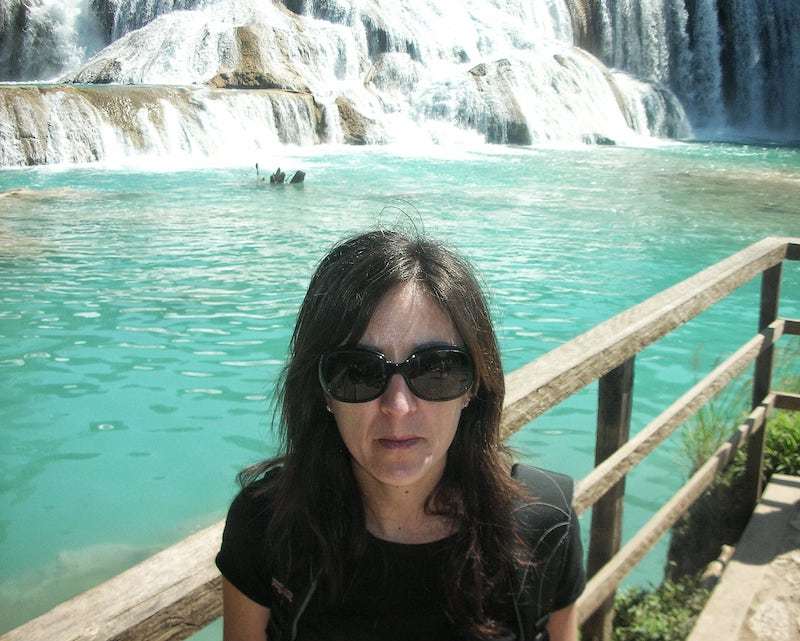 Why Should You Visit Agua Azul, Chiapas?
Well, it's beautiful. And it's a more off the beaten track destination that'll enable you to see a different part of Mexico. There are many ancient sites and natural hotspots throughout Mexico, but Agua Azul is particularly stunning. It's not just pretty either – you can even swim in it!
It's really nice to refresh yourself with a swim on a hot day. Plus, with viewing platforms dotted around, it's a perfect spot for taking beautiful pictures too. There are also narrow pathways where you can explore further, as well as places to buy souvenirs and food.
As a testament to the power of nature, in 2017 locals were alarmed to find that the falls were less strong than in previous years and had also turned brown. This was strange, particularly because they'd had heavy rainfall that year. After some investigation, it was discovered that it was due to an earthquake, which had struck in the area and caused a crack in the riverbed (and actually changed the river's course too).
Don't worry though – there has been an effort to correct the flow back to its original course – thanks to the power of sandbags. Today it's as good, and as blue, as ever.
When Should You Visit Agua Azul Waterfalls?
Visiting the cascades at Agua Azul, Chiapas is definitely a must for your Mexico itinerary, but there are definitely better times of year to visit than others.
It's best to go in the dry season (November through May). This means that the glorious blue colors will be gleaming, the water will be clear, and the weather will be fine and dry to enjoy a swim. However, in the rainy season the flow of the water is more powerful, but at the expense of the vivid blue color.
Although Agua Azul waterfalls is a great place to visit any time of year, it's different depending on the season, so it's all about considering what you want to do and what sort of Agua Azul you want to see.
Personally, I recommend visiting in the dry season and preferably during a sunny day – I have been there 3 times, of which once on a rainy day, and while the waterfalls were powerful, it was nowhere near as fun as the entire area was even muddier than usual, and it was impossible to swim.
Practical Information For Visiting Agua Azul, Chiapas
Agua Azul admission fee and opening hours
It may be a natural paradise, but there's still an admission fee to gain access to Agua Azul. It costs 40 MXN ($2 USD) per person. Be careful that you don't pay your money to an unofficial stand on the way in, or to people who come to your car window and ask you to pay – there are plenty of them, and they are scam. Ensure that you go through the official entrance and pay there.
Agua Azul is open daily from 8:00 am to 8:00 pm.
How to get to Agua Azul from San Cristobal
By car
The best way to get to Agua Azul waterfalls from San Cristobal is driving – that's who I visited the first time I went.
Traveling independently from San Cristobal to Agua Azul is easy, but it's not a quick journey. In fact, the journey is quite long – it's around 98 miles (158 km) and the road is bumpy and bendy. It can take 4 hours (or longer) to get there from San Cristobal, especially if you find a road block in Ocosingo.
But if you're traveling to San Cristobal from Palenque – or vice versa – then making a pitstop at Agua Azul to check it out is a good idea because it's located on the road between the two destinations. That's probably the best way to see Agua Azul from San Cristobal.
By colectivo or private shuttle
Another option would be to take a colectivo from San Cristobal de las Casas ADO but terminal, directed to Palenque. It will make a stop at Agua Azul and you can get off there.
There's also the option of getting a shared shuttle bus from your hotel. Leaving at 7:00 am, its first stop will be in the town of Ocosingo, then Agua Azul – where you'll have time to chill out and swim – before arriving in Palenque at 5:00 pm.
On a guided tour
If you don't feel like travelling independently, there's always the option of taking a tour, but this will cost you more money.
Guided tours from San Cristobal will stop at Agua Azul and Misol Ha Waterfalls as well as Palenque ruins before returning to San Cristobal. It's a full day trip of 19 hours that departs as early as 2:30 am. You can book it here.
How to get to Agua Azul from Palenque
By car
Once again the easiest way of getting to Agua Azul is by driving your own car. Palenque is about 40 miles (64 km) from Agua Azul and it takes about 1.5 hours to get there.
By colectivo
Alternatively, you can hop in a colectivo / minivan from Palenque. You will have to flag a colectivo directed to Ocosingo around the area of ADO Bus Terminal – but keep in mind there are no clear signs. Colectivos usually depart when full – approximately every 30 minutes. The drive takes 90 minutes (at least) because the roads are winding, full of potholes, and there are also speedbumps.
At just 50 MXN ($2.50) for the ride, this is by far the cheaper option. Just make sure to ask the driver to let you out at Agua Azul. Note, however, that the drop-off point is quite a distance from the entrance – but there are often taxis waiting. For safety reasons, I don't recommend walking.
To get back to the Palenque from Agua Azul, just wait at the same drop-off point you arrived, ensuring that you're on the opposite side of the road. Flag down a passing colectivo and that's that.
On a guided tour
Day trips to Agua Azul from Palenque, as from San Cristobal, make the whole thing a lot easier. Book these from hotels, hostels, and travel agencies in town, or online. They'll also usually include other destinations on the itinerary, such as Misol Ha Waterfall. This option is much more expensive, but that's what you pay for the convenience!
You can book your guided tour to Agua Azul from Palenque here.
Other useful information for visiting Agua Azul
If you were worried about getting hungry on your trip to Agua Azul, there's no need. You're in Mexico, and food vendors are everywhere – including here at the waterfalls. There are even several restaurants dotted around, with plenty of options from more traditional eateries to fast food places, and all at reasonable prices.
Many food vendors sell empanadas, for example. These fried doughy dumplings of deliciousness come cheap and are plentiful in the area. Or if you feel like tacos, you can pick those up here too. At the entrance, there's a line-up of various food vendors.
And if you feel like making a full meal of your vendor-bought goodies, simply grab a drink and enjoy lunch with a view of the gleaming waterfalls.
If you take your own car, expect local people to approach with intent of selling fruit, drinks, snacks, and souvenirs. If they're adults, it's up to you, but it's usually not a good idea to buy anything from children who try to sell you things – for one thing, they should be in school, not selling stuff to tourists.
My advice is to tell children who approach you a polite but firm no when refusing to buy things from them. I once made the mistake of saying "maybe later" and they followed me around all day.
Safety tips
Although it might seem like paradise, and when it's busy, it seems like any other swimming spot, care is definitely needed if you go for a swim. That's because people have drowned in Agua Azul waterfalls – the current is deceptively powerful, and the cascades themselves are strong.
Even though the pools are so inviting that you'll probably want to jump straight in and refresh yourself, extreme care should be taken. Wet season in particular sees the water here turn to powerful torrents, but any time of year safety is important – there are also submerged hazards. Dead trees and rocks you can't see make diving – or even simply tripping over – here particularly hazardous.
To be as safe as possible, make sure that you swim only in the areas that have been designated for swimming. Don't swim if it feels like it's outside of your comfort zone.
Lastly, theft isn't uncommon, so don't leave any valuables unattended, or better yet, don't bring them with you to Agua Azul at all, and stick to the main paved trail as much possible.
For more tips on staying safe in Mexico, click here.
What to wear on a trip to Agua Azul
First and foremost, let's talk about footwear. You may just want to slip on a pair of flip-flops and hop in your ride to Agua Azul, but believe it or not, this isn't a place for flip-flops.
Agua Azul is very rocky, and can be very slippery in places. For this, you'll probably want to wear some sturdy walking sandals or maybe even some reef shoes. Anything that's a good fit with good grip and that dries quickly will be adequate footwear for your day here.
Get a great pair of walking sandals here.
It's nice to see them from afar, but it's even better when you're swimming in the sparkling pools themselves. For that reason, a swimming costume is a must if you want to swim in Agua Azul. Don't forget to pack it in your bag or wear it under your clothes.
When it comes to what to wear, just think loose summer clothes – a pair of shorts and a T-shirt should be absolutely fine. Maybe something to cover up after you've been for a swim is a good idea, too.
What to bring with you to Agua Azul
It's not just about picking the right outfit for Agua Azul, it's also about making sure that you're prepared for your trip, too.
A wide-brimmed sun hat such as this one will keep harmful UV rays off your head, keeping you cool and reducing any chances of getting sunstroke. You'll want sunglasses, too, not only to look cool, but protect your eyes on a sunny day. And don't forget sunscreen to protect from the sun.
Mosquito repellent is a must. Bring it along with you in your bag and don't forget to reapply after you've been swimming – no one likes being bitten by mosquitoes.
You can get mosquito repellent here.
To ensure you keep hydrated, bring your water bottle with you as well; you could opt for a refillable bottle that's equipped with its own filter so you can reduce plastic waste.
Get your water bottle here.
And you'll also need a towel. Yes, it's warm, but you'll still need a towel to dry off properly if you've been for a swim. Plus, it makes for a handy perch to sit on when you're relaxing by the water.
You can get a quick dry travel towel here.
You may want to consider bringing a pair of flip-flops to sling on once you're done playing in the water and hiking. Let those feet breathe!
And last but not least, think about taking a dry bag with you. Having one of these means you'll be able to keep your phone, cash, and hotel key with you at all times – even while swimming – without them getting wet or stolen.
You can get a dry bag here.
What to see nearby Agua Azul, Chiapas
If you feel like getting further off the beaten track, simply keep walking. The further along the paved path you walk, the more crowds and vendors thin out – ideal if you want to enjoy some peace and quiet.
For something further away, however, you may want to hit up the Misol-Há waterfalls. Along with Agua Azul, Misol-Há is one of the most famous cascades in the area; it is a lovely blue color thanks to the mineral content of the water. Instead of a series of falls, Misol-Há is made up of an impressive single drop of 115 feet (35 meters) tall.
With its large plunge pool, and the pleasant temperature of the water, it's nice for a swim. Or you can walk the paths surrounding the falls and try to spot howler monkeys in their natural habitat. If you can't see them, you might be able to hear them!
You'll find this impressive waterfall 14 miles (22.5 km) from Palenque. To get there, you can take one of the colectivos bound for Ocosingo, or join a guided tour which often will take in both Agua Azul and Misol-Há such as this one or this one.
Misol Ha is open daily from 6:45 am to 7:45 pm. The entrance fee is 30 MXN ($1.50 USD) and an extra 10 MXN ($0.50 USD) to enter into the cave.
Further Readings
Make sure to read my other posts about Mexico:
Pin It For Later!