The Sumidero Canyon (Cañón del Sumidero, in Spanish) is one of the most beautiful and popular places to visit in Chiapas. At an easy distance from the state's capital Tuxtla Gutierrez, it can be visited on day trips from either Tuxtla or San Cristobal, and it is a fantastic place to be fully immersed in nature and to admire wildlife!
The towering cliffs of the canyon are marvelous to look at, whether you stand on top of them or prefer admiring them from the comfort of a boat that takes you along the Rio Grijalva.
You'll be accompanied by a Spanish-speaking guide to explain its history or show you the caves and the waterfalls. You may even encounter spider monkeys, crocodiles, and many bird species that live in the area.
Are you curious to learn more about the Cañón del Sumidero? Continue reading because I will tell you everything about it and share some useful information to plan your visit.
What Is Sumidero Canyon?
Sumidero Canyon Chiapas is a natural canyon in southern Mexico, situated just north of the Chiapa de Corzo.
Beginning its life at the same time as the world-famous Grand Canyon in Arizona, Sumidero Canyon has been eroded into its current shape over 35 million years by the Grijalva River – a 300-mile-long river that snakes its way through southeastern Mexico.
The canyon is particularly striking. It boasts soaring near-vertical cliffs that reach as high as 1,000 meters (roughly 3,281 feet), with the river twisting and turning – at some points up to 90 degrees – through the narrow passage of the canyon that goes on for just over 8 miles (13 km).
Cañón del Sumidero is such a beautiful place that it's the centerpiece of Sumidero Canyon National Park – a protected area that spans four municipalities across 53,840 acres.
Because of its status as a natural wonder of Mexico, it's a popular spot for locals and domestic tourists to come and soak up the abundance of nature here (in fact, 80% of visitors are Mexican nationals). People enjoy boat trips along the river, hiking in the surrounding area, and spotting wildlife.
But this wasn't always a popular boating spot. It was only in 1981 when the Chicoasen Hydroelectric Dam was built, that the water levels rose significantly, and the river became much deeper and much easier for boats to navigate. That's when tourists started showing up.
Why Visit Sumidero Canyon
There's a lot going on at Sumidero Canyon Mexico. Along with the actual majesty of the canyon itself, here you will find five waterfalls, 30 rapids, beaches, caves, rock formations, and plenty of wildlife.
Alongside the endangered Central American river turtle, there's also the American crocodile that visitors can glimpse, usually spotted sunning on the riverbanks.
Sumidero Canyon is surrounded by dense tropical rainforest, which really gives this place a "Lost World" kind of feeling. It's kind of like a green version of the Grand Canyon, but even though it looks wild and unforgiving, much of the canyon area is accessible and can be safely explored via boat.
It's truly stunning and totally packed full of things to see and do, and it boasts a burgeoning eco-tourism scene. The real question is, why wouldn't you visit Sumidero Canyon? So, let's see how to do it!
Practical Information To Visit Sumidero Canyon
What to see and do at Sumidero Canyon
Exploring Sumidero Canyon is a rewarding experience. Not only is there the chance to float along the river on a spectacular boat journey, but there's also a lot of wildlife to spot along the way. Let's see in more detail what you can see and do at the Cañón del Sumidero.
The Ecological Park
At the center of the canyon, the new Ecological Park has been opened. The only way to get there, in fact, is by hopping on one of the boats that ply the river. Attractions at this newly-opened center include a wildlife sanctuary, and you can learn all about the local flora and fauna that call the canyon home.
Wildlife
Wildlife spotting is a big part of the experience in Sumidero Canyon. You can see river turtles and crocodiles, of course, but there are also spider monkeys. And there's a lot in the way of avian life here, too – there are over 195 species of bird, including herons, vultures, egrets, and kingfishers.
Within the park itself, there are other wonderful animals to behold, from ocelot and pacas to white-tailed deer and fruit bats.
Cueva de los Colores
Away from the wildlife, there are natural hotspots to discover during your visit. One of these is Cueva de los Colores – named for its rainbow of geological colors that coat the cave walls. These colors, mainly shades of pastel pink, are produced when magnesium and potassium filtrate through the rock strata.
Dubbed a "natural chapel," the caves also house an altar to the Virgin of Guadalupe, often decorated with flowers and candles left from the previous. The Cuevas de los Colores are particularly interesting when visited on December 12 (the feast day of the Virgin of Guadalupe), when people make a pilgrimage here and a floating mass is held on the river.
Árbol de Navidad
There's also the Árbol de Navidad or "Christmas Tree." Contrary to the name, it's not actually a tree but a waterfall that gushes over moss and other plants that grow out of the rock. During the rainy season, the 200-meter-high (that's 656 feet) waterfall is more powerful, giving the effect of a Christmas tree sparkling over the shrubbery growing from the cliff.
Opening hours and admission fees
Sumidero Canyon can be visited from 8:00 a.m. to 5:00 p.m. every day but on Tuesdays (it's closed on Tuesdays).
The following is a rough outbreak of the costs of visiting the Cañón del Sumidero.
ADMISSION FEE – 36 MXN ($2.14 USD) per person. This is the actual fee for the Sumidero Canyon National Park as a whole. When you visit, after you pay for the admission, you'll be given a wristband. This gives you access to the park and the numerous viewing towers situated throughout the area.
GROUP BOAT TRIP – 270 MXN ($16.06 USD) per person – beware, the price can actually vary.
PRIVATE BOAT TOUR – Around 2800 MXN ($166 USD) for the entire boat.
Boats leave at regular intervals between 8:00 a.m. and 3:00 p.m.
How to explore Sumidero Canyon
Boat tours
A boat is probably the best way to experience Sumidero Canyon in all its glory. The river journey begins at the Cauhuare Embarkation Point, near Chiapa de Corzo.
The wait time for boats varies depending on the time of day (or time of year) that you visit – weekends and holidays are particularly busy. In quieter times, however, you may also have to wait for enough passengers to arrive to fill the boat. Boats have various capacities – 15, 20, 30, and even 40 passengers.
To enjoy a boat tour in Sumidero Canyon National Park, start by purchasing your ticket from the counter that's closest to the entrance. After this, walk along the pier and hop on the boat. The first boat leaves when the park first opens, and trips continue throughout the day until early afternoon.
The trip itself is three hours long in total. You should make sure you're prepared with adequate snacks and drinks (I'll say more about that later).
As you chug along the Grijalva River, you'll see the towering walls of the canyon, spot wildlife, and marvel at the colorful caves and the "Christmas tree". Then the river will begin to open out towards the end of the journey as the boat reaches the dam (around 23 miles – 37 km – from Chiapa de Corzo).
This hydroelectric dam provides power for more than half of Mexico, and it's actually one of the tallest dams in the world.
You'll get to really lap up the immensity of the dam and the canyon from this terminal spot. The water here is also at its deepest – 860 feet (262 meters), to be precise!
The viewpoints
Once you're off the boat, there's still much more of the national park to explore. One of the best ways to really experience the sheer size of the canyon is by hitting up the Miradores.
These viewing towers – five in total – are situated throughout the national park and make for an amazing way to see the river cutting through the dramatic landscape and its dense forests.
There are several Miradores to visit – La Ceiba Mirador; El Roblar Mirador; El Tepehuaje Mirador (particularly beautiful); La Coyota Mirador; and Los Chiapa Mirador, which along with its stunning views, also boasts a restaurant and a bathroom.
What is the best time to visit?
Firstly, if you're wondering what time of day is best to visit Sumidero Canyon, the answer is simple – the earlier, the better.
You should plan to embark on your boat trip at around 10:00 am to enjoy smaller crowds – and also the best light for taking pictures around the canyon.
Don't plan your visit for a Tuesday either, because this is when the national park is closed.
As for the best times of year to visit Sumidero Canyon, it depends. In the winter months (November through February), the landscape is not as lush as it is in the spring or summer. There's also less water, so the waterfalls are not quite as impressive.
In the summer months, the landscapes are much more green, and there's more water, but it's also a lot hotter. The rainy season (between June and October) brings gushing waterfalls and is a great time of year to visit all in all, in spite of the heat.
How to get to Sumidero Canyon
One of the most important parts of visiting Sumidero Canyon is knowing how to get there. The canyon is situated just 20 kilometers (12.4 miles) from Tuxtla Gutierrez (on the way to San Cristobal) and 76 km (47 miles) from San Cristobal, so regular transport between the two cities and the national park is easy to come by.
From Tuxtla Gutierrez
You have several options for getting from Tuxtla Gutierrez to the Sumidero Canyon.
BY CAR – If you are planning on renting a car for your trip around Chiapas, the best thing to do would be to visit Sumidero Canyon on your way to San Cristobal de las Casas from Tuxtla International Airport. The canyon is located right between Tuxtla Gutierrez and San Cristobal. You will have to drive along Highway 190.
BY BUS – Local buses and colectivos ply the route frequently, and this is the most inexpensive way to reach Sumidero Canyon – the trip costs around 20 MXN ($1 USD).
BY TAXI – Another option is to take a taxi – make sure you ask the staff at your accommodation how much it should cost as a guideline.
GUIDED TOURS – There's also the option of taking a tour from Tuxtla Gutierrez to Sumidero Canyon. This is actually a pretty good option as you can reach the Miradores smoothly, and everything is planned for you. It's more expensive than independent travel, but more convenient too.
For ease, I recommend this guided tour of Sumidero Canyon from Tuxtla Gutierrez. It also goes to the lovely Chiapa de Corzo.
Otherwise, there's this excellent guided tour that includes pick up from Ángel Albino Corzo International Airport in Tuxtla Gutierrez and a stopover in Chiapa de Corzo and Simidero Canyon, with drop off in San Cristobal.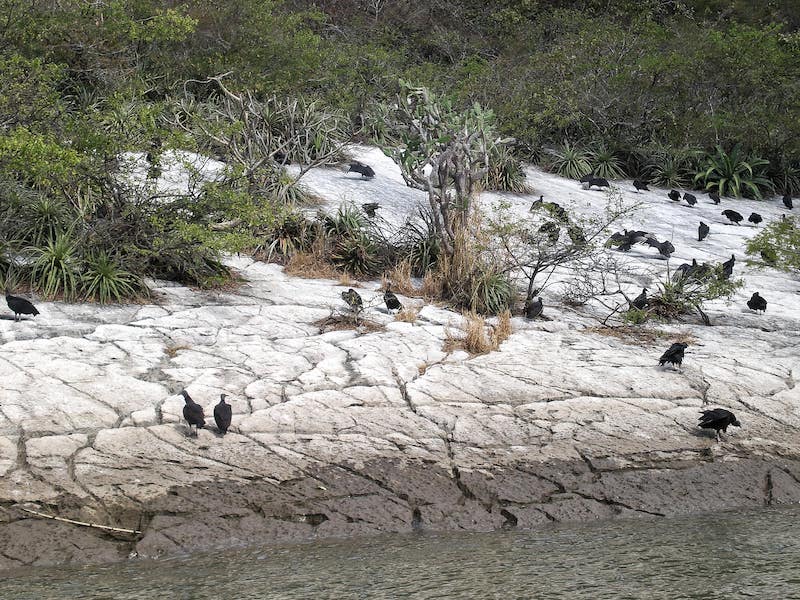 From San Cristobal
There are several ways of getting from San Cristobal de las Casas to Sumidero Canyon. Here is a quick outline:
BY BUS OR COLECTIVO – The trip from San Cristobal to Sumidero Canyon takes about an hour by bus or colectivo. Hop in a colectivo bound for Tuxtla Gutierrez, ask to get dropped off at Chiapa de Corzo, and then hop on another colectivo with a sign that says "embarcadero." The overall trip should cost around 70 or 80 MXN ($4 to $5 USD) one way.
GUIDED TOURS – There are also tours you can take from San Cristobal. These will be more expensive than those offered at Tuxtla Gutierrez due to the longer distances involved. A Sumidero Canyon tour will include transport, the fee for the national park, and the river tour. They cost around 650 MXN (in the range of $50 USD). Much more convenient than the potentially uncomfortable colectivo ride but much more expensive.
You could consider this well-rated guided tour of Sumidero Canyon from San Cristobal.
If you prefer, there's also a tour that includes a stop at Chiapa de Corzo after you visit Sumidero Canyon.
From Chiapa del Corzo
If you happen to be based in Chiapa del Corzo, then you're in luck! It's super easy to get to the Embarkation Point for the boats – It only costs 13 MXN ($0.75 USD) on a local colectivo to reach it.
Chiapa del Corzo is often included as a stop-off on tours from San Cristobal or Tuxtla Gutierrez. Dubbed a "magic town," this little town is a great spot to enjoy local food and culture. You'll get around an hour or so to explore.
I recommend this tour that includes a stop at Chiapa de Corzo after you visit Sumidero Canyon.
What to bring on your trip to Sumidero Canyon
Firstly, you should bring a hat. You're going to need your hat because you'll be out in the sun pretty much the whole time. But make sure you keep hold of it – things can get pretty breezy when you're out on the river! The boats go fast, and a hat can easily fly away.
Sunscreen is another must. This is integral for protecting your skin against the sun's harmful UV rays. Consider eco-friendly sunscreen in order to protect the delicate balance of the natural environment.
You should also consider bringing along some layers and things such as a wind jacket or a poncho. Depending on the weather, you may get some rain – temperature fluctuations range from cool due to the high elevation to hot in the center of the canyon.
Bring plenty of drinking water, too. That boat ride alone can take a few hours, so you'll need to keep hydrated while you're out in the sun. Opt for a refillable water bottle such as this one to save on plastic waste.
Finally, make sure to bring your camera – with a good lens – to photograph the amazing wildlife, and if you have a pair, bring your binoculars.
Final tips for visiting Sumidero Canyon
There are just a few more things you should know for your Sumidero Canyon trip. Here they are:
BRING SMALL CHANGE – This is handy if you want to buy yourself some souvenirs, some food, or even use the toilets (the bathrooms cost 5 MXN to use; the Los Chiapa Mirador one is free, however).
DON'T BUY ANYTHING FROM CHILDREN – You may have children wanting to sell you souvenirs or food, but it's best to not buy from children (who should be in school). Rather opt to buy from an adult instead.
DON'T TAKE YOUR WRISTBAND OFF – You'll need to show it throughout the day – no wristband, no access to the Miradores. This will be checked by staff.
Further Readings
Make sure to read my other posts about Mexico:
Pin It For Later!