Yes: absolutely. A day trip from Rome to Naples is totally possible. In fact, thanks to Italy's network of high-speed rail services, you can be whisked there in just over one hour. That means, even if you don't leave until mid-morning, you'll still have a long while to spend seeing the sights of Naples.
That being said, Naples is a big city. It's obvious: the earlier you arrive, the more time you have to spend soaking up the atmosphere of the city and checking out some of the top sights without rushing – and trying all the delicious food Naples has to offer. It's going to be a busy day, that's for sure.
Curious to discover how you can fully enjoy a day trip from Rome to Naples? Continue reading, I will explain everything.
For more day trip options, read my post The Best Day Trips From Rome.
Should You Go On A Day Trip From Rome To Naples?
In order to make the most of a day trip from Rome to Naples, I would recommend leaving from Rome no later than 7:30 am. That doesn't mean getting up at that time, but actually catching the train at that time. It's an early start for some, maybe, but it's definitely worth it. Make sure to pick up a snack for the train or have some breakfast before you head off, just so you can maximize your time in Napoli.
The itinerary I've suggested below is a guideline. This is more of a list of the best attractions to visit while you're on a day trip from Rome to Naples. Ok, so you may not be able to see absolutely everything (for example, I have not included Naples' incredible Archeology Museum, as that would take a full morning or afternoon for sure), but if you want a good number of attractions, my guide below is a good place to start.
If you're worried about timing or budget, don't worry. You can simply skip over the attractions that don't fit in with your budget and replace it with another attraction that's more affordable – or spend longer at somewhere else. Sometimes you might even find something interesting along the way as you stroll around.
Note, however, that if you do want to see everything, you'll have to be organized beforehand. That's because some of the top sights in Naples do require you to book in advance, and you will not be able to buy a ticket at the entrance.
One other point to mention is that some attractions do close earlier than others, and sometimes will be closed or have shorter opening hours on certain days of the week. I'll be covering a lot of that information in my itinerary, however, with helpful links, booking sites and opening hours information to guide you along the way.
Make sure to also read my post The Best Things To Do In Naples.
The Perfect Itinerary For A Day Trip From Rome To Naples
To make sure your day runs as smoothly as possible, I've also put together a map to go with the itinerary I've suggested below. This will help you to navigate the fairly large city that is Naples and get from A to B as smoothly as possible; it shows walking distances from one attraction to the next, and you'll be able to see public transport options nearby. And don't forget to mark those all-important pit stops for food and snacks!
You can check that map out here.
Palace of Capodimonte
Naples Royal Palace (well, one of many), and the first item on the itinerary of your day trip from Rome to Naples, this one was originally used as a hunting lodge. Work on the palace began in 1738 under King Charles VII of Naples and Sicily (later Charles III of Spain).
Amazingly, it took over a century to complete, which was mainly due to the difficulties of obtaining and transporting the piperno volcanic rock that was used to make it.
Today, the palace is the site of the National Museum of Capodimonte. It is not to be missed, especially if you like the sound of ornate antique furniture, priceless porcelain, and amazing artworks from the 18th century. The collection is particularly magnificent.
Opening hours: Monday, Tuesday, Thursday, Saturday, and Sunday, 8:30 am to 7:30 pm; Friday 8:30 am to 10:30 pm; closed Wednesday.
San Gennaro Catacombs
Just like Rome, Naples has its own ancient catacombs weaving their way under the city streets. This historic site, carved directly into the volcanic tufa rock below Naples, dates back to the 2nd century AD and, luckily for you, can be visited to this day.
You'll get to see various types of burials that make up the catacombs – from ancient Roman to early Christian traditions – as well as the Basilica of Agrippinus. This 4th-century place of worship includes an altar and a chair, also carved from the porous volcanic rock itself.
A trip to the catacombs is a fascinating way to experience the history of Naples. For one thing, these underground tunnels were once again reused during World War II as a bomb shelter by the inhabitants of the city!
Opening hours: Every day 10:00 am to 5:00 pm; closed December 25th.
Admission includes a guided tour (you must book in advance).
For a guided tour of the Catacombs of San Gennaro, click here or here.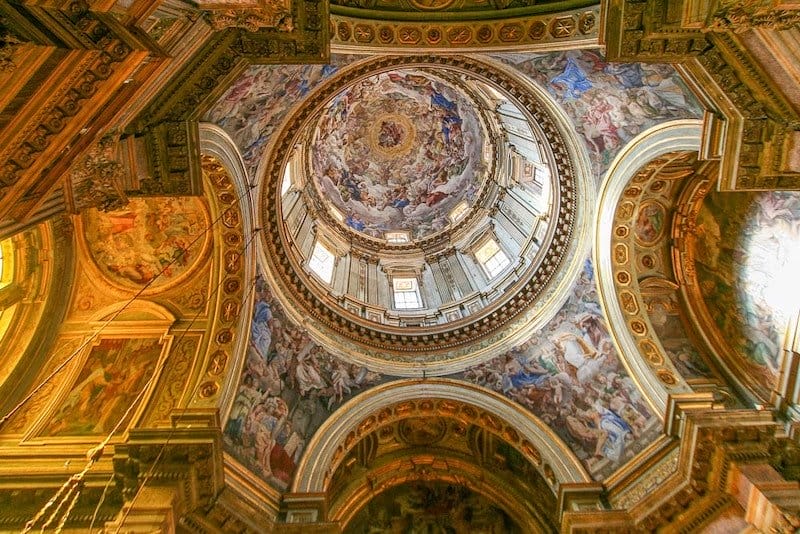 San Domenico Maggiore Church
Founded by Dominican friars, the Basilica of San Domenico Maggiore is actually situated on an even older church: the 10th-century San Michele Arangelo a Morfisa. King Charles II of Naples started a rebuilding project that incorporated the original structure into the church today. This project took place between 1283 and 1324.
The church underwent further modifications over the centuries, including Baroque decorations in 1670; later, more of the church's original Gothic features were reinstated in the 19th century. The interiors as they appear today are ornate and beautiful, but as amazing as they are, the history of the church and the role it played in the city adds even more importance to the building.
That's because it was the original seat of the burgeoning University of Naples. Over the years, renowned thinkers and philosophers have passed through its doors. Thomas Aquinas, for example, taught theology there in 1272; Giordano Bruno – a great thinker – also lived there for some time.
Opening hours: Every day 10:00 am to 6:00 pm.
Guided tours available for a small fee.
Museo Cappella Sansevero
This wonderful attraction is part Baroque chapel, part museum. Situated right in the historic core of the city, it plays host to some excellent examples of 18th-century Rococo art by some of the most prominent artists of the time.
The chapel was founded in 1590 under the guidance of John Francesco di Sangro, the Duke of Torremaggiore, whilst convalescing from an illness. The interiors are simply stunning, not least because of the eye-popping sculptures that can be found throughout – around 30 in total. These are not to be missed on a day trip to Naples.
One of the most notable is the Veiled Christ (or Christ Veiled under a Shroud), which was created by Giuseppe Sanmartino in 1753. Another Rococo piece to look out for is the Release from Deception, by Francesco Queirolo in 1753. There's also the Veiled Truth, the work of Antonio Corradini; created in 1752, it's a tomb monument. All of these particular statues are notable for their translucent veils, quite a feat when using marble!
Opening hours: Every day 9:00 am to 7:00 pm; closed Tuesday.
Booking in advance can be done here.
Remember that taking photos inside Sansevero Chapel is prohibited.
Castel Nuovo
Castel Nuovo or "New Castle" is sometimes known as the Maschio Angioino – literally the "Angevin Keep". It was commissioned by King Charles I of Anjou, who found the old Norman castle to be unfit for his rule. Construction on the castle dates between 1279 and 1282, but after Naples was conquered by the Spanish – specifically Alfonso V of Aragon, in 1442 – the castle was rebuilt in a Medieval Renaissance style.
Throughout its existence, it was used as the seat of power for the Kings of Naples, Aragon, and Spain all the way until 1815. Visiting this castle provides insight into the checkered past of Naples and the landmark fortress itself.
From its five round fortified towers to its ornate marble triumphal archway entrance, it's an impressive sight to behold – and that's just the exterior. Head inside to the Civic Museum, and you'll be able to see historic frescoes in the Palatine Chapel and even spot Roman ruins under the glass floor. The second level of Castel Nuovo plays host to a collection of artworks that were painted between the 17th and early 20th centuries.
Opening hours: Monday to Saturday 8:30 am to 6:30 pm; Sunday 9:00 am to 2:00 pm.
The castle terrace, dungeon and historic ruins can only be visited on an official guided tour (it must be booked online in advance here; the website is in Italian but it's fairly easy to navigate).
San Carlo Theater
Next up in this Rome to Naples day trip itinerary is the prestigious San Carlo Theater. This is the world's oldest opera house, and over the centuries, it has survived numerous disasters, from wars to fires. Opening its doors in 1737 (a few decades before the opera houses of Milan and Venice opened), the stunning architecture of this building remains impressive to this day.
If you're interested in seeing the sumptuous interiors of this storied structure, then you'll be happy to note that you don't have to see a show to do so. Guided tours are available to the public, in Italian and English.
Tour times: Monday to Saturday 10:30 am to 12:30 pm and 2:30 pm to 4:30 pm; Sunday 10:30 am to 12:30 pm.
Tour price: See here for information about booking a ticket for a tour.
Galleria Umberto I
Directly across from the San Carlo Theater is the beautiful Galleria Umberto I. Built in 1887, it marked the beginning of the risanamento (literally "bringing back to health") – a decades-long period of rebuilding and city-wide reinvention that occurred in Naples up until the First World War.
This elegant mall takes its name from Umberto I, the King of Italy at the time of its construction. The centerpiece is a jaw-droppingly stunning atrium, a domed area with ornate ironwork and glass that is a marvel to behold. It comes as no surprise that it actually makes up a part of the UNESCO listing for the "Historic Center of Naples".
Opening hours: Monday to Friday 8:30 am to 8:30 pm; Saturday and Sunday 8:30 am to 10:00 pm.
Piazza del Plebiscito
The 19th-century Piazza del Plebiscito is the largest public square in Naples. It's a natural place to visit on your Rome to Naples day trip, given that it is – in essence – the heart of the city. Lined with impressive buildings, many of which were constructed using volcanic rock from Mount Vesuvius, the piazza was named after the successful vote in favor of the Kingdom of Naples joining the Kingdom of Italy in 1860.
Funnily enough, it hasn't always been such a grand public meeting space. In fact, in the 1960s, a city ordinance transformed the space into a public parking lot in order to deal with the increased number of cars flooding the city. Thankfully, however, all signs of the giant car park were wiped away for the G7 summit in 1994.
Today the square plays host to open-air concerts and other fun public events. For your trip, however, I suggest grabbing a coffee and/or a bite to eat, and sitting on a bench to people-watch for a while before heading to your next stop.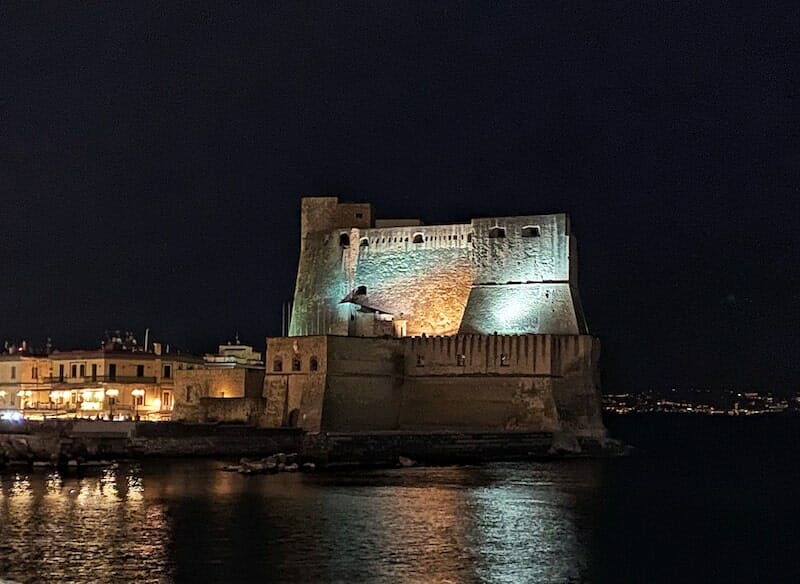 Castel dell'Ovo
Your next stop is Castel dell'Ovo, the oldest fortification in the city. The name of this seafront stronghold strangely translates to "Egg Castle". Why the name? Legend has it that the Roman poet Virgil placed a magical egg under the foundations of the fortress, saying that if the egg were to break, a catastrophe would befall Naples.
Today, the castle – which was built in the 12th century by the Normans – is used for art exhibitions and events, but for your day trip to Naples, it's best to explore the castle from the outside instead. Here you can get up close to the medieval walls and soak up some amazing views of the Gulf of Naples with Mount Vesuvius looming in the background.
Opening hours: Monday to Saturday 9:00 am to 6:30 pm; Sunday 9:00 am to 1:00 pm.
Visiting is free, but please bear in mind that visits must be booked in advance on the official site here.
Fountain of the Giant
Your final stop is the Fountain of the Giant. Known in Italian as Fontana del Gigante, this elegant Mannerist structure dates back to the 17th century and is a landmark of the city of Naples. It was originally built adjacent to the royal palace and stood next to an enormous ancient statue (hence the name). It was relocated to its present location, near the Castel dell'Ovo, in 1905.
The fountain was commissioned by Antonio Alvarez de Toledo, 5th Duke of Alba. It was designed by the famed architect and sculptor Bernini and Michelangelo Naccherino. Take some time to admire the ornate decorations, spot the marine animals and sea monsters at the central arch, and notice how it harks back to the ancient Roman design of triumphal arches.
Planning Tips
How to get to Naples from Rome
Getting from the Italian capital to Naples is fairly easy so a day trip from Rome to Naples is actually feasible. Below are your best options.
To be completely honest, I haven't really seen a guided day trip from Rome to Naples that I like. Most of them include stops at other places such as Pompeii or the Amalfi Coast, with the inevitable result that you don't get to spend enough time in any of the places you are meant to visit. All in all, I don't recommend this option.
For more detailed information, read my post How To Get From Rome To Naples.
By train
Catching the high-speed train from Rome to Naples is easily the best way to get between the two cities. This seamless journey covers 140 miles and takes just over an hour (one hour 10 minutes, to be exact).
Trains leave Rome Termini station around two to three times per hour and arrive at Napoli Centrale station. The first high speed train departs at 6:50 am and there's one roughly every hour (there are more options for slower train). Tickets start at €18,90, depending on what class you book and how far in advance you schedule your visit.
To check the schedule and book your tickets, you can visit the Trenitalia site or the Omio app here.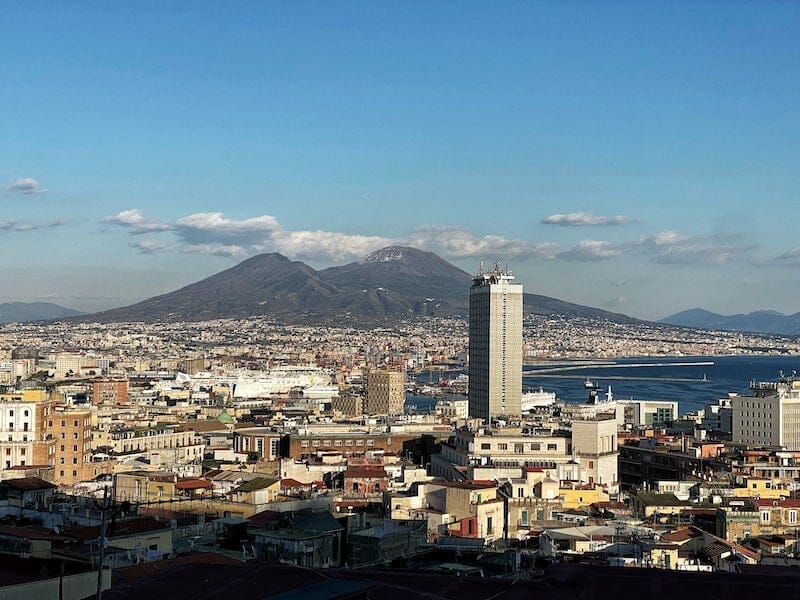 By bus
Buses from Rome to Naples leave regularly, both from Rome Tiburtina station and Rome Anagnina. It's a lot cheaper than the train, with one-way tickets starting at around €6. However, it does take longer: approximately three hours. If you want to make the most of your day trip to Naples, then the train is probably best – even if you are on a budget (in that case, make sure you book in advance).
By car
Not recommended! While driving is easy enough, parking in Naples is such a nightmare that it might not be worth the effort. It's also longer to drive there than taking the train, taking around two and a half hours.
How to get around Naples
It may surprise you to find out that it is pretty easy to walk around the city. Especially if you follow the itinerary I laid out above, you'll be able to stroll between the sights in a pretty straightforward way. Most things are located in the historic center of Naples anyway.
But if you do want to use the public transport, you have the option of using three different modes of transport: the metro, the bus, and the funicular. Tickets can be purchased from Napoli Centrale station or at various ticket kiosks you'll find around the city. I recommend picking up a 24-hour ticket, which costs €4.
Final Tips To Make The Most Of A Day Trip From Rome To Naples
Use Google Maps
The best way to navigate Naples is to use maps on your smartphone. It can be really annoying to get lost, especially if you're on a time limit and you have a lot of things to see on your itinerary. To help you with this, you'll need data on your phone, so make sure to top up your credit and data before getting to Naples.
Get a Naples Pass
A Naples Pass is a great idea for those who both want to save money and time during their day trip to Naples. This discount pass allows you to get access to around a hundred different attractions around Naples. There are several different pricing options to choose from.
You can purchase a Naples Pass here.
Wear comfortable shoes
If you're going to be hitting the pavements of Naples on a day trip from Rome, then I recommend wearing comfortable shoes. Although this city is walkable, there are some hills to contend with, and trust me: you do not want your day ruined by shoes that hurt or, worse, break while you're out and about. Hiking sandals would be a great idea if you're visiting during hot weather, as sweaty feet are also not fun.
Further Readings
Are you looking for even more day trip options from Rome? Make sure to read these posts:
Pin It For Later!