Viterbo is an ideal spot for a day trip from Rome. It's in easy reach of the Italian capital, being just 80 kilometers (50 miles) away. So once you've perhaps had enough of the hustle and bustle of Rome, Viterbo makes for the perfect antidote. This city and its medieval streets and architecture is packed with local charm.
And the best part? Despite all the history and picturesque streetscapes that you'll find in Viterbo, Italy you won't find it too crowded at all.
Nobody better than a local can tell you about the many charms of this beautiful city. And guess who that local is? Why me, of course!! You see, Viterbo holds a special place in my heart. This is the city my dad and his family is from – he was born there, and grew up playing with his brothers in the streets of the historic center.
So, let's check out the places you should not miss in Viterbo, Italy – but not before taking a quick look at its history.
Make sure to read my posts The Best Day Trips From Rome, A Guide To The Lovely Tuscania and A Curated Guide To Tuscia.
Brief Historical Overview Of Viterbo, Italy
The history of Viterbo goes all the way back to Etruscan times. It is, after all, the principal city of the historical Tuscia region – itself named after the ancient Italic civilization. Though its history does stretch back thousands of years, the so-called "new town" of Viterbo dates back to the 8th century AD. At this time, it was called Castrum Viterbii. The town was fortified in 773 by the Lombard king, Desiderius; this was part of his (unsuccessful) attempt to conquer Rome itself.
Following this, Viterbo began to flourish as a stronghold in the medieval era. In 1095 it became a free commune – an independent city-state based on a form of democracy. These were turbulent times, with sieges happening as the Papal States attempted to assert their dominance.
Due to the inability of the Popes to exert full control over Rome, Viterbo not only became part of the Papal States, but actually the Pope's favored city. In fact, it was used as the Papal residence for two decades during the 13th century.
Following a change of mind on the part of the Popes, Viterbo fell out of favor and became something of a minor city. Like most city-states in Italy at the time, Viterbo became part of the new Kingdom of Italy in 1871.
Sadly, during World War II the city took heavy bombing, as it was occupied by the military of Nazi Germany. Around a third of the city was heavily damaged, but thankfully much of the historic quarter of Viterbo survives today. Today there are winding medieval lanes and buildings from another age entirely, all waiting for you to explore.
The Best Things To Do In Viterbo, Italy
Unlike Rome and its globally renowned history, Viterbo is less famous. That means that practically all of its sights will mean discovering something new for all visitors. So, if you're ready to take a leap into an off-the-beaten-path treasure trove of medieval splendor, then cast your eyes below and start making your itinerary.
Visit the Palazzo dei Papi
As the name suggests, this is the Palace of the Popes, a Gothic style palace situated on Piazza San Lorenzo. It was built for the Popes, who resided here from 1257 to 1281. Keep an eye out for the Loggia della Benedizione: a balcony from which newly elected Popes would appear from the Aula del Conclave.
The Conclave is the location of the first and longest ever Papal Conclave; the cardinals were taking too long, over three years, to decide on a new Pope, and so they were literally locked in the Aula del Conclave until they made their decision. They finally made a choice in 1271, electing Pope Gregory X.
To get tickets to Viterbo Palazzo dei Papi and other historical sites in Viterbo, click here.
Pop inside the Duomo
The Duomo or Cathedral of Viterbo is thought to have been built on the site of an Etruscan-era temple dedicated to Hercules. Whether that's true or not, the structure today is immensely impressive. The Romanesque cathedral, which dates back to the 12th century, towers above the city where it sits on the Piazza San Lorenzo.
It has lost much of its original splendor as it was reconstructed in the mid-16th century, but is still a fascinating place to visit – and an impressive sight to behold. The Duomo is also the resting place of two 13th-century Popes.
Check out the Museo del Duomo
Next door to the Duomo is the Museo del Duomo, a museum dedicated to archeological finds and religious art. Costing a few Euros to enter, stand-out pieces here include an image of an early 13th-century icon, Madonna della Carbonara, and a painting of the crucifixion that's thought to have been painted by Michelangelo.
Relax at the Terme dei Papi
This place is the former private baths of the Popes. Originally used by the Etruscans, these thermal baths are one of many that are dotted in the vicinity of Viterbo and in the Tuscia region at large. This one is the most famous of them all – and it's possible to visit for the public.
The Terme dei Papi boasts both indoor and outdoor pools, which make for a great place to unwind after exploring the city all day. For something a little less like a swimming pool, don't perry: there are also natural pools here to take a dip in.
Go to the Chiesa di Santa Maria Nuova
This Romanesque church dates back to the 11th century, making it the oldest church in the whole city. Unfortunately, it took damage from World War II bombing, but has been restored in recent decades to its original splendor.
On the outside you can see the stone pulpit from which the philosopher Saint Thomas Aquinas preached in 1266. On the inside, there are some intriguing frescoes that date between the 13th and 16th centuries.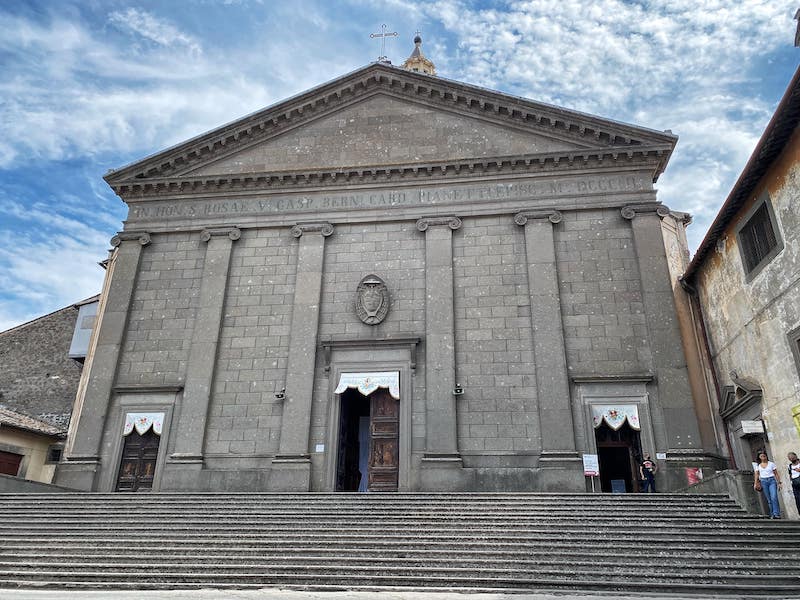 Visit Santa Rosa Church
The 19th-century Santa Rosa Church is – of course – dedicated to Santa Rosa, the patron saint of the city of Viterbo. It has much earlier roots than that, however, being a reconstruction of a building that dates back to 1632.
However, it's even older than that: the original religious structure on this site actually dates back to 1235.
Sadly, many of its frescoes were destroyed during the 15th century, but there are still some artworks from the 19th and 20th century on display.
The most poignant element of the church is that this is where Santa Rosa is buried. Next door is the Casa di Santa Rosa, a humble abode where the saint lived.
Explore the Quartiere San Pellegrino
Situated on the southern part of the city's "old town" is perhaps Viterbo's most fascinating district: Quartiere San Pellegrino. Here you'll find labyrinthine streets meandering and winding along the city's original medieval street plan.
It's a combination of beautifully preserved buildings and crumbling facades, with flowers overflowing from balconies, and old windows and doorways looking out at you.
If you really want to feel like a time traveler, make sure to spend some time wandering around the San Pellegrino district. And if you get hungry (or thirsty), don't panic: there are a few good trattorias and cafes to sample along the way.
Walk through the city gates
As mentioned before, Viterbo is a medieval city that had the fortifications to match. In many places its medieval city walls are still intact. And walls mean gates. In fact, Viterbo once had a total of 14 gates, many of which remain standing to this day.
The Porta San Pietro is one of the oldest, and is woven into the history of the city; it was bricked up when Roman troops attacked, and was closed when the plague epidemic of the 14th century was spreading through the lands.
Others include Porta della Verità, or the Gate of Truth, a 12th-century addition to the city walls; the 13th-century Porta del Carmine, which features a moat and a drawbridge; and the Porta Fiorentina.
Admire the Fontana Grande
The Fontana Grande is so grand that it actually gives its name to the square in which it is located: Piazza Fontana Grande. This elegant, stepped fountain is a 13th-century gray stone structure, and features a cross-shaped water basin.
In former centuries, markets would have been conducted on its steps. Today it's an ideal spot to rest your legs during your travels of Viterbo and simply watch people go by.
Visit the Palazzo dei Priori
Situated on the Piazza del Plebiscito, the Palazzo dei Priori (or Priory Palace) is the 15th-century city hall of Viterbo. Make sure to step inside and visit the first floor.
This exquisitely decorated room is adorned with 16th-century frescoes that tell the story of Viterbo's ancient past. And the view from the terrace on the ground floor are breathtaking.
Spend an afternoon in Villa Lante (Bagnaia)
Just to the east of the city of Viterbo (around an eight-minute drive) is the impressive Mannerist gardens of Villa Lante. Situated in the village of Bagnaia, these elaborate gardens were the brainchild of Jacopo Barozzi da Vignola.
They feature manicured hedges in elegant symmetrical patterns, fountains, and plenty of Baroque sculpture. However, as lovely as the gardens are, they did not actually become well known until a century after the passing of their creator.
Make sure to read my post A Guide To Visiting Villa Lante, Bagnaia.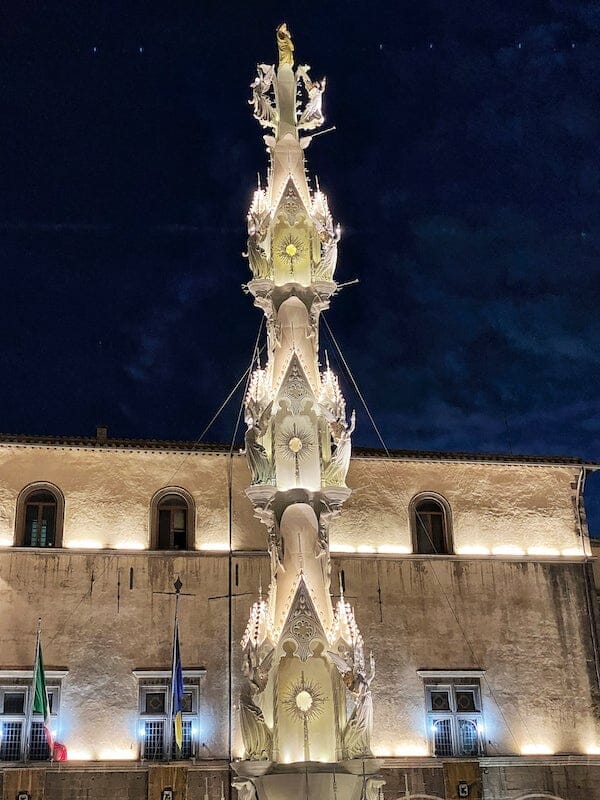 Marvel at the Macchina di Santa Rosa festival
As well as its charming medieval architecture, Viterbo is also famous for a UNESCO-recognized religious feast. Every year on the 3rd September, the city hosts the Macchina di Santa Rosa for its patron saint.
The feast day involves an impressive nighttime procession in which a 30-meter tower, weighing in at five tons, is lit by candles and paraded through the city by 100 men. These men are given a special name for the occasion: "Facchini di Santa Rosa" (literally "Porters of Saint Rose").
Make sure to also read my post A Guide To Viterbo's Macchina Di Santa Rosa.
Best Places To Visit Near Viterbo
If you've chosen to make Viterbo as your base – and not just a place for a day trip – then you're in luck. There is plenty to see and do in the surrounding area, from natural wonders to historic towns. Here are just a few places that are virtually a stone's throw from Viterbo.
Palazzo Farnese in Caprarola
The town of Caprarola is famed for being home to the Palazzo Farnese. This pentagonal mansion, once home to the wealthy Farnese family, sits high above the town.
The massive structure is characterized by its Renaissance and Mannerist design, and looks particularly impressive on the backdrop of volcanic hills and woodlands. It's a great example of Renaissance-era architecture.
As well as its ornate interiors, if you're a fan of gardens, you will love the picturesque, highly landscaped gardens of the palace, too. And all this is just around a 30-minute drive from Viterbo.
Make sure to read my post A Guide To Visiting Palazzo Farnese, Caprarola.
Bomarzo Monster Park
Around 20 minutes by car from Viterbo is Bomarzo Monster Park. This Mannerist Garden is easily the most famous destination in the region. Eerie sculptures and structures dot a woodland, all commissioned by Pier Francesco Orsini in the 16th century.
It's a weird and wonderful world of mythology and strange animals. Make sure you have enough space to take a lot of photos!
Check out my post A Guide To Visiting The Parco Dei Mostri, Bomarzo.
Vitorchiano, Civita di Bagnoregio and Celleno
The village of Vitorchiano (around 13 minutes by car from Viterbo) sits overlooking the valley of Vezza. It's a charming little town complete with its very own castle.
Civita di Bagnoregio is the famed hilltop village only accessible via an impressive footbridge. Its history dates back to the Etruscans, but in recent years the population dwindled due to fears of collapse of the tuff rock it was built on.
Then there's the "Ghost Town" of Celleno. Abandoned in the 19th century, Celleno is a surreal place to visit. Also situated up high on a rocky outcrop, the town is known for its dilapidated buildings that have hardly changed since they were built.
Head over to my posts The Hidden Gems Of Tuscia, A Short Guide To Vitorchiano, A Short Guide To Celleno Borgo Fantasma and A Guide To Civita Di Bagnoregio.
You should also read my post A Useful Guide To Calcata Vecchia.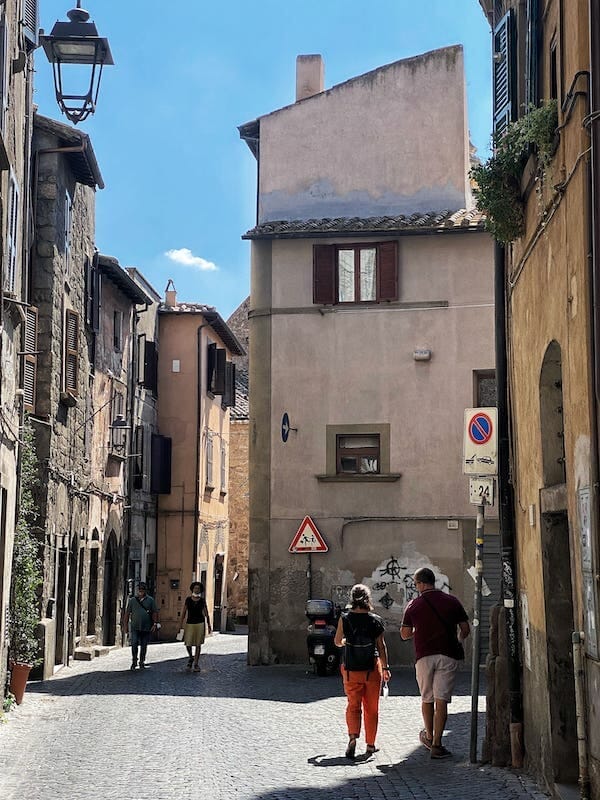 Practical Guide For Visiting Viterbo, Italy
Now that you know why you should be visiting the Tuscian city of Viterbo, it's time to figure out how you should visit. Travel information, where to stay and what to eat: it's all here.
Using a Viterbo Pass
Getting a Viterbo Pass is definitely a good idea if you intend to visit most of the attractions in town. The savings are considerable.
The pass includes the Palazzo dei Priori and Museo Civico, the Museo dei Portici, the Museo della Ceramica della Tuscia, the Teatro dell'Unione, the Polo Monumentale Colle del Duomo and the Museo del Sodalizio dei Facchini di Santa Rosa.
You can purchase it at any of the above locations but the easiest one is probably the Palazzo dei Priori which is the most central location.
Guided day trips from Rome to Viterbo
If you want to explore Viterbo but don't want the hassle of having to plan your day, simply book yourself into a guided trip. There are several departing from Rome daily, and typically include round-trip transportation and various stops in Viterbo and its surroundings.
For a guided tour to Viterbo and Bomarzo Monster Park click here. For a tour that also explores Tuscia, click here.
Don't fancy a full day tour? Head to Viterbo independently and book yourself onto a guided city tour once there.
For a guided walking tour of Viterbo, click here or here.
For an audio-guide tour of Viterbo, click here.
How to get to Viterbo from Rome
Viterbo is easy to reach from Rome by either car or public transport. If you plan to explore the region, you will be better off renting a car.
By car
Viterbo is located just off the A1, a main motorway that connects the north and south of Italy. Take the exit at Orte, which is around 20 miles from Viterbo city center. From there, you'll be following toll-free roads signposted for Viterbo. It's fairly simple and takes around an hour and a half to drive.
By train
Another easy option to reach Viterbo is to take the train. Catch a train bound for Viterbo from Termini or Tiburtina station and get off at Porta Romana, which is in the center of Viterbo. The journey takes about two hours.
You can check out the train timetable here.
By bus
Buses also connect up the cities of Viterbo and Rome. These leave from Rome Tiburtina station and the service is run by TPL. The ride generally takes about one hour and 30 minutes. Cotral also runs services from Saxa Rubra station in Rome.
How long to stay in Viterbo, Italy
As I have stated before, Viterbo is close enough to Rome that you can easily visit on a day trip. The historic center is fairly small and it will take you more or less a full day to explore it.
However, the surroundings of Viterbo (Bagnaia and its Villa Lante, and the gorgeous villages of Tuscia) will take a couple of days.
If you want to explore the region, set aside three or four days, rent a car and base yourself in Viterbo.
Check out the prices of car rental here.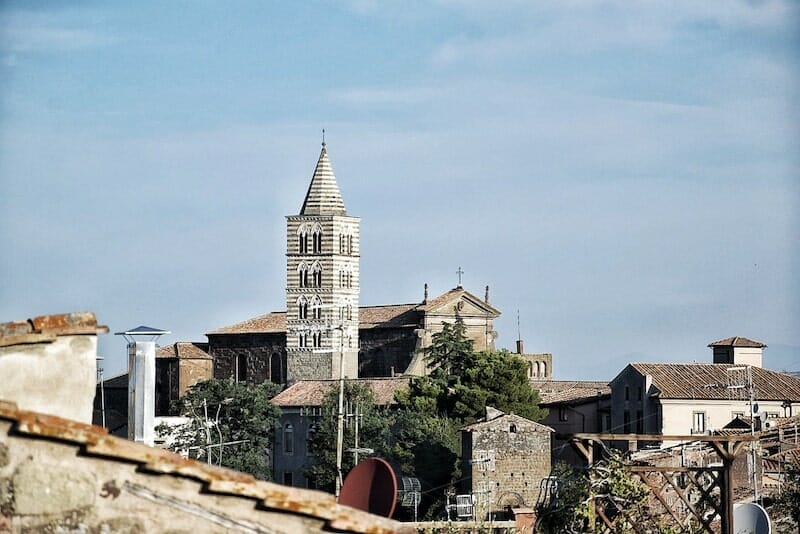 Where to stay in Viterbo
Should you decide to spend a few days in Viterbo, you won't have shortage of good places to stay. Here are some places I have tried and can recommend.
Make sure to also read my post Where To Stay In Viterbo.
Il Gallo Nero
This charming bed-and-breakfast is located in the San Pellegrino historic district, close to Porta San Pietro. It provides the ideal base for exploring Viterbo and the surrounding area.
Rooms here have a rustic ambience, with wood beamed ceilings, antique furnishings and fireplaces. Overall, it's a warm, clean and welcoming place to stay, with an Italian-style breakfast served up each morning.
Villa Farinella
This elegant countryside house dates back to the 18th century and makes for the perfect spot to stay in style in Viterbo. Rooms are spacious with high ceilings and are overflowing with antiques and oil paintings; windows open out onto the rolling Tuscian countryside. A breakfast of pastries and tea or coffee is served each morning.
B & B La Fontaine Residenza D'Epoca
Another bed-and-breakfast option, La Fontaine Residenza D'Epoca is set in a 16th-century building in the historic center of the city. Staying here means staying in a slice of Viterbo's heritage.
It's been renovated to a high degree and feels comfortable and relaxing to return to after a day of exploring. Think open fireplaces and outdoor terraces to unwind on.
Where to eat in Viterbo
Much like in the rest of Italy, food is delicious in Tuscia and you will have ample choice of good restaurants, pubs, pizzerie and gelaterie in Viterbo. Here are my favorite places.
Chiodo
For gelato, go nowhere else except Chiodo. It's a local institution, existing in the same spot for decades now. This venerable gelateria is the best place in Viterbo for when you want to cool down with a sweet treat.
Rather than offering a rainbow of different flavors, they literally do three flavors here, so you know that they're specializing in what they offer. Run by a friendly owner, you'll be savoring the gelato from Chiodo long after you've finished the last bite.
Antica Latteria
If you're still in search of something sweet to eat, and you can't justify visiting Chiodo more than once in a day, head to Antica Latteria. With many flavors on offer, the authentic Italian ice cream on offer here is positively dreamy.
Lactose free options are available, and they are delicious! There's plenty of seating, as well as other desserts and even coffee (when you need a pick-me-up) to choose from, too. Take a seat on the terrace and people-watch with a treat of your choice.
Il Grottino
For savory goodness after all that ice cream, Il Grottino is a top choice. With its historic traditional interiors, find yourself a cozy corner here and order whatever you fancy.
The food is outstanding – beautifully presented and full of flavor – and reasonably priced. It feels classy but without a classy price tag, basically.
Pizzeria O Sarracino
In the mood for pizza? Make a beeline for Pizzeria O Sarracino. You can't go wrong with any of their pizzas – or anything else on their traditional Italian menu, for that matter. There's also a great selection of wine.
Taverna Etrusca
Paying homage to the Etruscan roots of Viterbo, this taverna is a great place to drink a few craft beers or sip on a glass of wine (or two) after a day strolling the city. It also serves up a menu of traditional Italian recipes with a twist.
Trattoria Enoteca San Lorenzo
Incredible selection of wines and dishes from the local tradition, this is the best place to go to try the famous Lombrichelli alla Viterbese. Tiramisu is homemade, so give that a go too!
Al Richiastro
One of the best restaurants in town to try dishes of the local tradition, including a variety of soups. Service can be a bit of a hit and miss, but the location is stunning: you can dine in right next to the fireplace in the winter months, or sit in the beautiful patio in the summer.
Pin It For Later!