Looking for the perfect itinerary for a Puglia road trip? You are in the right place!
With beautiful countryside landscapes, gorgeous cities and picturesque small towns and villages, a coastline made of sandy beaches and smaller rocky coves, Puglia is quite the perfect place to enjoy a road trip.
Add to this the fact that public transportation in this part of Italy is somewhat lacking – at least if you are keen on exploring many places in a short amount of time – and a Puglia road trip quite simply becomes the best option.
Get a car, and you will have the freedom to stop for photos every few minutes if you wish, and the flexibility to sleep in if needed, or to linger just a bit longer in a place you are enjoying.
But with so much to see, coming up with a good Puglia road trip itinerary may be quite the challenge.
To take off the edge of the planning, I thought I'd help and share the itinerary my sister and I followed when we visited. It actually worked out quite well, and we had a great time.
The Best Puglia Road Trip Itinerary
An overview of this Puglia road trip itinerary
Make sure to check out the itinerary for this Puglia road trip here.
The starting point of this itinerary is Bari, from where you will pickup your car.
Bari Airport has a wide selection of car rental shops, but you will have to book your car in advance. I recommend using Rental Cars to compare the prices of the various car rentals before picking the car that most suits your needs. Check out the prices of car rental in Puglia here.
From Bari, you will travel anti-clockwise, hitting Matera (which is not in Puglia, by the way) as your second stop, then continuing to Valle d'Itria, Lecce and the Salento region, and finally making your way up to Bari via Polignano a Mare.
If your flight is actually landing in Brindisi instead of Bari, you may follow this itinerary clockwise instead – going to Lecce first, and then up to Valle d'Itria and the rest.
This Puglia itinerary only includes places my sister and I have actually visited – and loved. There certainly are many more places to visit in Puglia, but this itinerary is already packed as it is and if you add more it may get too hectic!
You could probably follow this same route in less time, if you don't have two weeks. If that's the case, simply cut a night off at each location and allow less time in each place you visit – though I warn you, Puglia calls for slow travel!
Over the course of two weeks, you will be sleeping at five different locations, for a minimum of two nights in each place – that's enough time to unpack your bags, relax and make the most of the local atmosphere.
Finally, let's take a look at what to see and do during a Puglia road trip!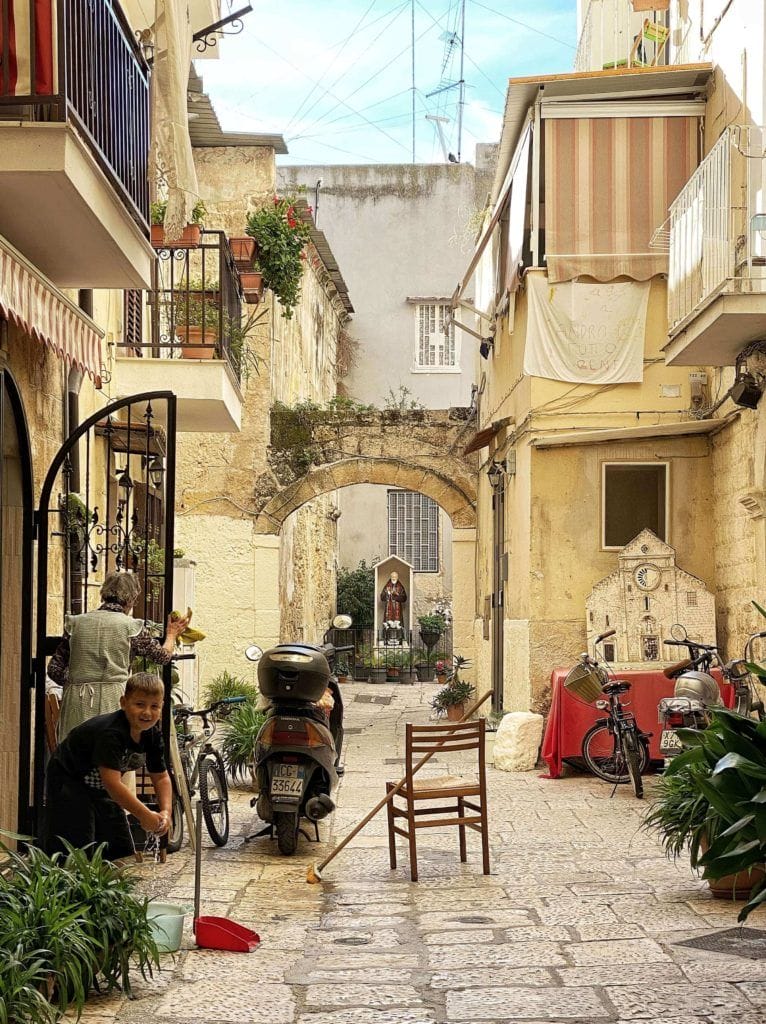 Days 1 and 2 – Bari
Bari will be the first stop on your itinerary. Once you pick up your car from the airport, it's an easy 20 minutes drive to the center of Bari, where you can find a (paid) parking spot outside of the historic center.
Many completely overlook the city thinking it doesn't have much to offer, and hit the road as soon as they land. I recommend to spend at least a full day in Bari as there actually is quite a bit to see – and eat! – there.
The main area to explore in Bari is Bari Vecchia – Old Town Bari – a gorgeous maze of narrow alleys; whitewashed buildings with colorful blinds; small plazas; impressive churches – the Basilica of San Nicola and the Cathedral are both a must-see; and an impressive waterfront.
Make sure to try the delicious focaccia barese while in town – it's a delicious focaccia topped with tomatoes, oregano and the olive oil Puglia is famous for. And have an earthy portion of orecchiette pasta!
In Bari, we stayed at B&B Murex, a lovely bed and breakfast in the heart of Bari Vecchia. You can book it here.
There's a lot to see in Bari, so make sure to read my post The Best Things To Do In Bari.
For further information on accommodation, you should also read my post Where To Stay In Bari, Italy.
Days 3 and 4 Matera
TOTAL DRIVING DISTANCE: 130 KM (80.7 MILES); AROUND TWO HOURS
As you leave Bari, make your way to Castel del Monte, one of the most famous places to visit in Puglia and a UNESCO World Heritage Site. Built on top of a hill and immersed in the most scenic countryside, this castle was built in the 13th century by Emperor Frederick II and has a perfectly regular shape, thus being an incredible example of medieval military architecture.
From Castel del Monte, it's another hour to get to Matera. You may stop in Altamura along the way: this small town is famous for the most delicious bread. We decided not to stop, as we were pressed to reach Matera for sunset.
Once you get to Matera, you will have to park your car outside the city center – which is not accessible to cars, save for the occasional one for residents. There is a large parking lot in Via Saragat, from where it's a 20 minutes walk to the Sassi, or a quick bus ride. Plan to pack a small backpack for your stay in Matera and leave your larger suitcase secured in your car. The city isn't exactly walking friendly and it will be a nightmare getting to your hotel with a rolling suitcase!
Matera is a rather compact city and it won't take you more than a day to explore it – however, I recommend sleeping two nights there as the atmosphere is simply unique. You will want to go on a guided tour of the Sassi of Matera (that's what made the city famous!), which you can book here; and then head over to the Parco della Murgia to visit the rock churches and experience an incredible sunset.
Although you have a car, it's actually better that you join a guided tour as this will leave directly from the center of town, so you won't have to go all the way to the parking lot. Furthermore, private cars can't access all places inside the park. You can book your guided tour here.
In Matera, we stayed at La Dimora di Metello, a gorgeous boutique hotel in the heart of the Sassi. You can book it here. For something a bit more budget friendly, check out this place.
Make sure to read my post The Best Things To Do In Matera.
Days 5-7 Locorotondo
TOTAL DRIVING DISTANCE: 77.8 KM (48.3 MILES); AROUND 1 HOUR AND 15 MINUTES
On your way to Locorotondo, make sure to stop in Alberobello, the world famous Trulli town. This is probably the most touristy place you will be visiting during your road trip around Puglia. It will take you no more than three hours to explore it, visiting the famous Trullo Sovrano – the only two-floors trullo in town, and now a museum; and going to the viewpoint for a panoramic view.
Make sure to read my complete Alberobello Guide and check out my post A Guide To Valle D'Itria, Puglia.
From Alberobello, it's a quick drive to Locorotondo, one of the prettiest small towns of the scenic Valle d'Itria. That's where my sister and I based ourselves to explore the area, rather than Alberobello.
We just wanted a place that was a bit more down-to-earth and less touristy, but at the same time incredibly charming. Locorotondo is also an excellent starting point to explore the rest of the valley.
Make sure to wander around the historic center, where you'll find a few beautiful churches; pop by Trullo Marziolla, the oldest registered trullo in the region, and take a walk along the Lungomare di Locorotondo, which contrary to what the name says isn't a waterfront – though it offers beautiful views of the surrounding countryside.
In Locorotondo, you have the option of staying in town or – for a really unique experience – stay in a trullo in the countryside. That's what we did! We stayed at Il Trullo di Ben, a bit outside of Locorotondo, and had no issues to park our car. We had a fabulous trullo to ourselves, with all the comforts we could have hoped for – including a pool. You can book it here. If you'd rather opt for something a bit cheaper, check out this place.
Read my post What To See And Do In Locorotondo.
From Locorotondo, you can easily visit other places in Valle d'Itria. We loved Ceglie Messapica and Cisternino, where the Piazza dell'Orologio and the Villa Comunale park are favorite local hangout spots.
However I must say my absolute favorite was Martina Franca, the largest city in the area though for some reason not nearly as popular a destination as the others. The historic center of the city is absolutely gorgeous and offers some great examples of Baroque Architecture.
Days 8-11 Lecce
TOTAL DRIVING DISTANCE: 103 KM (64 MILES); AROUND 1.5 HOURS
It's an easy drive from Locorotondo to Lecce, but on the way you should definitely stop in Ostuni.
This small whitewashed town is honestly gorgeous and getting increasing attention from tourists. The Old Town is a maze of narrow alleys with perfectly white buildings and colorful doors.
The most impressive sight is by far the Cathedral and the Arco di Scoppa right in front of it. The defensive walls will call for a walk, and you can stop for a drink at Piazza della Libertà before making your way to Lecce – unless you are traveling in the summer, in which case you ought to make a stop at Torre Santa Sabina, one of the most beautiful in the area.
For a guided walking tour of Ostuni, click here.
Make sure to read my post A Short Guide To Ostuni, Puglia.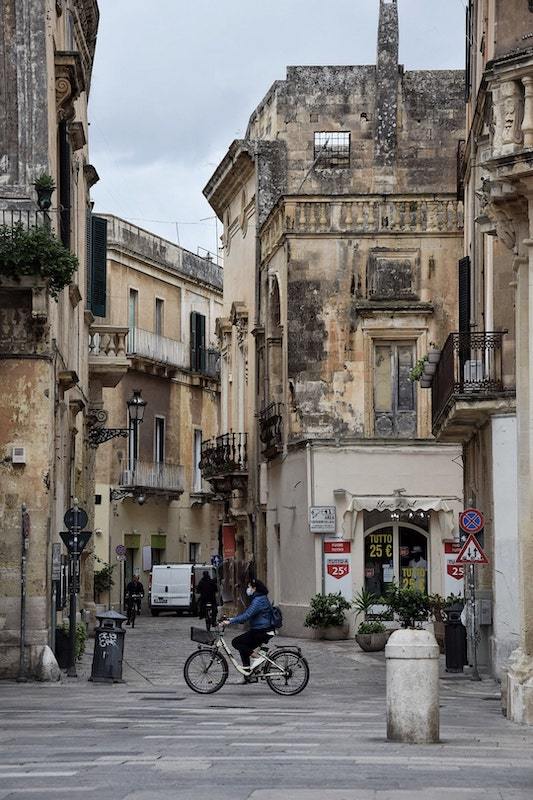 Once you get to Lecce, it's best to park your car outside of the historic center as that's a ZTL (Zona Traffico Limitato – residential only traffic). In any case, the city is best explored on foot!
Lecce is the capital of Salento, the southernmost part of Puglia and the heel of boot-shaped Italy. Often referred to as the Florence of the South, Lecce is a beautiful Baroque town with whitewashed buildings.
You will see magnificent churches – make sure not to miss the Maria Santissima Assunta Cathedral and the Basilica of Santa Croce; a large Roman amphitheater (located in Piazza Sant'Oronzo); a smaller Roman theater tucked away between historical buildings; and three gates that back in the day were the main access points to the city and now mark the historic center.
When in Lecce, you also ought to try the delicious local pastry – pasticciotti, a shortbread crust filled with custard; and puccia salentina, a peculiar bread roll only found in Salento and perfect for a quick lunch.
To make the most of Lecce in a short time, consider joining a guided tour. For more information, click here.
My sister and I opted to stay at a small bed and breakfast called Chez Moi Charme. It's a great mid-range option. You can book it here.
For more things to see and do in Lecce, check out my guide here.
Lecce is a perfect starting point to explore other places in Salento – you surely won't have shortage of that!
Galatina, a small Baroque town; Gallipoli, a coastal town with a pretty beach and an old olive press; and Otranto, a small seaside town with an Aragonese Castle and a beautiful Cathedral, are all at short driving distance from Lecce and perfect for a day out of down.
In fact, Galatina and Gallipoli can be easily visited on the same day; whereas you can pair your visit to Otranto with a day at the beach – Torre dell'Orso and Baia dei Turchi are both perfect for a dip in the sea.
Days 12-13 Polignano a Mare
TOTAL DRIVING DISTANCE: 118 KM (73.3 MILES); 1 HOUR AND 40 MINUTES
The drive from Lecce to the beautiful Polignano a Mare is only 1 hour and 15 minutes, but there are a few places you should visit that are just along the way.
I recommend stopping in Egnazia, a city whose origins have been traced back to the 15th AC century and which became a Roman city. The site has a fantastic museum or archeology – which you should visit before you head to the actual ruins. There also is an acropolis facing the sea, which is however only open to guided tours which run once a day.
Once you are done visiting Egnazia, head to Monopoli, a lovely coastal town whose main feature is the port with the iconic blue boats. There is a nice waterfront perfect for a walk, and the historic center is yet again a series of narrow, cobbled alleys.
Probably the most iconic place to visit in Puglia, Polignano a Mare is simply picture perfect. The main sight here is the Lama Monachile beach, which you can admire from just about any perspective – the Terrazza Santo Stefano viewpoint on the southern side.
You should also go to Pietra Piatta on the northern side; from the Ponte Lama Monachile bridge leading to it and even from the beach itself. No matter how you look at it, it is spectacular!
It's little wonder that Polignano inspired Nel Blu Dipinto Di Blu singer Domenico Modugno, who was born there. Make sure to pay a visit to the statue the city erected in his honor.
Another thing you may want to do in Polignano a Mare is a cave boat tour. You can book it here.
In Polignano, we opted to stay in small studio apartment in the town center called Il Viandante. You can view it here. We didn't have the budget to splurge when visited, but if you do, definitely stay at the gorgeous Quintessenza Luxury Domus.
Make sure to read my complete guide to Polignano a Mare.
Day 14 – Return to Bari
TOTAL DRIVING DISTANCE: 77.7 KM (48.2 MILES); 1 HOUR AND 15 MINUTES
Depending on how much time you have before your flights, you can visit Castellana Grotte (Castellana Caves, in English) en route to the airport, or as a quick half-day trip from Polignano a Mare (it's a 25 minutes drive).
These impressive caves can only be visited on guided tours that last about 1.5 hours and cost €18. The guide will take you to the various chambers, each illuminated by artificial light, and share the story of how the caves were discovered and explored.
From Castellana it's another 50 minutes drive to Bari International Airport, but you should allow plenty of time to get there as you will need to return your car, and frequent road works may end up causing a delay (it certainly happened to us!).
Practical Tips For Your Puglia Road Trip
Best Time To Visit Puglia
With its beautiful beaches, Puglia is one of the most popular summer destinations in Italy and it goes without saying that if you visit in July and August you will find it packed with tourists; the prices will be a bit higher than usual; and you'll have to book your car and your accommodation in advance.
Summer is also quite hot in the region, so planning a Puglia road trip in August is not a good idea if you aren't a fan of the heat. On the other hand, if you want to enjoy a beach or two during your trip, the summer months – from mid June to September included – are definitely the best!
If you aren't interested in spending time at the beach, plan your Puglia road trip for the spring months – April and May; or in October. We went on our road trip in October and while we got quite a bit of rain, this didn't stop us from falling in love with Puglia; we also enjoyed the places without the crowds and prices were more than reasonable.
How to get to Puglia
There are two international airports in Puglia: Bari Karol Wojtyła Airport, named after Pope John Paul II, airport code BRI; and Brindisi Papola Casale Airport, also known as Salento Airport, airport code BDS.
Both are served by a variety of budget airlines and have direct connections to several cities in Europe.
Various rental car companies are found at both airports. You can check out the prices of car rental in Puglia here.
Driving in Puglia
I won't sugarcoat it for you: driving in Puglia is definitely fun but it can be challenging at times.
I am Italian so I am used to windy roads, random traffic jams, road works that call for sudden deviation (not reported by the best GPS devide) and less-than-respectful drivers.
However, the main issue you'll have (and we certainly had!) in Puglia is that you'll often be driving on incredibly charming but oh-so-narrow country roads, especially around the countryside of Valle d'Itria. I won't deny it can be scary at times, especially at nights and when random animals (foxes and boars) decide to cross the road!
The following are some tips for driving in Puglia, based on our experience.
Don't swear by Google Maps
The app has a habit of picking the shortest route in terms of km or miles, but that's not always the best one. Sure enough it sent us on some scenic but oh-so-bad roads on various occasions!
Find a good road map of Puglia and take it with you – also rely on road signs (though fair enough, there aren't that many in certain parts of the region) and ask for directions where needed.
Rent a small car
Rent a small car – with streets so narrow and parking spaces so scarce, a smaller car is certainly a better option. Besides, the driving distances aren't such to require a large SUV, and smaller cars are much cheaper too! We opted for a Lancia Y and it served us perfectly.
Beware of ZTL
ZTL stands for Zona Traffico Limitato – Limited Traffic Area, in English. That indicates a part of the city where traffic is only open to residents, whereas non-residents can only drive through at certain times of day.
All ZTLs are marked by clear signs and often have a traffic-light looking gate with a large shiny sign that will say either "varco aperto" (gate open) – meaning you can drive through; or "varco chiuso" (gate closed), meaning you can't.
The tricky bit is that there is no physical gate, so you can technically drive through if you want. But if you do when you are not supposed to, you'll get a fine. The good news is that if you drive through when the gate is open, you can park your car inside and drive out even after the gate has closed.
In doubt, try to avoid driving through a ZTL area.
Beware of speed limits
Italians have a habit of completely disrespecting the speed limits. Truth be told, some can be frustrating as they can go down from 90 km/h to 50 km/h in a short space, at times causing drivers to suddenly hit the breaks – causing more damage than good.
Speed limits are at times accompanied by speed cameras – autovelox, in Italian. These are normally signaled beforehand, and they can be in use or not. It's honestly quite random! Just try to stick to the speed limit as much as possible to avoid getting fines.
Parking in Puglia
Much like in the rest of Italy, finding a parking spot in Puglia can at times be a nightmare, especially in or close to the historic center. Here are a few things to know:
A blue sign with a white P (or a white and black sign saying "parcheggio") will indicate the presence of a parking lot in the area, usually paid.
Blue lines on the ground mean that is a paid parking spot at certain times of day – nearby signs will tell you the exact times, but in general they will be from 9:00 am to 1:00 pm and then again from 4:00 pm to 8:00 pm. Ticket machines are located along the street and usually easy to find. You will need coins to pay and at times you'll have to input the license plate too. The fee vary depending on the place and area, from a minimum of €0.50 for a one hour time-slot to up to €1.50 per hour, or even €5 for the day in places like Castel del Monte.
White lines mean that the parking spot is actually free – good luck finding one of those.
Yellow lines mean that the parking is reserved for disabled drivers.
Watch out for "passo carrabile" – tow away zones. If you spot what seems to be a parking spot in a very busy area, chances are it's a tow away and you are better off not parking there. These are usually well marked by a red and blue sign, anyways.
Final Considerations
A Puglia road trip is a wonderful experience and I truly hope this post will help you plan yours and have a wonderful stay in this incredible region of Italy.
Going back, I don't think we should have done anything differently: we took our time to fully appreciate and enjoy each and every place we visited; we made the most of the local food; we picked some great places to stay and enjoyed a guided tour here and there, and overall had a fabulous time and fell in love with Puglia.
I am sure you will too!
Finally, check out my post What You Must Know Before You Visit Puglia for more tips!
Pin It For Later!