Garbatella is one of my favorite neighborhoods in the Eternal City. Away from the chaos and tourist crowds of the center, it's a pleasant place to go for a walk and get a bit more or a local feel.
Indeed, Garbatella is located outside of the historic center of Rome and right next to the more famous Ostiense district. It's a newer part – a planned settlement that dates back to the early 20th century. Specifically, Garbatella was founded in 1920 on the estate of the same name – a semi-rural part of Rome with sheep pastures, fields and vineyards.
One notable building that did exist in the area was the Papal Basilica of Saint Paul Outside the Walls (San Paolo Fuori le Mura), which was used by pilgrims who would stay there on journeys to Rome.
The district was originally built to house the workers for the river harbor that would connect the city to Ostia, but this was a project that was never completed. Instead, displaced families from other areas of the city became the residents of the fledgling Garbatella.
The design of Garbatella featured blocks of residential buildings centered around various gardens – something that was inspired by England's Garden City Movement of the early 20th century, in which community is focused on the outdoor green spaces.
The architecture here is a kind of neo-Baroque, with medieval and Renaissance motifs running through it. Much of it remains how it was originally built, and has been allowed to age naturally for charming results.
Make sure to read my posts The Best Hidden Gems In Rome and The Nicest Neighborhoods In Rome.
What To See And Do In Garbatella
Even though the district is relatively new, there is a surprising amount of things to see and do in Garbatella. If you like taking photos or if you're an architecture fan – or simply like wandering around – then you're going to love exploring the aesthetically pleasing neighborhood of Garbatella.
For a guided photo-tour of Garbatella, click here.
Ponte Settimia Spizzichino
Unlike many of Rome's long-standing bridges – some of which are thousands of years old – the Ponte Settimia Spizzichino is a much more modern addition. It also doesn't cross the River Tiber. Instead, it bridges the railway line and connects the city's Ring Road to the Ostiense district.
You'll find this white, steel bridge close to Garbatella metro station, soaring high into the sky. Inaugurated in 2012, it was incredibly created using 3D modeling software techniques, which formed the complex lattice structure. It cost 15 million euros to build.
The bridge is named in honor of Settimia Spizzichino, who was one of the few survivors of the Jewish ghetto in Rome, whose inhabitants were transported to Auschwitz during World War II. In the evenings, the bridge is elegantly lit by colorful LED lights, making it a landmark in the area.
Read my post The Most Beautiful Bridges In Rome.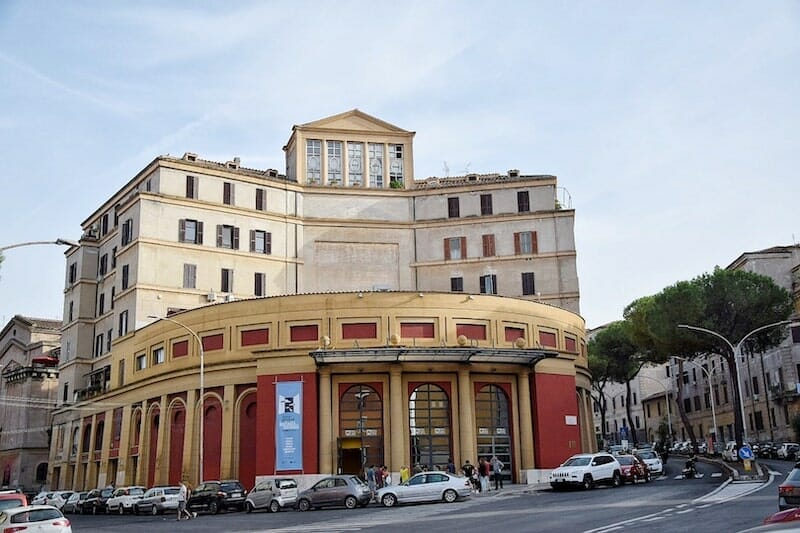 Palladium Theater
This iconic Art Nouveau-style theater was established in the working-class neighborhood of Garbatella in 1927. Set in the heart of the district, it is something of a symbol of Garbatella and has been run by the Roma Tre University since 2003.
There are a roster of performances put on here throughout the year, from movie showings and concerts to international festivals. The theater's architect, Innocenzo Sabbatini, was inspired by the classical aesthetic of ancient Roman buildings in his design.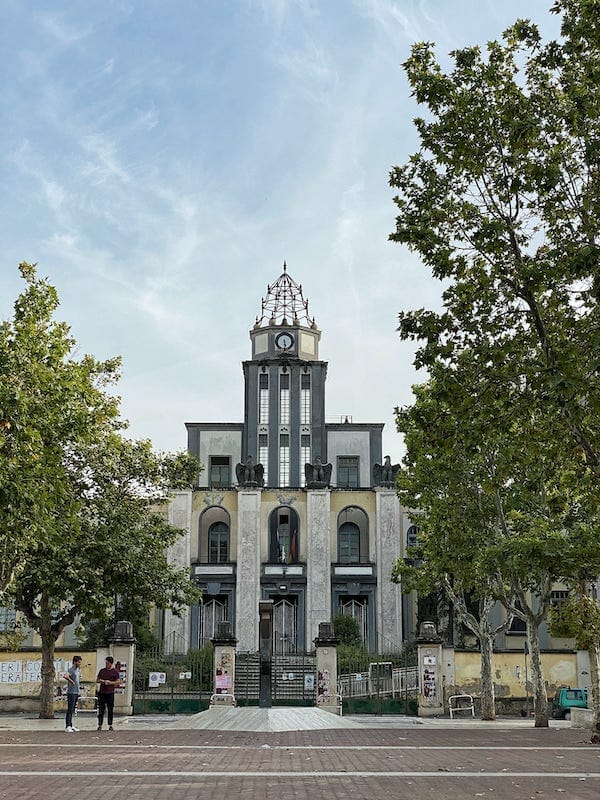 Piazza Sauli
For a leafy place to sit for a while and people watch – and hunt for interesting architecture – the rational-style Piazza Sauli is a good option. This wide open space, which was designed and built in the Fascist era of the 1930s, is lined with trees and home to a church and restaurants, as well as eye-catching archways.
The church of San Francesco Saverio has an important connection to Pope John Paul II. It was here that the future pope used to preside over Sunday confessions. In 1978 he made his first visit as Pope to the suburbs – you can spot a bronze statue of the Polish pope at the church (making the gesture of absolution, symbolizing the end of confession).
Perhaps most famously the Piazza Sauli leads up to a sprawling primary school, Scuola primaria "Cesare Battisti". The school was built to meet the needs of the ever-growing population of Garbatella, and is an imposing structure – complete with soaring hollow tower and four eagles that loom overhead (a feature of Fascist architecture).
Check out my post The Nicest Squares In Rome.
Piazza Giovanni da Triora
Piazza Giovanni da Triora is a charming spot to stumble across. Hemmed in by crumbling, ivy-covered walls and with a selection of eateries right on the doorstep, it's perhaps better known for the Teatro Garbatella (at the back of the San Francesco Saverio). The courtyard here is a great place to go for an aperitif before catching one of the roster of shows.
Piazza Brin
The main piazza of the whole area, and the center of Garbatella's birth, is Piazza Brin. It was here on February 18th, 1920, that King Vittorio Emanuele III laid the foundation stone. It's sometimes described as "the living room" of the neighborhood, due to how focal it is for the community. Here citizens of different generations have been gathering for over a century – so why not join them and take a while to soak in all the atmosphere.
At the center of the square is a large stone fountain surrounded by benches, feeling like more of a countryside village atmosphere rather than an urban hub. In the summer months, make sure to stop by in the evening as the piazza organizes open-air events such as movie nights and concerts.
Commodilla Park
Just to the south of Piazza Brin is the green space of Commodilla Park. While the park itself is a pleasant place to stroll, there's actually more history to this place than just one hundred years of urban renaissance.
Specifically, it's here that you can find the entrance to the Catacombs of Commodilla (which are however closed await for renovations until they can be visited again). Dating back to the 4th century, this collection of crypts is the final resting place of martyrs Felix and Adauctus (who died around 303 AD). Also to be found are Byzantine-era paintings and inscriptions from around the 9th century.
Additional burial places and crypts can be found here too, owing to the tradition of being buried near the supposed resting place of martyrs.
Alberghi Suburbani
Probably the most famous sight in the neighborhood, I can say these buildings will make you wow a few times – at least, this happens to me every time I visit.
There are a total of four Alberghi Suburbani (or "Suburban Hotels"), all the brainchild of architect Innocenzo Sabbatini. He designed these residential buildings as places to house displaced families in the late 1920s.
The buildings were designed with specific elements in mind, and are unusually shaped with three blocks protruding from their center, each of which has unobstructed views down to a courtyard or gardens below. Their unusual style and the Art Nouveau design has led to them being an attraction for photographs, architecture enthusiasts and TV crews alike.
Street Art
Walking through Garbatella will reveal the neighborhood's story. A common sight on the streets of this area is colorful art and graffiti daubed across the walls. The murals pay tribute to historic figures, and are sometimes politically driven; other times they simply nod to the rich culture still alive in the streets here.
There are some particularly famous pieces of street art to see in Garbatella, that you should make sure to put on your itinerary. One you won't be able to miss is the abstract artwork that covers the side of the ATAC Building, created by German artist Clemens Behr. The geometric patterns are designed to match the surrounding landscape.
Onward from the ATAC Building there's the "Passaggio", painted by Sten & Lex – a pop art style, monochromatic work. Next to this, there's another black-and-white piece, this time created by Greg Jager in 2021, representing the 12 articles of the Italian constitution.
There are also hidden pieces by well known European graffiti artists throughout the neighborhood. Some are by French artist Christian Guemy, who has produced a string of detailed stencils throughout Garbatella; one notable piece is on Via Badoero.
Over in Via Passino is the eye-catching "Oh My Darling Clementine" portrait. This depicts a huge, colorful image of Clementina Eusibi daubed on the entire side of a building, whom the neighborhood was named after. There are many more.
For more street art, make sure to read my post A Short Guide To Tor Marancia.
Practical Guide To Garbatella
Now that you know why Garbatella is such an interesting place to visit, and what you should spend your time doing once you're here, it's time to figure out the practical info. To help you navigate your way to Garbatella and make sure your day (or days) spent exploring this district go smoothly, I've curated some helpful information below.
How to get to Garbatella
From Rome Termini Station, you can take the Metro Line B directly to Garbatella (just 10 minutes). From Termini, you could also catch bus 714 and get off at Colombo/Circovallazinoe Ostiense bus stop. Alternatively, another metro route is taking Line A to Re di Roma, after which you change for a bus – the number 671, getting off at the same bus stop I just mentioned.
From Leonardo da Vinci International Airport, the journey to Garbatella takes just under an hour. You can hop on the REG train to Roma Ostiense, then change to get the bus route 30 to the Colombo/Bavastro bus stop. Alternatively, you could change at Termini instead and then take the metro all the way there.
Where to eat and drink in Garbatella
No doubt you'll get hungry as you explore this fascinating area of Rome. Luckily for you, Garbatella is famed for its food and is packed with an array of fantastic, authentic eateries to try out, which just makes this already awesome neighborhood even more exciting to explore.
With that in mind, here are a few great venues to try out during your trip.
La Mescita
This cozy neighborhood spot provides the ideal place to sip wine and sample snacks late into the night. It's a well known spot, and for a good reason. Here they combine a mouthwatering menu with a cool interior aesthetic, making it the sort of place you could easily forget how long you've been sitting there for. Highly recommended for aperitifs.
Ristoro degli Angeli
This modern Italian restaurant combines a long line of tradition – except with creative twists. With a Michelin-recommended Bib Gourmand status, Ristoro degli Angeli is definitely one you shouldn't miss. The interiors are lovely too, with deliciously retro furnishings and hung with French bistro-style lamps and mismatched tables and chairs. The menu consists of delightful Lazio region dishes created by the welcoming team, all made from carefully selected ingredients.
Bar Foschi
Situated in a small piazza in front of the Palladium Theatre, the historic Bar Foschi is a prized place that's been in business for decades. It's the archetype of the Italian bar, so definitely come expecting some real authenticity.
In the morning, its selection of delicious pastries and tramezzini (triangular sandwiches), as well as coffee, set customers up for the day. On Sundays in particular you'll find people snacking on terrace seating out the front of Bar Foschi.
Come the evening (after 6:00 pm), it's a good spot to swing by for an aperitif and a snack. In fact, many university students meet here. Pass by and you'll also find it impossible not to stop.
La Casetta Rossa
If you're out exploring the Garbatella area, you should definitely take some time to stop by La Casetta Rossa. This small and unassuming eatery is a well-loved staple of the community, and an environmentally friendly spot, too.
The "Little Red House" (that's what the name means) can be found in the east of the district. With its leafy courtyard and laid back atmosphere, it feels like an authentically local place to be. It's the ideal spot for dates and meet-ups with friends alike.
The menu here offers up both small plates and hearty meals, much of it organically produced but still offered at affordable prices. The big outdoor space here is a great place for the summer; sometimes there's even live music or a market taking place at La Casetta Rossa. Note that it can get busy on a sunny day, so be sure to book ahead.
For more restaurants, head over to my post Where To Eat In Rome.
Pin It For Later!