Contrary to popular belief, Rome is so much more than the Colosseum, Pantheon, Sistine Chapel, and other famous monuments from ancient history. And – although they're amazing and must-see landmarks – Rome offers contemporary wonders too, like the emerging Roman neighborhood of Ostiense that's well worth visiting.
Like its mother city of Rome, the history of Ostiense is a fascinating one. Back in the 19th century, Ostiense was best known as Rome's industrial center — and has been undoing radical transformations ever since.
The neighborhood forms around the main street of Via Ostiense, which was once an ancient road that led to the port town of Ostia from the city's abundant cattle market.
What stands now is one of Rome's most hip neighborhoods — bustling with restaurants, clubs, bars, gelaterias, and some of the most eclectic street art in Italy's capital city due to its pivotal role in Rome's contemporary street art movement.
In addition to the emerging hot spots and lively atmosphere, Ostiense is well known for its alternative music scene and modern architecture. As the up-and-coming Roman neighborhood continues undergoing its cultural transformation, it keeps attracting more and more young people into its community.
Curious to discover more about it? Continue reading as I highlight the unmissable places to visit in Ostiense, Rome.
What To See And Do In Ostiense, Rome
The best part of visiting Ostiense is exploring all of its off-the-beaten-track charm. You can visit all of the main attractions or simply wander through the lively streets and soak in whatever adventure comes your way. To help you decide how much time you want to spend there, here are some highlights of the best things to see and do in Ostiense.
Pyramid of Caius Cestius
What is an Egyptian-looking pyramid doing in the heart of the Italian capital? Caius Cestius Pyramid was built in 12 BC. It measures 36 meters (118 feet) and used to be the tomb of a notable Roman. The interior has been ransacked several times so there really is nothing to see inside. But the building is actually one of the most notable things to see in this part of town.
The Pyramid of Caius Cestius is located in Via Raffaele Persichetti. It's literally the first thing you'll see as soon as you get off the metro at Piramide – Line B, two stops after the Colosseum.
Make sure to read my post A Guide To Rome Pyramid Of Cestius.
Non-Catholic Cemetery of Rome
Non-Catholic (Jews, Protestant and simply atheists) living in Rome such as Percy Shelley or Italian Antonio Gramsci used to be buried in this cemetery that is actually located right by the Pyramid of Caius Cestius. It's a lovely place for a walk. There is a cat sanctuary inside, and some of the most famous statues in Rome such as the Angel of Grief, pictured above.
The cemetery is located in Via Caio Cestio 6. It's open daily from 9:00 am to 4:30 pm and on Sundays from 9:00 am to 12:30 pm. It is free to visit, but donations for the maintenance of the site are welcome.
Make sure to read my post A Guide To The Protestant Cemetery and The Best Hidden Gems In Rome.
Centrale Montemartini Museum
Formerly a thermoelectric power station in 1912, the highly undiscovered Centrale Montemartini Museum is one of the most fascinating, original museums in Rome.
In 1997, the power station was meant to temporarily house some of the Capitoline museums' antique sculpture collection during a period of renovation. But the venue was so well received that the temporary exhibition became permanent.
What stands now is a permanent museum that displays a juxtaposition of turn-of-the-century machinery and ancient Roman, Greek, and Egyptian art works unlike any you've ever seen.
Over 400 ancient statues make up the Centrale Montemartini Museum's permanent collection, and visitors can also take advantage of amazing temporary exhibits throughout the year.
The museum rooms are made up of the boiler room, the engine room, and a hall that houses the impressive Pope Pius IX train. Visitors can still view diesel engines, a steam turbine, and control installations in addition to the antique collections on display.
The Centrale Montemartini is located just outside the center of Ostiense, Rome between the Pyramid and the Basilica of San Paolo on Via Ostiense, near the Garbatella metro station.
Get tickets in advance here.
Make sure to also read my post A Guide To Centrale Montemartini Museum.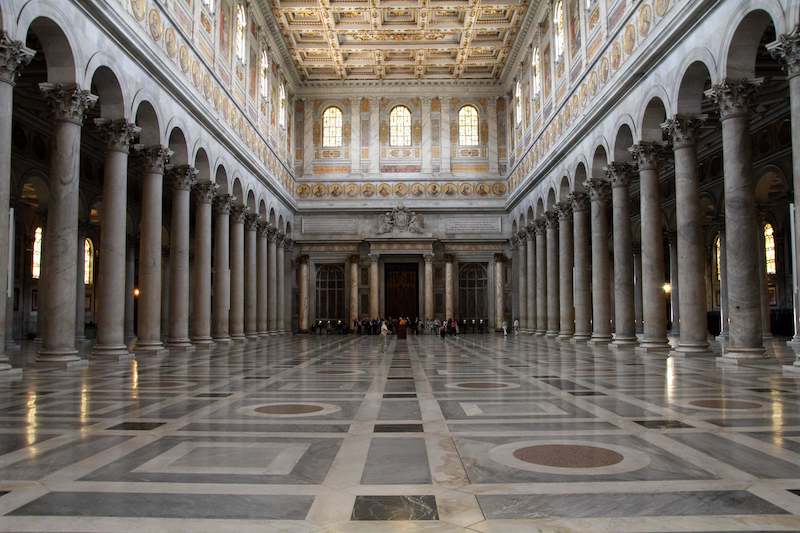 Basilica di San Paolo Fuori le Mura
One of Ostiense's most famous sites is San Paolo Fuori le Mura—or the Basilica of Saint Paul's Outside the Walls—one of Rome's four main papal basilicas. It's the second largest after St. Peter's and was built over Saint Paul's burial site.
The tomb of Saint Paul is under the grand basilica's main altar. Near the tomb in a gold repository, you'll find what's probably the most fascinating objects at the site — the chains that were used to shackle Apostle Paul when he was imprisoned circa 61 A.D.
The basilica is also home to many significant paintings, statues, and mosaics — the most noteworthy being the mosaic portrait display of all the popes starting from St. Peter to Pope John Paul II.
The beauty and tranquility of the Basilica of Saint Paul is the perfect respite from the city noise. As soon as you step into its grand interior, the quiet and peace will put you at ease.
The church is located in Piazzale San Paolo (you can get there by Metro line B); it's open daily from 7:00 am to 6:30 pm.
Check out my posts Make sure to also read my post A Guide To Visiting The Basilica Papale Di San Paolo Fuori Le Mura, Rome and The Most Beautiful Churches In Rome.
Ponte Settimia Spizzichino
Completed in 2012, the Ponte Settimia Spizzichino is a relatively new construction but has already staked its claim as one of Rome's landmarks. This contemporary, all-white steel bridge has a fascinating cobra-like design that makes it particularly memorable.
The bridge stands over 125 meters high and can be seen from as far as the hills in Rome. It's dedicated to Settimia Spizzichino, one of the Roman holocaust's only survivors and connects Ostiense to Garbatella, the neighborhood Settimia called home until her death in 2000.
Head over the my post The Prettiest Bridges In Rome.
Gasometer and the industrial architecture
Walking through Ostiense, you'll quickly become aware and fascinated by the city's modern and industrial architecture.
One of the most notable is the gasometer, a large-standing artifact commemorating the industrial past of Rome. Although no longer in use for its original purposes, the gasometer stands as the site for summer concerts, festivals, street performances and nightly Italian aperitivos. Spruced up with colorful lights and music, the gasometer dazzles visitors from near and far.
Be sure to make this a stop during your time in Ostiense, Rome. Whether you're up for an all-night party or just some tasty food and drinks al fresco, it's an authentic local experience you don't want to miss.
Ostiense street art
Ask anyone who's visited Ostiense what the city is best known for, and almost all will say its street art. The hipster vibe radiates throughout the city and through every brush stroke of the many wall paintings you'll see as you wander through Ostiense's lively streets.
The main charm is seeing the walls of apartment buildings, abandoned complexes, and train underpasses turned into marvelous works of arts by progressive street artists from all around the world. Among the list of famous artists that have contributed to Ostiense street art, you'll see include Blu, Herbert Baglione, JB Rock, Axel Void, Carlos Atoche, and so many more.
You'll find most of the colorful murals along the main road of Via Ostiense. Major works are found near the Garbatella metro station (German artist Clemens Behr's "Behind and in front of the wall), close to Saint Paul's Cathedral (Spanish Sam3's "Opera Onirica"), and at the corner between Via del Porto and Via delle Conce (Blu's huge mural, "I Mille Volti").
For information on guided tours of Ostiense street art, click here.
For more street art, make sure to read my post A Short Guide To Tor Marancia.
Cross to Garbatella
Right up there with the traditional, working-class charm that Ostiense offers is neighboring Garbatella. Established in the 1920s, Garbatella was meant to house the employees of nearby Ostiense warehouses, factories, and markets.
The design of the Garbatella quarter was inspired by an English urban planning concept of "garden cities," resulting in a neighborhood that was divided into 62 lots that includes blocks of apartments and cottages equipped with farmyards and green areas for its residents.
Crossing over to Garbatella from Ostiense takes you on a stroll through a piece of Rome's history and working-class feel. The best part of soaking in this traditional piece of Italy is that you'll find some of the most inviting, charming restaurants where you can be sure to find some of the most authentic Italian meals typical of Rome's delicious cuisine.
Make sure to read my post A Short Guide To Garbatella.
Pin It For Later!