Trying out new food in a city is one of the best ways to experience culture. When you're looking to do just this in a busy, much touristed city like Rome, it can be tricky to know where to start, and you may end up falling for one of the city's infamous tourist traps, where the food is less than flavorful and the overall dining experience a disappointment.
To help you out, here is a list of the best places to eat in Rome. So, what are the best restaurants in Rome?
Loved by locals and visitors alike, I can personally attest to the tastiness and great atmosphere at the places on this list. I have visited them all – some of them multiple times, actually. And I can't wait to go again!
Word of warning: book in advance where you can, unless you don't mind standing in line!
Read before you go! What To Eat In Rome.
The Best Restaurants In Rome
Aroma – Best Fine Dining, Incredible Views of the Colosseum
Michelin-starred Aroma is one of Rome's most elegant restaurants. The views from this roof garden terrace restaurant are as showstopping as its food. Diners will be treated to sweeping views of the Colosseum and the dome of St Peter's.
The food here is all about Mediterranean cuisine. They serve up a selection of Roman specialties too, and all in a relaxed atmosphere. There are actually a variety of different menus to sample here, whether you're visiting at lunch or dinner; there are also tasting menus if you feel like enjoying the restaurant's plethora of tastes – some include pairing with wines.
There are only 28 seats here, making it a small, intimate venue – perfect for a romantic dinner. It's not cheap (expect to pay €110 per person, as a minimum), but it's oh so worth it.
Via Labicana 125 Palazzo Manfredi, 00184 Rome Italy
Armando al Pantheon – One of the Best Restaurants In Rome's Historic Center
The name of this one is a bit of giveaway: it is situated right near the Pantheon. Armando al Pantheon has also been run by the Gargioli family since 1961 and is currently operated by the third generation. Ask anyone for a recommendation for the best restaurants in Rome, and it's name is bound to come up.
It's a small, cozy spot in the neighborhood around the Pantheon that's popular with both locals and visitors alike. Inside you can expect Art Deco windows, wood paneled walls, and booth seating, with around 14 tables for diners.
The wine list here is particularly incredible, with a range of labels on offer by the bottle and glass.
Salita de' Crescenzi 31, 00186 Rome Italy
Renato e Luisa – Best Carbonara in Rome
Rome is known for its carbonara, so when you're in Rome you'll want to head for the best spot for this iconic dish. While locals argue about what may be the best, Renato e Luisa hits the mark for me (and my sister, if that matters).
It's a traditional place with a brick fireplace, terracotta tiled floors and wood beamed ceilings. Stepping inside means stepping into an authentic dining destination.
The team that run the show rework traditional Roman dishes by making them lighter – and tastier. They use seasonal products and cook exclusively with extra virgin olive oil. Amazingly, the head chef is self taught.
The menu features many dishes that epitomize Capitoline culture. If you fancy a secondo, their saltimbocca alla romana – prepared with apples – are out of this world.
Its location behind one of Rome's top theatres means it's an ideal spot for an after-show dinner.
Via Dei Barbieri 25, Largo di Torre Argentina, 00186 Rome Italy
If you want to make carbonara at home, try this recipe.
Felice a Testaccio – Best Cacio e Pepe in Rome
Another classic Roman dish, cacio e pepe is best sampled somewhere that knows what they're doing – and Felice a Testaccio is just the place. This snug Roman-style restaurant first opened its doors in 1936 and has since won itself a Michelin star. No wonder it's one of the best restaurants in Rome.
It comes highly recommended of course, but because of that it's very popular (particularly at weekends).
There's a family-friendly atmosphere here and a menu of timeless dishes that will certainly keep you coming back for more after you've tried their incredibly moreish cacio e pepe. I wholeheartedly recommend their cicoria ripassata, and the polpette di bollito are delicious too.
Mind you: portions are very generous!
Via Mastro Giorgio 29, 00153 Rome Italy
Check out my secret recipe for a perfect cacio e pepe.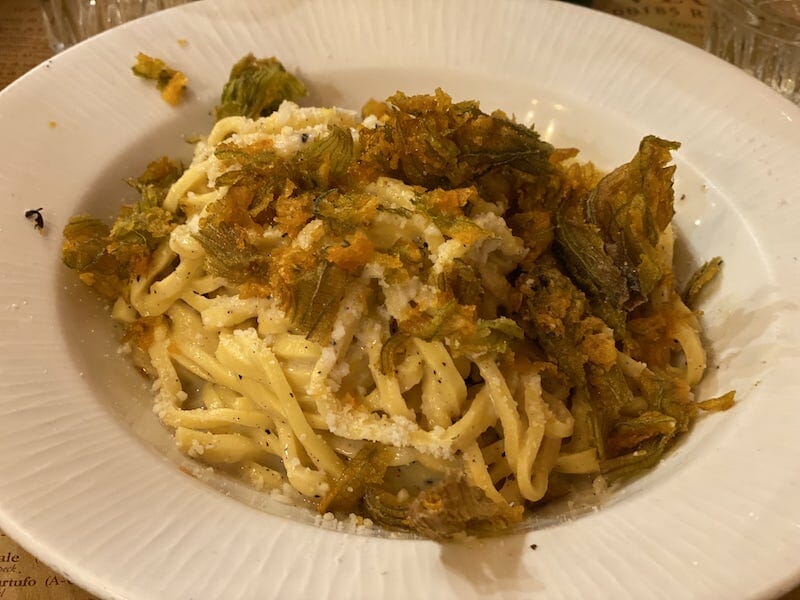 Vecchia Roma – Best Budget Friendly Trattoria
For classic Roman cuisine in a traditional setting, definitely make your way to Vecchia Roma. It's not in the historic center – its location in the Esquilino, just off Vittorio Emanuele metro station, may put you off.
But trust me, it's worth going. I stumbled upon it when I was living in the neighborhood and have been going since!
This restaurant has been in operation since 1916 and is of course a well known destination in the city. Inside there's a cavern-like aesthetic, with bare brick walls and arches. In short, it feels very authentic.
About as authentic as its interiors is its menu, with very generous portions with the pasta in particular. And with an affordable wine list at your disposal, you'll find Vecchia Roma to be surprisingly easy on the wallet. Finish up with one of their delicious homemade desserts.
Via Ferruccio, 12B/C, 00185 Rome Italy
Duca a Trastevere – Historic Trattoria in Trastevere
Trastevere is a wonderful neighborhood to explore in Rome, and what better way to finish up a day of wandering the backstreets here than with a meal in an authentic trattoria. Duca a Trastevere is the place to go for that.
Starting life in 1988 in the heart of Trastevere, this place is rustic through and through. The interiors are charming, with wooden furniture, tiled floors and art decorating the walls.
It's run by a friendly couple who serve grilled meat and hand-made pasta, among other dishes that have been handed down for generations. You'll love the down to earth atmosphere here.
If you don't feel like pasta, try their involtini alla romana (pictured above): they are mouthwatering.
Vicolo del Cinque 56, 00153 Rome Italy
Enzo al 29 – Best Restaurant in Trastevere
Away from the traditional trattoria in Trastevere, you will find Enzo al 29. This is easily my top choice for the best restaurant in Trastevere overall. It's the kind of place that you'll hear about from a friend – it's a well kept secret.
Everything on the menu is delicious, from the daily specials to the desserts. The service is as fantastic as the food, with a generally unfussy atmosphere permeating the proceedings. However, you should be prepared to wait in line for a table (trust me, it's worth it).
Via Dei Vascellari 29, 00153 Rome Italy
Check out my post The Best Restaurants In Trastevere.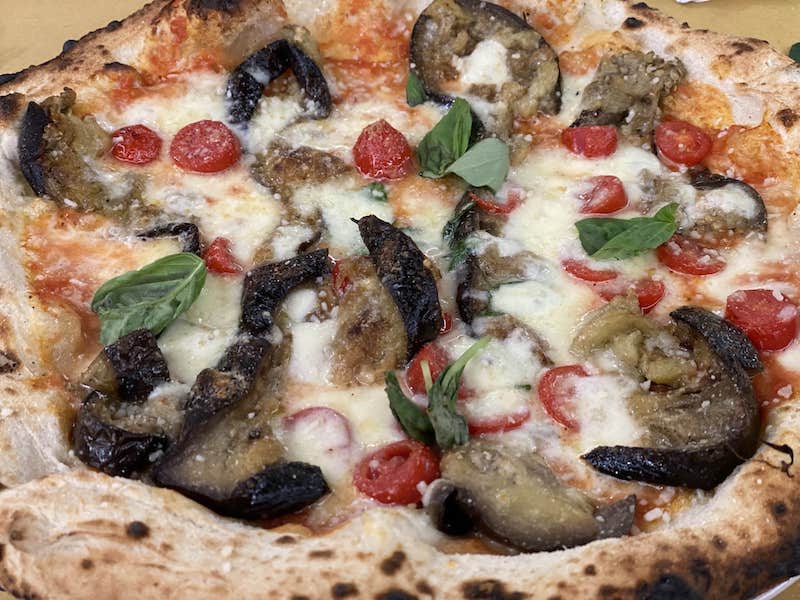 La Gatta Mangiona – Best Pizza in Rome
You can't visit anywhere in Italy without at least trying pizza. While there are plenty of places in Rome that claim to serve the best or most authentic pizzas, I'm going with La Gatta Mangiona for my pizzeria of choice.
It's not in the center of Rome – but the other side of the coin of having to get all the way there, is that you are bound to find a truly local atmosphere!
This place is often busy with pizza lovers. It's a vibrant spot that has a menu of both classic and more creative toppings for its pizzas – and all cooked in a wood fired oven (of course). The owner makes sure to only use the best ingredients in his pizzas.
Wine lovers will also find themselves at home here thanks to the outstanding selection on offer.
And don't worry if you're more of a beer fan – there are a fair few craft beers on offer here, too. Oh, and their tiramisu is to die for.
Via F. Ozanam, 30-32, 00151 Rome Italy
La Cuverie – Best Wine Selection / Best Raw Fish Dishes
Speaking of wine, if you like your meals to come paired with wine then you should definitely make a point to make room in your itinerary to visit La Cuverie.
I bumped into it on my wanderings around Trastevere, and ended up going three days in a row (that's how much I enjoyed it!). This place has an amazingly diverse and wide selection of wine – not surprising given that it is basically a wine shop!
Situated in Trastevere, this local haunt also serves up a number of small plates to pair with its impressive wine selection. For one thing, if you're in the mood for raw fish or beef tartare, you'll be in luck: they make them well at La Cuverie.
Add to all this the friendly owners (a local couple who is super into wine!), and it's a great place to spend the evening – and it's great for solo travelers too!
Via di Santa Cecilia 1, Trastevere, 00153 Rome Italy
Evo Hosteria – Great Restaurant in Trastevere
Though not usually mentioned among the best restaurants in Trastevere, if you are in Rome for more than a few nights and you're staying in or near the Trastevere neighborhood, you should make a point to check out Evo Hosteria.
This gorgeously authentic restaurant serves up dishes with fresh and unique flavors, with menu items ranging from stuffed zucchini flowers to egg souffle. The carbonara is also particularly tasty from here.
And if you're all about the wine, then you'll be happy to note that Evo Hosteria also has a very good wine list, too. If you want to try something different, have their cacio e pepe with raw shrimp (pictured above). It's heavenly.
Via Garibaldi 60 Trastevere, 00153 Rome Italy
Fafiuché – Best non-Roman cuisine in Rome
Tired of rich pasta dishes and want something different? Head straight to Fafiuché. This lovely wine bar and kitchen in the heart of Monti has quickly reached the top of my selection of best restaurants in Rome.
The menu is small – a handful of appetizers, a couple of pasta courses and main dishes and perhaps two side dishes, and no more than 3 desserts. But everything is super fresh, made with top quality ingredients and strictly seasonal.
If anything, go there for La Mitica dessert (pictured above): a slice of toasted bread with extra virgin olive oil, salt and shavings of cremino chocolate. They should call it illegal – nothing so good can be legal indeed!
Ask your waiter for wine recommendations: the wine selection is extensive. Service is very friendly and prices fair.
Via della Madonna dei Monti 28, 00184 Rome Italy
Matermatuta – Best fish and seafood dishes in Rome
In the heart of Rome's Monti neighborhood and a million miles away from the tourist crowds, this is one of the best restaurants in Rome if you want to have fish and seafood dishes with a modern twist.
Sit indoors or opt for a table in the beautiful garden at the back, enjoy the charming, classy yet easygoing atmosphere and the spot-on service and order a delicious pasta dish – I had the chitarrina pasta with a lemon zest and raw shrimp sauce and it was absolutely delicious.
Prices are fair, given the quality of ingredients and the service.
Via Palermo 51 / 53, 00184 Rome Italy
Da Luciano – Best Roman cuisine with a modern twist
The menu at this lovely restaurant close to Campo de' Fiori, in the historic center of Rome, is small (the wine list one the other hand is extensive and has an incredible focus on women who make wine!).
The in-house specialty is carbonara. Luciano has his very own recipe for carbonara – because really, there's not just one way to make it. And his is indeed absolutely delicious.
You will definitely love the appetizers too – these change with the season. And make sure to leave room for dessert. The millefoglie with plain and chocolate custard it to die for!
Piazza del Teatro di Pompeo 18, 00186 Rome Italy
SEU Pizza Illuminati – Best gourmet pizza in Rome
In a lesser known (and very easy to reach) part of Trastevere, SEU Pizza Illuminati is known to be one of the best pizzerie in Italy, and after having tried it I must agree!
You will have a selection of classic pizzas made with top quality ingredients, and more innovative gourmet pizza. Add a supplì and a fiore di zucca (stuffed and fried zucchini flower) for a complete experience.
If you have room for dessert, opt for the sweet pizza (yep, that's a thing!). We had the 100% lemon one, with lemon merengue, lemon custard, lemon zest. It was delicious!
Staff is very friendly, service spot on and prices absolutely fair given the service and the quality of the food.
Via Angelo Bargoni 10 – 18, Rome Italy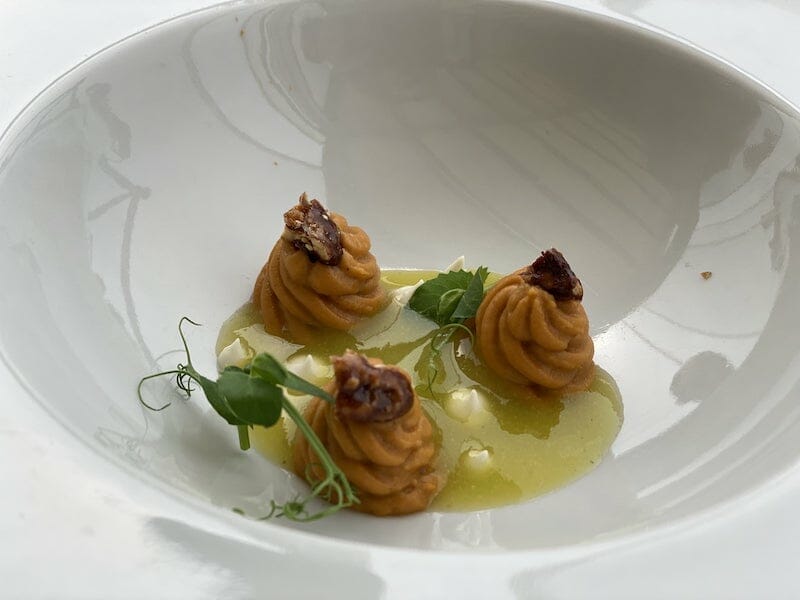 Rimessa Roscioli – Fabulous Wine Bar
Sometimes you don't want to visit a rustic trattoria or restaurant just to be able to sample a few interesting wines. For the best wine experience, you'll need to head to a wine bar, and my favorite is Rimessa Roscioli.
This is a modern venue for wine drinking, with walls lined with bottles in a combined restaurant, wine bar and tasting room – designed by the owner to be in line with what they want from a night out. Everyone from casual drinkers to connoisseurs are welcome. Think good food, good wine and a place to meet friends.
Via del Conservatorio, 58, 00186 Rome Italy
Ristoro degli Angeli – Lovely Restaurant in Garbatella
Many people don't make it as far as Garbatella when they are visiting Rome. But even if you don't have any trips to this neighborhood planned in your itinerary, you should really make room in it to visit the Bib Gourmand-certified Ristoro degli Angeli.
With its retro interiors, this wonderful restaurant feels more akin to a French bistro than Italian restaurant. It features a menu that is filled with authentic dishes that have been cooked with seasonal ingredients.
It's a place to come to devour regional specialities, and to spend a long evening with friends in a welcoming atmosphere characteristic of the neighborhood.
Via Luigi Orlando 2, 00154 Rome Italy
Trattoria Monti – Great Trattoria in Monti
In Monti and stuck for ideas on where to eat? Make a dinner date for Trattoria Monti. There are just 12 tables in this trattoria, making it a cozy venue to try out some of Rome's best restaurant fare.
Trattoria Monti is family-run; the mother takes care of the kitchen, while her two sons take care of the restaurant. She serves up cuisine that is inspired by the Marche region, so expect hearty dishes such as rabbit stuffed with truffles, and tortelloni (the house specialty).
It's always busy, but trust me when I say it will become your new favorite place to eat in Rome.
And as a bonus, it's great value for money.
Via di San Vito 13/a, 00185 Rome Italy
Supplizio – Best Supplì in Rome
Not to be confused with Sicilian arancini, supplì are a street food specialty of Rome. If you don't know what these are then you're in for a treat: think tomato rice and mozzarella, encased in batter and then deep-fried.
The place itself is as rustic as its specialty dish. Run by Arcangelo Dandini, Supplizio is designed to look like a Roman salotto (living room).
Don't expect pizza or pasta, but do expect lots of supplì. It's great value for money, and there are a number of different types of supplì, and twists on supplì (as well as salads) you can go try out.
Via dei Banchi Vecchi 143, 00186, Rome Italy
Don't know what supplì are? Check out the recipe here.
Gino al Parlamento – Best Restaurant Open On Mondays
This tiny trattoria is one of the most popular dining places in Rome. As the name easily gives in, it's located close to the building of the Italian Parliament, so attracts a mixed crowd of senators, journalists and the random tourist who all enjoy dishes of the local cuisine served in a very informal setting.
There is a menu in English, but for the actual daily dishes you will be provided with – literally – a sheet of paper with what's available on the day – goes to show seasonality!
Service is fast – as in all Roman trattorias and even more so for one serving busy politicians. Prices are more than affordable – surprisingly so, given the location. Their forte are the saltimbocca alla romana and spaghetti with cicoria and guanciale. If you happen to visit in the winter, try the artichoke carpaccio. It's heavenly!
As an added bonus, Gino Al Parlamento is one of the best restaurants in Rome that is also open on Mondays.
Vicolo Rosini 4, 00186 Rome, Italy.
Trapizzino – Best Fun Street Food
For more street food goodness, head on over to Trapizzino. In fact, there are five different locations of Trapizzino that you could opt for. If you're scratching your head wondering what Trapizzino is, allow me to explain.
Trapizzino was invented in the Testaccio neighborhood in 2008. An amalgamation of the word tramezzino (a triangle sandwich served in bars) and pizza, it's basically pizza dough made into a triangular soft-and-crunchy pocket that's stuffed with classic Roman (and some less classic) ingredients.
If you're at all interested in trying out new foods, then you should definitely try it out; I recommend opting for their Testaccio flagship store. All this deliciousness comes as cheap as €3.50.
Via Giovanni Branca, 88, 00153 Rome, Italy
Zia – Best Modern Cuisine in Rome
While there are plenty of rustic trattorias and down to earth restaurants to try out in Rome, there is also a large selection of modern restaurants with cutting-edge cuisine to sample too.
Zia is one of these – a Michelin-starred venue for modern Roman gastronomy, and definitely one of the best restaurants in Rome.
Situated in Trastevere, this restaurant focuses on seasonal Italian produce but takes influences not just from Italy, but from France and further afield. If you want a memorable experience while you're staying in Rome, this is the place to come. If you're stuck for what to order, opt for the tasting menu consisting of seven dishes.
It's an all-round 5-star experience: the food, the wine pairing and the service are all top notch. You might even come across some unexpected flavor combinations – all immaculately presented, of course.
Via Goffredo Mameli 45, 00100 Rome, Italy
Pin It For Later!