Keats Shelley House is one of my favorite small museums in Rome. Any fan of Romantic Literature will want to visit this small museum aptly located in the heart of the historic center of the Eternal City – after all, it's a very easy addition to any Rome itinerary, and tickets are quite budget friendly so you really have no excuse not to go!
In this post I will tell you everything you need to know about Keats Shelley House: the history of how it came about, what to see when you visit, and lots of information to plan your visit.
Make sure to read my post The Best Hidden Gems In Rome.
The History Of Keats Shelley House
Rome may seem like a strange place to commemorate the British writers Percy Bysshe Shelley and John Keats, but both these Romantic poets have connections to the Italian capital. The house now known as the Keats Shelley Memorial Museum – or simply Keats Shelley House – is the place to go to find out all about this connection.
Located close to Spanish Steps, it's at this house – on the second floor – that John Keats died in 1821. Before his death, he came to the city on the advice of friends and doctors; Keats had tuberculosis, and it was thought that the warmer climate of Rome would help. Sadly, that was not the case.
Read my post A Guide To The Spanish Steps.
Keats came to Rome with his friend, Joseph Severn, an English artist. Severn helped to nurse Keats in his final days until he passed away on 23rd February, 1821. After Keats' death, following Rome's 19th century sanitation laws, his room was completely scrubbed clean; all of his remaining items were burned immediately.
Many years later the rooms in which Keats and Severn lived were then occupied by two American writers. They used to allow curious fans of Keats enter the house to see where the poet spent his last days.
Sadly, by this time, the house had fallen into a state of disrepair. The occupants wanted to buy the house and turn it into a shrine dedicated to the memory of Keats, but the writers didn't have enough money.
However, it wasn't until February 1903 that American poet Robert Underwood Johnson noticed the property and its forlorn appearance. He went inside and made inquiries about purchasing the house, after which he gathered together the American literati of Rome (and one English writer, Rennell Rodd) to buy it together.
The group proposed a fundraising effort in the UK, United States and Italy, garnering support from both President Roosevelt and King Edward VII. Eventually, in 1906, their hard work paid off and the group was able to make a cash payment of $14,000 to buy the house.
At the opening of the house, there was a formal dedication made by the King of Italy, Victor Emmanuel III, which was attended by relatives of the poet, ambassadors and notable names of the day, including Rudyard Kipling.
Later, during World War II, like many institutions in Europe, the Keats Shelley House had to navigate the perils of conflict and authoritarian governments – especially after the Allied invasion of Italy in 1943.
The organization behind the House made efforts to effectively go underground; any signage relating to the museum was removed, and important artifacts related to Keats were sent to the Abbey of Monte Cassino, southeast of Rome, in December 1942.
The archivist hid the memorabilia among his own possessions, so that they wouldn't be removed during the abbey's own evacuation, and thereby saving them from falling into the hands of the Germans.
Happily, the museum was able to open again when the Allied forces entered Rome in June 1944, and the boxes of Keats memorabilia were returned to the House.
Among the items on display in the house are a wide selection of handwritten letters and poems that relate not only to Keats, and also Shelley, but also other Romantic poets such as Byron, William Wordsworth and Elizabeth Barrett Browning, as well as other writers including Oscar Wilde.
The room in which Keats died includes interesting letters and portraits by Keats' good friend, Severn; there is also a reproduction of Keats walnut-wood bed (the original was burned).
The house as a whole has remained practically unchanged since 1909. Today it boasts an extensive library, with thousands of books on display, and even its own cinema room.
What To See When Visiting Keats Shelley House
Manuscripts
Keats Shelley House plays host to an incredible array of manuscripts relating to a number of famous writers and poets. The collection has been collated since the very beginning of the Keats Shelley Memorial Association was founded in 1903.
Many of these manuscripts consist mainly of letters, but there are a number of memoirs and diaries, too, as well as literary fragments of prose and poetry.
In total, there are approximately 400 handwritten and sometimes typewritten pieces of writing from the likes of Lord Byron, Mary Shelley, Percy Bysshe Shelley, Joseph Severn, Oscar Wilde, Elizabeth Barrett Browning, Robert Browning, Leigh Hunt, Jorge Luis Borges, and John Keats himself, of course.
These manuscripts illustrate the lives of these creatives – and often in their own handwriting. It makes for a fascinating insight into the history surrounding these key literary figures.
Library
As if the manuscripts weren't impressive enough, there's also an extensive library. It's thought to contain around 8,000 volumes that have been collected over the years of the Keats Shelley Memorial House museum's existence. The collection was originally started by Harry Nelson Gay, one of the founding members of the Keats Shelley Memorial Association.
Through many years, the library has amassed newspapers, books, periodicals and other pieces of writing related to the works of John Keats and other notable authors. Incredibly, there are actually many early printed volumes, including a number of works by Byron.
There are a number of first editions among these; most significantly there is a collection of Keats poems published in 1817, and Shelley's seminal work, Adonais.
Among these tomes can be found many early Italian translations of works by Keats and other influential writers of the day. Also of note is the small collection of books related to the Grand Tour: the right of passage journey that aristocratic Europeans made through the continent during the 18th and 19th centuries. These will be super interesting to anybody in travel and history.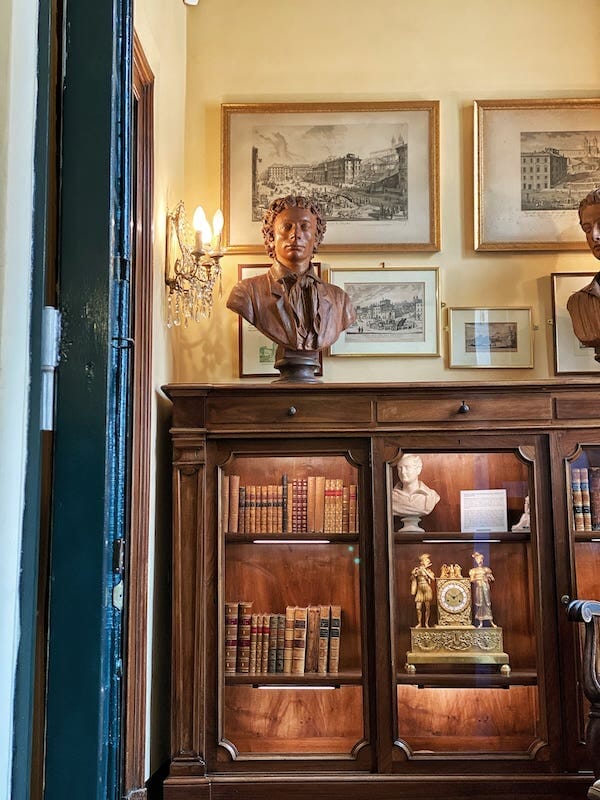 Artwork
The Keats Shelley Memorial House also includes displays of artworks relating to the writers. This collection of art has been growing since the beginnings of the Foundation, with many pieces dedicated over the years.
A number of these were by Joseph Severn himself, but there are also busts of Percy Bysshe Shelley, Byron and Keats from the 19th century; dance cards from the time; landscapes of Keats' house in Hampstead, London; and numerous drawings and sketches.
Relics
These are the things that have been left over from Keats' life, and the lives of other Romantic writers. They have been preserved over the past two centuries, and mark an insight into the everyday lives of these creatives.
Among them are personal belongings on display across the house, and especially found in what used to be Keats bedroom, making for a unique way to experience the history and heritage associated with the Romantics.
Some of them are strange, while other objects are simple, mundane items. Examples of some more macabre items are John Keats' death mask (and his "life mask", too), an urn containing a fragment of Percy Bysshe Shelley's jawbone and a tin that was used during his cremation in the classical, ancient Greek way. Other items include a clock owned by Lord Byron and Mary Shelley's travel writing desk.
Tea Room
As the museum is often called a slice of England in Rome, it makes sense that there is also an English-style tea room situated inside the house. Not only does the tea room offer refreshments (tea, of course), but it also allows access to the museum's terrace, which has a fabulous view overlooking the Spanish steps.
The tea room is only open at certain times, and booking ahead is a must. In fact, the visit to the tea room is a whole experience in itself. It includes a talk about the museum before entering the tea room, and then sitting down to enjoy a varying array of English tea: cream tea, high tea, and champagne grand high tea.
Keats' Grave
The ideal way to round up your time at the Keats Shelley Memorial Museum is to make your way to Keats' grave. This is located in the Non-Catholic Cemetery, which is around a 45-minute walk from the Keats Shelley House on a route that takes you past the Colosseum. Keats was buried here after his death at the age of just 25 years old.
On his grave are the following words:
This grave contains all that was mortal, of a young English poet, who, on his death bed, in the bitterness of his heart, at the malicious power of his enemies, desired these words to be engraven on his tomb stone
"HERE LIES ONE WHOSE NAME WAS WRIT IN WATER."
The cemetery itself is an interesting place to explore, with the grave of Shelley also located here, as well as Joseph Severn and other notable figures. You'll find Keats' tombstone near the Pyramid of Cestius, which is also worth a visit in itself.
Make sure to also read my posts A Guide To Rome's Protestant Cemetery and A Guide To Rome's Pyramid Of Cestius.
Practical Info About Visiting Keats Shelley Memorial House
Keats Shelley House opening hours
The Keats Shelley Memorial House is open from 10:00 am to 1:00 pm and from 2:00 pm to 6:00 pm (last entrance 5:45 pm), Monday to Saturday. It's closed on Sundays.
If you want to visit the tea room at the museum, make sure to book ahead for one of the following slots: 11:30 am – 1:00 pm, 2:00 – 4:00 pm, 3:00 – 5 pm, 4:00 – 6:00 pm on Mondays, Wednesdays, Thursdays, Fridays and Saturdays.
Best time to visit Keats Shelley House
When I visited the Keats Shelley Memorial House in March, I was one of three visitors, but it was a weekday during shoulder season. The museum advises that it receives its highest visitors in October and during the Easter holidays. Therefore, it's probably best to avoid these times, or just arrive earlier in the day at opening times.
It's also a good idea to head here on a rainy day, as you'll also be escaping from the weather, making it a win-win situation!
Keats Shelley House tickets
Admission for adults 65 and under is €6. For under 18s and those aged over 65, it's €5. Students with a valid ID can also enter for €5. Children under 6 years old and disabled visitors can enter free of charge.
The museum suggests to book your visit in advance, but this is not mandatory. You can buy your tickets online from their website; you can also buy them on your arrival to the museum, too.
Should you get a guided tour?
I visited the Keats Shelley Memorial House museum by myself, as a fan of Keats, and didn't feel the need of a guided tour for once.
Upon arriving, you will be whisked to a small theater to watch a short documentary on the lives of Keats and Shelley and that will already give you a lot of info about what you're about to see. Then, there are several panels across the museum that explain what you are seeing.
However, it is possible to visit on a tour, and some people do, because there are many stories and tales relating to the Romantic poets and their journeys through Italy. Some tours are full-on literature trails that take you around the whole of Rome, while others simply guide you around the museum.
For a private tour that follows the footsteps of Keats, Shelley and Goethe in Rome, click here.
Security checks
None, but you will be asked to leave any large bags or luggage at the entrance of the museum.
Is photography allowed?
Yes, photography is allowed, but note this is without a flash, so don't use your flash when taking photos. Keep in mind that this is also a great spot for views over the Spanish Steps!
Head over to my post Where To Get The Best Views In Rome.
Toilets
There are toilets for visitors to use located at the museum.
Disabled Access
Keats Shelley House is actually set in a listed house that has, for the most part, remained unaltered since 1725. Because of this, it is a good idea to contact the museum ahead of your visit to ask for advice.
For example, the museum is situated on the second floor and to reach it you have to climb 39 steps. The staff can arrange for assistance with the stairs, however, and once on the second floor, wheelchair users are able to access the entire museum.
How to get there
The address of the museum is Keats-Shelley Memorial Association Piazza di Spagna, 26, 00187.
The museum is easily walkable if you're already out seeing some of Rome's big-hitter sights. After all, it is situated right next to the Spanish Steps, close to the Trevi Fountain and walking distance from Villa Borghese.
The nearest metro station is Spagna (Line A), just a two-minute walk from the museum. Bus route 117 stops really close to the museum, too.
Check out my posts How To Use Public Transport In Rome and How To Use Rome Metro.
Pin It For Later!