If you've come to Rome as a tourist, it's likely that you'll be using the city's public transport network at some point. Public transport in Rome is easy to use, mostly operated by one municipally owned company called ATAC.
In this post, I will tell you everything you need to know about public transport in Rome, including the various options available to move around town; a rough timetable; the costs of each transport option and – most importantly – how to use Rome's public transport.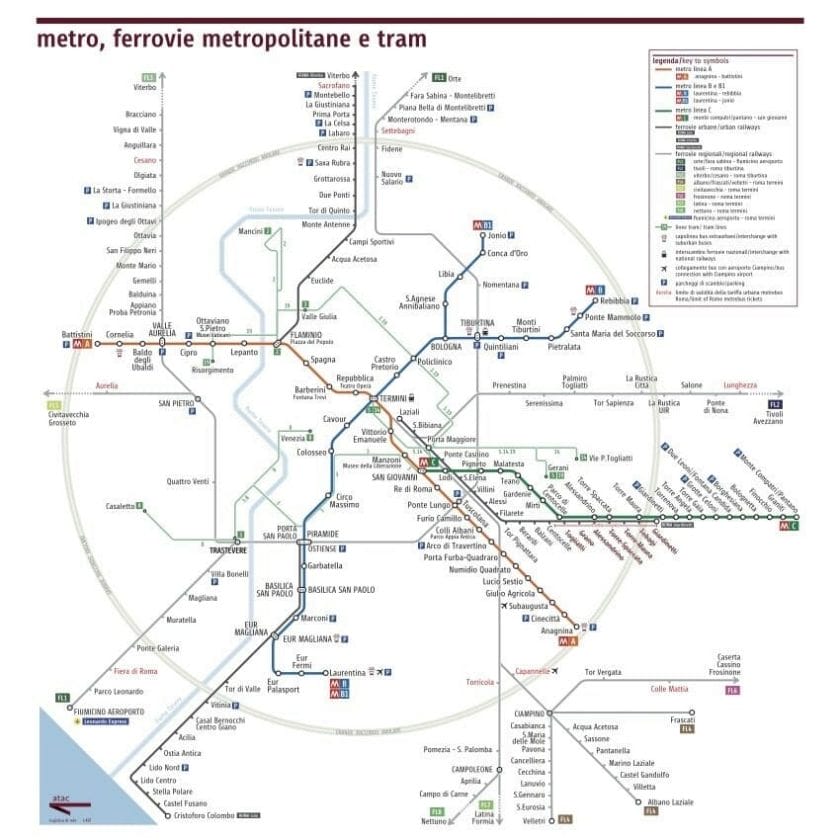 Public Transport In Rome
If you are looking into moving around Rome by public transport, you will have the option of using the city's metro, the buses, the trams, the urban railway and city taxis. Here's everything you need to know about the various options for public transport in Rome.
Rome's Metro
Rome's Metro is very easy to use for visitors to the city. Interestingly, it's actually the smallest metro system in Europe, so you shouldn't get too lost on it. Opening up in 1955, it may be small – running across a total track length of 60 kilometers (39.1 miles) and serving 73 stations – but it does connect up to most of the city's most important landmarks.
How many metro lines are there in Rome?
Line A (orange), runs north to southwest from Battistini to Anagnini and stops at landmarks such as Piazza di Spagna, Vatican Museums and Termini.
Line B is blue and runs from Rebibbia to Laurentina, northeast to south. It connects Termini, the Colosseum, and the Roman Forum.
Line C (green) runs from San Giovanni to Pantano – this one actually features driverless trains!
There are extensions planned for Line C – the latest one to open – but with Rome being such an old city, digging underground risks disturbing a whole host of archaeological sites.
What are the operating times of Rome's metro?
Luckily for you, if you want to get around the city before you've even had your breakfast, that's possible – Rome's metro starts its service around 5:30 and runs all the way through the day, finishing around 23:30.
Thankfully, on Fridays and Saturdays the metro service runs a little later instead, ceasing operation at around 1:30 in the morning.
Check out my post How To Use Rome Metro.
Bus
Buses in Rome are a fantastic way to explore as you get to have a nice view of the city as you cruise by – unlike being stuck underground on the Metro.
Rome actually has a very comprehensive bus network that really makes up for the Metro being so small in size.
How many bus lines are there in Rome?
Well, there are over 350 bus lines, so it can actually be a little bit complicated for visitors sometimes. However, once you understand the best routes to take and where you can connect with one line to the next, it becomes a super convenient way to get around.
With 8,260 stops, it's fairly certain that you'll be able to get to where you need to be via bus. The only thing about buses is that they're constrained by Rome's traffic which can be pretty bad as well as the city's small streets.
Types of buses you can use in Rome
In Rome, there's not just one type of bus that you can use – there are, in fact, multiple different services that all serve different purposes. These are:
Urban lines – the majority of buses in Rome run on these lines, denoted by the letter "U".
Night buses – described by the letter "N", these bus routes operate when the metro is closed and sometimes follow the same routes and stop at the same places the metro does.
Express buses – these are for longer journeys on the outskirts of Rome and into the suburbs; look out for the "X".
Exact buses – marked with an "E", these connect up the city center with local neighborhoods – usually used by commuters.
In addition, there are some useful routes that are great for visitors to the city to know about, hitting up some of the city's major destinations. In fact, the metro doesn't run underneath Rome's ancient center making the bus invaluable for the Centro Storico.
Rome bus system key routes
Some key bus routes in Rome include:
40 – connecting Termini, Piazza Venezia, Argentina, and the Vatican
62 – which stops at Repubblica, Spanish Steps, Piazza Venezia, Argentina and Vatican
60 – Termini, Piazza Venezia, Colosseum and Circo Massimo
81 – for the Vatican Museums, Piazza Imperatore, Piazza Colonna (Trevi Fountain), Piazza Venezia, Circo Massimo and Colosseum.
What are the bus operating times in Rome?
As I already mentioned, buses can be helpful when the metro stops running at night. The operating times of bus lines in Rome depends what sort of bus it is (see above), but most buses in Rome start running between 5:00 and 6:30 in the morning and run all the way through to midnight.
The all-important night buses then take over. These run until around 5:00 or 6:00 in the morning – really handy if you're hitting up the nightlife away from where you're staying.
Tram
Where the bus and the metro don't run, there's the tram. Yes, that's right – Rome has a tram network. In fact, what remains today is merely the leftover of what was once Italy's largest tram system.
These small, electric railways may not be as important to the city as the metro or the buses, but they provide a quick and easy way to connect up some important sights. Plus, it's also just pretty cool to ride on them. Like buses, they allow you to watch the city go by from the window, but unlike buses they aren't at the mercy of Rome's sometimes crazy road traffic.
How many tram lines are there in Rome?
There are six tram lines in Rome, not simply one to six, but instead all ordered based on the old numbering system:
Line 2: Piazza Mancini – Piazzale Flaminio
Line 3: Piazza Thorwaldsen – Trastevere
Line 5: Giovanni Amendola – Piazza dei Gerani
Line 8: Torre Argentina – Trastevere
Line 14: Giovanni Amendola – Palmiro Togliatti
Line 19: Piazza Risorgimento – Piazza dei Gerani
The best tram line for tourists in Rome is probably Line 8. This goes nearest to the historic center, connecting with Trastevere Railway Station and running to Largo di Torre Argentina.
What are the tram operating times in Rome?
Trams run every day from 5:30 all the way through to midnight – that goes for all lines. Once the trams finish for the day, the night buses take over their routes.
Urban Railway
If you're wanting to explore further afield, then the urban railways are the ideal complement to the city's metro system. Also run by ATAC, the urban railway network is called Ferrovie Urbane in Italian.
There are only three lines, but they can be very good for connecting up different parts of the city. For example, the Rome to Lido route – which also stops by Ostia Antica – is great for those who want to hit up the beach and Ostia's archaeological sites. There's the Rome to Viterbo line and the Rome to Giardinetti line.
The urban railway runs from around 5:30 to 22:30 with trains leaving every 10 to 20 minutes throughout the day.
Taxis
Rome's taxis connect the dots where the public transport simply does not, or cannot, reach. Getting a cab in Rome is fairly straightforward and an overall similar experience to getting a taxi in any other capital city.
There are taxi ranks where you'll see taxis lined up – you'll know these thanks to the orange on top of the car that says "TAXI". Taxi stands are found at train stations, airports, at major sights and other large monuments throughout the city. It's not common practice to hail taxis in Rome, so don't rely on this method. It's better to find a taxi rank or call a taxi (they'll arrive in around five minutes after the phone call).
To call a taxi in Rome, use either of these numbers: Radio Taxi: +39063570; Pronto Taxi: +39066645.
How much do taxis in Rome cost?
The base fare for taxis in Rome actually differs depending on the day and time of day. Here's the basics that you should know:
Mondays to Fridays, 6:00 – 22:00, €3
Saturdays, Sundays and holidays, 6:00 – 22:00, €4.50
Anytime from 22:00 – 6:00, €6.50
Tips for taking a taxi in Rome
Beware of taxi scams in Rome – only take official taxis, and try to have an understanding of the route to follow so that the driver won't attempt taking the longest route to take you where you need to go. Remember that there is a flat fee to go from Rome to Fiumicino; or from Termini Station to the historic center.
Frequently Asked Questions About Public Transport In Rome
Where does Rome public transport reach?
Rome's public transport network consists of a whole load of different types of transport. Using just one of them, or a combination, can get you wherever you need to be in the city.
As for how far it can take you, as I mentioned earlier there are limitations, but you can travel fairly long distances using the city's public transport. For example, you can go from Rome all the way to Ostia using the urban railway, or you could even travel to Viterbo – an ancient city in its own right located to the north.
Does public transport in Rome reach Fiumicino Airport?
Yes! The airport train, known as the Leonardo Express Airport Train, is a train line that is dedicated solely to ferrying people to and from the airport to Termini Station.
Running frequently (every 15 minutes), traveling by this airport train only takes 30 minutes to get between the two locations. The Leonardo Express Airport Train is the fastest and most convenient mode of public transport between the airport and the city center.
The first train leaves around 5:30 from Rome Termini. The service runs till around 22:30. The first departure from the airport is at around 6:30 and the last one is at around 23:30.
One thing to note is that it costs about double the price of the dedicated airport bus services. Another thing is that you cannot use Rome public transport passes on the Leonardo Express – you'll have to purchase a separate ticket.
Airport bus services are a more affordable way to connect the city center and the Fiumicino Airport. There are a range of different choices that you can opt for, with prices ranging from €5 to €10.
Make sure to read my post How To Get From Fiumicino Airport To Rome City Center.
Where can I buy tickets for public transport in Rome?
Rome's public transport is mainly all covered by one integrated ticket. So that means one ticket will get you a ride on buses, trains, trams, and the metro no matter where you buy it.
You can easily purchase tickets from a range of different locations in the city. Many people will first arrive at Termini Station where there is ample opportunity to buy a public transport ticket. There are numerous kiosks and ticket machines within the station that you can use for this.
Don't be worried if you don't speak Italian – ticket machines can be used in English and other languages; staff at tourist counters will usually be able to speak good English, too.
Elsewhere, when you're out and about, public transport tickets can be bought at a range of places: tobacco shops, bars, tourist booths, newsstands, and kiosks to name a few.
How much do public transport tickets cost in Rome?
There are different kinds of tickets that you can purchase to use on Rome's public transport. The basic price of a ticket is €1.50, which allows you to travel on any city transport that's run by ATAC.
You can use this multiple times within 100 minutes, but it's important to note that it's only valid for one journey on the metro.
Other tickets include a 24-hour ticket – a good option for those who are in the city for a quick trip. This costs €7 and gets you unlimited travel on metro, bus, tram, and train within 24 hours of the ticket's validation.
Similarly, there's the 48-hour ticket, too, allowing you 48-hours unlimited use of Rome's public transport from the validation of the ticket. This costs €12.50. Good for a weekend in the city, there's the 72-hour ticket, which costs €18. This works the same way.
Finally, you could opt to go for a CIS or weekly ticket, which is valid for seven calendar days.
Children under 10 years old don't have to pay to use public transport.
How do I validate my ticket for Rome's public transport?
For the metro, you have to insert your ticket into the ticket barrier in order to enter and exit the metro. Don't forget to take it when it comes out again, otherwise you'll be stuck in the station!
For the bus, however, you need to validate your ticket. You'll find machines to validate your ticket on buses. If you have a single ticket, you put it into the machine and it will be validated.
If you have a 24-hour (or longer) pass, you'll have to validate it before you start using it. A machine at metro stations or bus stops will stamp the date and time and therefore validate your ticket from that moment.
Using the Roma Pass to access public transport in Rome
The Roma Pass offers you either 48 or 72 hours of unlimited travel within the city boundaries as well as access to museums and archaeological sites.
For 48 hours, it's €32, and 72 hours costs €52. It's more expensive than the usual transport pass, but having free and discounted access to Rome's top sights helps to make your journey run smoothly.
You can get your Roma pass here.
Conclusions: Is Rome Public Transport Reliable?
In short, yes, it is. Rome's public transport is reliable. It offers up a fairly comprehensive way to get around the city. While there are limitations on the metro, due to its compact size and lack of stops in the historic heart of the city, it's still a great way to travel around quickly – it's air-conditioned too which is nice in summer.
The bus can be slow when traffic in Rome is bad, but having thousands of different stops and multiple routes to choose from makes connecting to your destination quite hassle free.
Things can get busy on public transport during rush hour, so it's always a good idea to avoid times when there will be crowds of commuters in the morning and evening. There are apps – such as Roma Bus, and Moovit – that you can use to help you get around more smoothly so you won't get lost during your trip.
Further Readings
For more useful tips to plan your trip to Rome, check out these posts:
Pin It For Later!