Rome, like many European capitals, has a metro system: La Metropolitana in Italian. Though not without its faults, it's actually pretty convenient and stops in many places that are of interest for tourists – ie Piazza di Spagna (the Spanish Steps), the Colosseum, Piramide (the closest station to lovely Testaccio) and more.
Chances are, you'll be using the Rome metro at some point during your stay. It's a cheap way to get around town – in fact, it can be the cheapest, and quickest way to get around. So, I thought I'd share what you need to know about it, and some tips on how to use it.
Curious to see what driving in Rome looks like? Then you should read my post Should You Be Driving In Rome? Make sure to also read my post A Guide To Train Stations In Rome.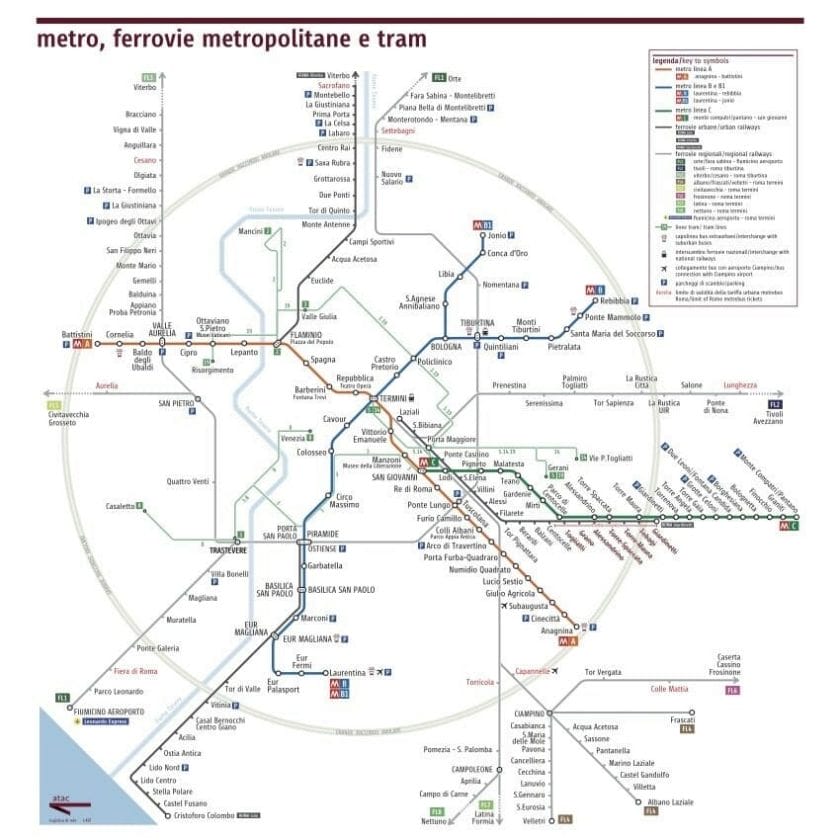 Everything You Must Know About Rome Metro
Metro lines in Rome
As I said, Rome's metro system is – by comparison to many others around the world – pretty small. It's not really what anyone would call extensive. In fact, it is actually the smallest metro network in the whole of Europe. Wow.
But that doesn't mean it's not useful. Rome metro still has three lines that you can use to get around the city, the first of which opened up in 1955. Since then the network has grown (slowly) and now covers 37.3 miles (around 60 kilometers).
A fourth line is in the works, but being such an old city, archaeological remains and ancient monuments cause delays in the work. There's even a recently opened station, San Giovanni, that boasts its very own museum showcasing artefacts that have been discovered during excavation of the metro tunnel. It's free for anyone using the metro.
Line A
Line A is the orange line that cuts through the city, running northwest to southwest from Battistini to Anagnina. It's probably one that you would use the most as a visitor to Rome – especially if you're arriving at Termini Station.
Other main stops include Ottaviano which is perfect for hopping off to see St Peter's Square and St Peter's Basilica. However, if you want to be better placed to see the Vatican Museums, you can use Cipro.
Spagna is good for seeing Piazza di Spagna and Villa Borghese. For the Trevi Fountain and Pantheon (and therefore the Piazza Navona, too), you can get off at Barberini.
As you can tell, Line A is perfectly placed to allow you to see some of Rome's top sights.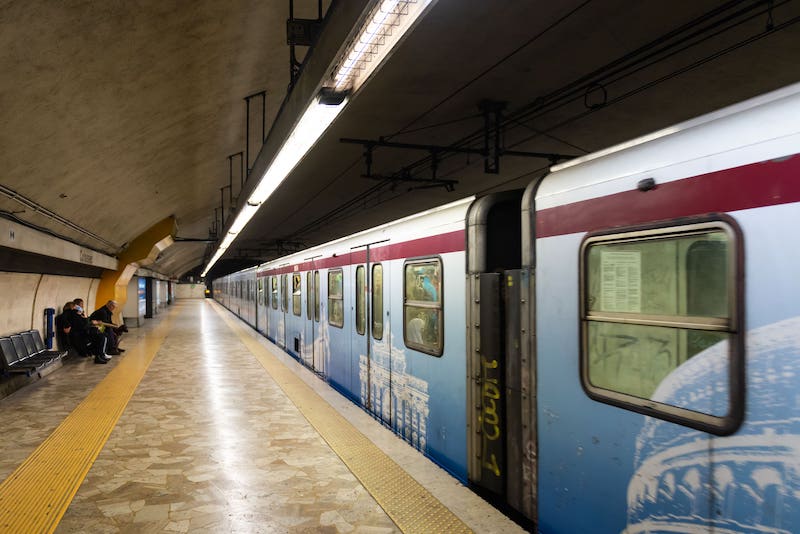 Line B
Intersecting with Line A at Termini is Line B – the blue line. This runs in a roughly northeast to south direction, from Rebibbia to Laurentina in the south.
Line B might not have all the heavy-hitter tourist sights on its stops, but it does stop at Colosseo (for the Colosseum and Roman Forum) – this is also where it intersects with Line C. It also stops at Circo Massimo – for the ancient circus – and continues out towards the EUR, an interesting place for architecture lovers to wander (some of the most interesting buildings in Rome are found there).
Note that Line B splits at Bologna and has a small branch line that goes north to Jonio instead of Rebibbia.
Line C
Line C is green. It's the newest line, and it's actually still in the process of being extended further. The plan will eventually see Line C starting at Pantano in the east and traveling to Clodio in the northwest, intersecting with Line A at Ottaviano and at San Giovanni, and with Line B at Colosseo.
This line goes to the Roman suburbs, but not all the stations are complete yet. One cool thing about Line C is that it is fully automated which really adds a futuristic element to the Rome metro. The downside is how slow it is taking to fully open.
Whether it's Line A, B or C, unlike other major cities, the metro in Rome sadly does not serve much of the city centre. However, it does work out pretty well if you need to get to a specific place quickly and you don't want to spend money on a taxi.
When does the metro run?
The metro runs every day from 5:30 to 23:30 on weekdays. On Fridays and Saturdays, it runs later, until 1:30.
You'll never be waiting around for too long – they'll arrive around every five minutes in the day during the week. However, on weekends and evening trains aren't as frequent – they'll arrive around once every 10 minutes.
Don't worry if you miss the last train. The city has a reliable night bus network that operates overnight in place of the metro. It works quite similar to the metro in that many of the buses follow the same routes as the trains (and the tickets are the same).
They're called Linee Notturne, and they run between midnight and dawn. You can see how to use these over on the ATAC website – the company that runs public transport in Rome.
Tickets on the Rome Metro
Luckily, the tickets for using the public transport in Rome are quite straightforward, so there are no worries on that front. All the public transport in the city is integrated – if you buy a ticket for the metro, it can also be used on a bus. They're interchangeable.
Tickets can be purchased at a range of places throughout the city, including all metro stations, although it's a good idea to have the right change if you want to do that. At metro stations, you can use self-service machines to buy a single ticket and even passes that are good for multiple days of travel.
You can also buy tickets from locations throughout Rome, including newspaper stands and tobacconists (tabaccherie, in Italian). This means you'll never be far from finding somewhere you can buy tickets for the Rome metro. You can also use your contactless card to touch in and out of the metro. Tickets are also sold on apps such as MyCicero – how convenient is that!
Usual public transport tickets are valid for up to 100 minutes, in which you can change and get off as many times as you need to. However, that's only for the light rail, buses and trams – not the metro. The same goes for the metro ticket – you can change as many times as you need to, but you can only do this within the metro system itself. If you leave the station, you'll have to get another ticket.
Ticket types
Standard ticket: €1.50 (100 minutes of travel)
24-hour ticket: €7.00 (unlimited travel on Rome's public transport – metro, bus and train – from 24 hours of the ticket's validation)
48-hour ticket: €12.50 (unlimited travel on Rome's public transport – metro, bus and train – from 48 hours of the ticket's validation)
72-hour ticket: €18.00 (unlimited travel on Rome's public transport – metro, bus and train – from 72 hours of the ticket's validation)
CIS ticket: €24.00 (valid for seven days)
On the metro children under 10 travel free if they are accompanied by an adult.
How to validate your ticket on the Rome metro
It is very important that you validate your ticket when using the Rome metro. Firstly, and obviously, you need to purchase your ticket before you ride on any of Rome's public transport, although you'll probably notice that many people are using a pass.
There are ticket barriers at the metro stations into which you have to insert your ticket in order to enter and exit the station. For a single journey on the metro, it's simple – put your ticket in when you leave the station, and the ticket will be taken by the barrier.
If you have decided to purchase a 24-hour (or longer) ticket, the first time you put the ticket in the machine will validate it, stamping it with a time and date from which the ticket has been activated.
Using contactless pay
If you're used to using public transport in your home city with your contactless card or smartphone, then you'll be pleased to know you can also use this method on Rome's metro, too. You can use MasterCard, Visa, American Express, and Maestro, among others, or smartphone (Apple Pay, for example).
No registration is required, just tap and go. In fact, that's what this system is called on the Rome metro – tap & go.
Roma Pass
For those who want to experience the city seamlessly and who don't want to keep stopping off to buy tickets, the Roma Pass could be your answer to Rome metro (and the rest of the city's public transport).
The Roma Pass is a card that gives you unlimited travel for 48 or 72 hours. They take away any worry you might have of validating your ticket first, just like the 24-hour tickets you can get usually. However, where the Roma Pass differs is the perks it allows visitors.
With the Roma Pass you get free entry to one museum or archaeological site in the city, as well as reduced ticket prices to all of the other museums or archaeological sites within the time period. Use of all the city's public transport and discounted tickets for other businesses that are part of the scheme is included too.
You can buy the pass online, at museums and tourist information points and at metro ticket offices.
Get your Roma Pass online here.
When using the Roma Pass, you activate it on your first journey. It's a contactless card that you tap against the card reader when you go through the gates. Simple!
Prices of the Roma Pass
Roma Pass 48 hours: €32.00
Roma Pass 72 hours: €54.00
Though a great option for adults, for children or young adults it may be a good idea to weigh up what you want to see in the tickets. For example, admission to many of the museums, galleries and archaeological monuments throughout the city are often free or reduced for students aged 18-25 or children aged 18 and younger (both EU citizens only). Check your itinerary and see if it makes sense for your trip.
Tips for using the Rome metro
Just like other public transport systems around the world, there are a few things you should bear in mind when using the Rome metro. Here are a few tips you may find useful:
Take care of your belongings – Pickpockets unfortunately do sometimes operate on the Rome metro, especially in peak times, so make sure you keep your belongings close to you (nothing in your pockets!) and ensure that your bag cannot be easily accessed by unscrupulous persons.
It's okay if you don't speak Italian – Ticket machines at metro stations can be changed to work in a number of different languages. Staff at many of the main metro and train stations will also be able to speak English, especially at ticket counters, so you have nothing to worry about if you don't know the lingo.
Don't expect grandeur – if you're expecting something like the St Petersburg magnificence or Tokyo cleanliness, think again. The Rome metro may be small and compact compared to other networks, but it's a little bit dirty. Trains are often covered in graffiti – sometimes you can't even see out of the windows!
Try to travel outside of peak hours – being stuck in rush hour anywhere is no fun, and in Rome it's no different. If you've got luggage, or you're trying to catch a flight or get somewhere on time, it's best to avoid busy metro trains. Plus, with all those bags, you'll be getting in everyone's way.
Don't forget the metro doesn't run at night – missing the last train home is not fun, especially if you planned on getting it and you haven't studied how to use the buses in Rome yet. Remember, 23:30 on weekdays, 1:30 on Fridays and Saturdays!
Beware of strikes – strikes by metro and other public transportation staff are not unheard of and can bring the metro system to a halt. If it doesn't stop entirely, then it may be reduced hours run by a skeleton staff.
Don't be afraid of using the buses – since the metro doesn't go everywhere, especially the Centro Storico, you may want to consider getting a bus around. With hundreds of bus routes connecting up the city, it could seem daunting. However, once you know the right routes, it's a piece of cake.
Get a travel app for Rome – this is the easiest way to work out bus times, metro times, news about any strikes or incidents and to get around the city quickly.
Pin It For Later!