If you are looking for one of the most unique, quirky and at the same time peaceful places to visit in the Italian capital, make sure to head to the Protestant Cemetery of Rome. Also known as the Non-Catholic Cemetery or Cimitero Acattolico in Italian, and at times also referred to as the English Cemetery, this is the resting place of many foreign artists and personalities who made Rome their home.
The cemetery is located a really short walk from the Piramide metro station, in Ostiense and close to Testaccio, and while it is considered an off-the-beaten path attraction in Rome, it's actually really central and easy to visit. In this post, I will tell you everything you need to know about it, starting from its history and sharing some practical tips for visiting.
Make sure to also read my post The Best Rome Hidden Gems.
The History Of The Protestant Cemetery, Rome
Whether it's called the Protestant Cemetery, the Non-Catholic Cemetery, or the English Cemetery, this hallowed spot is officially known in Italian as Cimitero Acattolico. Located in the Testaccio district of Rome, it has become known over the years as the final resting place for famous historical figures.
It all began in 1716, with the burial of William Arthur, a Scottish medical doctor from Edinburgh. He was not Catholic, and therefore could not be buried in a Catholic cemetery. Catholic law states that Protestants are not permitted to be buried in sacred Catholic grounds.
Many Italian port cities, due to the amount of trade with foreign countries, already had non-Catholic burial grounds. These cities include places such as Livorno and Venice and were present from as early as the 16th century. Rome, at this time, did not have such a cemetery.
As well as Protestants, Jewish people, Greek Orthdox and those who had died through suicide were also not permitted to be buried in ground consecrated for Catholics. Instead, they had to be buried at night and outside the walls of the city. One such place was called the Meadows of the Roman People – a slice of public land used for cattle grazing and recreation.
In 1671, a decision was made by the Holy See. It stated that "non-Catholic lords" who died in Rome could be buried in a cemetery, and spared the shame of being buried alongside "prostitutes and sinners". The first of these burials was William Arthur. A follower of the exiled James Stuart – a pretender to the British throne – he fled to Rome in order to escape the repercussions that followed the defeat of the Jacobites in Scotland. Arthur had died in Rome, and was laid to rest in this cemetery.
Numerous burials followed. Some of them are connected to James Stuart. It is also said that in 1732, William Ellis – the treasurer of the King of England – was buried at the foot of the Pyramid of Caius Cestius, which was located near the cemetery. By this point, the cemetery had become known colloquially as the British Cemetery, even though it wasn't always British people who were buried there.
The cemetery developed without any kind of official recognition. But in 1821, the Pope forbade any other burials in front of the Pyramid of Caius Cestius. Instead, he offered up nearby land with a wall, called the "New Cemetery". This new cemetery was enlarged twice throughout the course of the 19th century, with the final expansion in 1894 giving it the same layout that it has today. A chapel was built in 1898.
In 1910, the Mayor of Rome at the time – Ernesto Nathan – defined the cemetery as a culturally important place, and therefore gave it special protection. Then in 1918 it was declared a Zona Monumentale d'Interesse Nazionale.
Today it's run by an association formed by 15 foreign embassies, including Canada, Ireland, Russia, and the United Kingdom.
Why Visit The Cimitero Acattolico Of Rome?
Like many famous cemeteries, such as those of Paris, or Highgate Cemetery in London, the Protestant Cemetery in Rome is a draw for those who want to pay their respects to famous, inspirational figures. It was here that many young British and European aristocrats on the Grand Tour of the late 18th and 19th centuries chose their final resting place, under the boughs of large hundred-year old cypress trees.
Thanks in part to the trees, it's a peaceful place to explore close to the old Aurelian Walls of the city. Numerous graves and monuments reflect the long list of figures that have been laid to rest there. Many of these are connected by their shape or design.
Today, people can still choose to be buried there. However, there is a long list of requirements to meet in order to be deemed suitable.
Famous Graves In The Non Catholic Cemetery, Rome
Rome has for a long time been a magnet for well-known individuals to travel to, attracting historical characters from around the world. Many scholars and artists have made their way to the Eternal City over the centuries, in order to broaden their horizons, and find inspiration and knowledge among the city's ancient streets and architecture.
The Protestant Cemetery is a park-like area, with some particularly interesting graves. There's a section with older graves, and then a more modern part. If you're here to find something specific, then some of the more famous people who are buried here include…
John Keats (1795-1821)
The English poet John Keats died in Rome from tuberculosis at the age of 25. His epitaph, which was written by his friends Charles Armitage Brown and Joseph Severn, reads:
This grave contains all that was mortal, of a young English poet, who on his death bed, in the bitterness of his heart, at the malicious power of his enemies, desired these words to be engraven on his tombstone: Here lies one whose name was writ in water.

Charles Armitage Brown and Joseph Severn
The famous poet moved to Rome as he thought the warmer climate would ease the symptoms of tuberculosis. Beside Keats' grave is that of Severn, who was with Keats in his final days.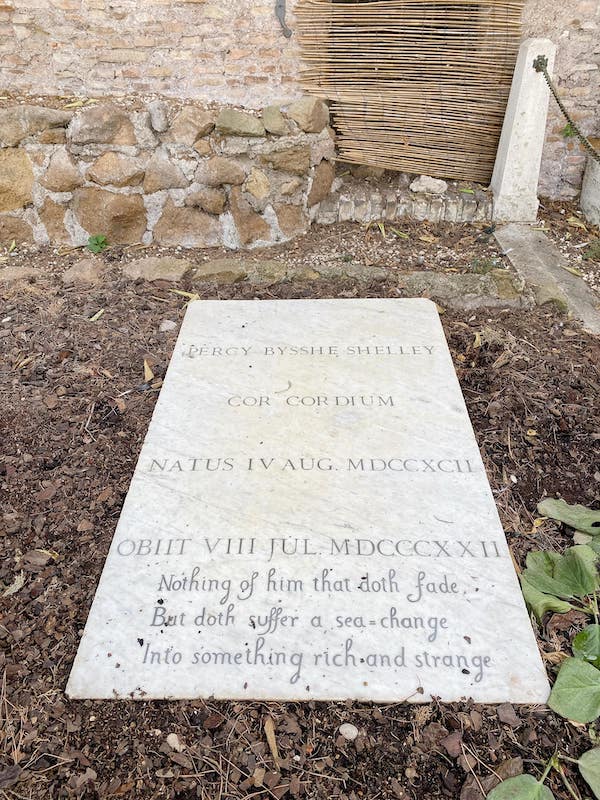 Percy Bysshe Shelley (1792-1822)
Fellow Romantic poet Shelley was also in Rome at the same time as Keats. He died at the age of 29, tragically drowning at sea off the coast of Tuscany. Before he died, he completed an enormous body of work in a decade of activity. As well as poetry, Shelley was a political essayist and thinker.
After his death, Shelley was cremated. His ashes were sent to the British consulate in Rome, who interred them at the Protestant Cemetery. According to legend, his heart survived the cremation, and was kept by his wife, Mary Shelley (she wrote the original novel Frankenstein). His heart was finally buried, encased in silver, in 1889, alongside his son, Florence Shelley.
Make sure to also read my post A Guide To Keats Shelley House.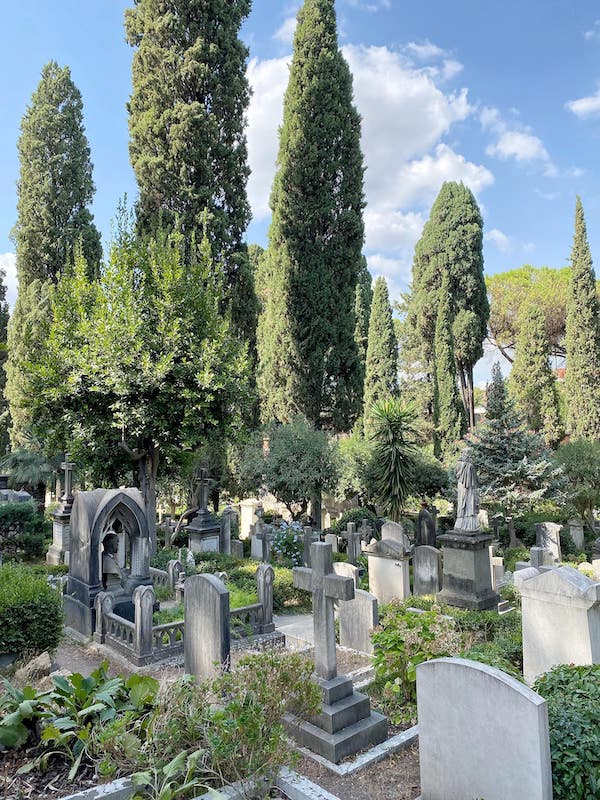 Malwida von Meysenbug (1816-1903)
The German writer and prominent democratic feminist thinker Malwida von Meysenbug escaped arrest by fleeing to England. She moved to Italy in 1862, where her writings included Memories of an Idealist. Meysenburg was a friend of Nietzche and Wagner.
Sarah Parker Remond (1826-1894)
Born in Massachusetts, USA, Remond was an anti-slavery activist. She lectured for the abolitionist movement, and was sent on a tour of Britain in 1858 to speak on the subject. Remond moved to Florence in 1866 and never returned to the USA.
Antonio Gramsci (1891-1937)
Antonio Gramsci was the co-founder of the Italian Communist Party. Because of this he was imprisoned by Mussolini. While in prison he wrote 30 notebooks, including an analysis of his imprisonment and original ideas on the theories of Marxism. He died shortly after being released from prison.
Brenda Lee (1935-1961)
The British-born actress Brenda Lee was a famous actress of the 1950s. The star moved to Italy, where here career took off. Sadly, her life was prematurely cut short in a car accident while traveling from Las Vegas to Los Angeles. Her grave is notably marked with a draping sculpture of a classical female figure. It's located fairly close to Shelley's grave.
Karl Pavlovich Bryullov (1799-1852)
Referred to as Karl the Great, Bryullov was a Russian painter and one of the first to be recognized by the West. His work marks a transition from Russian Neoclassicism to Romanticism.
Bryullov's most famous piece is The Last Day of Pompeii, which hangs in the State Russian Museum in St Petersburg. The writers Pushkin and Gogol were fans, who compared Bryullov's work to Reubens. He moved to Italy for health reasons and sadly died two years later.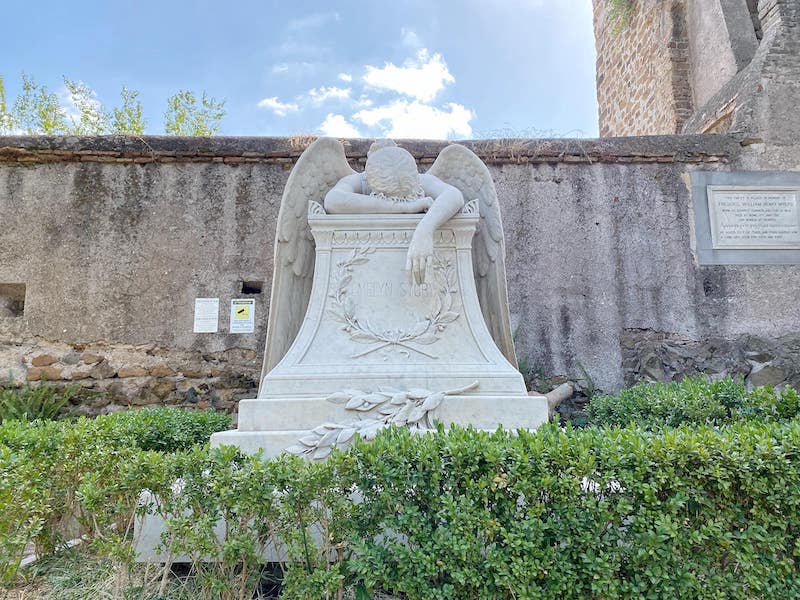 Rosa Bathurst (1808-1824)
The death of Bathurst shocked Rome. She was only 16 when she drowned in the Tiber. Known for her beauty, charm, and intelligence, she was laid to rest in a tomb designed by English sculptor Richard Westmacott. With its bas reliefs, it's particularly beautiful. An inscription in Latin and English was added five years later.
The Cat Sanctuary At The Protestant Cemetery
Situated in the cemetery, near the Pyramid of Cestius, is a surprising addition: a cat sanctuary. Run by a group of volunteers, I Gatti della Piramide, the project is dedicated to looking after the felines who call this area home. There are around 30 cats who live here, all of whom are fed by the sanctuary staff.
The cemetery's cats aren't a new addition and have been there for some time; the population is thought to have arrived at the Protestant Cemetery in the 1850s. Today, the cats relaxing in sun-dappled pathways among the old graves of the quiet cemetery makes for some atmospheric photos.
Make sure to read my posts A Guide To Rome Pyramid Of Cestius and Where To See The Cats Of Rome.
Practical Information
Cimitero Acattolico Roma opening hours
Opening hours run Monday to Saturday, 9:00 am to 5:00 pm. The last admission is at 4:30 pm.
Opening hours for Sundays and public holidays are 9:00 am. to 1:00 pm, with the last entrance at 12:00 pm.
Tickets
It's actually free to enter the Protestant Cemetery in Rome, and no tickets are needed. However, the cemetery does ask that visitors consider leaving a donation of 5 Euros each for their visit. There's also the option to become a Friend of the Cemetery, whereby you help to fund the upkeep of the cemetery.
How to get there
You'll find the main entrance for visitors halfway down Via Caio Cestio, 6 in the Testaccio district of Rome. You can get there by taking the metro line B to Piramide station; there are also multiple buses which stop nearby, including bus numbers 3, 75 and 23.
Nearby Sights
While you may find yourself strolling around the Protestant Cemetery for hours, at the same time you may just want to take a short visit. In that case, you won't have to be worried about taking a trip especially to see the cemetery – that's because there are plenty of nearby sights to check out, too.
Pyramid of Cestius
Seemingly out of place in the city, this ancient pyramid was built between 18 and 12 BC as a tomb for Caius Cestius, a Roman magistrate. The pyramid was later built into the Aurelian Walls. It is amazingly well preserved, one of the most well preserved of all Rome's ancient buildings.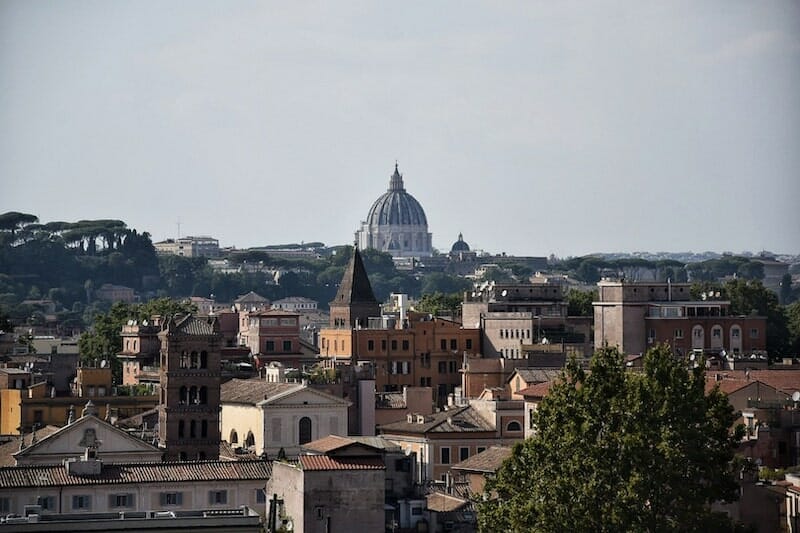 Aventine Hill
The Aventine Hill is a great place for a stroll once you're done exploring the cemetery. This leafy, residential part of town is the southernmost of Rome's seven hills. Among other historical sights here, you'll find the incredible Basilica of Santa Sabina, which actually dates back to 432 AD, and the Orange Garden, from where you can enjoy breathtaking views of the city.
Check out my post The Seven Hills Of Rome.
Baths of Caracalla
The Baths of Caracalla were built in the 3rd century BC. The enormous bathhouse complex once featured multiple baths, steam rooms and even libraries – and was completely free for the public to use. You can still visit these magnificent ruins today (don't miss it!); if you're here in summer, you can catch an evening show by the Teatro dell'Opera.
Make sure to read my post A Guide To Rome's Baths Of Caracalla.
Colosseum
Around a 20 minute walk from the Protestant Cemetery, or a quick ride on the tram, and you'll be at the Colosseum. This icon of Rome was the largest amphitheater in the Roman world, and was founded 70-80 AD – around 1,942 years ago! In its heyday, an estimated 80,000 spectators could have crowded into the arena to watch gladiator bouts, executions and even mock naval battles.
Circus Maximus
Only a minute or two from the Colosseum is another giant of the Roman world: the Circus Maximus. This was the premier chariot racing stadium in ancient Rome, and is both the first and largest in the whole Roman Empire. Built to accommodate 150,000 spectators, it was built in the 6th century BC.
Pin It For Later!