If you are traveling to the Italian capital at the end of October, and especially if you are visiting Rome with your kids, you may find yourself facing the dilemma of what to do for Halloween in Rome. In fact, you may simply be wondering whether Halloween is celebrated at all in Rome.
While Halloween is a celebration that doesn't really belong to Italian traditions (we celebrate All Saints on November 1, instead – and that is a national holiday), in the last couple of decades more and more people have decided to celebrate it. While celebrating Halloween usually means fancy dress parties and drinking for adults, kids join the celebrations and in bigger cities they can often be spotted trick-or-treating.
But this isn't all! Are you curious to find out more about Halloween in the Eternal City? Continue reading this post as I will share everything you need to know.
Check out my post A Guide To Visiting Rome In October.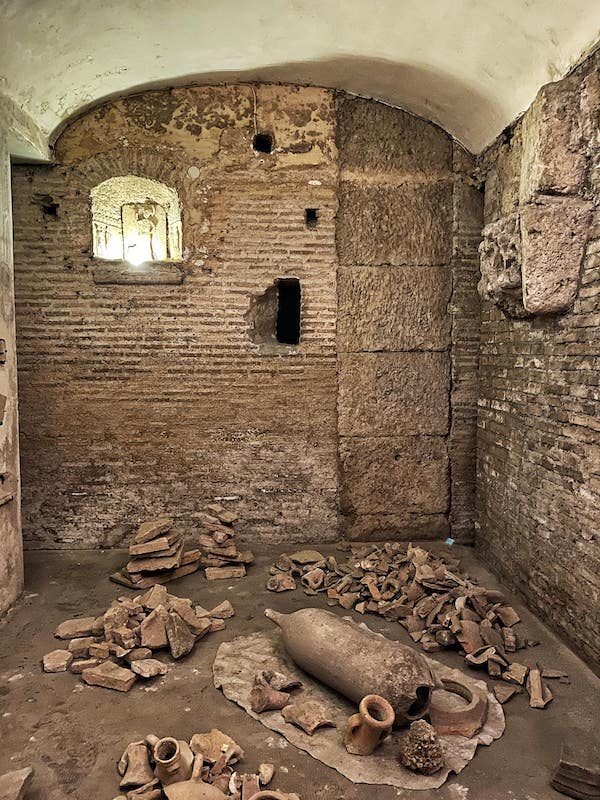 What You Must Know About Halloween In Rome
Is Halloween a thing in Rome?
In the past, Halloween wasn't much of a thing in Rome. In recent times, however, celebrating Halloween has become more and more popular. It definitely isn't an Italian festival, though, and was imported through popular culture.
While Halloween isn't Italian, these days you can see the city gearing up for Halloween throughout October. Rome has long boasted an international community, which means there are some people in Rome who share their traditions with the rest of the city's inhabitants.
Gradually, this has resulted in the popularization of Halloween, with various themed events held in Rome throughout the month leading up to the 31st and many shop windows being decorated in a festively spooky fashion.
Furthermore, at the beginning of November there is a national holiday. This is All Saints Day and has a connection to the ancient origins of Halloween. That means that if any Romans decide to attend any Halloween parties on the 31st October and All Saints Day falls on 1st November, they have the next day to recover if they need to!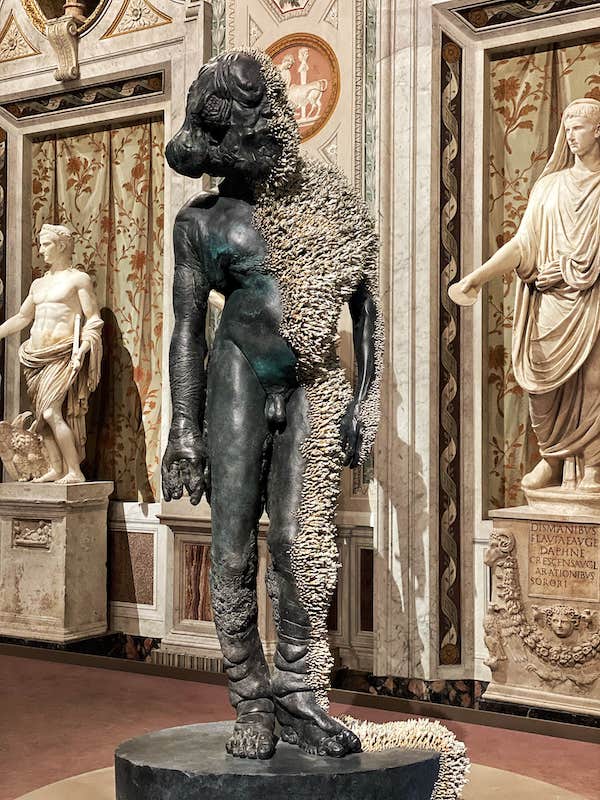 Do people dress up / trick or treat during Halloween in Rome?
The main focus of Halloween in Rome is definitely children. There are lots of events aimed at children and families throughout October; some of these events do involve dressing up.
However, there's also adult-themed fun to be had. There are many nightclubs and bars that fully take on the Halloween theme and host fancy dress parties on nights around the 31st. Irish pubs in particular are amazing places to go and celebrate Halloween in Rome, with things like zombie parties and other themed nights to enjoy.
Trick or treating was never really a tradition but now more and more children do it, and you may spot them walking around town, dressed up and ringing bells to demand their treats. It's typically organized in the neighborhoods, so you may enquire with your accommodation if they know of any group doing it that your children may join. Otherwise, I don't advise to do it.
Dressing up is also becoming more popular. People are well used to dressing up during Carnival, so dressing up for Halloween is catching on. Usually, you'll just see children dressed up for a party in suitably spooky attire.
However, you may see adults on their way to fancy dress parties, too. The focus is on scary costumes – think ghosts, vampires, zombies – and less on dressing up as anything (like you may see in the U.S.).
Are there ghosts in Rome?
With its very long history, it's not hard to see why people may think Rome is haunted. All those churches, tombs, gladiator battles, gory executions, and medieval plagues make it a prime spot for ghostly goings-on.
Even though Rome doesn't celebrate Halloween very much, that doesn't mean that there aren't any creepy aspects to the city. There are a number of marble sculptures that depict skulls, numerous morbid Renaissance artworks, and dusty crypts scattered across the city. You can pass by them any day, and maybe that's why Halloween isn't so much a thing. Any day can be spooky in Rome!
But yes, there are actually a few legends related to ghosts in Rome. Here are a few of the best…
Beatrice Cenci (1577-1599)
The spirit of Beatrice Cenci is possibly Rome's most famous ghost. This young woman was part of a powerful family. She murdered her abusive father, Francesco Cenci; was infamously put on trial; and then she was executed along with members of her family. Specifically, she was beheaded on Ponte Sant'Angelo on 11th September 1599.
On the anniversary of her death, she is said to appear on the bridge that leads to the Castel Sant'Angelo – carrying her head, of course. Inhabitants of her former home, Palazzo Cenci, have also reported seeing her ghost, crying as she wanders the palace. Beatrice Cenci has inspired many paintings and works of art throughout the ages.
Mastro Titta (1779 – 1869)
Also very famous is Mastro Titta, Rome's longest serving executioner. He noted down all 516 people that he executed (he called them "patients") – their name, age, crime, punishment and final wish – from when he started, aged just 17. This macabre diary was actually published as "Memoirs of an Executioner written by Himself."
He is said to wander around Castel Sant'Angelo around sunrise (often the time for executions) wearing his red uniform. Apparently, he may approach you and offer some snuff which is what he offered to his "patients" before they were executed.
Nero and the tree
Now for a much more ancient ghost – that of Emperor Nero. On 9th June, 68 AD, Nero committed suicide knowing that he would be condemned to death as an enemy of the state following his fall from popularity.
Nero was buried on the Pincian Hill, a final dishonor for the disgraced emperor, as this wasn't considered to be sacred ground. Nero's ghost appeared throughout the century as a crow and feasted with witches and demons in a nearby walnut tree.
The apparently evil spirit of Nero and his supernatural cronies was very troublesome – they harassed, possessed, and almost killed inhabitants and travelers entering the city. Pope Pasquale II, after dreaming of the solution, ordered the tree to be removed in the 11th century, and a church built in its place, Santa Maria del Popolo.
When the tree was removed, allegedly the remains of Nero were found. You never know – you may see Nero still wandering around causing trouble, or maybe it's just a crow.
Spooky things to do during Halloween in Rome
Rome is full of spookily atmospheric things to do. So even if Halloween in Rome may not be much of a thing compared to other places on the other side of the Atlantic, you can find something scary to do on 31st October to make sure you have a Halloween to remember.
Tour the city at night
Rome is beautiful when it's illuminated after nightfall, but it can also be pretty spooky as well. Make the most of being in the ancient Italian capital and explore some of Rome's mysterious, ghostly places at nighttime.
You can visit old execution sights, try to spot Beatrice Cenci, learn gruesome tales of Rome's past, and discover creepy alleyways and houses. While you could wander by yourself, there are official ghost tours which make things much easier, leading you around the best of Rome's spooky sights.
You can book your guided tour of Rome at night here.
Be creeped out at the Crypt of the Capuchin Monks
At the Santa Maria della Concezione dei Cappuccini – one of the most interesting churches in Rome – lies a very macabre sight indeed. Here, below the church, there are several subterranean chapels – all decorated with the skeletal remains of 3,700 bodies, thought to be former Capuchin friars who died between 1528 and 1870.
It's not supposed to be scary, but swinging by and glimpsing this spectacle is enough to creep anyone out. The names are enough, really – there's Crypt of the Skulls, Crypt of the Pelvises and Crypt of the Three Skeletons, where a placard declares "What you are now, we used to be. What we are now, you will be." Happy Halloween!
There is a €8.50 fee to visit the Crypt of the Capuchins. Please beware that modest clothing is required when visiting and photos are not allowed. To make the most of the crypt and learn about its history and significance, you may want to join a guided tour. You can book it here.
Get spooked out at Palazzo Zuccari
Located on Via Gregoriana, close to the Spanish Steps, Palazzo Zuccari is a 16th-century residence with a Baroque facade that houses the Bibliotheca Hertziana (part of the Max Planck Institute for Art History).
While you can't enter – well, unless you're on university business – it's the facade of the building that makes it so spooky. Also known as the "Monster House," the palatial building features carved monsters around its doors and windows, making it look like an ornate haunted house – and great for photo opportunities.
Step inside the Santa Maria del Popolo
Not only is this linked to Nero's crow-like ghost, but the Santa Maria del Popolo has a whole lot of other ghostly connections. On the non-spooky side of things, you'll find impressive works of art here from the likes of Caravaggio and Pinturicchio, but inside this church there's more spooky motifs, with skulls and crossbones decorating the interior. There's also the 17th-century tomb of G.B. Gisleni, which features a scarily lifelike skeleton wrapped in a shroud.
Museum of the Souls of Purgatory (Museo delle Anime del Purgatorio)
Situated in Prati, this small museum is adjacent to the church of Santa Maria del Suffragio. Being small doesn't stop it from being spooky though. On display here are various items that, apparently, prove the existence of the afterlife and the communication between the dead and the living. There are photographs, cloths with handprints burnt into them, wooden tablets, nightgowns, all marked by souls from beyond the grave. Spooky!
Scare yourself silly at the Catacombs
Rome has over 60 catacombs weaving their way beyond the city streets and make for the perfect place to explore on a Halloween trip. These underground burial sites were in use between the second and fifth centuries AD, and in some instances are many kilometers long. In fact, Rome boasts the longest underground burial tunnels in the world.
Only five of these are open to the public, including the Catacombs of Priscilla – which host some important frescoes (the first representation of the Virgin Mary) – and the Catacombs of Domitilla, which were discovered in 1593 and run for over 15 kilometers.
It's best to head down on a tour to get the most out of this underground world. You can book yours here. Remember photography is not allowed inside the Catacombs.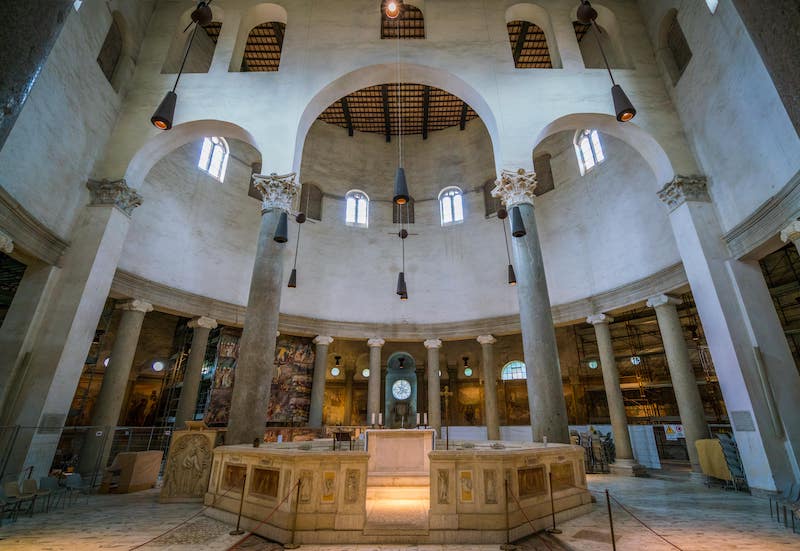 Be spooked out at Santo Stefano Rotondo
Be warned – Santo Stefano Rotondo is not for the faint hearted. Even Charles Dickens himself was shocked by the "hideous" paintings that are on show here. Depicting the gruesome execution and torturing of early Christian martyrs and saints are 36 large paintings that line the wall of the church which dates back to around 470 AD. The murals date to the 16th century.
So while it's not spooky, it's definitely quite disturbing. The saints in the murals are being hanged, squashed, buried alive, chopped up, and all manner of other not-so-nice methods of torture. Enter at your peril!
Halloween events for kids in Rome
If you're in Rome with your family, don't worry, it's not all gory murals and creepy catacombs. There are actually a number of child-friendly events and other places to visit in Rome that make Halloween fun for little ones.
Make sure to also read my post The Best Things To Do In Rome For Kids.
The Luneur amusement park
Luneur amusement park is the largest of its kind in Rome and is, in fact, the oldest in Italy, dating 1953. Situated in the EUR district, this fun-packed park hosts a month of Halloween-themed events during October. Expect characters dressed in spooky costumes and themed rides aplenty.
Cinecittà World
This TV-themed amusement park, located to the south of the city, also hosts a month-long Halloween bonanza during October. Here you can find characters from various scary horror flicks wandering around the park, horror movie sets being recreated, and even a horror house. Perfect for older children.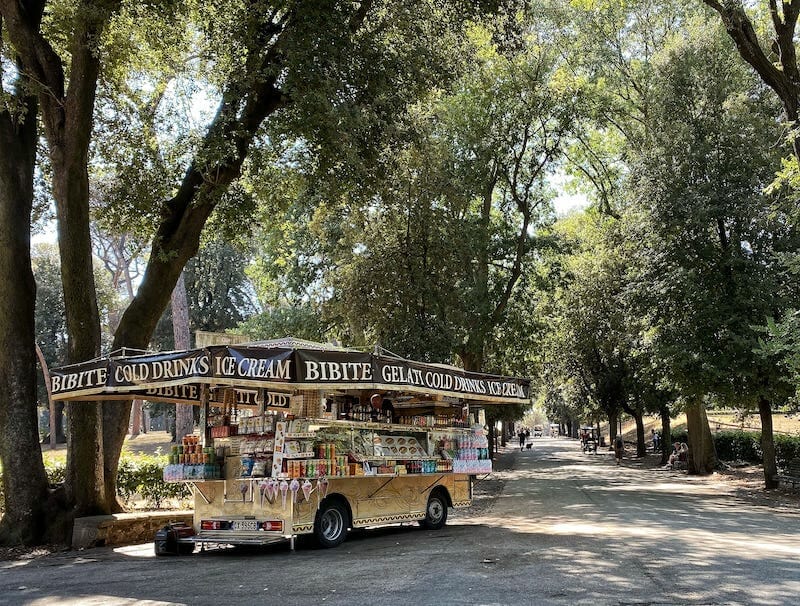 The Bioparco
The Bioparco is Rome's zoo and is a great place to come with younger children. This 17-hectare zoological garden is situated on the original Borghese estate and also gets decked out for Halloween with an array of events taking place across the spooky season itself.
There are plenty of activities for adults and children to get involved with. Decorate pumpkins, admire the decorations throughout the park, and get swept up in the Halloween spirit with visits to tarantulas, scorpions, and other creepy crawlies.
Zoological Museum
Rome's natural history museum, here you can discover various specimens of animals and fossils from across the world. Come Halloween, the Zoological Museum makes for a kid-friendly space to have some spooky fun. Think treasure hunts with skeletons, hands-on interactions with creepy crawlies, and sometimes there's a Halloween sleepover, "Night at the Museum" style – another great option for those in Rome with younger children.
Rainbow Magicland
Though it sounds like the least scary place in Rome, Rainbow Magicland actually puts on a good show for the Halloween season. This theme park boasts roller coasters and a planetarium among other things, making it good for all ages. With horror houses, vampires and zombies wandering around, and different themes each year (Alcatraz, for example), Halloween also brings a big afternoon parade to Rainbow Magicland – expect dancing zombies, ghosts, and ghouls.
Pin It For Later!