Events and festivals in Rome take place throughout the year. As this is one of the most important centers for Catholicism, it goes without saying that many events are indeed connected to religious celebrations.
But there's more than that! The Italian capital is a culturally thriving city, with a lively art scene; lots of concerts and even sports events.
Curious to see what celebrations you can expect to find (and possibly attend) when visiting the Eternal City? Here's a quick breakdown, by month.
The Best Events And Festivals In Rome
January
News Year's Day
Crowds in Rome visit St Peter's Square in Vatican City to receive a blessing from the Pope. It's a nice way to start the year.
Make sure to read my post A Guide To Visiting Rome In Winter.
Epiphany
Epiphany falls on January 6 and is one of the most heartfelt festivals in Rome. It's a celebration of the arrival of Three Kings in Bethlehem. The Italian tradition for Epiphany sees children receive small gifts. In Rome, there's a procession of people dressed in traditional costumes that starts in Piazza Navona.
Festa di Sant'Agnese, Sant'Agnese Fuori le Mura
Also known as Sant'Agnese Fuori le Mura, this festival takes place on January 21. Two lambs are shorn and blessed, and then their wool is used for priests' vestments.
Winter Sales
It may not be religious, but the winter sales in Rome are a big deal. They kick off at the beginning of January and are held in pretty much all stores around the city until mid-February. Expect savings of up to 50%.
Read my posts Where To Go Shopping In Rome and What To Buy In Rome.
February
St. Valentine's Day
Rome is the perfect place to celebrate this romantic day, and you'll see couples hand-in-hand doing just that. It has a surprisingly dark past, however: the day is named for St Valentine, a clergyman who was executed by the Roman authorities in 269 AD.
Check out my post The Most Romantic Things To Do In Rome.
Carnival
Taking place across two weeks in February, Carnival marks the run up to Lent and is one of the most fun festivals in Rome. This time of year in Rome you can expect a few parades, parties and traditional sweet foods being eaten across the city.
Six Nations Rugby
Taking place annually, the Six Nations Rugby tournament is one of the best sports events in the capital. The matches all take place in each of the six nations themselves, so you'll have a chance to catch a game at Rome's Stadio Olimpico. It usually takes place at the end of February/early March.
March
Giornate FAI di Primavera Palazzi
Churches, old archaeological sites and mansions that are closed to the public at other times of the year are opened for this weekend. These special openings allow those who are interested to have a look inside some of Rome's hidden treasures. It's easily one of the best events in Rome.
Festa di Santa Francesca Romana
Usually taking place March 9, the Festa di Santa Francesca Romana is one of the most unusual festivals in Rome. Santa Francesca is the patron saint of drivers in Roman Catholic lore, and part of the festival involves a mass blessing of vehicles and their drivers.
Ides of March
The anniversary of Julius Caesar's assassination in 44 BC is marked in Rome on March 15. Actors reenact the dictator's demise – dressed in Roman attire, of course – near the Largo di Torre Argentina archaeological site.
Festa di San Giuseppe
Just north of the Vatican in the Trionfale district there's a statue of San Giuseppe. During this festival, the statue is decorated, the piazza it's in is filled with food stalls and live music. It takes place March 19.
April
Maratona di Roma
The Rome Marathon is held at the start of April. It's one of the annual events in Rome, and starts and finishes close to the Colosseum, weaving its way past many of the city's top sights.
Città della Pizza
One for pizza fans, this festival sees the country's best pizzaioli or pizza makers descending on Rome in celebration of Italy's arguably most famous food.
Holy Week
Probably one of the biggest events you can expect to see in Rome, Holy Week involves a collection of religious festivals. Observances and processions occur throughout the city; one, led by the Pope, passes the Colosseum, Roman Forum and heads up Palatine Hill. Please note that depending on the year, Holy Week may fall in March.
Easter Sunday (Pasqua)
In St Peter's Square, the Pope gives his Easter blessing from his balcony in the Vatican. It's broadcast around the world. Please note that depending on the year, Easter may fall in March.
Natale di Roma
Celebrated on April 21, Natale di Roma (literally "birth of Rome") marks the legendary founding of Rome in 753 BC. Visitors to Rome at this time can see historical reenactments, gladiator bouts, concerts and fireworks.
Head over to my post The Birthday Of Rome.
May
Primo Maggio
Held in Piazza di San Giovanni in Laterano, Primo Maggio is a huge rock concert held yearly on May Day (May 1) and one of the most fun events in Rome. Come here to see a number of local and sometimes international performers. It's free!
Internazionale BNL d'Italia
This is the Italian Open: one of Europe's top tennis tournaments. Held at the start of May across two weeks, it's a must for tennis fans.
Concorso Ippico Internazionale (International Horse Show)
The prestigious International Horse Show sees teams from around the world compete in showjumping, dressage, polo and other events. The setting – surrounded by the trees and fountains of Villa Borghese – is particularly attractive.
Mostra delle Azalee
The famous Spanish Steps become festooned with vases of blooming azaleas between mid-April and May. It's definitely worth a look.
Festival del Verde e del Paesaggio
This annual garden festival takes place sometime in May at Parco della Musica. You can see all sorts of plants and flowers, take part in workshops and enjoy some seasonal food, too.
June
Festa della Repubblica
This event marks the founding of the Republic of Italy on June 2, 1946. If you're in the city this time of year, you can see a military parade that leads from Via dei Fori Imperiali to the Colosseum. Planes also fly overhead, leaving colorful trails in the sky.
Rome Summer Festival
This summer festival sees outdoor concerts take place across the city. Part of the line-up also includes a handful of outdoor cinemas, with various venues taking part. It kicks off at the beginning of June.
Lungo il Tevere
Literally "Along the Tiber", this summer festival sees open-air boutiques, creative spaces, bars, food trucks and live music setting up along Rome's River Tiber. A must if you're in town at the time.
VinòForum
This wine tasting event held in the north of Rome offers the chance to sample thousands of wines from hundreds of producers. There's also a collection of pop-up restaurants, some of which serve food prepared by Michelin-starred chefs.
Son et Lumière
The festival of "Sound and Light" is a summer-long extravaganza. The Colosseum, the Forum and Tivoli are illuminated with elegant light displays.
Festa di San Pietro e Paolo
The Festival of Saint Peter and Paul is an important religious event. Typically taking place on June 29 at St Peter's Basilica, it's a huge event for the city. St Peter's Square is decorated with enormous pictures made from flower petals, there's fireworks, feasting, and a day-off for many Romans. Keep in mind the Vatican museums and Sistine Chapel are closed on that day.
Rock in Roma
Big name rock acts from around the world arrive in the city to play the Rock in Roma festival. Gigs are held at a number of locations, including the massive Ippodromo.
July
Isola del Cinema
Film fans take note: between mid June and September, the Isola Tiberina – an attractive island in the River Tiber – plays host to an open-air cinema. Italian and international films, both old and new, are shown. It's one of the most interesting summer events in Rome.
Opera at the Baths of Caracalla
The Baths of Caracalla were built around 200 AD, and in July they became the picturesque backdrop to opera and ballet performances – part of the summer programme of events at the Teatro dell'Opera.
Festa di Noantri
This festival in Trastevere celebrates the origins of this part of the city. The whole area becomes decorated with color, tables line the streets, and performers create the soundtrack. Translating to "Festival for the Rest of Us", the whole neighborhood comes alive with the procession of the Madonna of Mount Carmel.
August
Festa delle Catene, San Pietro in Vincoli
This festival celebrates the release of St Peter from prison in Rome. The ancient chains which held him captive are preserved at the Church of San Pietro in Vincoli, and are shown during a ceremony that is held on August 1.
Read my guide The Most Beautiful Churches In Rome.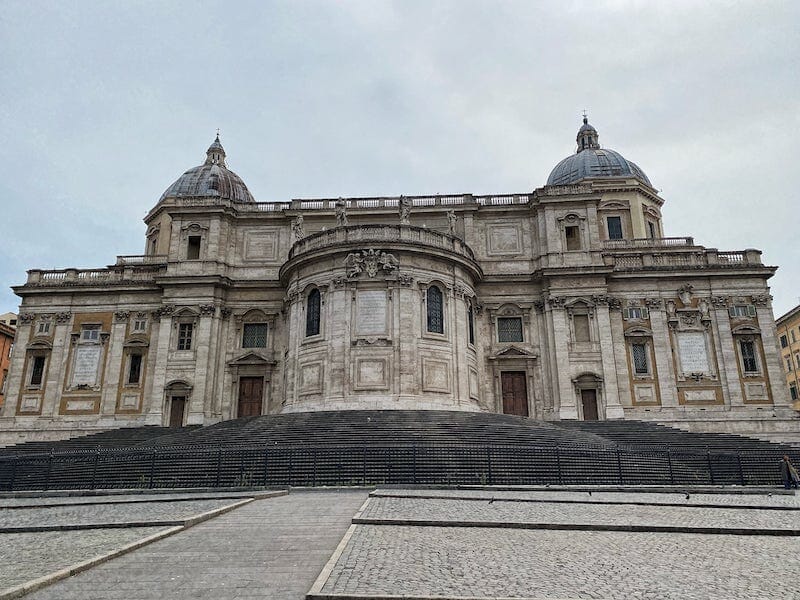 Festa della Madonna della Neve
On August 5, rose petals are scattered across crowds in the Basilica di Santa Maria Maggiore. This marks a miraculous snowfall that occurred in Rome in 358 AD, after the Virgin Mary appeared to a childless couple in a dream.
Ferragosto
Ferragosto (on August 15) is the festival of Assumption, when the Virgin Mary ascended to Heaven. Connected to an ancient holiday of rest decreed by the Roman Emperor Augustus, many people take a vacation at this time of year – usually for the rest of August.
Find out more about Rome in August here.
September
Sagra dell'Uva
This harvest festival takes place in Marino, just south of Rome, usually in September or October. It sees grape-stomping, dressing in period costumes, processions, and – famously – the fountains flow with wine.
Romaeuropa
Taking place from late September through December, Romaeuropa is an international performing arts festival. Think theatre, avant-garde plays, ballets, dance and various other recitals.
Taste of Roma
Taste of Roma is a four-day food festival highlighting the culinary fare of the capital. At the Auditorium Parco della Musica, you'll find some of the best chefs and restaurants of the city serving up some exquisite cuisine. Arrive hungry!
October
Festa Del Cinema di Roma
Also taking place at the Auditorium Parco della Musica, the Festa del Cinema di Roma has taken place since 2006, and is today one of the largest red-carpet events in the world. The film festival sees Hollywood stars, household Italian names, and film industry professionals attend various screenings.
Read my post Why To Visit Rome In October.
November
All Saints Day
Falling on November 1, All Saints Day is celebrated with a mass led by the Pope in St Peter's Basilica. It's also a national holiday, so many businesses (such as museums and galleries) will be closed.
St. Catherine's Day
Traditionally considered the start of the Christmas period, St Catherine's Day (November 25) was originally celebrated by pipers traveling in from Ciociaria. It's not that common anymore, but you still may be able to find some pipers piping somewhere in Rome.
Rome Jazz Festival
One of the biggest festivals in Rome, the city's annual jazz festival is a hotspot for international musicians and new artists. It occurs across three weeks in November, with a different theme for each year. Past performers include Miles Davis, Ray Charles and B.B. King.
Festival Internazionale di Musica e Arte Sacra
This festival for religious music and art involves a series of concerts that are held at a number of Rome's churches. It sees the likes of the Vienna Philharmonic Orchestra play at venues such as the Papal Basilicas, among others.
December
Christmas decorations
The run up to Christmas sees a string of different celebrations take place across Rome. The city becomes festooned with an array of seasonal decorations. Christmas trees pop up in piazzas and lights are strung along shopping streets – it's a wonderful, particularly attractive time of year to visit Rome.
Nativity scenes
Rome's Nativity scenes are a stunning display of the birth of Jesus, and can be found throughout the city. If you head inside any church this time of year, you'll see a Nativity scene – traditionally completed by putting in the baby Jesus. In St Peter's Square, there's a life-size Nativity scene on display.
Feast of the Immaculate Conception
This festival falls on December 8, but don't expect processions and parties: it's more of a solemn event marked by prayers. There are road closures, however, as the Pope also visits the Spanish Steps to pay homage to the Virgin Mary in the Piazza Mignanelli, laying a wreath for the occasion.
Christmas Markets
Piazza Navona is the place to go in Rome for a Christmas market. The square's Christmas fair is a festive bonanza, with fairground rides for children, toys and sweets on sale, and decorations galore. It's bound to get you in the Christmas spirit.
Christmas Eve
Many businesses will be closed – or have limited opening hours – on December 24 as the people of Rome come together for evening family meals to mark the birth of Jesus. Midnight Mass occurs in churches throughout the city, and is a magical thing to experience.
Christmas Day
Don't expect to see anyone out and about on December 25: Christmas Day is all about staying at home with family. Most businesses will be closed, and public transport limited. If you are in the city on Christmas Day, book your meal in a restaurant way in advance. Please note that December 26 is a national holiday too.
New Year's Eve
New Year's Eve is one big party in Rome. It starts with the cenone – a huge dinner eaten at home or a restaurant – before everyone in the city spills into the streets and other public spaces. Concerts are put on in piazzas, informal parties take place, people head to the hills to watch the fireworks, and revelers head to nightclubs.
Pin It For Later!