When people ask me what's the best time to visit Rome, I have no doubts: October in Rome is amazing, and if it is your first time in the city, that's probably when you should go. Mind you, Rome is always worth visiting and no matter when you go, you are bound to be vowed by it!
So, what's so great about Rome in October? Continue reading, and I will tell you everything there is to know; the best things to do during that season; and some tips to make the most of it.
Why Visit Rome in October?
October is a beautiful time of year to visit Rome. Visitors who usually go to Rome in the summer will notice the much milder weather. This means that, since the days aren't so scorching, it's a much more tolerable temperature to enjoy sightseeing, but it's still warm enough to stroll around in the evening.
And, similarly to summer, days are still fairly long (daylight savings in Italy ends on the last summer of October). You'll have plenty of daylight to soak up the sublime architecture and sights of Rome.
Not only that, but most places around the city still observe the same opening times that they did in summer. That means you'll have lots of chances to see the best of the city without having to rush (and not be exhausted because of the summer heat).
October is arguably one of the most beautiful times of year in the city. Autumn actually has a special place in the hearts of Romans, who call it Ottobrate (or Ottobrate Romane: the Roman October). This is the time of year that citizens take trips to the countryside and enjoy the delights of the harvest season – as well as the beautiful fall colors, of course.
Another reason to visit Rome in October is the fewer tourists. While it's still a relatively busy time of year, without the holidaymakers of Europe's summer vacation clogging the streets, it's an all-round more pleasant experience. Still, you should expect crowds – just fewer of them.
Make sure to also read my post A Guide To Visiting Rome In Winter.
Weather In October In Rome
Well, for one thing, it isn't hot. Instead, the weather in Rome in October is mild and fresh. The average temperatures sit around 18°C (64.4°F) during the daytime, falling towards the end of the month to around 15°C (59°F).
Daily highs can still reach 23°F (73.4°F) (on average), and you'll definitely feel warm in the sun. Days are usually dry, which is a bonus, with only around eight days experiencing rainfall throughout the month; most of the time, you'll be able to escape any showers.
Skies are clear and blue – beautiful weather for exploring the streets of Rome. There are about eight hours of sunshine per day, too.
All in all, it's still warm in Rome in October, but without the temperatures of summer that can really sap your energy and make sightseeing not fun at all. It's a genuinely pleasant time of year to see the city in all its glory (especially on all those sunny days).
Not only that, but sea temperatures remain bearable, too, at around 22°C (71.6°F) . This means that a day at the beach in Ostia – or elsewhere on one of Rome's nearby beaches – is definitely still on cards, if you feel like it.
What To Wear In October In Rome
October in Rome may not be the sweltering summer season that most tourists experience, but you'll still want to pack for fine weather, sunny skies and cooler evenings. But because this is October, you'll also want to prepare for the occasional downpour or drop in temperature. Basically, you'll need a bit of everything.
Even if it's warm, you'll still have to cover up if you're entering churches in Rome, which adhere to strict dress codes no matter what time of year it is. Even if you forget everything else, you should remember this; you don't want to miss out on Rome's truly awesome religious architecture.
Here is a list of what you should back when visiting Rome in October:
Comfortable walking shoes – summer, autumn, winter or spring, you'll definitely need a good pair of shoes to see you through your Roman holiday. Although it's still warm(-ish) in October, I wouldn't just rely on sandals; either opt for something you already know is comfortable, or a lightweight walking shoe.
Socks – Unlike the barefoot days of summer, in October you'll probably want to wear socks for your shoes. A thin breathable sock is probably best; it's not quite winter boot and thick sock weather yet!
T-shirts – The staple of every traveller. These fold up easily, come in different shapes and sizes – from loose to fitted – and go with basically everything. They're also great for layering, which is the key to dressing for a trip to Rome in October. I find Kuhl t-shirts are perfect for traveling: comfortable yet stylish! You can get yours here.
Jumper/sweater/cardigan – Like I said, you'll want to pack with layers in mind, and this is where these items of clothing come into play. An evening chill can be easily warded off with a light cardigan, or if it's verging on cold, a thicker jersey should do the trick. Keep one in your bag at all times. I am a fan of Kuhl Stria pullover – you can easily dress it up or down!
Dresses – Dresses are great for when days are warmer, and perfect both for being layered with a jumper or dressed up to the nines for evening dinner and drinks. If you're packing light, go for dresses that can fold down into small packages for your luggage, but that can still be thrown on at the drop of a hat.
Waterproof jacket – It's October, and though it's sunny, there are a few rainy days to be expected this time of year in Rome. They may not be the "coolest" option, but a lightweight (preferably packable) rainproof jacket is a must for your daypack.
You never know when you may get caught in a shower, and wearing a jacket definitely beats being soaked to the bone! And if you want something extra stylish while practical, check out this Kuhl jacket.
Umbrella – A small umbrella you can fit into your bag will help when you're exploring the city. Get into the habit of taking a fold-out umbrella with you wherever you go; you'll be glad you have it if you're waiting in line and the heavens open.
Sunglasses – It may rain, but it also shines. There are a lot of sunny days to be enjoyed in Rome, and rather than spending the whole time squinting, bring along your favorite pair of shades. It's also sensible: UV rays can damage your eyes!
Sunhat – Protect your head, ears, face and neck from the sun with a wide-brimmed sun hat. You could even go for a lightweight one that rolls up without creasing – you probably won't need it the whole time.
Shirt – Back to the layering: shirts are perfect for dressing up an outfit to make it look smarter, or throwing over a T-shirt for extra warmth. They're also great if you want to head out for dinner at a fancy restaurant.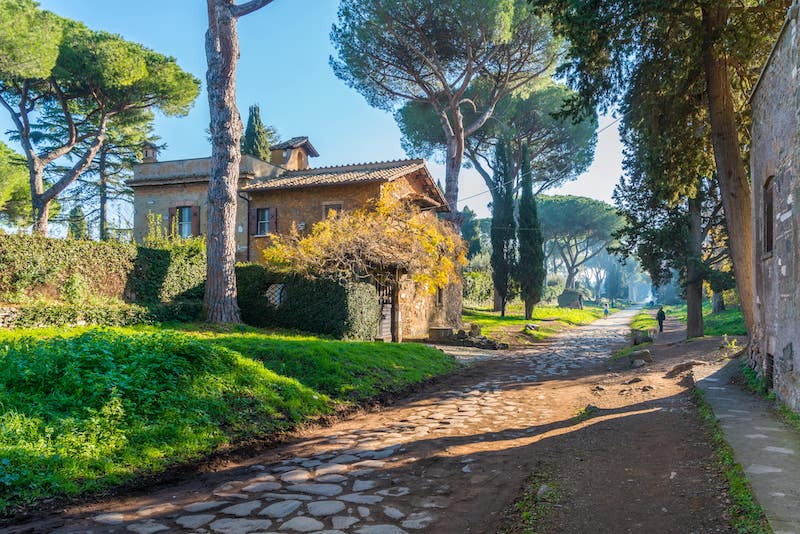 Trousers/jeans – Since you'll need to cover up your legs when you go into churches, it makes sense to be one step ahead and wear trousers. You could go for something loose and stylish, or something more practical (and warm) like jeans. Also good for dinner and drinks. Kuhl Thermik jean is perfect for the purpose, as you can easily dress it up with smart accessories!
Underwear – Obviously! Pack as many pairs for as many days you'll be away, plus a few spare.
Daypack – Keep the layers, your accessories, guidebook, laptop, umbrella and everything else in a day pack. Rucksacks are best for comfort and space, but if you're trying to look less like a tourist, you may want to take something like a tote bag or one of those huge bottomless handbags.
Shawl/scarf – When it's warm in Rome in October, it's likely you might be dressed in a more revealing outfit, but don't forget: you'll still need to cover up to go into churches. A shawl comes in very handy to cover up your shoulders in this case. A big scarf could work, too (and if you get really cold really easily, having a scarf will be good for chilly evenings).
Make sure to read my post What To Wear In Rome.
What To Eat In October In Rome
If you like to eat delicious food when travelling, then you're in luck. October in Rome means harvest season, and this means getting to enjoy the bounty that all the summer warmth has produced – an array of delectable delights.
The markets in Rome are packed full of seasonal produce, and there's no better time than October to see it all on show. Restaurants, too, serve up dishes inspired by the season, using the appropriate ingredients, of course.
There are also a fair few food and wine festivals that take place at this time of year. These are perfect for foodies who want to delve into specialty fruit and vegetables, and generally soak up the full harvest vibes.
And in doubt, consider joining a food tour to take in all that's on offer. You can book your food tour in Rome here.
Food in season in October includes…
Zucca (pumpkins) – These come into season between October and December. There are a selection of local varieties; there's mantovana, which is a delicious filling for tortellini, and the grigia di bologna, to name a few.
Dried fruits and nuts – Dates are particularly popular during autumn in Rome, but also castagne (chestnuts), which you'll often see being roasted fresh and sold in the streets later in the year.
Tartufo bianco – White truffles are a mainstay of Roman cuisine from September through December. You'll usually find it served raw, grated over pasta.
Cachi (persimmons) – You may not have come across these in your home country, but these orange fruits appear in the markets in Rome from October. They're super sweet!
Funghi (mushrooms) – Autumn is all about mushrooms in Rome and throughout Italy. They add depth and richness to pasta dishes, so be sure to try anything funghi-related on restaurant menus you see!
Wine and uva (grapes) – Winemaking is a huge deal in Italy, and no less in Rome than anywhere else in the country. But grapes aren't just for wine. Grapes themselves (of the eating variety) are in season from September through November.
For more dishes, check out my post The Best Food In Rome.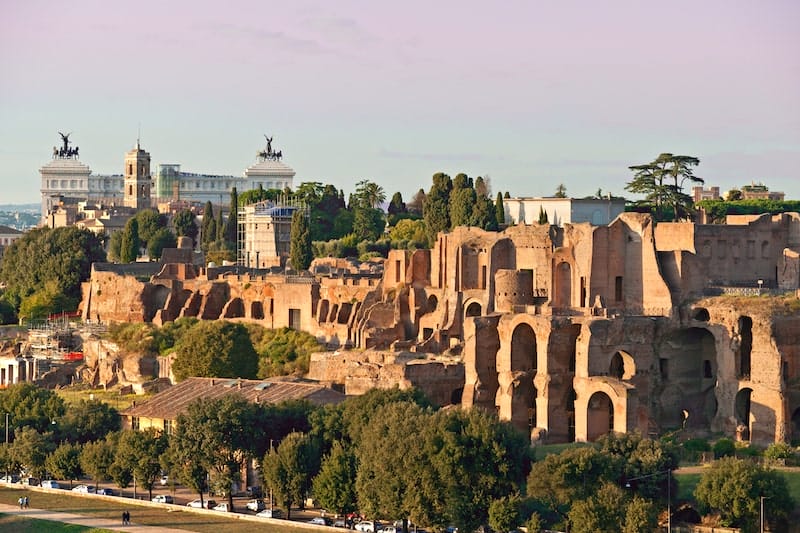 Is October Peak Season In Rome?
It may not be the summer holidays anymore, but Rome is still a very popular destination in October. The fine weather, festivities and delicious food attract visitors from all over the world and from across Italy, too.
In October, you can expect lots of festivals – particularly food and theatre festivals. For example, taking place in late October, is Festa del Cinema di Roma (Rome's film festival); and earlier on, Romaeuropa is a festival dedicated to opera, theatre and dance.
The one thing to note about visiting Rome in October is that summer rates still apply. So you should factor that into your budget. Not only that, but accommodation gets snapped up fairly quickly, so you'll want to book your hotel, hostel dorm or Airbnb in advance.
Attractions are also still busy, so it's also best to book way in advance if you can.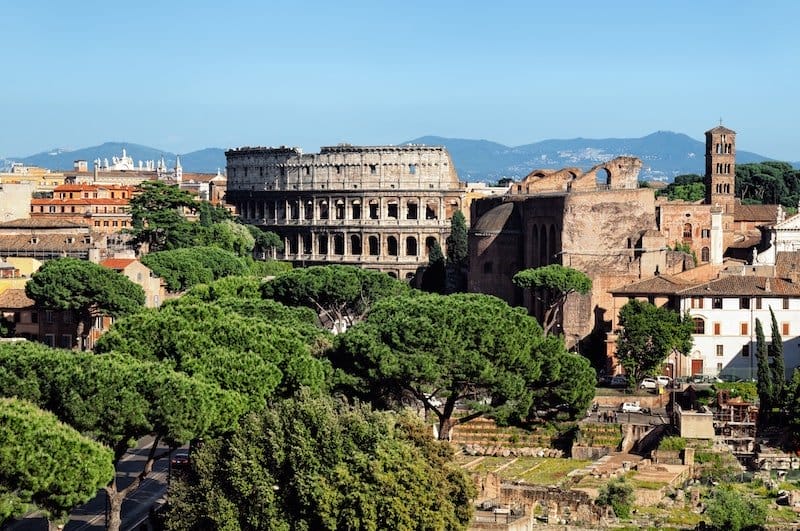 The Best Things To Do In Rome In October
To get your inspiration flowing for your Rome adventure in October, here are just a few things you should have on your to-do list when you're here at this gorgeous time of year…
Check out the Colosseum
October in Rome definitely means visiting the Colosseum. While this can be terribly crowded during the summer months – not to mention, hot as it is fully exposed to the sun – October is perfect. Blue skies and a bit less people will definitely make your visit more pleasant.
Remember that no matter the season, you will need to book your visit to the Colosseum in advance and reserve a time slot for that.
You can get your tickets to the Colosseum here. For guided tours, click here.
Wander around the Roman Forum and the Palatine Hill
Your ticket to the Colosseum will give you access to the Roman Forum and the Palatine Hill, so make sure not to miss the chance to go – both sites are glowing in the mild October light. You may want to get a guided tour for your visit though – especially the Forum can be hard to make sense of without the explanation of a local guide.
You can book your guided tour of the Roman Forum here.
Visit the Vatican
St. Peter's Basilica is the most important church in Christendom, so you definitely should not skip it when in Rome. It's free to access – though you will have to go through airport-style security. As the weather in October in Rome is much milder than in the summer, you won't have to worry so much about the dress code either – just make sure you cover your knees and shoulders!
While in the Vatican, make sure to also go to the Vatican Museums and the Sistine Chapel: they are among the best places to visit in Rome – no matter the season. Just remember that – like for the Colosseum – you need to buy tickets in advance.
Get your tickets to the Vatican Museums here.
If you are visiting Rome in October, you should also make it a point to spend some time in the Vatican Gardens, as they are particularly beautiful then. You can explore them on guided tours either on foot or by open bus.
Tickets for the open bus tour are €20 and can be bought directly on the website of the Vatican here.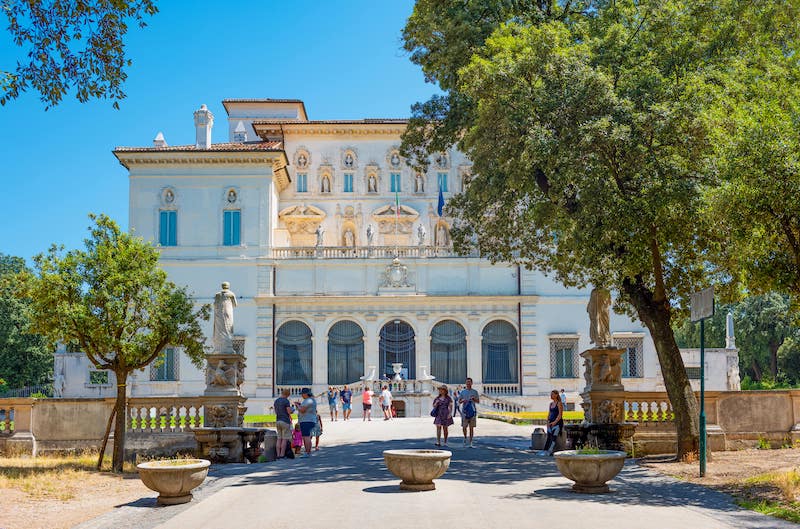 Step inside the Borghese Gallery
This historic museum is ideal to visit in October, especially if you combine it with a visit to the Borghese Gardens as they start to turn into flaming fall colors towards the end of the month.
In order to visit Borghese Gallery, you will have to book at time slot. To reserve your spot, visit the official website here. For a guided tour of Borghese Gallery and Gardens, click here.
Take time to watch a sunset
The clear blue skies and cooler temperatures in October make seeing a sunset in Rome this time of year an absolute must: they're beautiful! One good place to see a sunset from is the Castel Sant'Angelo, or head up to the Aventine or Janiculum Hill.
Head over to my post The Best Views Of Rome.
Celebrate all things wine at Marino Grape Festival
If your trip to Rome overlaps with the first Sunday of October, then you'll be in luck – this is when the Marino Grape Festival takes place.
Twenty-one kilometers (thirteen miles) south of the Italian capital and perfect for a day trip from Rome, the medieval town of Marino is decorated for the occasion: balconies overflow with flowers and statues are adorned with grapes. Most amazingly of all, the fountains of the town flow with wine instead of water. No, really!
Wander the piazze
Sunny days are still here, but the scorching heat of summer has disappeared, making October a perfect time of year for exploring Rome's magnificent squares. Minus the sweat.
Check out Piazza Navona, Piazza della Rotonda (home to the Pantheon), Piazza Venezia, and Piazza di Spagna, but make sure to head off the beaten track to stumble across some of the more local piazze for a real insight into Roman city life.
For the best squares in Rome, check out this post.
Celebrate Halloween, Roman-style
Romans don't traditionally celebrate Halloween, but this popular spooky festival is still a fun time in the Italian capital city. It's more popular in recent years, with people in fancy dress and getting into the spirit of things. Watch out for parties in local pubs – you are bound to find one to attend!
Pin It For Later!