If you're traveling by ferry to Rome, chances are you'll be arriving at the port of Civitavecchia. Also known as the Port of Rome, this is where many passenger ships arrive, namely from destinations such as Sicily and Sardinia, as well as further-flung places such as Barcelona and Tunis. The large port welcomes both cruise ships and ferries of varying sizes.
And, being just 50 miles from Rome, it's within easy striking distance of the city and its treasures. There are a number of different ways you can choose to travel from Civitavecchia to Rome – depending on your time and budget.
Traveling to Civitavecchia by ferry? For information on ferry tickets and routes to Civitavecchia, click here.
How To Get From Civitavecchia To Rome
By train
The easiest way of getting from Civitavecchia to Rome is by train. This stretch of railway is one of the oldest in Rome, dating back to 1859 – before the country was unified! Trains will take you directly to Rome Termini Station.
There's usually a shuttle bus that takes passengers from the ferry terminal to the nearby Civitavecchia train station (which is about a mile away from the terminal) in a matter of a few minutes.
From there, getting the train is easy. There are three options to choose from. The local Regionale Veloce (RV) does not require any reservation; simply purchase tickets at the station, wait for the RV train to arrive and get on.
There's also the less frequent (but slightly faster) Frecciabianca Train, as well as the Intercity Train that run along this route. Tickets for this service are a bit more expensive. You could, if you knew exactly when your ferry or ship was arriving, book the Frecciabianca train in advance.
The third option is the Civitavecchia Express. This is a fairly new service that's been designed especially for cruise ship passengers. This runs a limited number of daily services and is quicker than standard commuter trains, and it also stops at San Pietro near the Vatican.
Make sure to read my posts How Many Train Stations Are There In Rome?, How To Use Rome Metro and A Guide To Rome's Public Transport.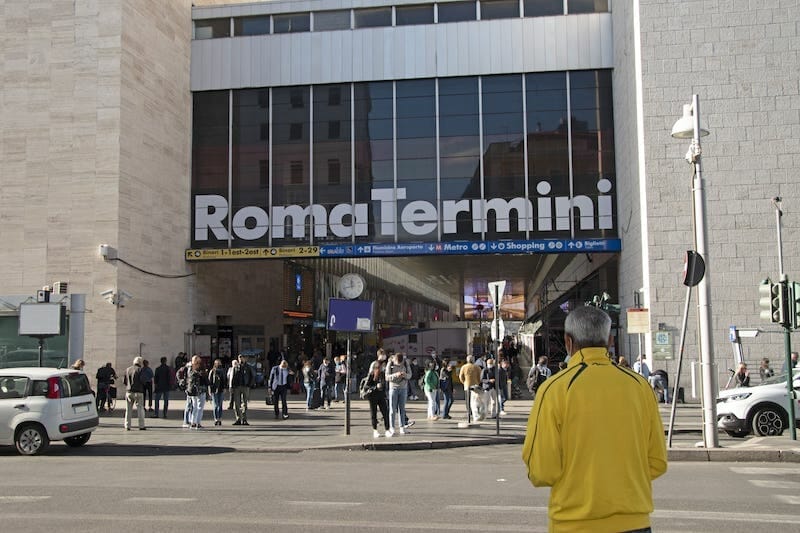 How long does the train from Civitavecchia to Rome take?
This all depends on which train type you choose. First of all, the RV train will take you to Rome in around an hour and 20 minutes. The quickest trip takes just one hour and 4 minutes. The Frecciabianca is much faster and takes just 47 minutes, while the Civitavecchia Express takes just 50 minutes to reach Rome Termini. This option also makes a stop at San Pietro station, next to the Vatican, for optimal sightseeing.
Don't forget to factor in the few minutes on the shuttle bus from the ferry terminal, or (if you don't get the shuttle) a 15-minute walk to reach the train station.
How much does the train cost?
The cost varies depending on the service that you use. For a start, the price of the shuttle bus is €3, but can be included on the price of your ferry or cruise ship ticket. Tickets for the slower RV trains start at €4,60, with the Frecciabianca costing around €10 (depending on how far in advance you book it). The Civitavecchia Express costs €15.
Although the Civitavecchia Express is more expensive, it does line up with the arrival of cruise ships, which means you won't have to be waiting around for a train into the city. That way, you can make the most of your time in Rome.
Timetable/Frequency
The frequency of the trains depends on which option you go for. The Civitavecchia Express may be quick, for example, but it has a limited timetable: there are just two services in the morning, and two later on in the day. This meets the needs of cruise travelers who want to make the most of Rome and come back to the ship in the evening.
The local RV trains depart twice hourly from 4:30 am, while the Intercity and Frecciabianca trains – which have a non-stop service – are far less frequent.
You can check the schedule and prices of the train from Civitavecchia to Rome on the official website of Trenitalia or on the Omio app here.
For the shuttle between the port and the train station, the service starts at 8:00 am and runs till 6:30 pm.
By bus / shuttle bus
Even though there's a number of options for train travel between Civitavecchia and Rome, the bus also presents a pretty good way of getting to the Italian capital.
For starters, buses are often the cheapest way to reach Rome from the port. It means you won't need to deal with waiting around for trains or dealing with your luggage on the train. Some cruise or ferry services may even offer a shuttle right into Rome itself as part of the cost.
The options for buses start with public buses. These can be picked up from Largo della Passe, close to the harbor, or by the main exit of Civitavecchia train station. the shuttle bus (which goes to Civitavecchia station) also stops at Largo della Passe
There's an air-conditioned shuttle bus that also makes its way directly opposite of the Welcome Center, where cruise ship passengers disembark, all the way to the heart of Rome, with a first stop at Via Crescenzio, close to the Vatican City, and one in Rome Termini Station. This coach is a comfortable option and straightforward, with room for luggage to be stored underneath the bus.
How long does the bus take?
The journey between Civitavecchia to Rome by bus takes an hour. The air-conditioned shuttle bus is the most straightforward and hassle-free route, being a direct service. The public buses can take a little longer depending on their route.
How much does the bus cost?
The cost of the shuttle bus starts at around €10; the price can rise to €13, however. For the public bus, it's cheaper, at around €4 per ticket, but it's not as straightforward as the shuttle bus.
Timetable/Frequency
The shuttle bus from Civitavecchia to Rome is at 9:30 am. There's just one bus per day, so if you're aiming for this be sure you don't miss it.
Return buses back to Civitavecchia usually leave around 4:00 pm (depending on which bus you take, this will vary).
Public buses run throughout the day, every 20 minutes or so, but it's a good idea to check times in advance so that you're not stranded at the port. Tickets for the public buses can be bought either at the counter at Civitavecchia train station, or at the nearby news kiosk.
You can check the schedule and prices of buses to Rome from Civitavecchia on the Omio app here. Alternatively, you can book your shuttle bus from Civitavecchia here.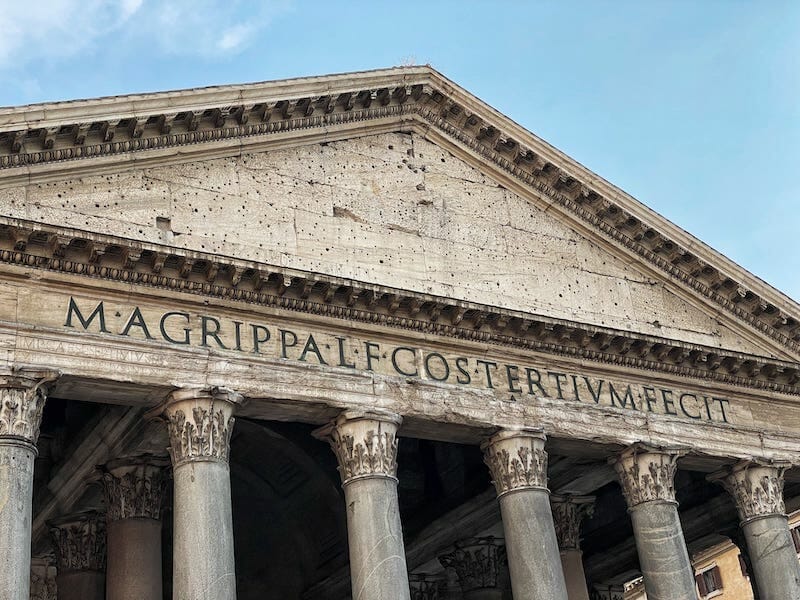 Driving from Civitavecchia to Rome
If you are getting to Civitavecchia by ferry, chances are you may have your car with you. In this case, getting to Rome will be super easy – though I shall warn you that driving in Rome is less than easy.
It takes about one hour and 30 minutes to drive to Rome from Civitavecchia, depending on traffic. This tends to be a heavily trafficked road with trucks during the week and lots of day trippers at the weekend, so it may actually take you a bit longer. You will have to follow the A12 highway, but be advised this route has tolls.
Don't have a car yet? Check out the prices of car rental in Civitavecchia here.
By taxi
For a completely stress-free experience, a taxi is a great option. It can be confusing arriving at a ferry port, seemingly miles away from any onward transport, and a taxi can take away that sort of hassle. You won't need to worry about bus timetables or being in the right place at the right time.
It's also a good option if you're traveling with children, as you can sit back and be whisked to your destination without worrying about getting seats or keeping an eye on your luggage.
However, in order to get a taxi, first you do have to leave the port area. This means you'll be getting on that shuttle bus service to Civitavecchia train station (or walking, if you feel like it). From there, you simply wait at the taxi stand for a free cab to take you to Rome.
The journey from Civitavecchia to Rome by taxi will take around an hour and a half, depending on traffic. It's not exactly a short journey, so don't expect this option to be greatly affordable. In fact, it can cost anywhere between €120 to €150 for a taxi.
By private transfer
Even easier than a taxi is opting for a private transfer from Civitavecchia to Rome. There are two different options, either a wholly private version or one where you share with a few other passengers from the ship.
There is only one company that is authorized to pick up passengers directly from the ferry terminal. It is run by the Port of Civitavecchia.
The shared shuttle service departs from Civitavecchia and takes you to either Rome Fiumicino Airport or the city center. The same goes for the private shuttle.
How long does it take to get to Rome via private transfer?
It takes around an hour and 30 minutes to reach Rome from Civitavecchia via private transfer. If you're in a shared shuttle, then it may take a little longer, as it may have to drop other passengers to specific accommodation. It is a door to door service, after all, so you can be taken directly to your hotel (along with any baggage you have).
How much does a private transfer cost?
The cost of a shared private shuttle is €50 per person. If you want a completely private private transfer, then you'll have to pay €159 for a standard car, for maximum three passengers (that's one-way, too).
You can book your transfer to Rome from Civitavecchia here.
If you'd rather have a private transfer, click here or here.
Guided tour (perfect for a day trip)
If Civitavecchia is just a stop during your cruise around the Mediterranean and you wish to visit Rome – even if only for a day – you will be happy to know that there are many organized day trips that will take you from Civitavecchia to Rome. These normally include transportation – whether in the form of train, shuttle bus or private transfer; a guide that will show you around the main sights of Rome, etc.
There are all sorts of tours on sale online – some are group tours (usually of up to 20 people); others are smaller and there even are private ones. Of course it's a matter of how much you are willing to pay for it! Prices usually start at about €40 for a panoramic bus tour, and can go up to €250 if you want a more extensive tour.
For a panoramic bus tour of Rome from Civitavecchia, click here.
For a full day tour of Rome from Civitavecchia, with bus transport, click here.
For a shore excursion that includes lunch, click here.
If you are traveling from Civitavecchia to Rome for just a day but want to visit independently, you may want to follow a good itinerary. Make sure to read my post A Great Itinerary To See Rome In A Day.
Pin It For Later!