Getting around Rome is simple. This is in part down to the city's size, but massively helped by the public transport network it's got going on. Specifically, the train network is super convenient – you'll most likely be using one of the train stations in Rome at some point during your trip.
With 73 stations across three lines, the Rome Metro is just the tip of the iceberg when it comes to Rome's train network. There are a number of railway stations situated in the city that not only serve local commuters catching trains in and out of the city center each day, but also play host to regional and high-speed rail services. Getting to major cities like Pisa or Naples – or even directly to the Vatican City – from one of Rome's big transit hubs is a breeze.
Some of them are grand and historic, others used to be nothing more than countryside stops that have evolved over the years. Some have multiple metro lines crossing beneath their regional tracks. To help you figure out your train travel in the Eternal City, here are some of the busiest, well known and most useful train stations in Rome.
For information on how to move around Rome, make sure to also read my posts How To Use Public Transport In Rome and How To Use Rome Metro.
Thinking of driving in Rome? Read this post.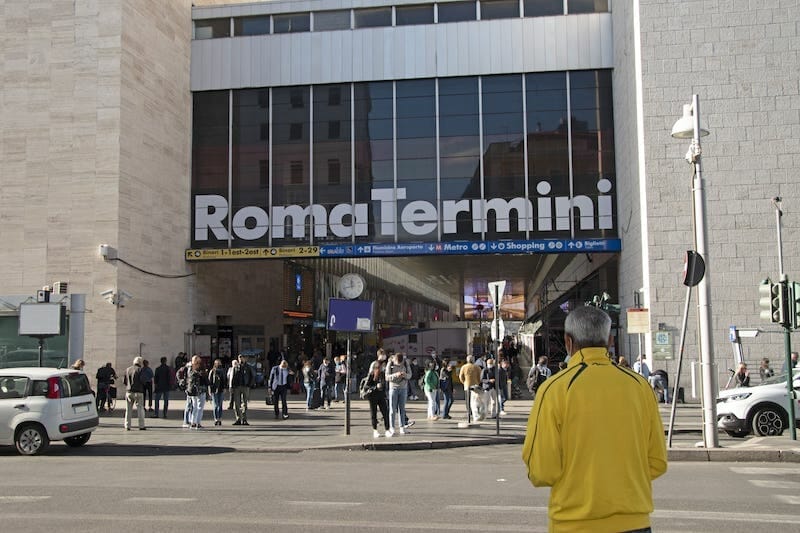 The Main Train Stations In Rome
Termini
Roma Termini train station is Rome's main train station. It's named after the nearby Baths of Diocletian, which in Latin are called thermae, and from which the surrounding area of Termini takes its name.
A station was first opened here in 1863, but the original building was demolished in 1937. Sadly the turmoil of World War II meant that the reconstruction of Termini station was delayed. The modern-day station was designed 10 years later in 1947, and inaugurated in December 1950.
The structure is a shining example of Italian modernism. It boasts a large atrium with a vaulted ceiling and an impressive entrance. In fact, it's the second-largest railway station in Europe after Gare du Nord, Paris.
The station has 33 platforms and provides train transport for over 180 million passengers a year. Both local trains and long-distance journeys are catered for, plus two of Rome's Metro lines intersect at the station. With a bus station adjacent, too, as well as nearby tram lines, it's a veritable hub of travel around the city and the most used of all the train stations in Rome.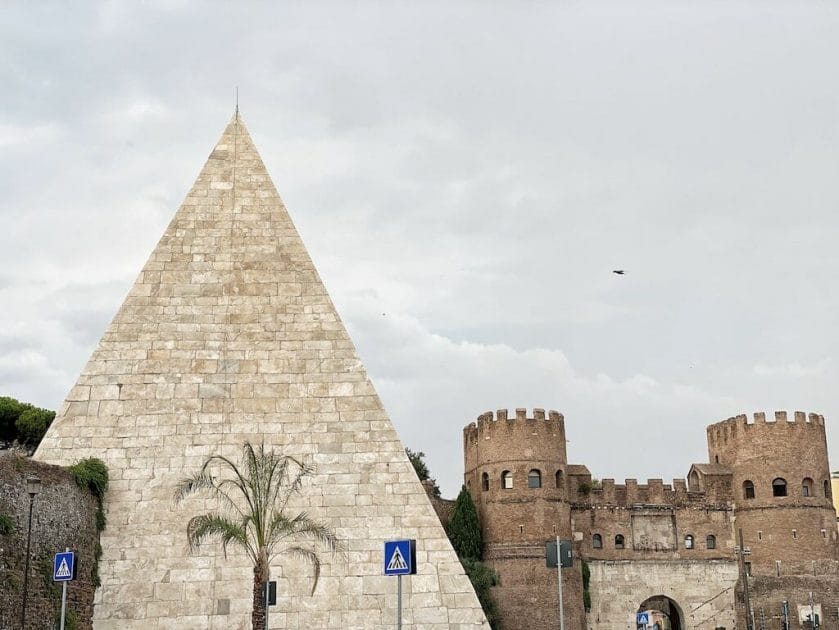 Ostiense
Situated in the southern part of the city, Ostiense – taking its name from the surrounding district – is Rome's third-busiest railway station. Originally the station was built to replace an existing rural railway station, and more specifically commemorated Adolf Hitler's visit to Rome in 1938. The connections don't stop there; to welcome the German dictator, a new road was built to the station that was initially named Via A. Hitler (this name changed after WWII, of course).
The building was designed by Italian architect Roberto Narducci, and features a grand marble facade in an architectural style that was favored by Hitler.
Ostiense has 11 tracks spread across its six platforms, with services that connect travelers with Fiumicino Airport, as well as other intermediate stations around the area. There are also nearby connections with the Rome Metro, and it is connected to the Piramide metro station. Bus stops abound in the neighborhood, too.
Trastevere
Named for its location in the Trastevere on the west bank of the Tiber, it's one of the major train stations in Rome. There was a station in the area prior to the current iteration: Roma Porta Portese, which opened in 1859 as part of the Pisa-Livorno-Rome Railway.
The new version that you see today replaced Porta Portese in May of 1911, and was designed by Paolo Bo. Various passenger facilities are situated across a number of storeys and different sections.
With six tracks in total, Trastevere connects with several urban railway lines, namely the Pisa-Livorno-Rome, Rome-Capranica-Viterbo and the Rome-Fiumicino railways (the FL1 regional train goes to the Fiumicino Airport, for example). Commuter trains also pass through the station, meaning it can be quite a busy transit hub.
Make sure to check out my post A Complete Guide To Trastevere.
Tiburtina
Located four stations away from Roma Termini on Metro Line B, Tiburtina is the second-largest railway station in the city (after Termini). Originally constructed in the 1860s as a terminal station, it feeds the northeast part of the city and is also a hub for high-speed rail services.
The station opened only three years after Termini opened; its original name was Portonaccio. At the time of its opening, it was among the largest railway stations to have been constructed in the country. During the late 1930s Tiburtina saw much development, and following WWII was rebuilt entirely due to damage sustained from bombing.
In the 1990s, the station opened an adjoining Metro station for local transit. In short, Tiburtina is super busy. Sometimes greater numbers of passengers are recorded here than at Termini, which shows you how convenient it is for people's journeys around the city.
More recently, the station has undergone major upgrades and redevelopment. Today Tiburtina boasts a shopping center, a railway office, bus terminal, a giant car park among other shiny new additions. High-speed trains, regional trains, night trains, buses, and the metro… No wonder this station is used by so many people, making it one of the busiest train stations in Rome.
Aurelia
This station serves the western portion of Rome and is part of the Pisa-Livorno-Rome railway line. Construction on this more modest railway station began in the 1930s but was abandoned because of the war. In 1985 works began again with the station finally opening in 1990.
While it may not be one of the largest train stations in Rome, Aurelia still has four tracks, tourist bus services and ticket offices. Overall, this station has a much more local feel to it; for example, at some parts of the day, there's only one train per hour.
With many hotels in the area, however, it can be surprisingly busy with visitors to the city. In addition, tourist buses operate adjacent to Aurelia station; buses also arrive from coastal destinations and drop tourists at this station. It's a convenient stop – in fact, from here you can be at the Vatican City or Termini in mere minutes.
Balduina
Balduina is a neighborhood of Rome that you probably haven't heard of. Still, there are old palazzi and historical churches scattered around this district of the city, making it a worthwhile stop for those who want to explore more off-the-beaten-track streets. If that's you, chances are you'll be using Balduina's railway station.
The area has undergone much change in recent years. Until the early 20th century, the area was all open fields and had no specific name. Along with Balduina, it was often simply referred to as Monte Mario: the name of the plateau-like hill situated here and, in fact, the highest part of the city of Rome.
In the early 20th century, the area was earmarked for development, with apartment buildings springing up around the district.
When it comes to Balduina station, the railway line here connects to Trastevere and Ostiense on the FL3 regional and urban line. It's also connected to Metro Line A, and numerous bus lines serve the area in addition.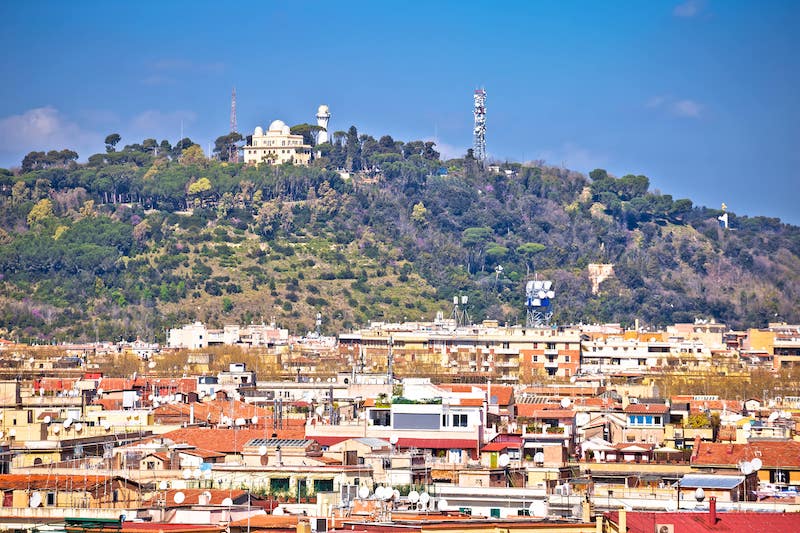 Monte Mario
Monte Mario is the name of the tallest hill in Rome. Situated to the northwest of the city center, it is also home to the district of Balduina. With the FL3 railway line running through, there has been a two-track train station at this spot since 1894.
Interestingly, near the station you'll find Linear Park. This takes up the former route of the Rome-Viterbo railway line. This large park features walking and cycling paths, running for five kilometers and linking up to Monte Mario train station.
Nomentana
The residential neighborhood of Nomentana can be found wedged between the districts of Trieste and Monte Sacro. This attractive area, with its grid-like streets, is set away from the city center, but still has easy access for all your sightseeing and entertainment needs.
Nomentana is well connected, thanks in part to its railway station, which is fairly new having opened on the 25th November 1983. It's an unfussy local spot with four platforms. Tracks 1 and 2 are stopping services on the FL1 line; tracks 3 and 4 are closed to passengers and are only used for freight trains.
Don't be surprised if you see fast trains passing through: the Florence-Rome railway direct train passes through, but cannot be accessed. If you like watching trains, then seeing this high-speed service – as well as freight trains – could be of interest to you.
The station is mainly used by the numerous commuters who call Nomentana home. However, it could be useful for your trip to Rome if you've booked an Airbnb in the area, thanks to trains running from here to Fiumicino Airport (every 15 minutes in peak time).
Prenestina
Prenestina station was originally built in 1887 in what was then countryside. The building that is now used for the railway station was constructed in 1936 and was designed by architect Paolo Perilli. In 2008, the functional structure underwent much reconstruction to modernize the station for contemporary use.
With its four tracks, Prenestina railway station sits at the junction between the Rome-Pescara line and the Rome-Naples high-speed line. The first two tracks are for local trains on the FL2 line, while tracks 3 and 4 are used for regional services. From here you can reach places like Tivoli (famed for its gardens), Mandela and Avezzano. There's also a bus service to Pescara, as well as nearby urban bus stops.
Casilina
Casilina is the only railway station in Rome operated by Rete Ferroviaria Italiana (RFI, the state-owned train company) that is actually closed to passenger traffic. Despite this, the sizable station hosts nine tracks and is a major railway junction. A variety of regional and urban lines pass through.
Until 1941, Casilina was known as Rome Mandrione station. Later, the station was closed to the public on the 13th December 2003 due to lack of passengers; at this point, it had already stopped a number of its train services.
However, the train station does come into use at certain times. For example, when Rome received heavy snowfall in February 2012, Casilina came into use temporarily. Other events, such as accidents on the line, have also called Casilina into use once more.
San Pietro
Situated close to the Vatican, and taking its name from the nearby St Peter's Basilica (just 300 meters away), Roma San Pietro is a major railway station serving the city. The station opened up in 1894 as a stop on the Rome-Viterbo railway line.
Once a countryside station, San Pietro was actually a popular location for directors and filmmakers. Many famous actors have shot scenes at the formerly picturesque train station. At this point, it was something of a secondary station, with the majority of passengers being pilgrims to the Vatican City.
Later, in the 1990s, the station underwent much reconstruction. The number of tracks increased, tripling from two to six, with new railway lines connecting the papal destination to cities such as Pisa. So passengers looking to get directly to the Vatican without having to stay nearby can easily reach via San Pietro, traveling from other Rome stations such as Ostiense and Termini. FR3 and FR5 commuter lines also pass through.
The station famously has a short single track that connects right into the Vatican City. Named the Vatican Railway, this opened in 1934 and holds the accolade for being the world's shortest national railway system.
Tuscolana
Tuscolana is another major station within the city of Rome. It first opened in 1890 and features an attractive original facade. Located in the southeast of the capital, specifically in the Tuscolana area, the station is part of the Pisa-Livorno-Rome railway line and the Rome-Fiumicino railway.
Roma Tuscolana railway station features nine tracks (one of which is reserved for freight) and is also just 400 meters from the entrance to Punto Lungo station, which is situated on Metro Line A. Numerous bus stops also connect the area.
There are a fair few passenger services located within Tuscolana station including toilets, a cafe-bar, waiting room and ticket office.
Pin It For Later!