An easy 44 km (27.3 miles) and 40 minutes drive from Bari, the capital of Puglia, and with much more of a local feel compared to nearby Polignano a Mare, Monopoli is a great addition to a Puglia road trip.
Inhabited since 500 BC, this small town's name gives in to its Greek origins, though the actual meaning is still uncertain. Researchers believe that the name comes from Μόνη Πόλις, which means "Only City" and is a reference to it being the only port town and place of rest between Siponto and Brindisi at the time of Dioniso II of Syracuse.
While it's hard to catch a glimpse of Greek history in the streets and buildings of Monopoli, the city definitely remains a lovely place to visit – and to even base yourself – during your trip to Puglia; and it will surprise you with a fantastic array of sights and places to visit.
Continue reading to discover what to see and do in Monopoli, Puglia, and for some useful trip planning tips.
Make sure to also read my post What You Must Know Before You Visit Puglia.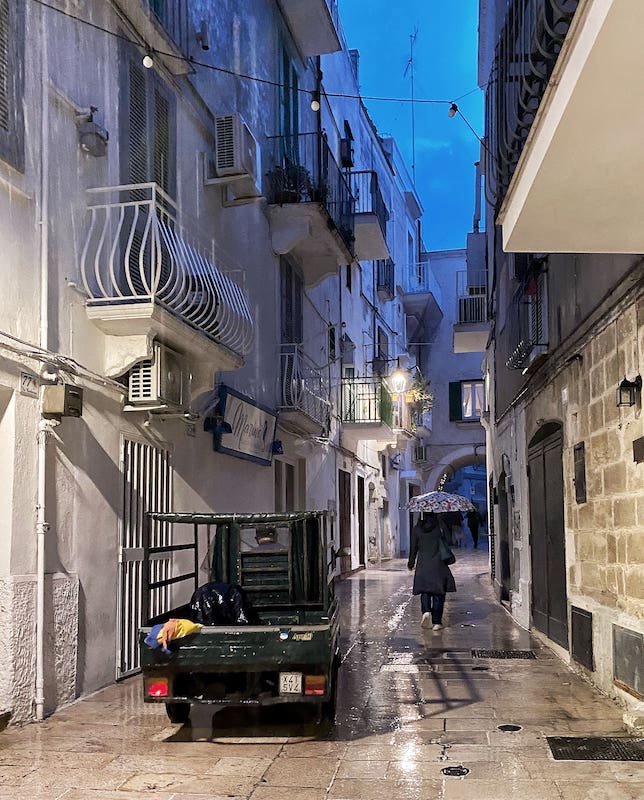 What To See And Do In Monopoli, Puglia
The Old Town
The historic center of Monopoli is the perfect place to start exploring. A series of narrow alleys and whitewashed buildings with colorful doors and windows – much like the rest of this part of Puglia – this is where you'll find a number of beautiful churches, lovely squares where locals enjoy hanging out, classic cafés and the arches that connect buildings.
One of the spots you can't miss is the Basilica della Madonna della Madia, Monopoli's Cathedral whose construction started in 1107, but had to be stopped as the city ran out of roof beams which were miraculously found on a raft that carried an image of the Virgin Mary that arrived at the harbor on December 15 of the same year. The wooden building no longer stands – in its place there now is a gorgeous Baroque cathedral that dates back to 1772.
While there, make sure to also check out the Museo Diocesano, which is attached to the Cathedral and has an interesting exhibit of ecclesiastical art.
Other places to spot in Monopoli historic center are Palazzo Palmieri, an 18th century beautifully preserved Baroque palace that belonged to the Palmieri family and currently under renovation; San Salvatore Church, which dates back to the 4th century and is said to be the oldest church in town; and Piazza Garibaldi, once known as Piazza dei Mercanti (merchants' square).
The latter is the busiest square in town and where you'll be able to spot some of the most important landmarks which include the public library; the Torre Civica (civic tower) with its clock, on top of which you can see San Gennaro Statue and which incorporates the "Colonna Infame" on which anybody who committed a crime used to be tied for public shaming.
Piazza Garibaldi is where you'll also find the beautiful Palazzo della Dogana (custom's palace) and the 16th century Cacace Palace.
Porto Antico di Monopoli
One of the most scenic places in Monopoli is its old harbor. This is where you will be able to spot the famous blue-and-red boats – locally known as gozzi (gozzo is the singular). Go early in the morning and you'll still spot local fishermen trying to catch octopus and other fish, or repairing nets.
Lungomare and Bastione Santa Maria
We walked along the Lungomare right after it rain, just around sunset time, and it was full of atmosphere! Monopoli seafront promenade circles the old town and it's a wonderful place for views. Make sure not to miss the Bastione Santa Maria, located opposite Santa Maria della Zaffara Secolo XVII church. There also are the remains of a defensive tower.
Castello di Carlo V
Charles V Castle was built on a promontory that overlooks the sea in 1515, and was part of the fortifications that served to protect the city. Its use eventually changed to become a prison. The castle has been recently restored and is now used for special exhibits, ceremonies, conferences. It's open to visitors every day but Monday. Make sure to walk in as the views from the roof are splendid!
Monopoli Beaches
We visited Monopoli at the end of October, and it was past beach season. But if you happen to be in the region in the summer months, don't miss on the opportunity to spend at least a few hours relaxing in the sun and then chilling in the cool waters of the Adriatic Sea. Here is a selection of nice beaches within easy reach from Monopoli:
CALA PORTA VECCHIA – Monopoli main beach, it's easily reached from the city center and a favorite of local families thanks to the nice sand and shallow waters.
CALA COZZE – Another locals' favorite, it's quite similar to Cala Porta Vecchia.
CALA PORTO ROSSO – A nice sandy cove at easy walking distance from the historic center of town. It can get very crowded during the weekend.
CALA PORTO NERO – At easy walking distance from Cala Porto Rosso, it's definitely less crowded than the previous beach.
CALA PARADISO – One of the most popular beaches in the area.
Nearby towns and sites
Monopoli is a great starting point to visit a variety of nearby towns and sites. Here is a selection of the best places to visit within easy driving distance.
Polignano a Mare
One of Puglia's most popular tourist destinations, Polignano a Mare is a 15 minutes drive from Monopoli. The main landmark there is the incredibly scenic Lama Monachile beach, which is actually less than comfortable as a hangout spot as it is a pebbly beach, but makes for some excellent photo opportunities from one of the viewpoints of the Terrazza Santo Stefano or Pietra Piatta.
Make sure to do a cave boat tour around Polignano a Mare. You can book it here.
Make sure to read my complete guide to Polignano a Mare.
Ostuni
35 minutes from Monopoli, Ostuni is one of Puglia's prettiest towns. Known as the White City (it won't take you long to understand why!), it has a gorgeous Cathedral, in front of which you will find the Arco di Scoppa, a perfect photo spot.
For a guided walking tour of Ostuni, click here.
Make sure to read my post A Short Guide To Ostuni, Puglia.
Alberobello and the Valle d'Itria
Alberobello, the world famous Trulli town, is less than 30 minutes drive from Monopoli. The most famous town in the Valle d'Itria, it's where you'll see the only remaining two-floors trullo – called Trullo Sovrano. Not far from it, Locorotondo, Cisternino and Martina Franca are lovely small towns with whitewashed buildings; beautiful examples of Baroque architecture and an overall quaint atmosphere.
Make sure to read my posts A Short Guide To Martina Franca, Puglia; What To See And Do In Locorotondo and my Alberobello Guide.
Egnazia
Egnazia is an easy 20 minutes drive from Monopoli. This is one of Puglia's best preserved archeological sites. The origins of the city have been traced, back to the 15th AC century, after which however it became a Roman city. Before visiting the site, make sure to stop by the well curated museum of archeology which will be a great introduction in case you prefer exploring independently.
Practical Tips To Plan Your Trip
How to get to Monopoli
Monopoli is easily reached from a variety of other places in Puglia.
By Car
Puglia is the perfect place for a road trip, so if you are planning on renting a car you will be pleased to know it's easy to drive to Monopoli. The city is roughly 44 km (27.3 miles) and 40 minutes drive from Bari, depending on traffic. If you are going to Monopoli directly from Bari Karol Wojtyła Airport, the trip should take you around 45 minutes along SS16 – you don't have to drive through Bari town!
When booking your accommodation, you may want to consider a place that has free parking – it can be a real hassle parking in the old town! Alternatively, ask your hosts for a good spot to leave your car during your stay.
By Train
Trains to Monopoli depart regularly from Bari Stazione Centrale, taking 24 to 51 minutes depending on whether you pick a regional tran that makes various stops along the way, or a direct train. Tickets cost just €4 and can be purchased here.
Please beware that the train station in Monopoli is a good 25 minutes walk from the historic center of town.
Where to stay in Monopoli
Small as it is, Monopoli has a good selection of accommodation options. Here are some places you may want to consider:
Pin It For Later!