Are you looking to visit Puglia? I am truly happy for you! This is a region that I have visited several times, and that I truly love.
Located in southern Italy, Puglia is a fantastic holiday destination, yet relatively unknown to international tourism (though we in Italy know it well, and appreciate it enormously) that will get you far away from the more classic itinerary most first-time visitors to Italy typically follow.
Travel to Puglia and you will find quaint, white, baroque towns where locals still very much own the city center; and a pace of life that is slow and pleasant.
Don't know what to expect for your trip? Don't worry! In this post, I will explain everything you need to know before you visit Puglia, and share some useful tips to plan your trip and make the most of it.
Everything You Must Know Before You Visit Puglia
Where Is Puglia?
First thing first: where is Puglia, exactly? This region (called Apulia in English) is located on the south-eastern tip of Italy and is in fact known as the "Heel of the Boot". It borders with the regions of Molise to the North, and with Campania and Basilicata to the West. Puglia faces the Adriatic Sea as well as the Ionian Sea.
Best time to visit Puglia
I'd dare say any season is good to visit Puglia. The weather in Puglia is typically mild in the winter, with temperatures between 6 and 15°C (43-59°F), making it still quite pleasant for sightseeing; and days are typically warm throughout the fall and well into November, and in the spring months, when temperatures during the day can go up to 20°C (68°F) and beyond.
One thing to keep in mind is that chances of rain are definitely higher in the fall and winter months – last time I visited, in mid October, it rained almost every day for a week, with short but powerful thunderstorms.
Summers in Puglia are definitely hot, with day temperatures regularly rising above 30°C (86°F). That's definitely the best time to visit Puglia if you are hoping to hit the beach.
If you are concerned about travel costs, the best time to visit Puglia will definitely be the off season or – for better weather and longer days – the shoulder season. That's when you'll find the best deals in terms of accommodation, and when there will be fewer tourists around. August is the peak month during the summer – that's when most Italians take their summer vacations, so prices will inevitably be higher, the beaches way more crowded, and finding a restaurant with no reservations harder.
Plan to spend a week or two
I'd recommend spending at least one week in Puglia. That's how long my sister and I spent there last time we visited, and we could have easily stayed longer. There are many things to do in Puglia and I promise that regardless of the season you intend to travel there, you won't have shortage of fun activities and places to visit.
If you have just one week in Puglia, you should focus on just one area using a place as your base and then doing day trips from there. For example, you could stay in Locorotondo, in the lovely Valle d'Itria, and visit one or two small towns every day. It's right in the center of the region, so you can easily reach Bari and Lecce from there, and even Matera (more about them below).
If you have more time, you could plan to spend a week in a small town of the Valle d'Itria and then move to a coastal place in the Salento or even Gargano region.
Make sure to read my posts A Guide To Valle D'Itria, Puglia and A Perfect Itinerary For A Puglia Road Trip.
How to get to Puglia
There are two airports in Puglia: Bari International Airport-Karol Wojtyla (BRI), which is just outside the capital of Puglia and is served both by regular and budget airline flights that connect it to the rest of Italy and Europe; and the smaller Salento Airport (BDS) in Brindisi, mostly served by budget airlines. Both are good choices and both will have a selection of car rental companies where you can pick a car to roam around the region.
Tips for getting around Puglia
While public transport works in Puglia and you can count on a good web of trains and buses to take you to most places, your experience will be infinitely better if you decide to rent a car and drive around. Travel time between places is often longer if you travel by public transport – and this is certainly the case in Puglia. Besides, this is just about a perfect destination for a road trip and having your own car means you can be way more flexible in deciding what to visit and how long you can stay there.
Want to have an idea of prices? Check out the prices of car rental in Puglia here.
Driving in Puglia often means using tiny country roads. Locals are used to it and you will often come across as their easily make their way along narrow lanes as if they were a highway, but I recommend you keep your eyes open and drive slowly, especially at night when wild animals may cross the street.
One thing you definitely need to keep in mind is that your GPS (including Google Maps) will often be wrong – I only know too well! Try to trust the road signs as much as possible as the combination of road works and detours will often confuse your navigation system.
Is Puglia expensive?
Coming from Sardinia, I never found Puglia to be particularly expensive – but that really depends on your expectations and your budget. While you can easily spend more than $100 per day per person on accommodation, meals, activities and transportation during your trip to Puglia, if you decide to visit in the shoulder season, stay in a smaller town and rent a small apartment where you have the option of cooking at least some of your meals, you can expect to pay much less.
Food is delicious
I don't think I can remember one bad meal in Puglia. We simply had none: wherever we went, whether we opted for fine dining at a Michelin-star restaurant (though we never ate at the one mentioned in this post), a local trattoria or street food, we found the food to be delicious.
In fact, there's no denying that one of the best things to do in Puglia is eating. From the focaccia barese to the puccia leccese; from freshly made orecchiette pasta to bread and pasticciotti, you won't have troubles finding good food in Puglia.
In fact, make sure to do some wine tasting and – if you are a fan – even olive oil tasting: this is one of the best regions in the world in terms of olive oil production.
When it comes to breakfast, however, keep your expectations low (unless you are staying in an upper-end hotel, that is). Much like in the rest of the country, breakfast at a coffee shop will usually consist of coffee or cappuccino, and a pastry such as a cornetto (similar to a croissant, but sweeter).
Make sure to read my post The Best Food In Puglia. Want to know what to expect for breakfast in Italy? Read this post!
Hit the beach at least once
Are you visiting Puglia in the summer? Then a day a the beach is one of the top things to do in Puglia. In fact, since summer drags well into October, you may enjoy a dip in the sea even if you visit Puglia in the shoulder season.
Coming from Sardinia, it's hard for me to find beaches that compare to what we have here. Which is why you can trust me when I say there are some gorgeous beaches in Puglia.
The most beautiful ones are found in the Salento and in the Gargano areas. There are incredible beaches close to Otranto; in Vieste; and let's not forget the iconic Lama Monachile beach in Polignano a Mare.
Make sure to read my posts A Short Guide To Polignano A Mare and A Quick Guide To Monopoli.
Don't skip Valle d'Itria
You simply can't visit Puglia and not go to the Valle d'Itria. You may have not heard the name before, but I am sure you have heard of Alberobello, the famous trulli town (which are however found in many other small towns and scattered around the countryside of this valley). Well, Alberobello is precisely in the Valle d'Itria.
This part of Puglia is all about rolling hills, countryside and olive groves dotted with strikingly white, quaint small towns – my favorites are Locorotondo; Cisternino; Martina Franca; and Ostuni which however is more towards the coast.
Spend a day in Bari
In fact, I should actually say "spend at least a day in Bari." The capital of Puglia is probably one of the most underrated cities in Italy. Bari Vecchia, as its historic center is called, is a fabulous maze of narrow cobbled alleys, where the whiteness of buildings is interrupted by the colorful curtains of shops and apartments.
Make sure not to miss the beautiful San Nicola Basilica and Bari Cathedral; walk along the Lungomare Nazario Sauro and shop for orecchiette at Via dell'Arco Basso (often referred to as the Via delle Orecchiette, for that's where you'll spot local women sitting outside their door, busy making this delicious traditional pasta).
There are many interesting attractions in Bari. Head over to my post The Best Things To Do In Bari to find out more.
And if you plan to spend a night, check out my post Where To Stay In Bari, Italy.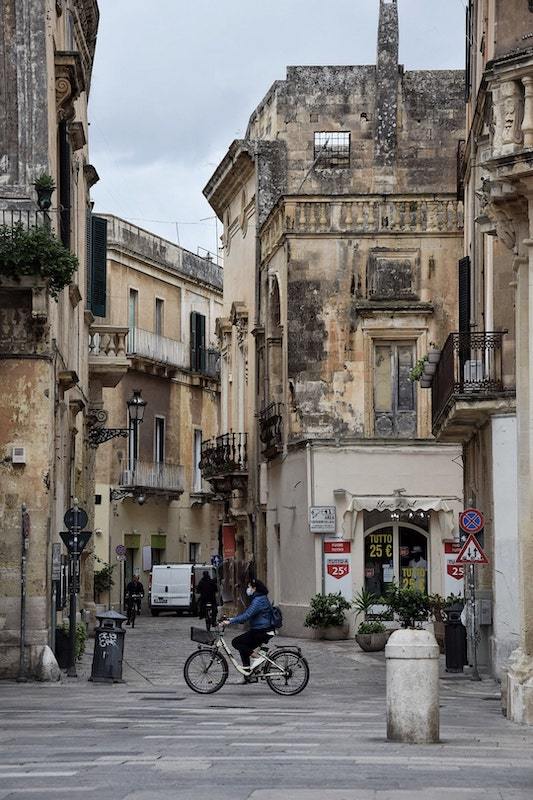 Don't skip Lecce
Visiting Lecce is one of the unmissable things to do in Puglia. Known as the Florence of the South, the capital of Salento is a gorgeous city with baroque churches galore; a bunch of beautiful squares; ancient gates you can walk through; the fantastically curated Museo Faggiano and not one but two Roman theaters in the heart of the historic center.
More than anything else, Lecce is wonderfully lively and the atmosphere welcoming and relaxed. If you have the chance, plan a night out there and hit one of the many bars or pubs.
Read my post The Best Things To Do In Lecce.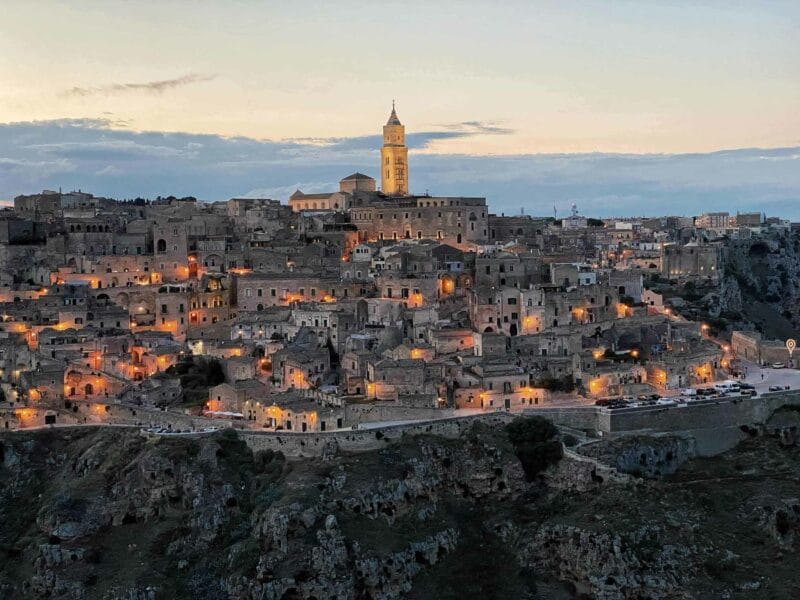 Cross over to Matera
Just one hour drive from Bari, and little over one hour from Alberobello, Matera is not actually in Puglia but in neighboring Basilicata. Yet it's so easy to add to your itinerary that you should not miss the chance to go. The city of the Sassi is a place you won't easily forget. Make sure not to miss the Duomo, the rock hewn churches and explore the Sassi visiting one or more traditional homes before heading to the Parco della Murgia for a breathtaking sunset.
Don't skip my post The Best Things To Do In Matera.
Don't dismiss the archeological sites
While you won't find anything that can compare to the Roman Forum or the Palatine Hill in Puglia, you shouldn't automatically dismiss its archeological sites. There are many scattered around the region. One of the best is Egnazia, which dates back to the 15th century BC and later on became a Roman city.
Another place you may want to check out is Castel del Monte, about 50 minutes out of Bari. It's a 13th century castle that had been built for defensive purposes.
Practice your Italian
If you want to practice and improve your Italian, Puglia is definitely a good place. English is definitely spoken in all hotels and fancier restaurants and in the more popular tourist destinations in the region; but in smaller places the chances of finding someone who speaks fluently are considerably lower. Add to this the fact that locals are friendly and supportive of your attempts to speak Italian, and this is your golden opportunity to put your language skills to test.
Make sure to read my post How To Easily Learn A Foreign Language.
There are many accommodation options
You won't have troubles finding excellent accommodation options in Puglia. Hotels, guest houses, masserie (gorgeous fortified farmhouses) and even trulli (the circular, white stone huts Puglia is famous for) are all available. Many are truly beautiful, and some of them come complete with fabulous pools and outdoor spaces where you can relax at the end of the day.
Keep in mind that masserie and trulli are often located way outside of town and having a car is a must!
Pin It For Later!