With a population of about 1,500, Monterosso al Mare is the largest village in the Cinque Terre region of Northern Italy. It's an incredible mix of old and new with the modern part of town and Old Town being separated by a tunnel. Many would tell you it is the least charming of the Cinque Terre villages, but don't let this fool you: Monterosso al Mare is a truly lovely small town, with plenty to see and do, lots of fantastic restaurants and a great base to explore the rest of the Cinque Terre region and beyond.
My sister and I decided to base ourselves there on a recent trip to the Cinque Terre and we truly couldn't have been happier!
Curious to discover more about the lovely Monterosso? Continue reading: I will tell you everything there is to see and do there and share some useful planning tips.
Only have a day? Check out my post How To Plan The Perfect Day Trip From Florence To Cinque Terre.
What To See And Do In Monterosso Al Mare, Cinque Terre
Hang out at the beach
Monterosso al Mare has many attractions, but its main beach, Spiaggia Fegina, which is located right in front of the train station is the biggest draw for visitors because of its clear waters and the fact that it's the largest and only true sandy beach in the Cinque Terre region.
Fegina Beach tends to get super-crowded in the summer months, and there is only a small area that is public and free and where you can lay your towel or place your umbrella at no additional cost – so unless you intend to rent one of the colorful umbrellas and sunbeds from one of the lidos, make sure to get there super early or at lunch time, when some people may be leaving for lunch.
The most iconic lido is by all means Bagni Eden Bar – it's the one with the green and orange umbrellas. If you want to spend the day there, you will have to book well in advance by calling the number +39 0187 818 256. Be prepared to pay as it's not exactly cheap!
If Fegina Beach is packed, you could try your luck finding a place in another beach in Monterosso. The best alternative is Spiaggia Il Gigante. It takes its name from the statue of Neptune on the hill. To get there, you'll have to turn right once you get out of the train station.
Another nice beach is the Spiaggia Tragagia, which is actually the one in Old Monterosso. Most of the beach is actually free to access so a good option if you are traveling on a budget.
Finally, you could consider Spiaggia Portiglione, which is further west of Il Gigante beach.
Hike to Vernazza and beyond
Hiking from Monterosso to the nearby village of Vernazza is another popular activity in the village and it's the best way to explore the area and enjoy the spectacular coastal views. This section of the Blue Trail is around 2.2 miles (3.5 km) and takes about two hours. However, you should put extra time aside if you plan to stop along the way and enjoy the views and take pictures.
The trail starts right below Hotel Porto Roca. Once in Vernazza you have the option to continue hiking all the way to Corniglia and from there you can follow alternative trails to Manarola and Riomaggiore (that section of the Blue Trail is closed for maintenance).
A hiking pass – the Cinque Terre Card – is required to access the Blue Trail. It costs €7.50 and can be purchased at any of the tourist information centers – known as Cinque Terre Point – in the area. Alternatively, you can get it online here.
For a guided hiking tour of the Cinque Terre, click here.
Head over to my posts A Quick Guide To Vernazza and A Guide To Hiking In The Cinque Terre.
Explore the village
No visit to Monterosso is complete without exploring the village on foot, particularly the historic area. Take a few hours and walk through the little alleys. Take in the quintessential traditional Italian village ambiance and admire the beautiful architecture with the sparkling sea and hills as a backdrop.
Enjoy a relaxing stroll along the seaside boardwalk in the New Town with a tasty gelato from one of the little shops in hand. Located in the new town, make sure to spot the Statue of the Giant – it's a large statue of Neptune positioned over the Spiaggia dei Giganti Beach.
Another nice sight is Aurora Tower, a historic 16th-century tower that once protected Monterosso's coast from menacing pirates.
Other popular attractions in Monterosso include the Sanctuary of our Lady of Soviore, the Church of San Giovanni Battista, the convent of Monterosso and the 16th-century Church of San Francesco. The latter one is particularly beautiful. It's on top of a hill from where you can enjoy incredible views of the village below, and of the sea.
If you're interested in seeing Monterosso from another angle, there are several companies offering boat tours in the area, or you can even rent a small boat and explore the coastline on your own (more about that below).
Hop on a boat tour
One of the best ways to enjoy the Cinque Terre is on a boat tour. The good news is that most of them depart from Monterosso al Mare. There are several options. You can simply pick a hop-on hop-off cruise that stops at the Cinque Terre villages (except for Corniglia, which doesn't have a harbor), and gets all the way to Portovenere, and just get off whenever you feel like it. Alternatively, you could go on a sunset boat tour which is particularly scenic especially if you are traveling with your partner. Finally, the most active ones can consider going on a kayak tour.
To book your boat tour along the Cinque Terre, click here.
For a sunset boat tour click here.
For a kayak tour of Cinque Terre departing from Monterosso, click here or here.
Make sure to also read my post The Best Things To Do In Cinque Terre.
Wine tasting
The first thing you'll notice when you hike in the Cinque Terre region is that it's almost entirely covered in vineyards, all set along the edge of the mountains. With all these vineyards, it goes without saying that wine tasting is a must when in the area, and Monterosso is certainly one of the best places for that! Varietals you should try are the Cinque Terre DOC, a white wine that's a blend of Bosco, Albarola and Vermentino grapes, and the Sciacchetrà DOC, which is a sweet dessert wine.
Several places in Monterosso al Mare offer wine tasting experiences. The best is definitely Enoteca Internazionale, a historic wine shop in the old town area of Monterosso. Other than the Cinque Terre wines, they have a fabulous selection of regional, national and international wines and liquors. Tastings are offered by professional sommeliers and you can enjoy your tasting either indoors or outdoors. If hunger strikes during your visit, there's a selection of delicious options available including cold cuts, salads, and the fabulous bruschette.
For a wine tasting tour in Cinque Terre, click here.
Shopping!
Being the largest of the Cinque Terre villages, Monterosso al Mare is also the best one to look for souvenirs. You can find just about anything from ceramics to textiles, from fridge magnets to t-shirts as well as the best presents for your foodie friends – besides, wine makes for an excellent souvenir!
Practical Information To Plan Your Trip
How to get to Monterosso al Mare
Monterosso al Mare is so small that you don't need a car to explore it, nor do you need a car to get there. You can avoid the hassles that come with parking and driving in unfamiliar territory and hop on a ferry or train to easily reach Monterosso.
By Ferry
A ferry service operates between the coastal villages of Cinque Terre. Vernazza, Manarola, Riomaggiore and Portovenere are served on this route along with Monterosso. If you choose to travel to Monterosso al Mare by ferry, you'll enjoy incredible coastal views of steep cliffs and colorful fishing villages. Be aware that the ferry service is usually suspended during severe adverse weather conditions that make travel by sea dangerous.
The ferries depart La Spezia every hour during the busy tourist season.
Individual tickets from one location to another vary in price depending on the distance between the two locations. If you plan to explore the other towns in the Cinque Terre region and would like to save some time, hassle, and money, it's best to purchase an all-day or half-day ticket so you can travel at leisure between the towns, hopping on and off the ferry whenever you want.
Ferry tickets can be purchased at the ticket counters at each departure point before departure, but it's recommended that you don't wait until the last minute!
By Train
Monterosso al Mare is home to the biggest train station in the Cinque Terre region so arriving here by train is fairly easy as there are many routes from a number of cities and towns throughout the region. The station is only a ten-minute walk from the Old Town area of the village and there are shuttle buses available to take arriving passengers into town.
From La Spezia Centrale station, departures are every 14 minutes with more than 50 trains making the trip to Monterosso each day and the trip only takes about 21 minutes. Early risers can catch the first train at 4:18 am and the last train departs La Spezia at 12:08 am. Tickets for this route start at €5.
There are direct trains to Monterosso al Mare from Pisa that will take you there in around one hour and 15 minutes. There are regular daily departures and the first one departs at 5:32 am and the last one departs at 10:53 pm. Keep in mind that while many trains are direct, in some cases you will need to change in La Spezia. Tickets for travel on this route start at €9.90.
If you are traveling from Florence, Milan or Rome, you will have to change in either Pisa, Sestri Levante or La Spezia and travel time will inevitably be a bit longer.
The best places to stay in Monterosso al Mare
Whether you're on a tight budget and only wish to book a hotel with the bare necessities or you're looking to splurge on a hotel with all the top amenities, there's something for everyone when it comes to finding the perfect place to spend the night. Below is just a sample of the beautiful properties that are located around Monterosso al Mare.
Hotel Marina
This hotel in a quiet alley in Monterosso Old Town offers spacious, air-conditioned rooms with satellite television, free Wi-Fi, safes and more. A fabulous breakfast is served on the rooftop terrace each morning. It's adjacent to Da Eraldo, one of the best restaurants in town and which is run by the same family.
Hotel Suisse Bellevue
This hotel is strategically positioned on top of a hill that overlooks the whole Cinque Terre coastline. This laid-back property features air-conditioned rooms with satellite television, complimentary Wi-Fi, safes, minibars and balconies. On site, there's a terrace with sunbeds and a shuttle service is available to take guests to and from the nearby beach. A breakfast buffet is served each morning.
Hotel Porto Roca
When it comes to luxury, no hotel in Monterosso al Mare delivers quite like Hotel Porto Roca. The property features some of the best views in the Cinque Terre region but that's just the beginning. On site, you'll also find an infinity pool, a bar, a seafood restaurant, a private beach area and air-conditioned guest rooms with free Wi-Fi, minibars, and balconies or terraces. A buffet breakfast is served each morning and the hotel is located only minutes away from the Old Town area.
La Rosa dei Venti
If you want to stay somewhere that offers some luxurious amenities but at a more budget-friendly price, La Rosa Dei Venti is the perfect place for you. Complimentary Wi-Fi, flat-screen televisions, safes, free toiletries, and en suite bathrooms are some of the things you'll find in the rooms at this hotel. You can even upgrade to a room with a balcony so you can enjoy the stunning views all around! You'll also be only a five-minute walk away from a beautiful beach and many of the village's restaurants, shops, and attractions.
Affittacamere Sull'Arco
When you stay in a budget hotel in Monterosso al Mare, you can rest assured that you're still getting quality accommodations and such is the case with Affittacamere Sull'Arco. Situated in the heart of the village, you can expect easy access to the beach, restaurants, shops, and top attractions. Rooms are equipped with safes, free Wi-Fi service, refrigerators, and private bathrooms.
Hotel Palme
Hotel Palme is another great option that's only steps away from the beach. It features a bar and lounge and rooms with satellite television service, free Wi-Fi, and air conditioning. A buffet breakfast is available each morning.
Hotel Baia
At Hotel Baia, you'll enjoy a waterfront location with amazing views of the beach and proximity to Old Town and a private beach area with sun beds. Satellite television, free Wi-Fi, air conditioning, minibars and safes are some of the amenities you'll find in the rooms and some even have balconies.
Make sure to also read my post Where To Stay In Cinque Terre.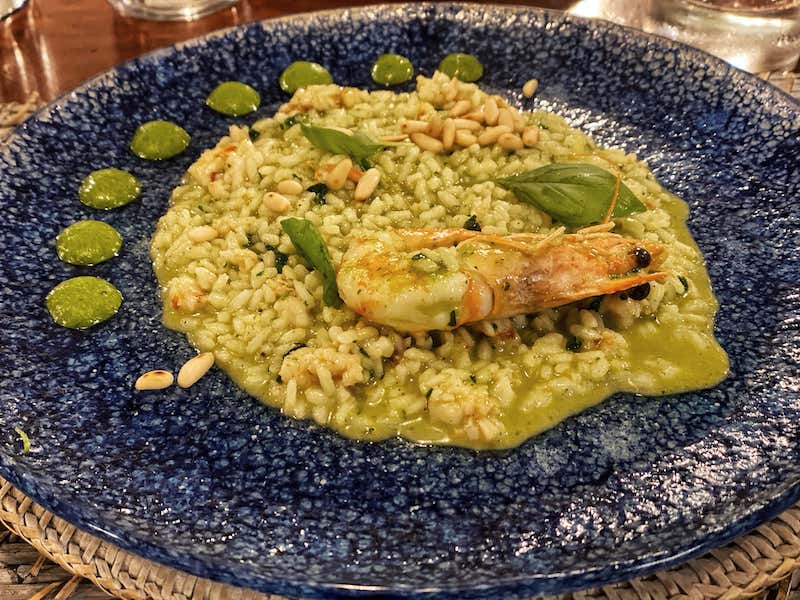 Where to eat and drink in Monterosso al Mare
The Cinque Terre region is known for its delicious, traditional food. Whether you wish to try original dishes that haven't changed much through the generations or you want to try something traditional with a modern twist, you'll find a wide range of options in the exquisite restaurants around Monterosso. If you like seafood, one thing you must try is the locally-caught anchovies which can be enjoyed in a variety of ways. Trofie al Pesto and Risotto ai Frutti Mare are just a few more of the dishes that are popular in this village.
L'Ancora della Tortuga
This is definitely one of the best restaurants in Monterosso al Mare and it's known for more than just its spectacular sea views! Enter a relaxing and tastefully-decorated dining area in a lovely location atop a cliff. Enjoy amazing service from knowledgeable and helpful staff who make every effort to ensure you have the best dining experience possible. On the menu, you'll find a variety of homemade regional dishes made with the best local ingredients available. Pasta, seafood and desserts are some of the items available and popular options include the spaghettini with anchovies, basil risotto with shrimp and fish soup with cabbage.
Da Miky
Miky is a splendid gourmet restaurant serving a more creative selection of dishes in an elegant dining area in the New Town of Monterosso. Everything is homemade, including the popular spaghetti alla chitarra and stuffed pasta, and an extensive wine list with regional options is available. Make sure to try one of the fabulous desserts before you leave!
Torre Aurora
Torre Aurora specializes in traditional regional dishes made with quality, local ingredients. Gourmet salads, seafood, pasta, and homemade desserts are some of the delicious options on the menu and there's a wide variety of beers, cocktails, and wines available.
Il Casello
Il Casello features typical Ligurian dishes on its menu and these include a variety of seafood and pasta dishes that are enjoyed alongside stunning views of the sea. The desserts at this restaurant can't be missed so stick around for something sweet and perhaps a drink to go along with it and you might even catch the sun going down.
Il Piccolo Diavolo
Located in the centre of the old town area of Monterosso, Il Piccolo Diavolo features a beautiful, bright dining area with vintage touches. Top quality dishes made with care and the best ingredients available are what's on offer at this restaurant and the menu features a wide selection of both Ligurian and Calabrian options. Fresh pasta, seafood dishes, salads, and popular options such as trofie with pesto sauce and stuffed anchovies are just some of the items that are available.
Don't forget to read my post The Best Restaurants In Cinque Terre.
Pin It For Later!