Located in Northern Italy, Manarola is a small coastal community and one of the five villages that makes up the beautiful Cinque Terre region of the country. The village is positioned 70 meters above sea level atop towering rocks and cliffs, so the views are fantastic!
Besides stunning views, Manarola is known for many other things including the locally produced wine called Sciacchetrà. It also has quite a few attractions despite its small size. From the little harbor, you'll get the best views of the colorful homes looking out to sea and if you're feeling particularly adventurous, you might decide to take a dip in the clear, deep waters of this harbor.
Curious to find out more about Manarola, Cinque Terre? Continue reading: I will share all its secrets, and some practical information to plan your visit.
Check out my post The Best Things To Do In Cinque Terre.
What To See And Do In Manarola, Cinque Terre
Hike the Blue Trail
One of the best ways to appreciate the Cinque Terre is on a hike. There are many trails in the region, but the classic one is the Sentiero Azzurro (Blue Trail), which links all the five villages from Riomaggiore to
Check out my posts A Quick Guide To Riomaggiore and A Useful Guide To Monterosso Al Mare.
Monterosso al Mare. In recent years, parts of the Blue Trail have been closed for restoration so you have to follow alternative trails to get from Riomaggiore to Manarola and from there to Corniglia.
From Manarola, follow the steep uphill trail 506 to Volastra and then trails 586 and 587 to Corniglia. Once in Corniglia, you simply continue along the Blue Trail all the way to Monterosso al Mare. These alternative trails – which are very well marked – can be quite challenging in some parts as there are steep ascents and descents, but the views along the way will repay you of all your efforts!
Make sure to read my post A Guide To Hiking In Cinque Terre.
Go on a vineyard walk
One thing you will immediately notice in the Cinque Terre is that there are vineyards everywhere. You will come across many if you hike around the region. Viticulture in this part of Italy is at the same time an art and a challenge – the terrain is rocky, steep and certainly not ideal to cultivate vines, yet the wines produced in this region are outstanding.
The main local varieties are the Schiacchetrà DOC, which is a sweet dessert wine, and the Cinque Terre DOC, which is a dry white wine a blend of Bosco, Albarola and Vermentino grapes. You can certainly try these wines in one of the many local enoteca. My favorite are Nessun Dorma (the same of the aperitivo!), which has a lovely little shop that sells wine and does wine tasting in a converted 800 year old wine cellar; and A Piè de Campu.
If you want to visit some vineyards while in Manarola, you can go on the Vineyard Walk. It's an easy 20-minute hike along a narrow gravel path passes along beautiful vineyards that overlook the village and eventually, you end up at a cemetery and park.
For a vineyard and wine tasting tour in Cinque Terre, click here.
For a wine tasting tour in Cinque Terre, click here.
Explore the Old Town
Another favorite thing to do is walking around the Old Town area of Manarola where you can admire the colorful old buildings. Many of the village's top shops and restaurants are located on Via Renato Birolli and Via Antonio Discovo and the village's main piazza is where you'll find a few amazing seafood restaurants.
Visit the churches
Manarola's other notable attractions include the 15th-century Oratory of the Disciplinati of Manarola, the 14th-century Church of San Lorenzo and the 13th-century Bastion. These fascinating historical sites provide some background into the history of the village and provide visitors with a glimpse into its past.
Take in the sunset views
As you stroll around the village, you'll likely find a number of perfect spots from which to enjoy one of the spectacular sunsets the area is known for. Whether it be from one of the restaurant terraces or balconies, or from on top of a cliff, the sunsets in Manarola are not to be missed! Simply follow the trail to the right of the Marina and you will be walking along a nice terrace with great views.
More stunning views can be enjoyed at the Manarola Scenic Viewpoint which is accessed via a paved walkway leading to the top of a cliff that overlooks the village.
Enjoy aperitif at Nessun Dorma
This is my favorite sunset spot in Manarola, and one of my favorite places to enjoy a drink and a bite in all of Cinque Terre. It can get quite busy but you can make reservations via their app. We simply showed up after we hiked all the way from Monterosso al Mare and were lucky enough to find a table in time for sunset. Needless to say, cocktails are delicious and so is the selection of bruschette.
Go on a boat tour
If seeing the village and coastal scenery from the water is a must-do, you can rent a boat or take one of the boat tours that are offered by Stella Boat tour. On one of these tours, you'll get to see the coast from a different viewpoint, you'll explore a beautiful waterfall that can only be accessed by boat, and you'll have the chance to take a refreshing dip in the sea.
For a sunset boat tour click here.
Take the train to the other villages
If you want to explore the other villages of the Cinque Terre but don't fancy hiking there, you can simply take the train! You can opt to buy one-way tickets or – if you think you will be taking the train on a regular basis – get the Cinque Terre train card for some savings. It's only a few minutes by train from one village to the other, but keep in mind that while the train station in Corniglia is at the level of the sea, you will have to climb up almost 400 steps to get to the village. I promise you it is worth it!
Practical Guide
How to get to Manarola
Manarola can actually be reached by car, in case you are renting one, but I don't recommend it: you really won't need a car to explore the Cinque Terre, all villages are closed to non-resident traffic and it'll be a hassle to park it. You mainly have two ways to get to Manarola and they are by ferry and by train. Both methods are cost-efficient and fairly quick.
By Ferry
There is a ferry service called Consorzio Marittimo Turistico that operates between the villages on Cinque Terre. It's a seasonal service that operates between March and November. These ferries depart typically travel between La Spezia, Portovenere, and all Cinque Terre villages (save from Corniglia which doesn't have a harbor) and have frequent departures throughout the day.
While it is possible to buy point-to-point tickets, if you plan to visit the other villages of Cinque Terre, it might be more convenient and cost-efficient to purchase a half-day or whole-day ticket that allows you to hop on and hop off at other points throughout the day including Monterosso, Vernazza and Riomaggiore. An all-day ticket costs €39.
Tickets can be bought online on the website of the Consorzio Marittimo Turistico here, or you can purchase them at the ticket booth at the ferry terminal before departure. It's best to arrive at least a half-hour before departure to avoid last-minute issues and to ensure you don't miss your preferred departure.
By Train
There's a train station in Manarola so it's possible to travel right to the town on trains departing from many towns and cities in Italy. The train station is very small with only two tracks and upon arrival, you'll walk through a pedestrian tunnel that takes you from the station to the heart of Manarola.
If you're traveling from La Spezia, the train ride takes about ten minutes as it's only a distance of four miles (seven kilometers). This train departs La Spezia every 20 minutes for a total of 45 times a day with the first departure at 4:30 am and the last one of the day at 1:00 am. Tickets are €5.
If you are traveling from Pisa, you'll have to change at La Spezia. The overall journey takes around one hour and 15 minutes or more, depending on the time of day, and trains depart about every 20 minutes, up to 37 times per day. The first departure is at 5:26 am and the last one is at 10:53 pm. Tickets for this route cost between €11.65 and €21.90.
The distance from Florence to Manarola is around 80 miles (128 kilometers) and the train ride takes about 2.5 hours – though that really depends on the time of day and the train you opt for. You'll typically have to change in La Spezia, but some journeys require more than one change. You can depart as early as 4:30 am or as late as 21:28 pm and there are around 25 connections every day. Tickets for this route start at €17.85.
Make sure to also read my post How To Plan A Day Trip From Florence To Cinque Terre.
The fastest train from Rome to Manarola takes about 3.5 hours so it's best to catch it as early as possible! Fortunately, there are connections at least ten times per day with the first fast train leaving the city at 6:25 am (you'll have to change in La Spezia) but you can catch it as late as 8:28 pm. A ticket for this route starts at €32.65 – but that's for the slowest options.
The best places to stay in Manarola
Although Manarola is very small with a population of around 350 people, there are quite a few beautiful places to spend the night. There's something for every budget and every taste whether you want to immerse in all-out luxury or just the basics is all you need. Below are a few of the amazing places that are located around the village.
Affittacamere Da Paulin
This guest house has en-suite rooms and self-catered apartments available. All accommodations feature satellite television, complimentary Wi-Fi service, tea and coffee facilities and air-conditioning. The apartments are equipped with kitchenettes. A pretty garden is also on site.
Ca' d'Andrean
Another great hotel in the historic area of the village. The rooms here are beautiful and spacious with en-suite bathrooms. Some of the rooms have scenic terraces and breakfast is served each morning.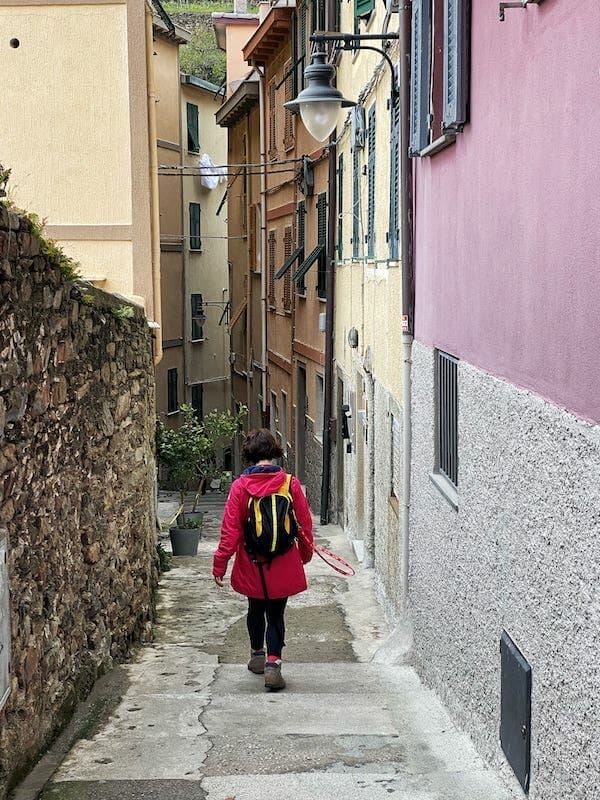 Torretta Lodge Guest House
At this guest house you'll enjoy a room with sea views, beautiful decor, a minibar, a flat- screen TV and a Nespresso machine. An amazing breakfast is served each morning.
Aria Di Mare
This is a beautiful property in Manarola that features air-conditioned rooms equipped with garden views, air conditioning, free Wi-Fi, safes and en suite bathrooms. Some rooms also have scenic balconies.
Ca'De Baran
If you're seeking budget accommodation in Manarola, Ca'De Baran is the perfect place to make your base in the village without spending a fortune. The practical en-suite guest rooms feature everything you'd expect in a comfortable, but affordable place including flat-screen TVs, mini-fridges, and tea and coffee facilities. A shared balcony is also on site so you can take in those incredible views that are all around.
Make sure to also read my post Where To Stay In Cinque Terre.
Where to eat and drink in Manarola
Italy is known the world over for its delicious food, particularly its pastas and pizzas. However, every region of the country has its own dishes that its known for and in Manarola, it's the seafood pasta that appears predominately on local menus.
Manarola is also known for its wines, and you'd have a hard time finding a restaurant in the village that doesn't have an extensive supply of both national and regional wines on hand! You can't beat a plate of seafood and a glass of wine on a terrace overlooking the sea as the sun sets. Here are some of the top places to wine and dine in Manarola.
Trattoria dal Billy is the most popular restaurant in the area for seafood and it's also known for its fabulous views that you can enjoy while you feast on lobster pasta, swordfish, octopus salad, or one of the other mouth-watering options on the menu.
For the best aperitivo with a view, you can't beat Nessun Dorma. Whether it's aperitivo or a full meal you seek, you'll enjoy it while looking out over the sea. Most of the dishes are regional and national traditional Italian. You'll find a wide variety of homemade options including fresh breads, bruschetta, and salads. Also on a different site in the village is a historic wine cellar and wine bar featuring Italian wines.
Il Porticciolo is a seafood restaurant on the main road to Manarola's harbor. The spaghetti with mussels is one of the most popular items on the menu but there's a wide variety of dishes to choose from such as gnocchi with pesto and swordfish pasta. Enjoy your meal semi-outdoors on a covered veranda.
At the Marina Piccola, seafood and wine served with stunning views of the sea are the top specialties. There's a range of tasty dishes to choose from including pasta dishes and soppressata di polpo, which is a local favorite known as boiled octopus.
Head over to my post The Best Restaurants In Cinque Terre.
Pin It For Later!