A day trip from Florence to Cinque Terre is a great and easy way to explore one of the most unique landscapes of Italy.
Cinque Terre National Park is one of the most incredible places to visit in Italy. It is a series of five (cinque in Italian) stunning villages perched on the hills and overlooking the beautiful Mediterranean Sea, so unique that they have been declared a UNESCO World Heritage Site.
Some will advise against visiting Cinque Terre on a day trip. I must say, such a breathtaking place deserves more time. But what if your time in the area is limited? Should you still go to Cinque Terre? I say you should!
You can actually go on a day trip from Florence to Cinque Terre. In this post, I will explain you how to do it.
If you are traveling to Florence, my posts The Best Things To Do In Florence and The Perfect Itinerary To See Florence In 3 Days will help you plan your trip.
A Day Trip From Florence To Cinque Terre
You can go on many day trips from Florence. The capital of Tuscany is so centrally located in the region that it makes it extremely easy to explore the rest of the region, and even beyond. One of the most popular day trips is actually from Florence to Cinque Terre, in the bordering region of Liguria.
However, this is a day trip that requires some careful planning. The first thing you need to consider is how you are going to get from Florence to Cinque Terre. Let me highlight the various options for you.
Make sure to read my post What To Know Before Visiting Cinque Terre.
How to get from Florence to Cinque Terre
Guided tours from Florence to Cinque Terre
The easiest way of getting to Cinque Terre if you have limited time is on a guided tour. Be prepared though, as you will be away for 13 hours!
Organized day trips will spare you all the organizational issues – you won't have to worry about fitting everything into your schedule; you won't have to bother checking the train timetable as the tour will include roundtrip transportation; etc.
To top this off, you will have an English and Italian speaking guide who will be telling you about the history, culture and architecture of the places you will be visiting; including tips on the best photo spots. The guide will assist you during the tour and take care of any possible issue there may be.
Of course, you need to pick a good company, and keep your budget in mind – some tours are definitely more expensive than others. I recommend Ciao Florence, which offers a good Cinque Terre tour departing from Florence.
Other good options for day tours from Florence to Cinque Terre are:
Private Cinque Terre Tour w/ Pisa – this tour may seem expensive, but you get to see a lot in just one day! It includes a stop in Pisa to admire the leaning tower, as well as hotel pick-up and drop-off in an air-conditioned minibus. You can cancel up to 24 hours in advance.
If all you want to do is hike, check out this Cinque Terre National Park Guided Hike: run by my operator of choice Ciao Florence, the tour includes transportation to Manarola, from where you'll begin a panoramic hike to Corniglia. You will then take the train to Vernazza and Riomaggiore. The tour does not include a stop in Monterosso, but you will have the Cinque Terre card in case you want to quickly check it out.
Cinque Terre Hiking Trip – another perfect tour if you want to be able to walk.
Cinque Terre day trip with Transport from Florence – this is the most budget friendly option. You won't have a guide when visiting the villages, so it's great if you would rather explore independently.
For more excellent tours of Cinque Terre departing from Florence, click here.
How to get from Florence to Cinque Terre by train
While train travel is definitely the most budget friendly way of traveling to the Cinque Terre region from Florence (expect to spend in the region €20), I actually don't recommend it if you are only planning to spend a day there.
There are no direct trains from Florence to any of the Cinque Terre villages, which means the journey ends up being quite long.
If you are super lucky with all the connections, the trip will take around 2.5 hours. But it most typically takes 3 and at times even 4 hours. This is simply not a good use of your time, if you ask me.
If you are convinced that getting from Florence to Cinque Terre by train is the best idea, you have two main options:
REGIONAL + INTERCITY
From Firenze Santa Marina Novella (SMN) station, catch the Regional Train to Pisa Centrale. There is one every 30 minutes and the ride lasts about one hour.
Once in Pisa, hop on an Intercity Train to La Spezia Centrale (they are the ones going to Milan). The ride lasts another hour.
From La Spezia, catch a regional train which makes stop at the various villages – Riomaggiore is 10 minutes away. The furthest village is Monterosso al Mare, a 25 minutes train ride.
Some trains from Pisa actually go directly to Monterosso al Mare, which means you won't have to change in La Spezia.
You can check the timetable and prices of the trains from Florence to Pisa and La Spezia on the website of Trenitalia or on the Omio App. Get your train tickets to the Cinque Terre directly at the station, in case your train arrives to La Spezia late.
FRECCIARGENTO + REGIONAL
Another – perhaps easier – option is to take the direct Frecciargento train from Firenze Campo di Marte station to La Spezia, and from there a regional train to Riomaggiore.
For the departure times and the cost of tickets of the trains from Florence to Pisa and La Spezia you can check the website of Trenitalia or the Omio App. It's better to buy your ticket to the Cinque Terre villages directly at the station in La Spezia, in case your train arrives there late.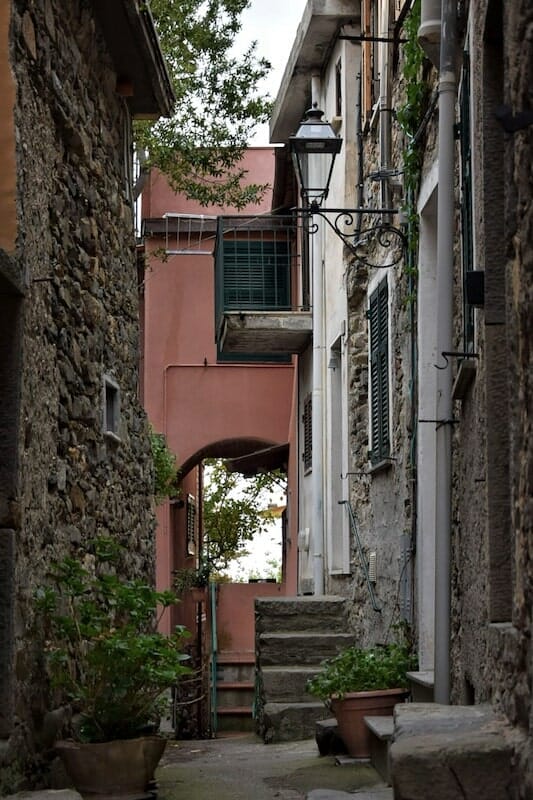 How to get from Florence to Cinque Terre by car
Driving from Florence to Cinque Terre isn't a great idea. The villages are quaint and beautiful but the the streets are terribly narrow – which can be scary for drivers from the other side of the Atlantic, accustomed to large roads. In addition, there is a persistent lack of parking space.
If you still want to do it, you will need to drive from Florence along highway A11 to Viareggio; then change to take A12 northbound to La Spezia and Genova. It will take you about 2 hours to drive to La Spezia in ideal conditions. Once in La Spezia, you have three options:
PARK YOUR CAR IN LA SPEZIA AND TAKE THE TRAIN – Leave your car at the train station for a fee, and take the train to one of the Cinque Terre villages.
CONTINUE DRIVING TO LEVANTO AND TAKE THE TRAIN – This small town is just outside Cinque Terre National Park and a great base to explore the area. There are direct trains to Monterosso, which is just 5 minutes away.
DRIVE TO MONTEROSSO – This is the only village you can reach by car, and the farthest. It will be an additional 30 minutes drive. Looking for a parking spot may be a hassle.
Adamant to drive? Check out the prices of car rental here.
Don't feel like driving? You can get a round trip transfer – just click here!
How to get from Florence to Cinque Terre by train+boat
Between the end of March and the very beginning of October, you can also get to Cinque Terre by boat from the coast of Tuscany (Viareggio, Forte dei Marmi, Massa and Carrara) or from La Spezia, Lerici or Levanto. If this is something you want to do, consider traveling to La Spezia by train or car and then get on the boat from there.
Cruises are run by the Consorzio Marittimo Turistico 5 Terre – Golfo Dei Poeti; they are a hop-on hop-off service and have several daily departures. Boats stop in Portovenere, Riomaggiore, Manarola, Vernazza, Monterosso and then continue to Levanto. The view of the villages from the sea is stunning! 
The first boat departure from La Spezia is at 9:15 am, so plan to depart from Florence super early. A daily ticket costs €40. This is the only ticket that can be bought online on the Consorzio Marittimo Turistico 5 Terre – Golfo Dei Poeti website.
You also have the option of afternoon tickets, which cost €28, and one-way tickets from La Spezia to one of the villages in the Cinque Terre – the starting price for this is €20. You can check the full list of prices, routes and timetable here, but these tickets must be bought in person.
What To Do On A Day Trip From Florence To Cinque Terre
Explore the Cinque Terre Villages
All the Cinque Terre villages have something to offer. Here is a quick overview of each of them.
Make sure to also read my post The Best Things To Do In Cinque Terre.
Riomaggiore
Riomaggiore dates back to the early 13th century. Its name comes from the latin "Rivus Major" and refers to the stream that still flows under the main street. The village grew under the Republic of Genoa, and it became known in Europe for the production of wine.
It was beautifully isolated until the end of the 19th century, when the railway connecting Genoa to La Spezia was finally built. The village is a fantastic maze of narrow alleys, beautiful coastal vistas and colorful buildings.
Check out my post A Quick Guide To Riomaggiore.
Manarola
Famous for its Sciacchetrà wine, celebrated by Italian poet, writer and revolutionary Gabriele D'Annunzio in his poems and now produced in the entire region, Manarola boasts brightly painted houses, medieval relics and the incredible Punta Bonfiglio, from where to enjoy a breathtaking view.
It is supposed to be the oldest of Cinque Terre villages, likely founded in Roman times –  though the present settlement dates back to the 12th century. The main square houses the Oratorio dei Disciplinati and the Church of San Lorenzo and its beautiful tower.
Make sure to walk all the way to Nessun Dorma café located on the hill right outside the village to enjoy a breathtaking while sipping a spritz cocktail and munching a delicious bruschetta.
Make sure to read my post A Short Guide To Manarola.
Monterosso al Mare
Known as "the Pearl of Cinque Terre" and famous for its beautiful beaches, Monterosso al Mare is the largest of the five Cinque Terre villages and temporarily excluded from the Cinque Terre Trail in 1948 on allegations of being "too large" (I find it hilarious, as it really is a tiny place!).
In the past it was only accessed via a mule track that connected it to the other villages in Cinque Terre. Nowadays, it is divided in two parts: the old village and the new village, called Fegina and where the most beautiful beach of the Cinque Terre is located. This is connected to the old village by a tunnel.
The old village has the remains of the old medieval fortifications (Fieschi Castle and Aurora Tower). You can also spot the 13th century Church of St. John the Baptist and the 17th century Capuchin Monastery.
Check out my post A Useful Guide To Monterosso Al Mare.
Vernazza
From the harbor by the old town center of Monterosso al Mare you can take a boat to Vernazza, a lovely village with a nice natural harbor, colorful houses and a piazzetta (small square). You can also hike to Vernazza from Monterosso on a trail that runs along the coast and that is very easy to follow.
Vernazza is thought to be the prettiest of the Cinque Terre villages.
Its existence was first recorded in 1080, when it was called Castrum Vernation and it was used as a naval base. You can still see some of the fortifications built during Genoa's rule.
Other attractions include the Doria Castle, built in medieval times to protect the village from pirates; and the Church of Santa Margherita di Antiochia, built in 1318.
The village is a maze of tiny alleys (called "caruggi") lined with lovely cafés and craft shops, and a few wine bars. The surroundings are all terraced and used for the cultivation of olive trees (for oil) and grapes (for wine).
The best views of Vernazza are found along the trail that connects it to Monterosso. It's an easy walk along a trail that starts literally outside the center of the village.
Make sure to read my post A Quick Guide To Vernazza.
Corniglia
Less visited compared to the other Cinque Terre villages and not often included among the villages visited on organized day trips, Corniglia (a name that comes from Cornelia, the daughter of the Roman farmer who created the settlement) is the only village in the Cinque Terre that does not have a harbor.
Indeed, it sits on top of a 100 meters (328 feet) high promontory, and can be reached from the train station via the Lardarina, a brick stairway of 382 steps. There is also a shuttle bus that departs from the station and takes visitors to the historic center.
From Corniglia you can admire the rest of the villages of Cinque Terre.
Make sure to read my post A Short Guide To Corniglia.
Hike
The most famous hiking trail in Cinque Terre is the Sentiero Azzurro (Blue Trail), a series of four individual paths that go along the coast and connect all the villages and that can be walked in around 6 hours.
Most people prefer walking one bit at a time, and just spend more time exploring the villages rather than just rushing through the trail – you can do that in case you decide to spend more than one day in Cinque Terre.
Of the various bits Sentiero Azzurro, the most difficult one is the walk from Vernazza to Corniglia: the path is quite steep in certain points, and there is a fair amount of ascending and descending along steps that can be quite steep in places – my sister was definitely not a fan of it! It takes about 2 hours to walk from Vernazza to Corniglia.
The longest bit of the Sentiero Azzurro is the 3 km (1.86 miles) from Vernazza to Monterosso al Mare. It will take you around 2 hours and there are lots of stairs and narrow passages, but the views are very rewarding.
The most famous train in the region is the Via dell'Amore (love's way, in English) that starts in Riomaggiore. It's a short and easy trail that offers stunning views.
Unfortunately, it has been closed to allow some much needed renovation work after it's been damaged by the floods in 2012. It is supposed to open again in July 2024.
Another short hike goes from Riomaggiore to the Sanctuary of Montenero, from where there are gorgeous views of Punta Mesco and the Island of Tino.
Finally, you can hike to the Sanctuary of Nostra Signora di Reggio: the views of the bay along the way are stunning.
Make sure to read my post A Guide To Hiking In The Cinque Terre.
Go to the beach
The Cinque Terre are packed with lovely, small beaches and tiny coves with clear waters.
Riomaggiore has a small, lovely pebbly beach. Manarola has the best deep water swimming in the area. Monterosso al Mare is where you will find Fegina, the best beach in the region, and has a small but nice beach in the old town.
Vernazza harbor is another good place to soak in a bit of sun and enjoy a swim. There's also a pebble beach to the east of the village. Guvano beach, not far from Corniglia, is possibly the least crowded one, though a bit harder to reach so possibly not a good idea when short on time.
Eat and drink
Here are some of the specialties you could enjoy in Cinque Terre:
Monterosso anchovies;
aa turta de risu – a salted rice cake;
aa menestra de cian – a soup made with potatoes and herbs;
musculi cin – a dish made of mussels which are stuffed with bread, eggs and parmesan;
Torta dei Fieschi – a cake made with rice, eggs and cheese;
Gelato al basilico – basil ice-cream;
Sciacchetrà – a sweet white passito wine endemic of the region;
Vernaccia di Corniglia – a white wine made with vernaccia grapes.
There are many excellent restaurants and eateries in the various villages, so factor in some time for a nice lunch or dinner before heading back to Florence.
Not sure where to eat? My post The Best Restaurants In Cinque Terre will help you pick the best place!
Other Useful Information
What to wear in Cinque Terre
Your day trip to Cinque Terre should all be about comfort. If you plan to do a bit of hiking, you will need to wear appropriate footwear. The trails, though well marked, can be challenging and the last thing you want to do is navigating them while wearing flip-flops or sandals.
Here are some recommended items:
A pair of good hiking boots or alternatively a pair of hiking sandals if you are visiting on the hottest days.
Hiking pants or hiking shorts: I am a fan of Kuhl Horizon Hiking Pants and Kuhl Horizon Shorts.
A t-shirt or tank top such as this Juniper tank top. If you are going in the coolest season, you may need a long-sleeve t-shirt such as the Airkuhl Hoody.
A light sweater such as the Kuhl lea pullover.
A jacket such as the Styrka jacket by Kuhl is more than enough if you are visiting in the spring.
A hat to protect yourself from the sun, as well as good sunblock and a good moisture locking lip balm.
A swimsuit and a

quick dry towel

.
A camera or a smartphone with a good camera.
The Cinque Terre Card
There are two types of cards you can get which may come in handy when visiting Cinque Terre.
TRAIN CARD: It allows unlimited train travel in the Cinque Terre region on the La Spezia – Levanto line for 1, 2 or 3 days, so you can access all the hiking trails. A one day card costs €18,20. The overall saving is great, if you consider that a one-way ride costs €5 already!
TREKKING CARD: It gives you access to all the hiking trails of the national park. It costs €7,50 for one day and €14,50 for two days. You may want to get it online here or in person at any of the Cinque Terre Info Points that are found in all train stations in the region (including La Spezia).
Make sure to read my post Is The Cinque Terre Card Worth It?
Travel Insurance
Wherever you travel, make sure to always get a good travel insurance. Get a quote for your travel insurance here.
Legal Disclaimer: this post is written in cooperation with Ciao Florence.
Further Readings
Make sure to read my other posts:
Pin It For Later!