There are many beautiful mosaics in Rome. This elaborate form of art gifted us with incredible pieces that we can still admire today, with some that date back to the 3rd century BC, as well as mosaics that date from the Imperial times, the Middle Ages and even later ones.
You can admire Roman mosaic art in many of the churches in the Eternal City, as well as its museums and archeological sites. In this post, I will first clarify what Roman mosaic art is, and then tell you where to go to admire the most beautiful mosaics in Rome.
What Is A Roman Mosaic?
Mosaics were widely used in Rome, and all across the Roman world. These usually consist of an image or a pattern made up of tiny tessellating tiles called tessera – and sometimes of glass or other materials.
These intricate artworks have a long history, and were an ancient art form even before the Romans began using them. In fact, the use of mosaics dates back to the third millennium BC in Mesopotamia (present day Iraq).
Roman mosaics, specifically, were usually found in public buildings, or in private homes, where they would decorate the floors or walls. These beautiful designs depicted flora and fauna, deities, clothes, food and weapons, and most importantly tell us about the lives that the people of Rome of that time would have been living.
The word "mosaic" originally comes from the Latin term musivum, which in turn came from the Ancient Greek word mouseion, or the "shrine of the Muses." It's not just the word that the Romans took, but much of their inspiration for the design and use of mosaics, too.
The Romans soon developed a mosaic style all of their own, and Roman mosaic schools appeared throughout the empire. The city of Rome had a distinctive style all of its own, often employing black and white tiles – something that can be seen at the ancient Baths of Caracalla.
It's not only a geometric design, but imagery plays a big part in the development of mosaics, often depicting divine beings or scenes from mythology. Here are some examples of types of mosaics that you might find in Rome.
Portraits
Portraits appear in many mosaics in Rome. But, the first instance of a portrait appearing in mosaic form was not in Rome, but in nearby Ostia, and dates to the 2nd century AD. Portraits of faces and figures went on to depict famous Roman individuals engaged in iconic events – gladiatorial bouts, for example.
Christianity
In the early 4th century AD, Christian themes began to appear in Roman mosaic art. The first to have been discovered is in the floor mosaics of a Roman villa in Dorset, England (now on display at the British Museum). As the Roman empire gradually Christianized, mosaics played an important role in depicting holy figures and events from the bible. Gold tiles were often used in Christian mosaics, giving a shimmering effect to many of the mosaics that appear in early churches in Rome.
Emblems
Emblems were an integral part of many mosaic designs, particularly as skills developed over the centuries. Emblems were scenes depicting an everyday activity, or still life of food or nature, that were located in a central part of the otherwise geometric mosaic design on a floor or wall.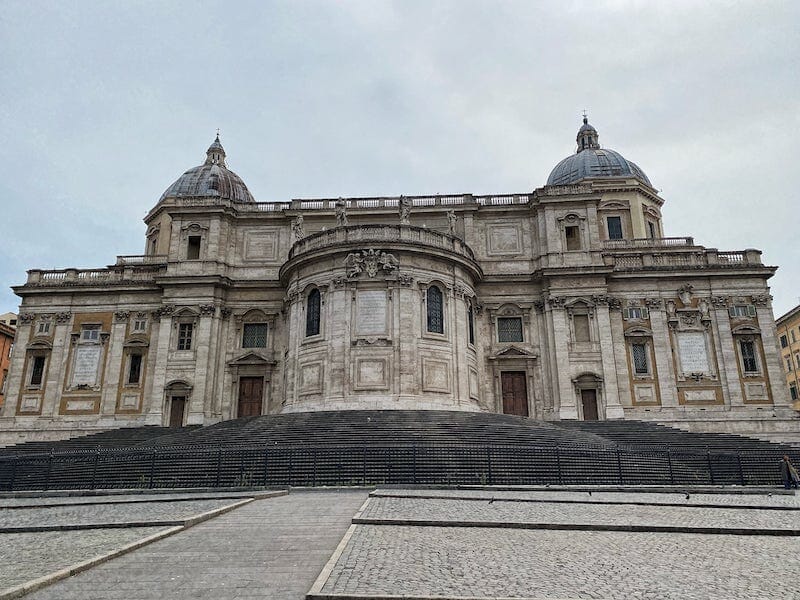 Where To See The Best Mosaics In Rome
Of course, no trip to Rome would be complete without seeing some of the city's ancient mosaics. Here are some of the top places to get a glimpse of the best mosaics in Rome, those that the Romans of yesteryear left behind…
Santa Maria Maggiore Basilica
Situated in the Esquilino area, the Santa Maria Maggiore Basilica boasts some incredible Christian mosaics. In particular, the 4th-century mosaics that adorn the nave and triumphal arch of the church feature one of the earliest depictions of the Virgin Mary.
In fact, these mosaics are of enormous significance, due to the fact that they have gone on to become the model for what Mary "looked" like in much of the Christiain art to follow. Specifically, these mosaics in the arch depict scenes from her life.
In the nave, 27 of the original 42 mosaic scenes remain. These depict – and quite realistically, too – scenes and stories from the Old Testament. Think blue skies, landscapes, architecture, and even a little bit of perspective – something that wouldn't properly enter into art until the Renaissance.
The church is located in Piazza Santa Maria Maggiore; it is open daily from 7:00 am. to 6:45 pm. The museum is open daily from 9:30 am to 6:30 pm and has a €4 admission fee.
Make sure to read my post The Most Beautiful Churches In Rome.
Santa Prassede Basilica
In the center of Rome, and close to the Santa Maria Maggiore Basilica, the Santa Prassede Basilica may not be as well known as its neighbour. However, this venerable old church is particularly famed for its mosaics. They were created during the reign of Pope Paschal (817-824), who put together a team of specialists to create these religious mosaics.
The scenes still decorate the apse and arches of the church to this day. At the center of the mosaics is Jesus, complete with golden halo, and flanked by Saints Peter and Paul.
The church is located in Via San Martino ai Monti; it is open Monday to Saturday from 10:00 am to 12:00 pm and from 4:00 to 6:00 pm; and Sundays from 10:00 to 11:00 am and from 4:00 to 6:00 pm.
Santa Pudenziana Basilica
The mosaic at the church of Santa Pudenziana Basilica dates to the end of the 4th century, making it one of the oldest Christian mosaics in Rome. It's particularly striking because of its beautiful colors and realistic figures.
Jesus sits at the centre in a humanistic manner, rather than being represented in a figurative way – as a lamb, for example, as was often the case in earlier Christian mosaics. Christ is positively kingly here, sitting on a jeweled throne and wearing a golden toga with a purple trim.
Santa Pudenziana is located in Via Urbana 160. The church is open Tuesday to Sunday from 9:00 am to 12:00 pm and from 3:00 to 6:00 pm and on Monday from 3:00 to 6:00 pm.
Santi Cosma and Damiano Basilica
Santi Cosma and Damiano Basilica became a church in 527 AD and was commissioned by Pope Felix IV. Due to its age, it is home to some particularly important early Christian art. The mosaics, dating to the early 6th century, are particularly colorful, and represent the second coming of Christ. At his side are Peter and Paul, alongside two Arab physicians – Saint Cosimas and Saint Damian, who were martyred in the 3rd century (and who the church is named after).
The church is located in Via dei Fori Imperiali 1. It's open daily from 10:00 am to 1:00 pm and from 3:00 to 6:00 pm.
The Baths of Caracalla
The Baths of Caracalla are home to some of the oldest ancient mosaics in Rome. Of particular note here are the black and white geometric patterns that adorn the floor of the main room. Black and white patterns were often used to represent the sea, which is why they have been used here in the bath (due to its association with water, of course).
Though you can only see portions of the mosaics today, with much of the baths in ruin, it's easy to imagine just how lavish the decorations would have been in these monumental baths.
The Baths of Caracalla are located in Viale delle Terme di Caracalla. They are open daily from 10:00 am to 7:15 pm. Admission is €8 + a €2 compulsory online booking fee. For a guided private tour, click here.
Head over to my posts A Short Guide To The Baths Of Caracalla and The Unmissable Places To Visit In Rome.
Museo Gregoriano Profano
Though heavily restored, these mosaics were originally found on the floor of the public library at the Baths of Caracalla. Depicting muscular gladiators and other athletes, they're impressive for the amount of detail that the tiny tiles have shown in terms of muscle definition and facial features.
They are also interesting in that they depict the attire that would have been worn back then. Judges of the competitions wear togas, while the fighters have their arms bound with a kind of ancient boxing globe. The mosaics are now to be found in the Museo Gregoriano Profano, part of the Vatican Museums.
The Vatican Museums are open Monday to Saturday, from 9:00 am to 6:00 pm (closed Sundays, except last Sunday of the month, 9:00 am – 2:00 pm). Admission is €17. Get tickets in advance and book at time-slot for your visit here.
Ostia Antica
The ancient port for Rome, Ostia Antica is situated around 15 miles from the Italian capital. These ruins are notable for their collection of well preserved buildings, frescoes and – of course – their magnificent mosaics.
It's here that you will find the earliest use of human figures in mosaics. These date to 115 AD and can be found at the Baths of Buticosus. Again, due to the association with water, the mosaics here have been created with a stark and striking black and white color palette. Also of note are the mosaics are the Baths of Neptune and those at the Piazzale delle Corporazioni.
Ostia Antica is open Tuesday to Sunday, from 8:30 am to 4:30 pm (winter schedule); 8:30 am to 5:15 pm (spring schedule); 8:30 am to 7:00 pm (summer schedule) and 8:30 am to 6:30 pm (October schedule). To get Ostia Antica from Rome catch the train from Roma Porta San Paolo Station towards Roma-Lido. You can also book a guided tour that includes transportation. Click here for more information.
Read my posts How To Visit Ostia Antica and The Best Day Trips From Rome.
San Clemente Basilica
My favorite mosaics in Rome are at this Roman church – one of the oldest in the Italian capital. They are incredibly intricate. Glimmering gold and blue-green tiles have been used at slightly off angles, in order to create a shimmering effect across the scene of the crucifixion.
Dating back to the 12th century, the mosaic differs from others of its time due to the difference in its depiction of the crucifixion. Rather than being dark or sad, it's an uplifting scene, and also features a symbolic tree of eternal life reaching into the heavens, where the hand of God reaches out clutching a laurel wreath.
The church is located in Via San Giovanni in Laterano; it is open Monday to Friday from 9:00 am to 12:30 pm and from 3:00 to 6:00 pm; Saturdays and Sundays from 12:00 to 6:00 pm. Admission is €10. You can book a guided tour of this and other churches in Rome here or here.
Check out my post The Best Hidden Gems In Rome.
Centrale Montemartini
Centrale Montemartini is one of Rome's more unique museums. Rather than being situated in a Renaissance villa, it's actually a former power plant that now features ancient art in its industrial space. And part of this museum is dedicated wholly to Roman mosaicsx, some of which date back to as early as the 1st century BC.
Here, priceless pieces of the tile-based art are laid out together, such as the "Mosaic with Hunting Scene". While Centrale Montemartini doesn't allow you to see the mosaics where they originally are, the plain backdrop allows you to get up close to the mosaics and really see the detail involved in their creation.
Centrale Montemartini is open Tuesday to Sunday from 9:00 am to 7:00 pm (closed Mondays). Admission is €10 (Adults). Get tickets in advance here.
Make sure to read my post The Best Museums In Rome.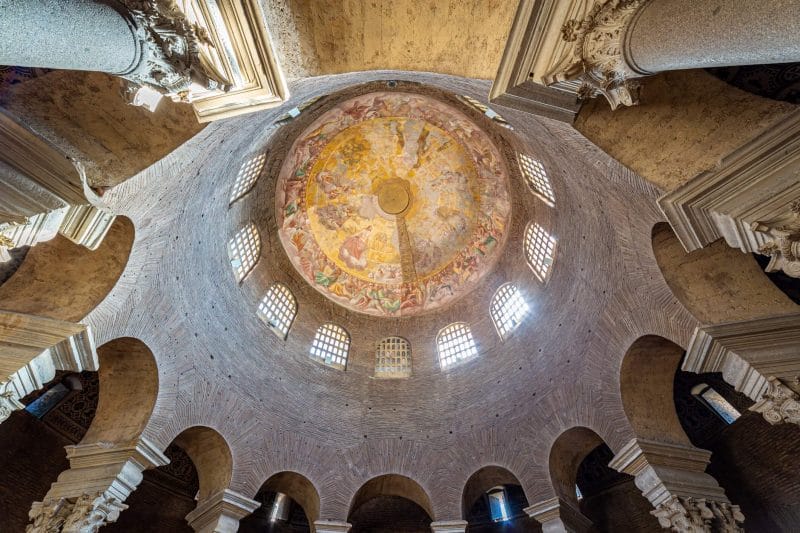 Santa Costanza Church
The church of Santa Costanza is a well preserved 4th-century church that is home to some incredible mosaics. This circular building has many important examples of Christian art, a few of which are secular in nature. Mosaics are everywhere: decorating the apses, the vaults, and the central dome.
Though not particularly on the tourist trail, Santa Costanza is well worth a visit to admire its mosaics. Even though some of them have been damaged over time or by restoration work, many of them are still very impressive. It's hard to imagine just how much effort it would have taken to create these intricate designs.
Santa Costanza has limited opening hours, however, so make sure to plan in advance for your visit – or go during a service, which makes this spot even more of an atmospheric one.
The church is located in Via Nomentana; it is open daily from 9:00 am to 12:00 pm and from 3:00 to 6:00 pm.
Santa Maria in Trastevere
Santa Maria in Trastevere is an interesting place to stop by for tourists looking to see one of Rome's oldest churches. Being one of the city's oldest churches means that Santa Maria in Trastevere also plays host to some beautiful Christian artwork, mosaics being among them.
These may be more "modern" than other mosaics in Rome, but that doesn't make them any less impressive – or any less important.
The work of Pietro Cavallini, the Italian painter and mosaic designer, the mosaics here depict scenes from the life of the Virgin Mary, as well as a representation of the coronation of the Virgin, which includes an image of Pope Innocent II clutching a model of the church.
In the top niche of the church are some interesting mosaics depicting Madonna and Child; in one, she is breastfeeding while being attended by 10 women holding lamps. This is an early example of late medieval (and heading into early Renaissance) imagery of Mary.
The church is located in Piazza Santa Maria in Trastevere and open daily from 7:30 am to 9:00 pm.
Tomb of the Julii
Hidden beneath the floor of St. Peter's Basilica in the Vatican City is the Vatican Necropolis. This warren of tombs and burial chambers is home to the Tomb of the Julii. Dating to the early 4th and late 3rd century AD, this tomb features a mosaic depicting Helios – the Roman sun god – riding his chariot, all surrounded by a pattern of vine leaves.
Interestingly, there are also some Old Testament mosaics, including iconic scenes such as Jonah and the Whale, the fishermen, and the Good Shepherd carrying a Lamb.
These pieces of Christian artwork were discovered accidentally in 1574, when workmen damaged the ceiling during the construction of St. Peter's Basilica. The tomb was explored, documented, and then covered over again.
The church is located in Piazza San Pietro; it is open daily from 7:00 am to 6:30 pm from October to March and from 7:00 am to 7:00 pm from April to September. There is no admission fee, but to make the most of it, you may want to consider joining a guided tour such as this one or this one.
The Gladiator Mosaic
This intriguing mosaic was discovered in 1834 in the Borghese estate, located at Torrenova along the ancient Via Casilina outside of Rome proper. Measuring around 28 meters, the artwork is dated to the beginning of the 4th century AD. The "Gladiator Mosaic" (as it is known) is now considered a famous example of Roman artwork.
It is particularly interesting because of its detailed depictions of how gladiators looked and what they were equipped with during their battles. Not only that, but the gladiators have all been personalized – each one has a name appearing next to them, along with a symbol signifying that they have died. This shows how important and respected gladiators would have been in the ancient Roman world.
The mosaic is found at the Borghese Estate in Torrenova, Via Casilina – a bit outside of Rome.
Pin It For Later!