Why wouldn't you want to visit Trastevere, Rome? This is one of the hippest parts of the Italian capital; one of the nicest neighborhoods in Rome; a place where days can be spent browsing independent boutiques and stumbling across ancient churches alike – and where nights can be spent soaking up some of the city's liveliest bars and restaurants. There's no way you'll ever be stuck for things to do here.
This is a part of town I truly love. I can spend hours wandering around the cobbled streets; sitting at a café admiring the colorful surroundings, and just enjoying its vibe.
Are you curious to discover more about Trastevere? Continue reading – I will share everything you should know about it; its unmissable sights and a few tips to help you make the most of your visit.
The History Of Trastevere, Rome
Trastevere literally means "across the Tiber", owing to its location on the opposite bank of the River Tiber from the ancient city walls of Rome. This area was conquered by the emerging city of Rome in order to control the river from both banks.
But this part of the city wasn't developed like other parts of Rome, and it was only connected to the rest of the city by the Pons Sublicus – a small wooden bridge. In the Republic era (509-27 BC) fishermen and sailors moved into the district, alongside Jewish and Syrian immigrants from the east.
In the time of Augustus (27 BC to 14 AD), Trastevere was more properly considered part of the city and administered as one of Rome's 14 districts. During the following centuries of the Roman Empire, Trastevere was the center of the city's Jewish community and is still home to Rome's oldest remaining synagogue. However, the Jewish population of Rome as a whole – including that of Trastevere – was forced to move into a ghetto in the mid-16th century.
Villas for important Romans were built in the Imperial era, as were numerous churches in later years of the empire. Many winding lanes made up the district back then, which are still a defining feature of Trastevere today – as is its multicultural community, which has been in the district for thousands of years.
What To See And Do In Trastevere, Rome
While simply wandering around the proudly (formerly) working class district of Trastevere is rewarding in itself, it pays even more to know where you're going and what sights you should make a beeline for. So to give you some inspiration for your Trastevere itinerary, here are curated some of the top things to see and do in the district.
Go on a tour of underground Trastevere
To get to know Trastevere better, I actually recommend joining a guided tour. There are many you can take, but a tour of Trastevere underground will take you right through the history of the neighborhood, and in a unique way. I have taken a tour myself and truly enjoyed it.
You see, Rome has many subterranean sights, and Trastevere is no different. Thousands of years of building over things has resulted in many parts of the city being now located under the streets of the present day.
Beneath the 9th century Church of Santa Cecilia, for example, there is a crypt and early baptistry for you to discover. You can actually go down below the church and explore the excavations that have taken place there.
Excavations have also taken place under the Basilica of San Crisogono, showcasing the remains of an earlier Christian church (dating from the 5th century).
A tour of subterranean Trastevere is the best way to see it rather than trying to do it independently. You will get to see many old parts of the city – now underground – such as Roman roads, houses and other ancient pieces of architecture. The tour will also include a stop by the an ancient firefighter station, by some of the most interesting fountains in the area, and by lovely murals.
The tour of underground Trastevere I recommend the most is run by Touriks. I took the tour myself and can attest to the insightful, friendly local guides and the many interesting places you visited. You can book it via GetYourGuide here.
Visit the churches of Trastevere
There are many churches in Trastevere, which are just asking to be explored. Some of Rome's most significant churches can be found in this district, in fact. So you should really take some time to pay these hallowed attractions a visit.
One prime example of that is Santa Maria in Trastevere. Situated in the central piazza of Trastevere, this 12th-century basilica has much older origins, being based on a floor plan from the 340s AD and situated on the site of an even older sanctuary (221-27 AD). It's one of Rome's oldest churches still in use – and it's completely beautiful inside.
The 5th-century Santa Cecilia is situated on the site of Saint Cecilia's martyrdom in 230 AD. It's here that you can head below to the crypt to see a shrine dedicated to the saint herself.
Make a point of checking out the Pietro Cavallini Last Judgment fresco in Santa Cecilia church (1289-93); it's open Monday to Saturday, 10:00 am to 12:30 pm. and Sunday 11:30 am to 12:30 am. There's a small fee for visiting.
Once again dedicated to a 3rd century martyr (Saint Agatha this time around), Sant'Agata in Trastevere is a 18th-century Baroque style church with roots dating back to the 8th century. Set in its own piazza, the church is a tranquil spot to reflect.
Also in the Baroque style, but more impressive in stature, is the 16th-century guild church of Santa Maria dell'Orto. The story goes that the owner of a small farm was miraculously cured of a serious illness after making a vow to Saint Mary, and went on to build a shrine to her. Eventually this became a chapel.
Originally built in the 10th-century, San Cosimato first began life as a Benedictine monastery. Later becoming a hostel, the church was rebuilt by Pope Sixtus IV in 1475. It was converted into a hospital in 1870.
For a guided tour of Trastevere that goes to all the best churches, click here.
Read my post The Most Beautiful Churches In Rome.
You should also read my posts A Guide To The Basilica Di Santa Maria In Trastevere, Rome and A Guide To Visiting Santa Cecilia In Trastevere, Rome.
Wander around the Orto Botanico
Translating to "Botanical Garden", Trastevere's Orto Botanico – today part of the University of Rome – is home to an impressive 3,000 species of flora. This green space has a long history, starting out in the Renaissance as the Papal botanical gardens before. Since 1883 it's been a garden open to the public.
Visiting here offers up the chance for you to explore various types of gardens and plantlife, spread out across 12 hectares. You'll find Himalayan and Lebanon cedar trees, a collection of bamboo, Mediterranean forests, among others.
The glasshouse here is an elegant structure that stretches for 2,000 square meters. It's a journey into a world of hundreds of orchid species and countless succulents – perfect for any Instagram fiend. There's also a herb garden, rose garden and Japanese garden, which is awash with cherry blossoms in spring.
Check out my post The Most Beautiful Gardens In Rome.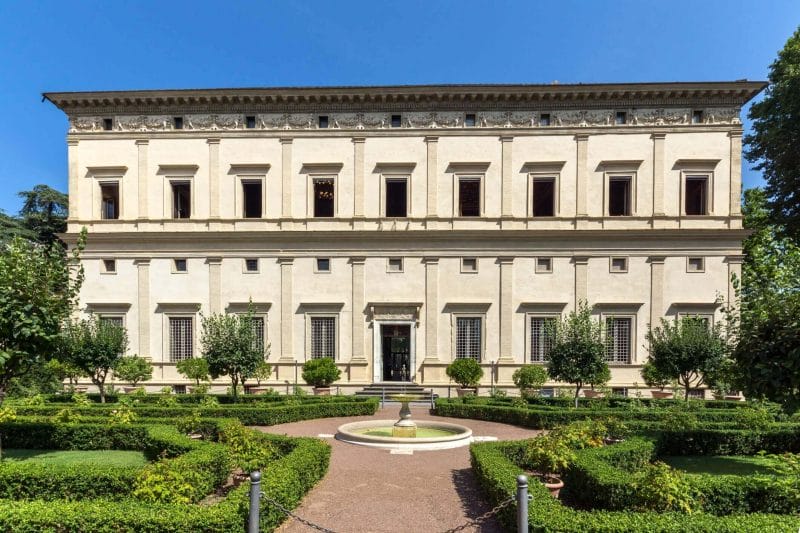 Visit Villa Farnesina
Constructed in 1506, this Renaissance villa is an opulent, palatial mansion, with majestic architecture and interiors sure to wow each and every visitor.
But it's not just about the architecture. This villa hosts a rich tapestry of masterpieces from famous artists such as Peruzzi, Sebastiano del Piombo, and Raphael. On the first floor, you'll actually be able to spot one of Raphael's most famous works: the frescoes of the Sala di Galatea.
Villa Farnesina is located in Via della Lungara 230. To book a tour of Villa Farnesina, click here.
Walk up the Janiculum Hill with the Acqua Paola fountain
Janiculum Hill is not officially one of the Seven Hills of Rome (even if it is the second-tallest), but is more of the honorary eighth member of the city's hills. Visiting offers a chance to take a break from this bustling part of the city and stroll around some peaceful streets.
There is also a string of fascinating sights to see in this leafy neighborhood, which was incorporated into the defenses of the city in the 7th century BC. The Fontana dell'Acqua Paola is one of them – a landmark marble fountain built to celebrate the restoration of the ancient Acqua Paola aqueduct in 1612. It was the first fountain of its kind on this side of the River Tiber. It's a marvelous sight.
I know most first-time visitors in Rome head straight to the Trevi Fountain, but this one is different. It's simply huge, first of all, and the view from the terrace there stunning. Just take my word for it!
Also in the Janiculum neighborhood is the Church of San Pietro in Montorio – a charming church consecrated in 1500 – as well as the Garibaldi Monument, and the 1911 Manfredi Lighthouse (a gift to Rome from Italian immigrants to Argentina).
Read my post The Most Beautiful Fountains In Rome.
Walk through Porta Settimiana
The Porta Settimiana is one of Rome's famous gates located along the ancient Aurelian walls, which were built by Emperor Aurelian in the 3rd century AD. This gate is the only one located on this bank of the Tiber that remains in its original position. You'll find it marking the starting point of the Via della Lungara – the 16th-century road that connects this part of Rome with the Vatican City and the very same one where you'll find Villa Farnesina. It's an impressive place to stumble across.
The small square by Porta Settimiana is probably the busiest crossroad in Trastevere, too. There are a couple of restaurants there, and many bars that are open until the wee hours!
Go to Tiber Island
The only river island in Rome, Tiber Island is connected to Trastevere via bridges. One of these, the Ponte Fabricio, is the only original Roman era bridge still standing in Rome and dates back to 62 BC. The Ponte Cestio has more recent restorations, but some parts of it are original Roman.
The island is shaped somewhat like a boat and is fairly small. Thousands of years ago, it was the site of a Roman temple, but in the Middle Ages it became home to a hospital, after which the island began to be associated with medicine and healing.
Make sure to read my post A Short Guide To Tiber Island.
Admire Palazzo Corsini
The Palazzo Corsini is a late Baroque palazzo built by the wealthy Corsini family between 1730 and 1740. However, it was actually a rebuild of the original 15th-century villa that already occupied the site.
While the palace is impressive enough, it is also home to the Academy of Science and the Galleria Corsini, which is home to the Corsini family's 17th-century collection of paintings and sculptures. Its gardens that head up the slopes of Janiculum Hill actually make up part of the Orto Botanico.
Go shopping
Other areas of Rome may be more famous for their shopping, but Trastevere definitely still packs a punch when it comes to retail – and I only know too well (I spent a fortune last time I went on a shopping spree there). Its winding streets are home to a plethora of interesting boutiques and independent shops; there are no malls here.
There's not just one street that's known for shopping in Trastevere – instead you'll be stumbling across a variety of stores as you wander. However, one place that you shouldn't miss out on is Via della Scala, which is known for its fashionable clothing. Also in the neighborhood is Joseph DeBach, a store that has become famous for its unusual shoes.
Head over to my post Where To Go Shopping In Rome.
Indulge in a street food tour
There's no better way to get to grips with the neighborhood than by exploring its food scene. Heading off on a street food tour is a very good way to get started. A local guide will take you to all the best spots and show you some hidden gems around the area. There's a mouthwatering array of Roman street food to try out, family-owned restaurants and landmark gelaterie to tuck into.
For the best street food tour in Rome, click here.
For a street food tour that only goes around Trastevere, click here or here.
Enjoy nightlife
Night owls take note: Trastevere is well known for its nightlife, and is actually one of the most lively areas in the city for drinking and dining into the late evening. There are a whole lot of wine bars, trattorias and brewpubs to check out, with a selection of super hip speakeasy-type hangouts to discover too.
My favorite wine bar is by all means La Cuverie. I actually stumbled upon it during my underground Trastevere tour as it's located right by Santa Cecilia church, and ending up sitting there for a few hours sipping a glass of delicious Franciacorta wine.
The best cocktail bar is Freni e Frizioni. The name is actually a referent to the mechanic's shop that used to be there until a few years ago. It's got a great mix of local and tourist crowds and cocktails are fabulous!
Practical Information To Plan Your Visit
How to get to Trastevere, Rome
If you're staying in Trastevere, or you would like to visit it, you'll find getting to this part of the city fairly simple. A number of different buses connect Trastevere with Termini Station. Take bus 175, 170, H or 40 from outside Termini and you'll be whisked to Trastevere in around 20 minutes.
You can also take Metro Line 1 from Termini to Circo Massimo, where you can change for the Tram 3L to Trastevere. This also takes 20 minutes in total.
If you're coming straight from the airport, you can take the train to Roma Trastevere station, where you'll then change for Tram 3L to Trastevere. You could take the local FR train to the more centrally located Trastevere station.
Check out my post How To Use Public Transport In Rome.
Where to stay in Trastevere, Rome
When considering where to stay in Trastevere, there's one thing to bear in mind: this is a noisy part of the city. It's a lively district and anywhere you choose will likely be close to a bustling street, whether it's day or night.
One accommodation option is Paola a Trastevere, a cozy bed and breakfast in the heart of Trastevere. The rooms are homely yet stylishly decorated, and a delicious breakfast is served up each morning for guests to enjoy. You can book it here.
There's also the Residenza San Callisto. This elegant option is set in a historic 18th-century building that's been fully (and beautifully) restored. Guest rooms are decorated with antique wooden furnishing. You could opt for studios and apartments alike here, too. You can book it here.
For something with even more charm, try the Hotel Santa Maria. Set in a 16th-century convent, the hotel is overflowing with historic character; rooms here boast traditional brickwork and look out across a leafy courtyard. The hotel also comes with its own bar and restaurant. You can book it here.
Make sure to read my post The Best Hotels In Trastevere for even more options.
Where to eat in Trastevere, Rome
Trastevere is filled with a plethora of food options, from traditional trattorias to more upscale eateries. To inspire your food odyssey in this part of Rome, here are a few places you should definitely try out.
Trapizzino
Trapizzino is an amazing mix of modern and old-school that has become famous not just in Rome, but across Italy (and the world). Trapizzino was created by pizza-maker Stefano Callegari. This street food is a mix of a tramezzino, a triangular-shaped bar snack, and pizza – crispy outside, with soft dough and stuffed with various fillings. Excellent for a quick bite to eat on the go.
Enzo al 29
This trattoria serves up classic Roman cuisine in an unfussy setting. This low-key spot is an ideal place for lunch and dinner alike. You may have to wait a while to get seated but trust me: it's definitely worth it. The food here is so good you'll be wanting to come back for more during your trip.
Seu Pizza Illuminati
For incredible pizza, look no further than Seu Pizza Illuminati. This hip spot is a contemporary space for pizza that does not disappoint. Its creative pizza menu is definitely not traditional, with modern twists on classic toppings (carbonara, anyone?) – all served up alongside craft beer.
Read my post The Best Restaurants In Trastevere for more restaurants.
Pin It For Later!